Schools are back in session across the country, but if you're still on the hunt for the perfect off-campus housing near York University, it's not too late! The fall semester may have already begun, but there are plenty of short-term and long-term rentals within the Greater Toronto Area still up for grabs. Whether you're attending York University's Keele Campus in North York, the Glendon Campus to the south, or plan on applying to attend the forthcoming Markham Campus, chances are you'll need a place to live near campus. In this post, liv.rent is breaking down the neighbourhoods students should start their search in, as well as tips for securing housing quickly and easily – even if you're not yet in the province or country.
Table of Contents
liv.rent – Renters Can Now Create Alerts
Don't see what you're looking for? Set up an alert and get notified about listings that meet your criteria (location, price, housing type, bedrooms, pet policy, and more).
Note: If you're not a liv.rent user, sign up first. Then apply your filters and click the "Create Alert" button on the upper right hand corner to set up your alert.
York University off-campus housing overview
For students attending York University, on-campus residence is typically your first step. Residence at York University's Keele Campus is guaranteed for first-year students applying directly from high school – provided they have met the June 1st deadline to apply. On the other hand, residence at the Glendon campus doesn't have the same guarantee, even if you do meet the above requirements.
If you missed the cut-off, aren't applying from high school, or you're an upper-year student, you may need to explore alternate living situations for the upcoming semester. Thankfully, York University's two (soon to be three) campuses are located in parts of the Greater Toronto Area with plenty of options for budget-minded students looking for off-campus housing. Both the Keele and Glendon campuses are located on opposite ends of North York, although the majority of students living off-campus prefer to seek housing in the Midtown and Downtown areas of Toronto since there tend to be more housing and public transit options.
Let's quickly break down what you need to know about off-campus housing for York University students.
Types of accommodation
Toronto
As we mentioned, most York University students will end up living in Toronto's Midtown or Downtown areas. Here are all the different types of accommodation you can expect to see in Toronto, with handy links for searching for listings:
Another popular option among students is to find roommates and search for a place together in order to cut down on costs. Given Toronto's currently high rent prices, sharing housing is a great way to stay on budget.
North York
Both of York University's two current campuses are located in North York, so many students will opt to find housing in this part of the city as well. With that being said, housing options aren't as plentiful as in Downtown Toronto, so be prepared to expand your search to find the perfect place. Here are the different types of rental housing you can expect to find in North York:
Average rent in the Greater Toronto Area
Toronto is one of the most expensive cities in Canada. According to our latest Rent Report, the average cost of rent across the Greater Toronto Area was $2,234 for an unfurnished, one-bedroom unit, and $2,467 for a furnished unit as of June 2023.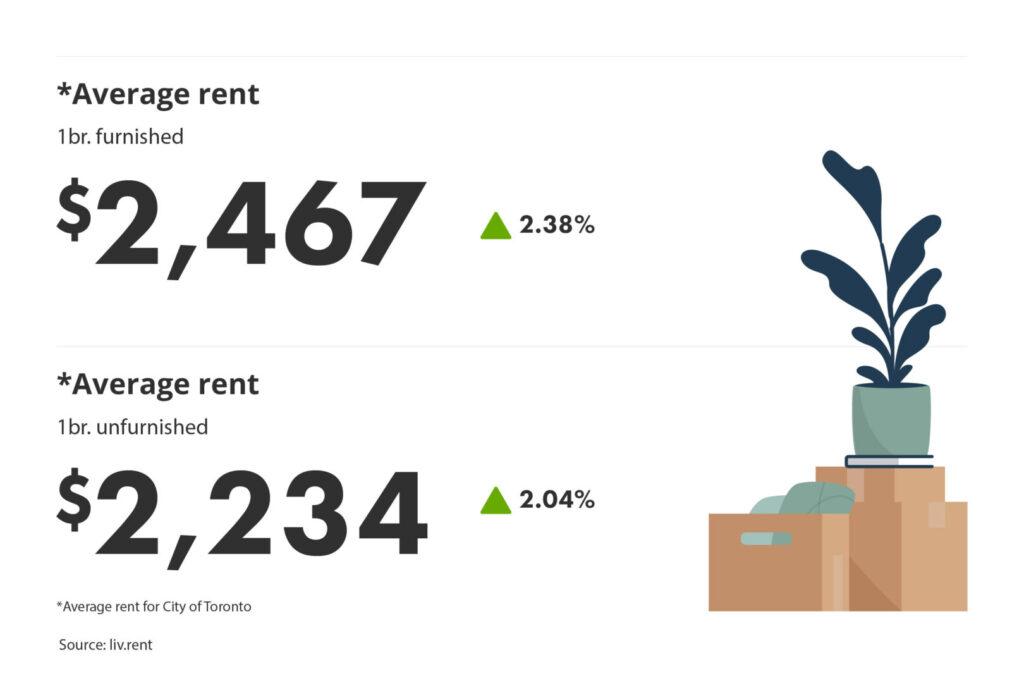 Rent prices differ greatly depending on where in the Greater Toronto Area you're looking. To give you a better sense of what you can expect to pay in different municipalities, we've broken down prices for one-, two-, and three-bedroom units throughout the GTA as of May 2023. York University students should pay particular attention to North York and Toronto since these are the most popular places for student housing.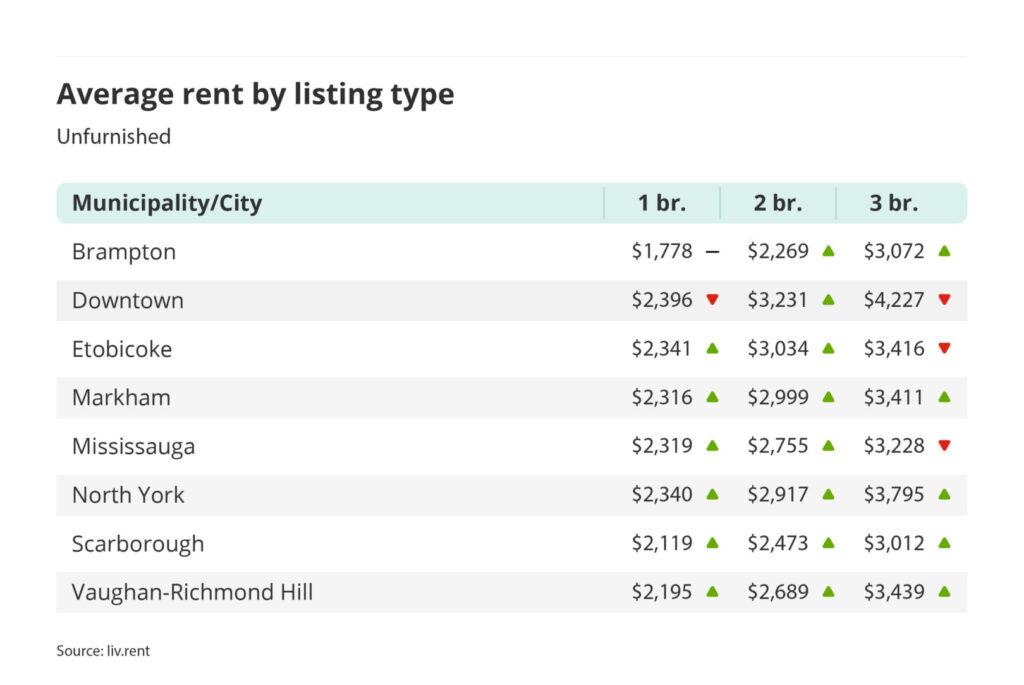 Transit in the Greater Toronto Area
Getting a place as close to campus as possible is important because being a student is hard enough — tacking on a difficult commute can really wear you down.
When you're looking for a place, be sure to keep public transportation options at the top of your wish list. Particularly since you'll likely end up living outside of walking distance from the York University campuses, ensuring an easy commute will help simplify your studies. Here are some transit tips for students looking for off-campus housing: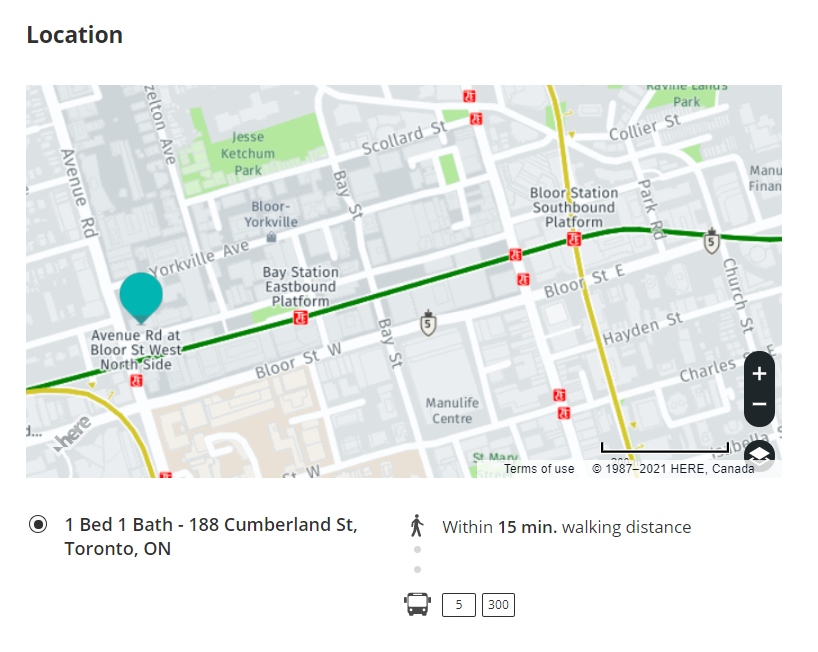 Use liv.rent listings to see how far each unit is from which public transit options
Look for apartments along the subway lines
Ask landlords what the neighbourhood's public transportation options are like
Tips for saving on rent in Toronto
Students who need affordable housing in Toronto, one of Canada's most expensive cities, are going to have to be creative. Here are some ways to make living off-campus in Toronto more affordable:
Look for smaller units like bachelor suites and studios
Look at renting further from the city centre but still close to rapid transit
Consider finding a roommate (or two) to bring the cost of rent down
Negotiate the cost of rent with a landlord
Best neighbourhoods for renting near York University
York University students have plenty of options for where to live off-campus. Though both current campuses are located within North York, the majority of students prefer to live in Downtown or Midtown Toronto, since transit options are easier to come by and there tend to be more amenities, shops, and dining options nearby that cater to students.
With this in mind, let's take a closer look at each campus and some popular student-friendly neighbourhoods near each.
Renting near York University Keele Campus
The Keele Campus is by far the larger of York University's two current campuses, welcoming over 52,000 students each year. York University is Canada's third-largest post-secondary institution, and this is readily apparent when you visit Keele Campus. Located in the heart of North York, this sprawling institution is home to ten different faculties and the majority of York University's research facilities, making it the perfect place to get a multi-faceted, community-focused post-secondary education.
Location
The expansive Keele Campus is located right in the middle of the North York administrative district of Toronto, occupying over a kilometre of land in total. The Keele Campus is centred around York Street and bordered by Keele Street to the east, Jane Street to the west, Steeles Avenue to the north, and Finch Avenue to the south.
Transportation
The Toronto Transit Commission (TTC) operates all of the buses, streetcars, and subways in Toronto, connecting Keele Campus to the rest of the city and the surrounding area. Here are the subway stations and bus routes Keele Campus students should familiarize themselves with:
There are two TTC Subway Stations serving York University's Keele Campus: the York University TTC Station and the Pioneer Village TTC Station. These two stations are both parts of the Toronto-York Spadina Subway Extension on Yonge-University Line 1.
Both the 106 and 196 buses pass directly by the Keele Campus, connecting to routes from other parts of the GTA along the way.
Best neighbourhoods near Keele Campus
Keele Campus is ideally situated, with easy access from other parts of the city thanks to the two nearby TTC stations. As such, a popular option for York U students is to live a bit further afield and commute to campus ever day rather than seeking accommodations in the areas immediately surrounding the university grounds.
Here are three of the most popular neighbourhoods for those attending York University's Keele Campus:
The Village at York University

About: "The Village" is located right on York University's southern border, and consists of over 800 properties, mainly townhomes that have been converted to unofficial student rooming accommodations. This area is popular with students who want to immerse themselves in the campus experience, since you'll be surrounded almost exclusively by your fellow students. The Village is also uniquely positioned for an extremely quick commute to campus – as little as 5-10 minutes to campus walking. The university also operates a shuttle service, with over 20 stops at different areas of the campus.
Estimated commute to campus: 10 minutes (walking), 5 minutes (shuttle)

The Annex

About: The Annex is Toronto's most iconic student neighbourhood, bordering the University of Toronto's St. George Campus but attractive for students from across all of the GTA's many post-secondary institutions. Conveniently located in the heart of Toronto's bustling downtown, this area is particularly well-suited to upper-year students and those seeking a big-city experience while still providing convenient access to campus. There are plenty of dining options throughout the large neighbourhood, as well as cafes, local stores, and other businesses catering to the area's considerable student population.
Estimated commute to campus: 30-35 minutes (by subway, from Spadina TTC station)

Jane and Finch

About: Located in the northwest of Toronto in the North York district, Jane and Finch is one of the more densely populated neighbourhoods in the area, with typically less expensive rental housing than other parts of the city. Because of this, the vibrant neighbourhood is popular among York University students and you'll quickly discover a thriving community of fellow academics right outside your door.
Estimated commute to campus: 25-35 minutes (by 95 or 36A buses)
Renting near York University Glendon Campus
Considerably smaller in scale with far fewer students attending, York University's Glendon Campus is focused on providing a more intimate learning experience with smaller class sizes and a close-knit cohort. The unique campus functions in a multilingual environment, providing students with a multifaceted education that sets them up for employment after graduation. Compared to the much larger Keele Campus, Glendon hosts only just over 2,000 students each year.
Location
The campus itself is located closer to the eastern end of North York, adjacent to the distinguished Bridle Path neighbourhood to the northeast, and Laurence Park to the west. In practical terms, the Glendon Campus is much further south and east than the Keele Campus – about a 30-minute drive or a 1-hour trip by transit – which opens up more options for off-campus housing, whether in Downtown Toronto or neighbouring East York.
Transportation
Like the Keele Campus, York U's Glendon Campus is well-serviced by TTC transit, with multiple bus routes and a nearby TTC station providing access from the rest of the GTA. Here are the subway stations and bus routes GlendonCampus students should familiarize themselves with:
Lawrence TTC Station is about a 15-20 minute walk, or a 5-10 minute bus ride to campus, located about a kilometre to the west.
The Glendon Campus has plenty of bus routes running nearby, with the 52, 124, 162, and 952 buses all stopping just adjacent to the university.
Best neighbourhoods near Glendon Campus
Yonge & Eglinton

About: Located in the centre of Toronto's Midtown, the area surrounding the Yonge and Eglinton intersection has developed a reputation for being one of the city's foremost destinations for young professionals and students. The lively neighbourhood is perhaps best known for its wide array of trendy restaurants and hip cafes, in addition to being one of the primary business areas outside of Toronto's Downtown core. Perhaps most appealing to students attending the Glendon Campus, Eglinton Station is never more than a 10 minute walk from anywhere in the neighbourhood, which will take you to Lawrence Station in no time at all. From there, it's a quick bus ride or a brisk walk to class.
Estimated commute to campus: 15-20 minutes by subway/bus, 10 minutes driving

Riverdale

About: Riverdale is a diverse neighbourhood in East York, a short distance south of the Glendon Campus. Riverdale is bordered by the Don River to the west, Danforth Avenue to the north, Leslieville to the east, and Lakeshore Boulevard on its south end. It's most commonly known by Toronto residents as the home of its namesake Riverdale Park – a sprawling green space that's split into an East and West side, each with plenty of room for all sorts of sports and activities. For students, the idyllic setting and comparatively less expensive rent prices make it an attractive proposition – plus, a great location and plentiful transit options make commuting to campus fairly easy.
Estimated commute to campus: 30-40 minutes by subway & bus, 15-20 minutes driving.

Davisville Village

About: Davisville Village is right smack in the middle of Toronto's Midtown area, with quick and easy access to Downtown as well as both York University campuses. This up-and-coming neighbourhood stretches from Mount Pleasant Cemetary down to Eglinton Avenue East, all the way to Yonge Street on the east and Bayview Avenue to the west, occupying a good portion of Midtown. For students seeking a quiet, residential area to call home while they attend class, Davisville's tree-lined streets could make the perfect home. Though the area doesn't have a subway station within its borders, Eglinton Station is close by, and the numerous bus options still make it easy to get to Glendon Campus in a hurry.
Estimated commute to campus: 20-30 minutes (by 74A and 124 buses)
Renting near York University Markham Campus
The forthcoming Markham Campus brings the York University experience to one of the most diverse, multicultural sectors of the Greater Toronto Area. Set to officially open and begin offering programs in Fall 2023, the Markham Campus will soon be accepting student applications, so it's not too early to start thinking about attending. The mid-sized campus will host approximately 4,200 students across different faculties, encouraging collaboration within and between programs and disciplines.
Location
The Markham Campus will be located in Markham Centre, the city's burgeoning downtown core, at the new address of 1 University Boulevard. Proximity to the 407 and 7 roadways means easy access from other parts of the province and the Greater Toronto Area in particular. Surrounding the campus is an assortment of amenities, shops, and parks for students to enjoy.
Transportation
A prime location allows for easy commuting from other parts of the GTA, both for drivers and those taking public transit. Unionville GO Station is nearby the campus to help get students to and from campus with ease.
Best neighbourhoods near Markham Campus
It remains to be seen what will become the popular "student areas" near the Markham Campus, but we can speculate on where they'll settle. Here are a couple of ideas on where to look for off-campus housing near York University's Markham Campus:
Unionville

About: A quiet, residential neighbourhood just north of the new Markham Campus, Unionville will likely become a popular destination for students seeking close proximity to class and an alternate to on-campus residence. The historic town has a lively urban centre with plenty to do, and a supportive, tight-knit community calling the area home.
Estimated commute to campus: 15-20 minutes (walking), 10-15 minutes by bus, 5 minutes driving

Milliken

About: Located on the very northeast tip of Scarborough, Milliken borders Markham and provides an appealing alternative for students seeking off-campus housing near the new York University Markham Campus. The formerly rural neighbourhood has only seen development in the past 50-odd years, and retains a small-town charm that many students may find appealing. The 53 bus also runs through the neighbourhood for a fast, easy commute to class.
Estimated commute to campus: 5-10 minutes driving, 25-30 minutes by bus
Renting tips: how to find & secure off-campus housing
How to avoid rental scams in Toronto
Rental scams are always out there. The best way to protect yourself is by knowing your rights and choosing trusted rental platforms. Here are a few of the most common scams to look out for:
Scam #1 Rent is too low
If the rental rate seems shockingly below the rental average for the city, it could be a fake listing.
Scam #2 Urgent cash demand
Renters don't have to pay for anything until a lease is signed. So, if someone's pressuring you to send cash now, don't do it.
Scam #3 Too much info
Until you're 100% ready to move forward with a lease, you're not obligated to share your bank account or SIN number.
Scam #4 Not enough details
While some smaller landlords may withhold unit numbers for privacy, you should know the exact address of the unit you're looking at. without that info, it could be a scam.
Pro tip: rent from ID-verified landlords on liv.rent to avoid scams.
Be smart with your rental search
Tip #1 Know your needs
Make a list of your priorities – pricing, location, amenities, lease duration, pet policy, etc. Then, use liv.rent filters to narrow your search.
Tip #2 Do your research
Find out the average rent in your target area. It'll arm you with the necessary info to negotiate terms & rates.
Tip #3 Google the property
See if there are any complaints online regarding building management, maintenance, noise, neighbourhood, etc.
Tip #4 Video tours first
If possible, view video tours first. Then, narrow down your selection and book viewings only for places you're seriously considering.
Tips to improve your search
Tip #1 Don't be afraid to check
Have the landlord to demonstrate that all appliances are working – run faucets, check thermostats, flush toilets, turn on stoves, etc. Also, check that cellphone reception is adequate & verify connectivity.
Tip #2 View in daylight
Viewing a home in daylight will give you a better sense of the living space.
Tip #3 Prepare questions
And ask the hard questions (e.g. how much interest have you had for this unit) to uncover info not in the listing.
Stand out when you apply for your rental
Completing your liv.rent profile, or renter's resume, is the easiest way to stand out. You can also go the extra mile and pre-submit your application before your viewing if you're pretty sure you want to rent the unit. By introducing yourself upfront, it shows that you're serious about the unit – leaving a strong impression on your landlord.
Pro tip: on liv.rent, we use Trust Score to rate renters trustworthiness and credibility — it's free for students to get theirs with their profile!
Another way to stand out is by using your renter's story in your renter's resume to give landlords more information about your credit score. As students may not have strong credit histories yet, use this space to provide more context to a landlord to help them trust you.
How to secure a rental before arriving in Canada
International students can rent their off-campus Toronto home from abroad. When you sign up, as part of your profile you can select:
"I don't live in Canada."
and, "I'm a first-time renter."
These profile options give landlords the full picture of you as a renter. It streamlines the rental process and makes it easy to understand why references or a previous Canadian address may appear to be "missing" from your application.
Watch now: How To Rent In Canada
York University off-campus housing resources
Here are some resources that can help you navigate off-campus housing at York University:
Use liv.rent to find your off-campus apartment for York University — helping you save time, stay organized, and stay safe. Our trusted rental platform is perfect for students, no matter which campus you're studying at.
Additional off-campus resources for students
FAQ: York University off-campus housing
Do you have to live on campus at York University?
No, certainly not. While residence at York U's Keele Campus is guaranteed for first-year students coming directly from high school who apply before the deadline, upper-year students and those attending the other campuses aren't guaranteed housing on-campus.
Off-campus housing provides an excellent alternative for those who don't get into residence, or are looking for a quieter alternative a bit further from the university. This guide should give you an idea of where and how to find rental housing.
Where do York University students live?
The answer to this depends on which of the school's three campuses you'll be attending. This guide should provide a good idea of where to start your search and some of the most popular neighbourhoods near each campus.
How much does it cost to live in residence at York University?
Exact fees for York University residence vary from year to year, so it's always best to consult the official Undergraduate Residence Rates for the latest information.
Is York expensive to live in?
While rent prices in Toronto are higher than normal at the time of writing, it's very possible to find rental housing on a student budget. If you'd like an idea of average rent prices throughout the GTA, you can check out our latest rent report.
For a broader overview of the cost of living in Toronto vs. Vancouver, we've put together a guide here.
---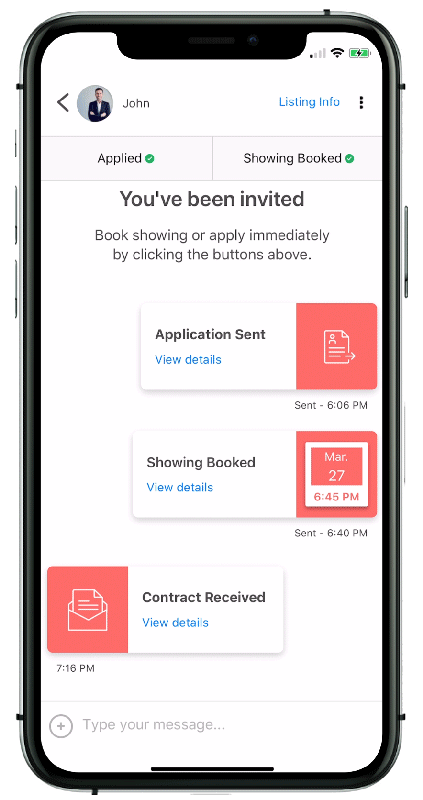 Rethink The Way You Rent
Not on liv.rent yet? Experience the ease of digital applications & contracts, verified tenants & landlords, virtual tours and more – all on one platform. Sign up for free or download the app.
Subscribe to receive the latest tenant & landlord tips and get notified about changes in the Canadian rental market.
>> Stay up-to-date on the average rent in Vancouver, Toronto and Montreal: Rent Reports.