Liv Rent
The liv.rent Verification Process
At liv.rent, we are dedicated to protecting the safety and integrity of our platform and, by extension, the Vancouver rental community. Part of this process means validating information provided by both renters and landlords. Not only do we try to prevent rental scams and fraud on our platform through these measure, it is also a simple way to build trust in the rental community and, at the same time, leverage all the benefits and features available within the liv.rent app.
What does it mean to be verified on the liv.rent platform?
It means heightened credibility either as a landlord or a renter. In turn, this means landlords are more likely to attract good tenants and tenants are more likely to be deemed reliable and desirable, increasing their chances of securing the perfect rental.

Here are 4 verification processes we currently have in place:
Phone number/carrier verification – When a user signs up, we verify the phone number to their carrier. If a number is flagged as spam or suspicious, our team is notified to investigate further.
Tenant/landlord ID – Government-issued ID is required to verify each user profile. When users upload a picture of their ID, we cross-reference the names on the ID and the profile to ensure they match. All pictures of IDs are securely erased from our system once the verification process is complete.
PRO TIP: Make sure your profile name matches the name on your ID. If you have a preferred name, be sure to fill out that field!
Business/Property Management licenses – We verify property managers' and landlords' business licenses with the City of Vancouver's open registry of businesses as well as the Real Estate Council of British Columbia. Valid business and property management licenses are accepted.
Listings – We have a dedicated liv.rent team that manually checks and verifies each listing. Any suspicious or duplicated listings are flagged and hidden until one of the following occurs:

Profile is verified
Business and/or property management license is verified
Land title is verified
While it may seem like a lot of steps to get verified, it's actually very simple. Read on to see how to acquire your verified badge.
How to verify your liv.rent profile:
Go to your profile and click "Edit". Scroll to the "Get Verified" section.

Upload a picture of your government issued ID (driver's license, passport, BCID).

 If the name on your profile matches the name on your ID, you will receive your verification badge.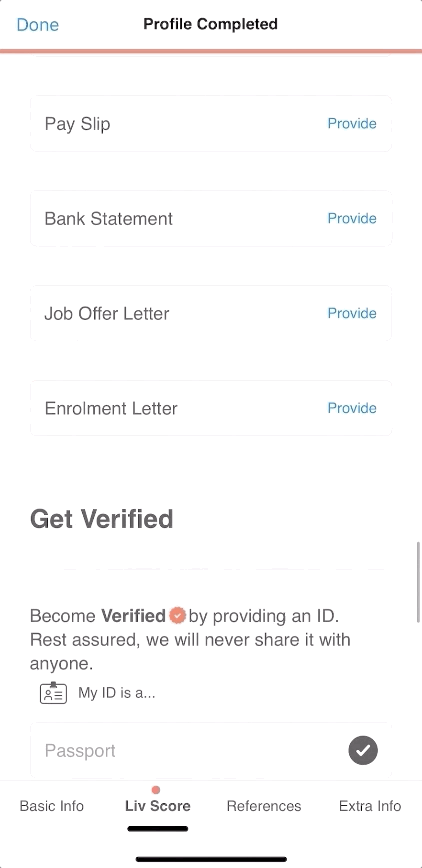 PRO TIP: While you don't need to complete your profile to become verified, you will need to complete your profile in order to start applying to your favourite listings. To do so, you will need to upload evidence of employment and income. Valid proof includes bank statements, pay stubs, tax statements, and letters of employment.
See more on how to apply to multiple listings with just one Renter Resume here.
FACT: Verified tenants are 77% more likely to secure a rental.
 How to verify your business license or property management license:
Go to your profile and click "Edit". Scroll to the "Business License" section.

Enter your Business License Number or Property Management License Number and submit.

You are now Business License verified!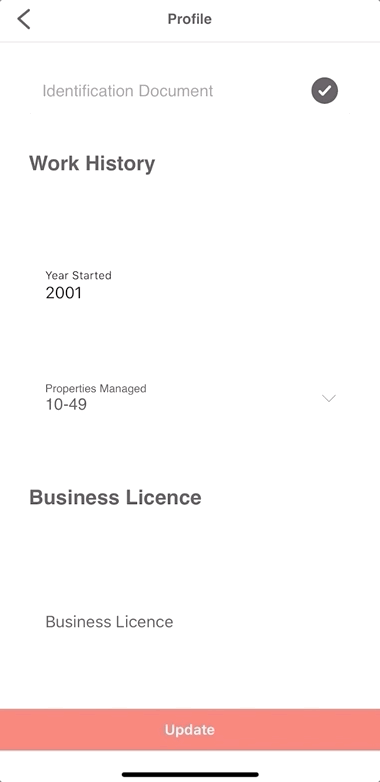 PRO TIP: All published listings with unverified profiles are hidden within a week, so make sure you verify your profile!
FACT: Verified landlords receive 83% more replies and applications than those who are not
Haven't signed up for liv.rent yet? Join our trusted network of landlords and renters – click here to sign up now!
---
Check out our post on New Landlord Web Features and learn how easy it is to manage your properties, applications and agreements on line, or in the liv.rent app!
Have some feedback for us? Any other features you want to see? Contact us via Live Chat during business hours or email us anytime!