liv.rent
The liv.rent Verification Process
[LAST UPDATED: Jan 28, 2021]
Renting is easier when you're connected to verified landlords and tenants. But what does that mean and why is liv.rent the best way to protect yourself from rental scams? We're sharing all you need to know about our verification process and how it can get you your dream home or dream tenant faster and more securely.
Why does liv.rent ask for verification?
At liv.rent, we are dedicated to building a trusted rental community and protecting our users from unnecessary headaches in the rental process. To achieve this, every landlord and property manager must verify their profile on liv.rent and every renter must verify their profile once they are actively applying to listings.
Our team manually validates information from external sources (government-issued IDs, land titles, or other official documents) to confirm the identity of users and to check the validity of listings.
Unfortunately, renters losing cash deposits and landlords' homes being advertised in fake listings are just two of many common rental scams. As a result, we have made it our mission to eliminate identity and financial theft in the rental scene.
These verification measures help prevent rental scams and fraud, so that our community can rely on the safety and integrity of our platform to find reliable rentals and leverage all the other benefits and features available within the liv.rent app to rent stress-free.
What does it mean to be verified on the liv.rent platform?
It means heightened credibility either as a landlord or a renter. 
Once the verification process is complete, the user or listing will receive a verified badge. This helps our community identify the verified users and listings on our platform. 
| | |
| --- | --- |
| | This icon means users are ID verified. Users with this icon next to their name indicate that their profile name has been matched to a piece of government-issued ID that they submitted. |
| | This icon means rental listings are listing verified. Listings with this icon next to the address indicate that the rental property has been verified by mail or by matching the landlord's name to official documents, such as land title documents or property tax forms. |
Why should you be verified on liv.rent?
Verified renters are 77% more likely to secure a rental as they are more likely to be deemed reliable and desirable, thus increasing their chances of securing the perfect rental.
Verified landlords are more likely to attract good tenants as they receive 3X the inquiries than unverified landlords, and verified listings receive 5X the engagements compared to unverified listings.
How are renters verified on liv.rent?
Here's how renters are verified on liv.rent:
Phone number/carrier verification – When a user signs up, we verify the phone number to their carrier. If a number is flagged as spam or suspicious, our team is notified to investigate further.
Tenant ID – Government-issued ID is required to verify every user profile. When users upload a picture of their ID, we cross-reference the names on the ID and their profile to ensure they match. Once the verification process is complete, our system immediately removes the government-issued ID and all copies of authentication information in a secured manner.
Refer to our step-by-step tutorial here.
PRO TIP: Make sure your profile name matches the name on your ID. If you have a preferred name, be sure to fill out that field!
While it may seem like a lot of steps to get verified, it's actually very simple. Renter verification improves your Trust Score, which is part of your Renter Resume and helps your rental applications stand out from other renters'.
While you don't need to complete your profile to become verified, you will need to complete your profile in order to start applying to your favourite listings. To do so, you will need to upload evidence of employment and income. Valid proof includes bank statements, pay stubs, tax statements, and letters of employment.
See more on how to apply to multiple listings with just one Renter Resume here.
How are landlords verified on liv.rent?
Here's how landlords are verified on liv.rent:
Landlord ID – We verify landlords' and property managers' ID in one of two ways:

Government-issued ID – When users upload a picture of their ID, we cross-reference the names on the ID and their profile to ensure they match. All pictures of IDs are securely removed from our system once the verification process is complete.
Business license – We verify property managers' and landlords' business licenses with the City of Vancouver's open registry of businesses as well as the Real Estate Council of British Columbia. Valid business and property management licenses are accepted.

Listings – We have a dedicated liv.rent team that manually checks and verifies each listing. There are two options to verify listings. Any suspicious or duplicated listings are flagged and hidden until one of the following occurs:

Verify by documents – Official documents accepted include land title documents and property tax forms. For property managers and other landlords representing the property owner, representation documents are also accepted.
Verify by mail – Alternatively, landlords can request for a postcard to be sent to the rental property. The postcard includes a code that the landlord can enter into the app to verify the listing.
In order to verify a listing by document, landlords will have to verify their ID first as we match the verified profile's name to the documents.
Refer to our step-by-step tutorial here.
PRO TIP: All published listings with unverified profiles are hidden within a week, so make sure you verify your ID or your listing!
Why does liv.rent ask for so much information?
Renters on liv.rent are always in control of their personal data. Your basic renter resume is the only thing visible to landlords on our platform — you control when and what they get to see. Here is what your basic renter resume would look like to landlords: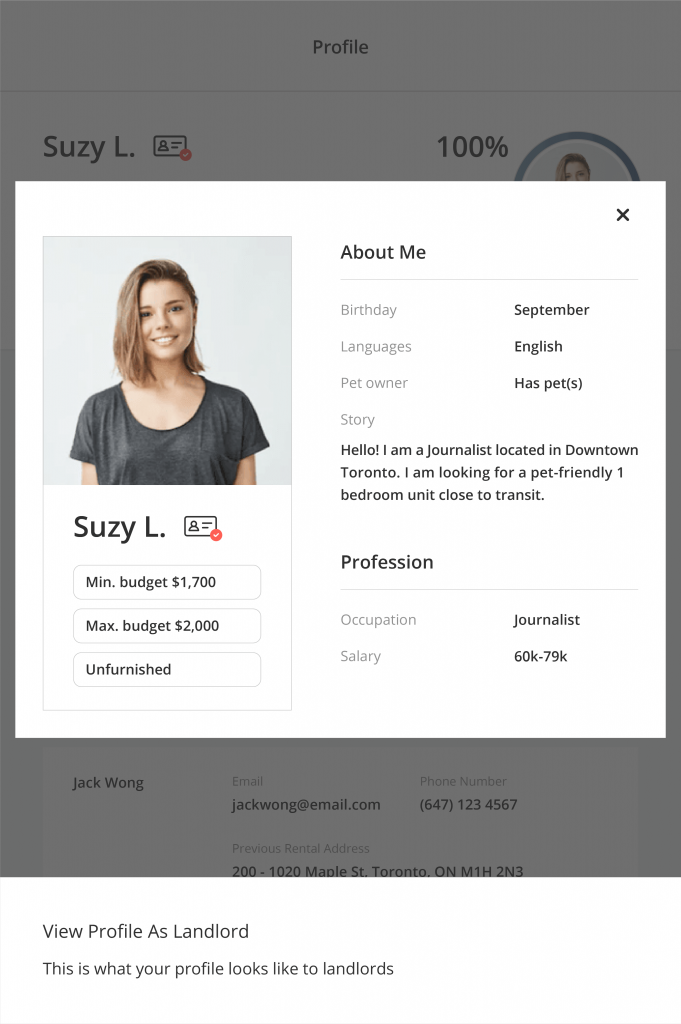 Once you're ready to apply, you can send an application to the landlord. At that time, the landlord can now see your full renter resume.
All the data you provide is the minimum required information that a landlord would need in your rental agreement. We simply digitized the process to make it easier and save everyone some paper, too.
Here's a quick look at what information a landlord can legally ask from you:
| Identifiers | Background Information | Financial Information |
| --- | --- | --- |
| Name | Employment History | Credit Score |
| Date of birth | Educational History | Income and financial resources |
| Current and former addresses (business and personal) | Criminal Information | Debt information |
| Email address | Pet Information | Bank account information |
| Social Insurance Number (SIN) | Personal References | Rent payment information |
| Driver's License Number | Emergency Contact Information | Financial information |
Your personal information is safe with us and we treat it with the utmost respect.
How does liv.rent protect my data?
We apply strict precautions to protect the security and integrity of your personal information, both during transmission and storage. Transmissions of personal information through the Website are encrypted using secure socket layer technology (SSL), and all personal data stored on liv.rent are secured with AES-256-CTR (similar to military-grade encryption).
In regards to your government-issued ID and any authentication information requested during liv.rent's verification process, our system will immediately remove all copies in a secured manner once you have been verified. This ensures that none of your personal data will be made public.
---
Have some feedback for us? Any other features you want to see? Contact us via Live Chat during business hours or email us anytime!
---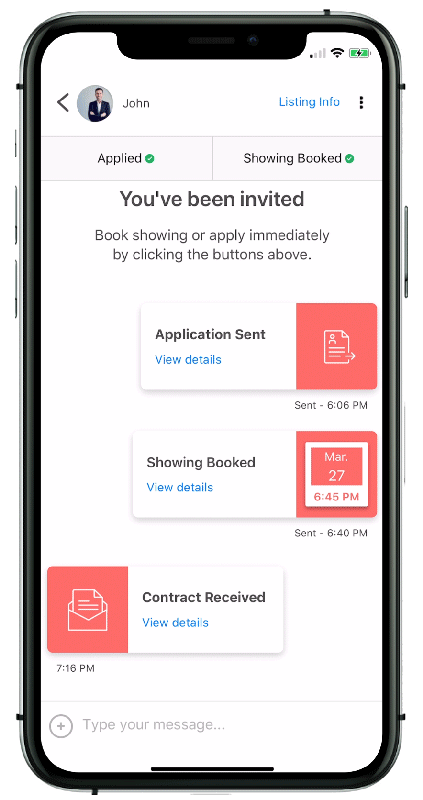 Rethink The Way You Rent
Not on liv.rent yet? Experience the ease of digital applications & contracts, verified tenants & landlords, virtual tours and more – all on one platform. Sign up for free or download the app.
Subscribe to receive the latest tenant & landlord tips and get notified about changes in the Canadian rental market.
>> Stay up-to-date on the average rent in Vancouver, Toronto and Montreal: Rent Reports