liv.rent
Vancouver vs Toronto: Cost of Living Comparison
Vancouver vs Toronto Cost of Living
Vancouver and Toronto are more than 4,000 km apart but share the dubious honour of being the two most expensive cities in Canada. Despite this, they are highly desirable places to live, scoring high on all international standard of living indices. They are clean, safe and secure, and offer newcomers vibrant, multi-cultural communities willing to embrace immigrants.
Toronto is the business capital of Canada and home to many company headquarters. Vancouver, however, has the fastest growing tech industry in North America surpassing Silicon Valley and Toronto in 2019. Needless to say, if you have the right skills, finding a job in either city shouldn't be too difficult. Unemployment rates are low, education and healthcare systems are excellent, both are culturally vibrant and boast world-class restaurant scenes. These are model Canadian cities so you can't really go wrong choosing either one.
We've partnered with Van Sweet Home, a relocation company providing personalized service to people moving to Canada, to provide readers with relevant cost of living comparisons to help you make an informed decision if you are considering a move to either of these two Canadian cities. You will see they are very close.
Vancouver vs Toronto Consumer Price Comparison
A) The Basics: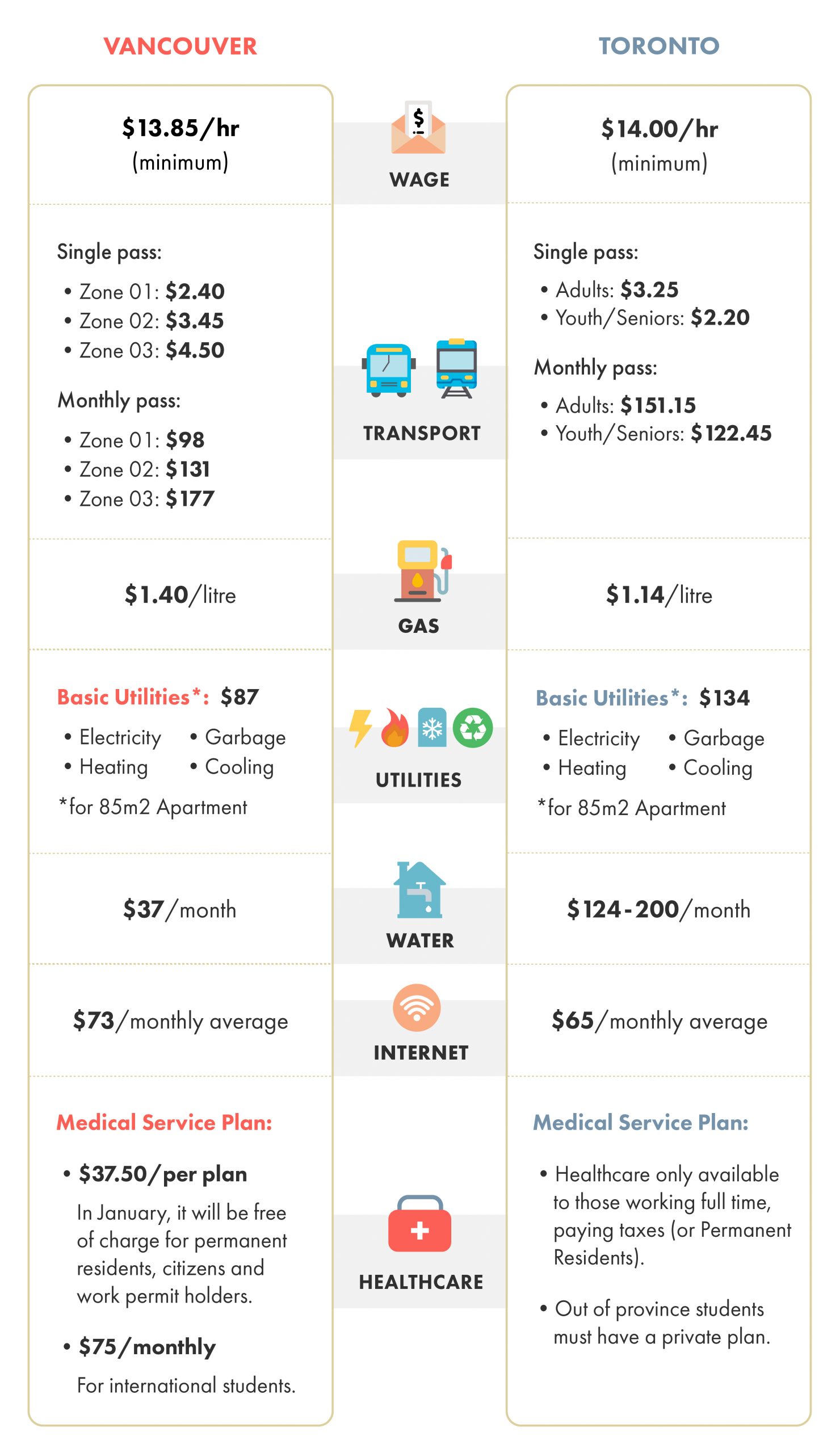 B) Other Essentials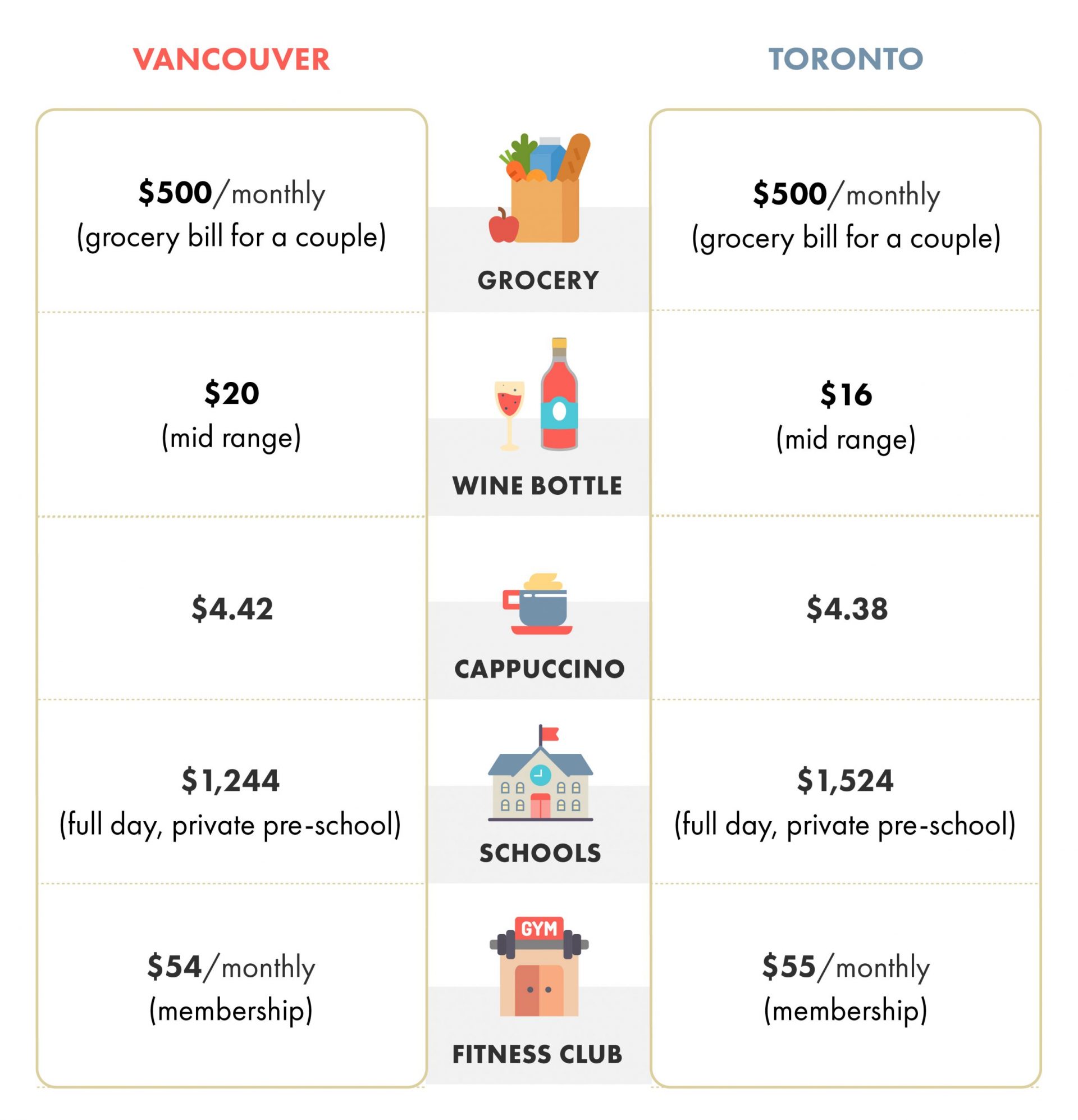 liv.rent – Canada's trusted house & apartment rental website
Search apartments, condos, and homes for rent.
Verified Landlords: Rent from a trusted landlord. Look for the "ID Verified" tag to identify which landlords have been pre-screened.
Quality Rentals: Browse listings that have been checked by our team. Verified by official documents or by mail.
One-Click Applications: Fill out your Renter Resume once and apply to multiple listings in just a few clicks.


Vancouver Neighbourhood Rental Rates
Rental rates in the Greater Vancouver area vary considerably. Downtown and nearby neighbourhoods like Kitsilano, Main Street, Cambie Village etc. command significantly higher rents than homes in nearby suburbs. When choosing where to live, you would be wise to consider other factors besides just the cost of rent. How much time are you willing to spend commuting? Will you rely on transit? Is a yard important? These are all questions that will help you determine where to look for housing.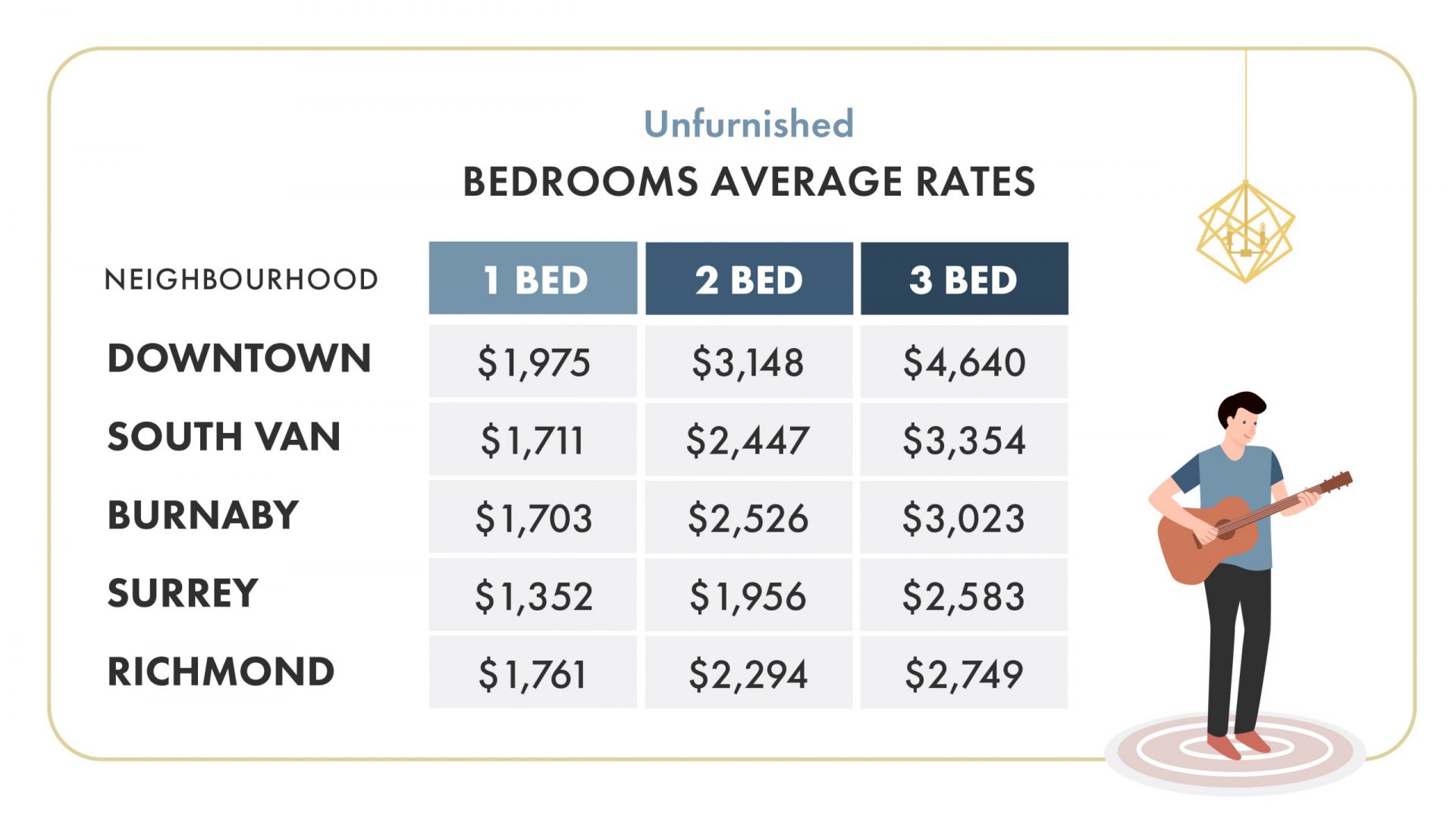 Toronto Neighbourhood Rental Rates
Like Vancouver, downtown Toronto and neighbouring areas command higher rents than places in the suburbs. Most of these suburbs are viable options, however, thanks to an extensive subway and commuter train network.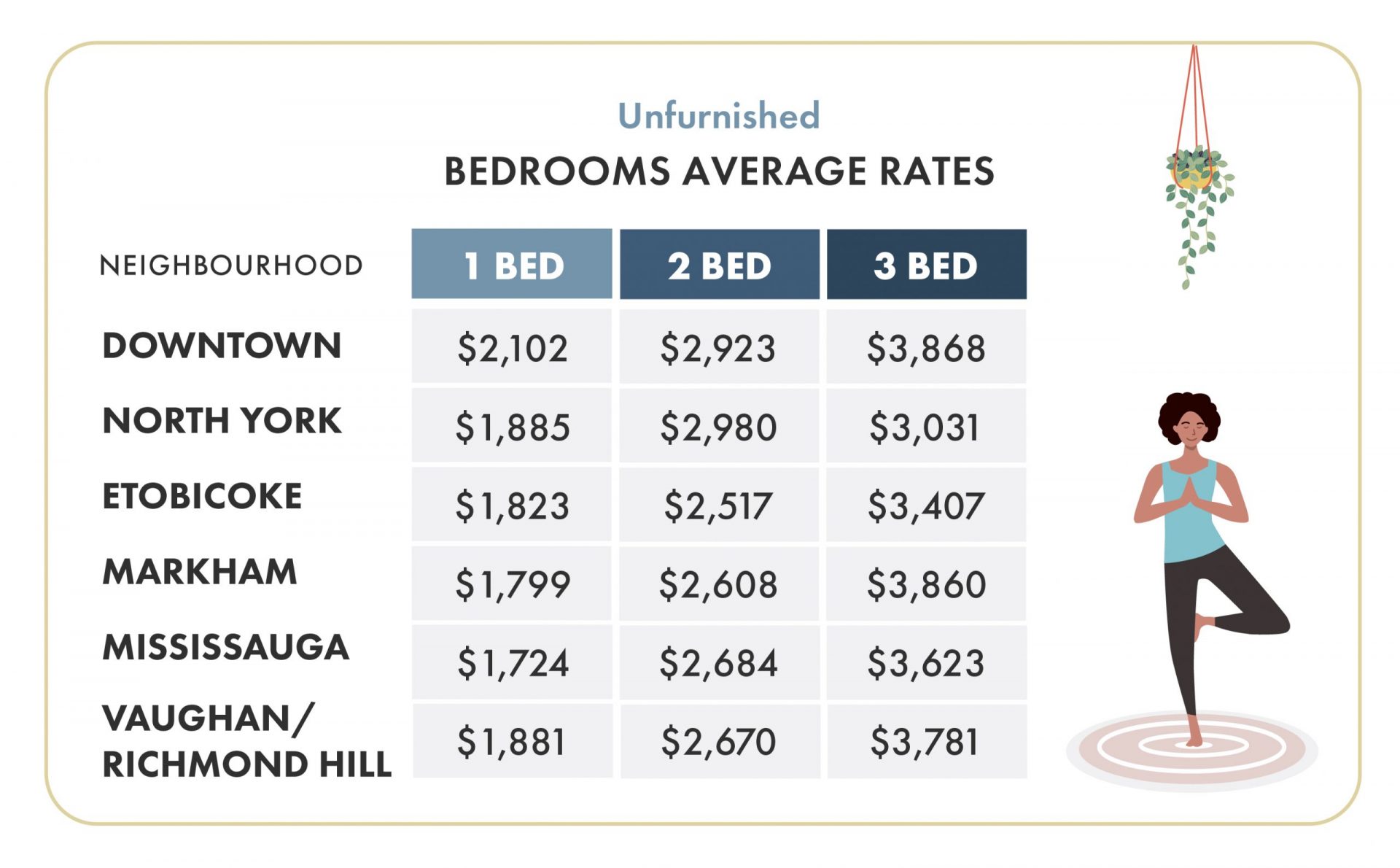 Vancouver vs Toronto Rental Rates
In a nutshell, the average cost of a downtown Toronto apartment is more expensive than the average cost of a downtown Vancouver apartment. The cost discrepancy also extends to comparable suburbs. However, when you look at other costs, the 2 most expensive cities in Canada are almost identical. We wholeheartedly recommend visiting each city before you decide to move to either one. Know that they are both expensive so the deciding factor will likely be something less tangible – the look, the feel, the nightlife, the culinary scene (both thriving!), recreational opportunities, and more.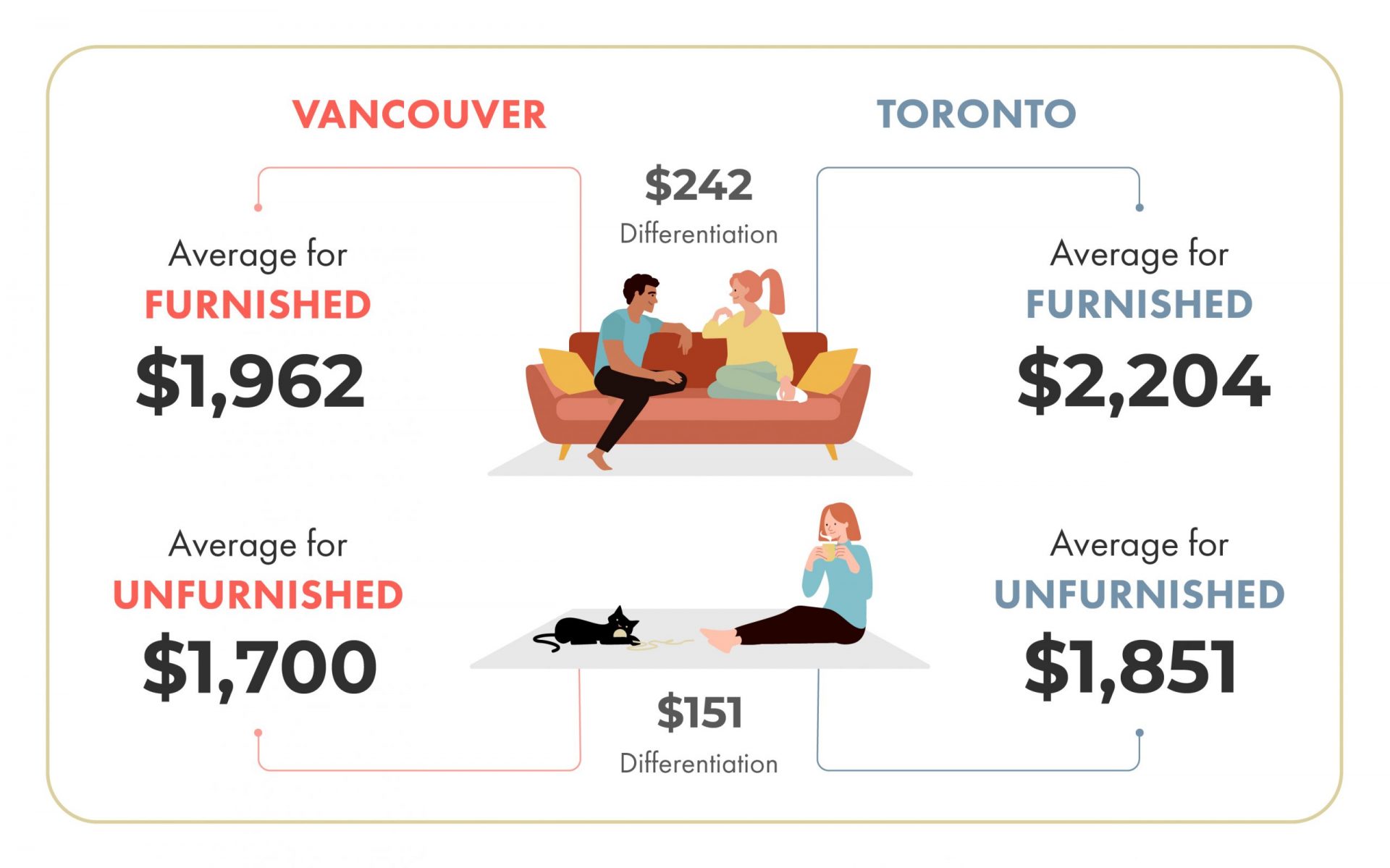 liv.rent has partnered with Canadian cell phone service provider, PhoneBox, who offer the most affordable LTE plans on the market and free SIM card shipping to anywhere in the world!
Unlock liv.rent exclusive deals and receive even better deals as a liv.rent member. >> Click Here
---