Vancouver and Toronto are more than 4,000 km apart but share the dubious honour of being the two most expensive cities in Canada. Despite this, they are both highly desirable places to live with their own unique appeal, scoring high on all international standard of living indices. They are clean, safe and secure, and offer newcomers vibrant, multi-cultural communities willing to embrace immigrants.
Toronto is the business capital of Canada and home to many company headquarters. Vancouver, however, has the fastest-growing tech industry in North America surpassing Silicon Valley and Toronto in 2019. Needless to say, if you have the right skills, finding a job in either city shouldn't be too difficult. Unemployment rates are low, education and healthcare systems are excellent, both are culturally vibrant and boast world-class restaurant scenes. These are model Canadian cities so you can't really go wrong choosing either one. To aid in your decision-making, liv.rent has gathered some key information you need to know about what it's like to live in these two major Canadian cities.
We've partnered with Van Sweet Home, a relocation company providing personalized service to people moving to Canada, to provide readers with relevant cost of living comparisons to help you make an informed decision if you are considering a move to either of these two Canadian cities. You will see they are very close.
Table of Contents
Rent your perfect home with liv.rent
Search houses, rooms, condos and apartments for rent. Chat instantly with verified landlords. Apply to multiple listings. Save your chat history & signed documents all on one platform.
Vancouver vs. Toronto: Major differences
Where to begin? In many ways, Toronto and Vancouver are polar opposites. Perhaps Canada's two best-known and most prominent cities, they also couldn't be more different. For one, Vancouver is located in British Columbia on the country's West Coast, while Toronto is the capital city of Ontario in Central Canada. This gives the two destinations very different weather conditions – Vancouver is well-known for its frequent rain, mild temperatures, and very typically un-Canadian winters, while Toronto's climate is one of extremes, with winters getting quite cold though not as bad as in other parts of the country.
Vancouver is often conceptualized as a nature-lover's paradise, with abundant lakes, beaches, mountains, trails and more within arm's reach. This is certainly true, but there's more to the city than that: Vancouver has a world-class university in UBC, a thriving film industry, and is North America's fastest-growing destination for tech companies.
Toronto, on the other hand, has long been Canada's business and financial capital and is home to the headquarters of many multi-national corporations as well as the majority of Canada's banking and finance industry. Much larger in size and with convenient access to cities like New York and Boston, not to mention some truly gorgeous scenery of its own, Toronto is an equally desirable location for residents.
We'll be breaking down more key differences throughout this guide – read on for more or use the Table of Contents above to navigate to the section you're curious about.
Cost of living comparison: Vancouver vs. Toronto
Basics, bills & utilities: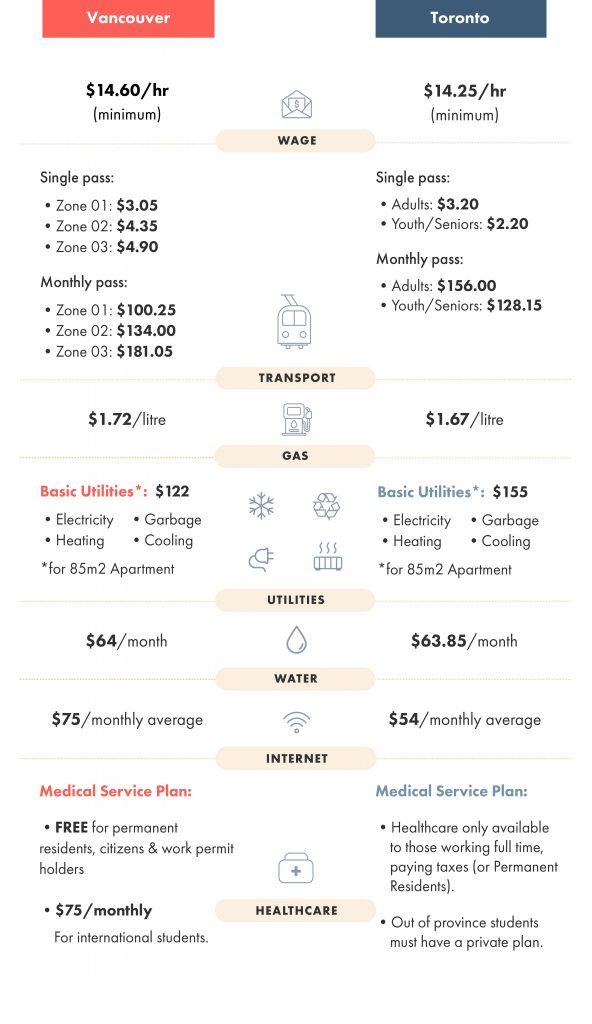 Other spending: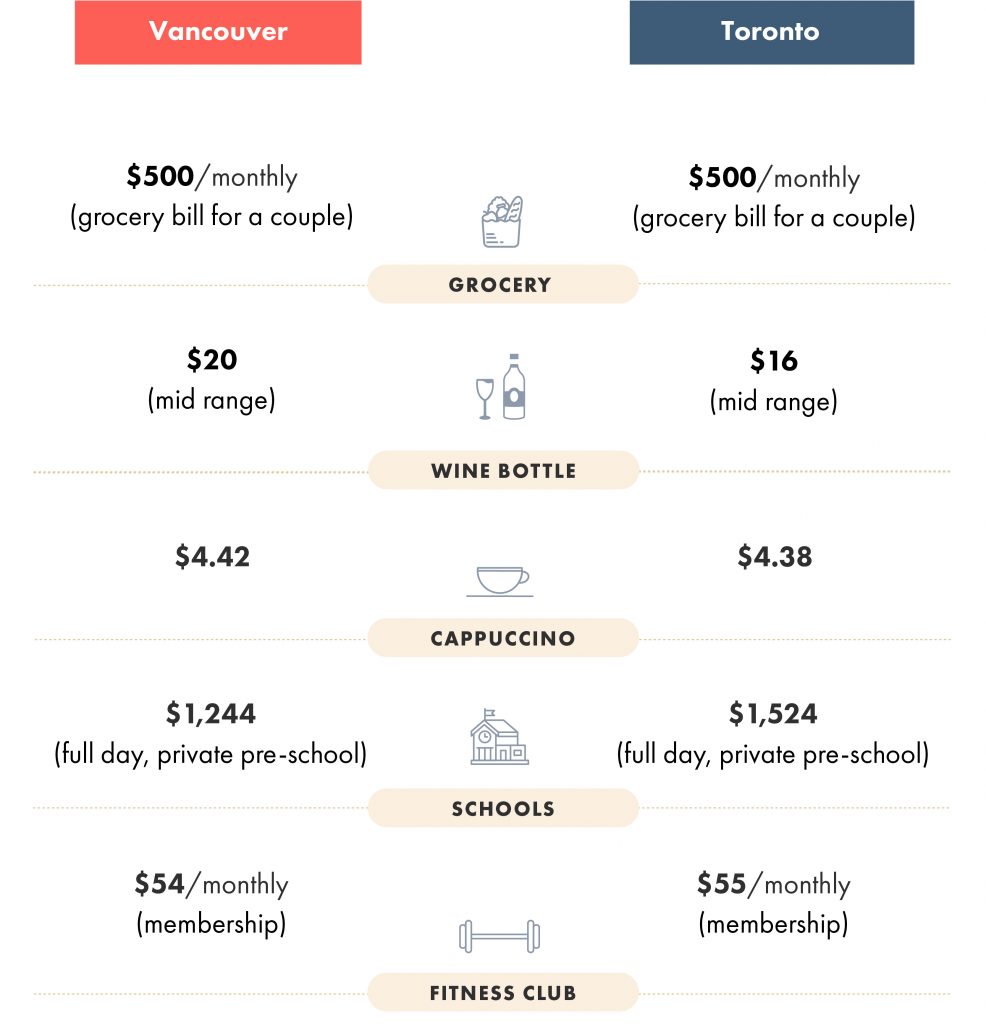 Average rent in Vancouver vs. Toronto
In a nutshell, the average cost of a downtown Toronto apartment is more expensive than the average cost of a downtown Vancouver apartment. The cost discrepancy also extends to comparable suburbs. However, when you look at other costs, the 2 most expensive cities in Canada are almost identical. We wholeheartedly recommend visiting each city before you decide to move to either one. Know that they are both expensive so the deciding factor will likely be something less tangible – the look, the feel, the nightlife, the culinary scene (both thriving!), recreational opportunities, and more.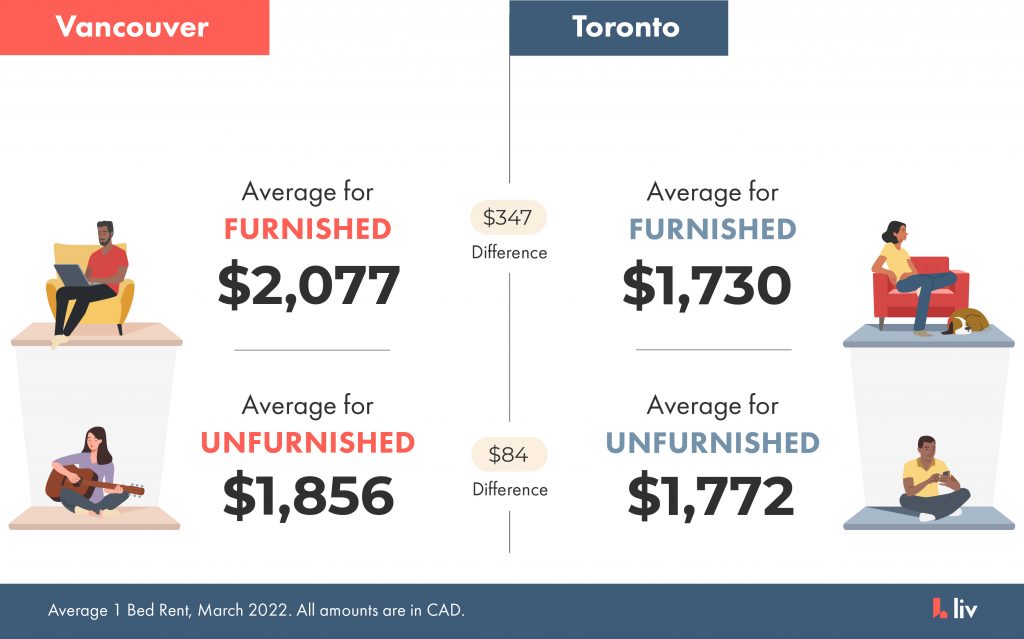 Average rent in Vancouver
Rental rates in the Greater Vancouver area vary considerably. Downtown and nearby neighbourhoods like Kitsilano, Main Street, Cambie Village etc. command significantly higher rents than homes in nearby suburbs. When choosing where to live, you would be wise to consider other factors besides just the cost of rent. How much time are you willing to spend commuting? Will you rely on transit? Is a yard important? These are all questions that will help you determine where to look for housing.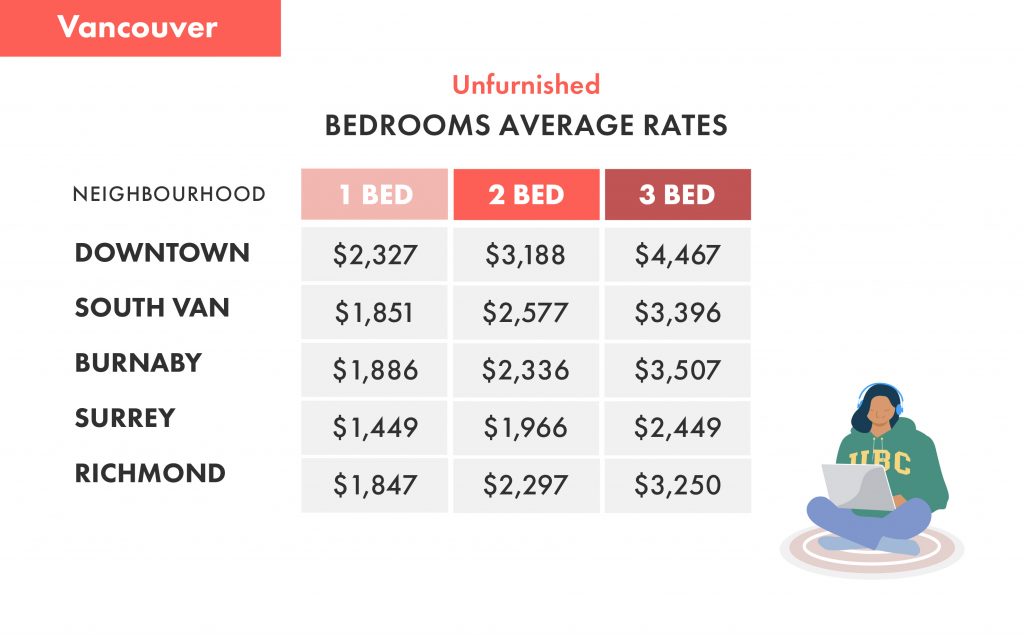 Average rent in Toronto
Like Vancouver, downtown Toronto and neighbouring areas command higher rents than places in the suburbs. Most of these suburbs are viable options, however, thanks to an extensive subway and commuter train network.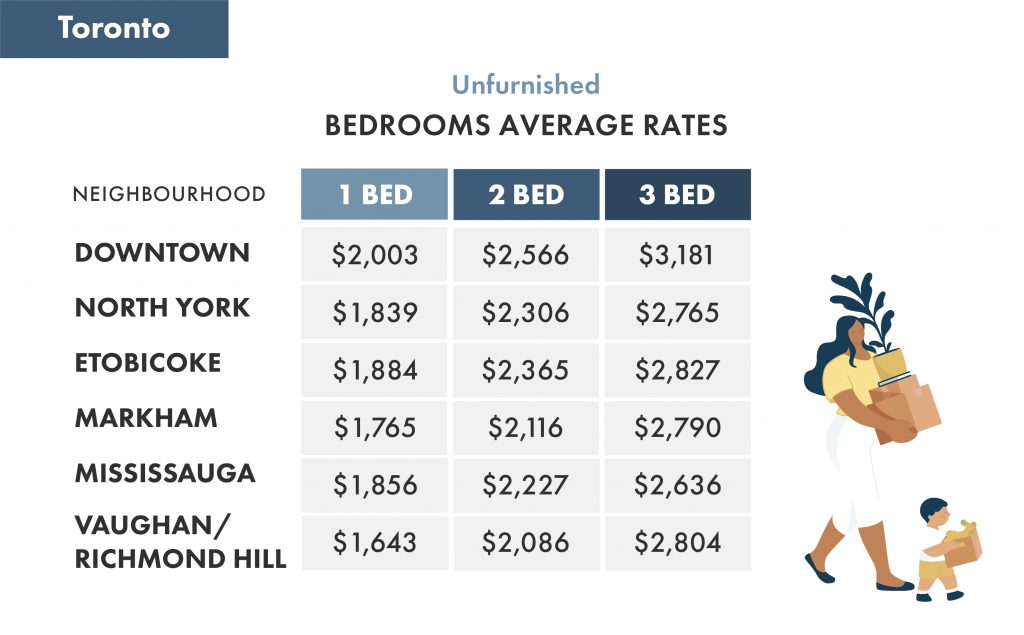 Population of Vancouver vs. Toronto
The City of Vancouver's population is a mere 660,000, while nearly three million people call the city of Toronto home. In terms of their total metropolitan areas, the whole of Metro Vancouver has a population of around 2.7 million, while the Greater Toronto Area has over double that, at approximately 6.5 million.
This major discrepancy is a key difference in Canada's two most prominent cities. While Vancouver may have the stature, opportunities and other defining factors of a major city, its population is deceptively small compared to that of Toronto. In any case, residents in either city won't have to worry too much as both cities enjoy fairly standard vacancy rates with plenty of options for renters in both Vancouver and Toronto.
Surprisingly though, Toronto's population density is well below Vancouver's – the former has about 4,334 people per square kilometre, while the latter has 5,249. To put this in perspective, these numbers are both well-below North America's most densely populated city, New York, which has over 38,000 people per square kilometre.
Job market in Vancouver vs. Toronto
Both Toronto and Vancouver have a reputation as two of the best places in Canada to find employment, with their own unique job markets. Toronto is typically viewed as Canada's financial and business capital thanks to its proximity to major East Coast financial centres and dearth of corporate opportunities, but Vancouver still has plenty to offer job-seekers of all stripes.
In fact, looking purely at unemployment rates in the two cities, Vancouver's is well below Toronto's at just 5.1% compared to Toronto's 7.7%. Which city you look to for your next career move really depends on which industry you're working within, as Toronto is home to many businesses' Canadian headquarters as well as all of the country's major banking institutions, whereas Vancouver is predominantly known for its thriving film industry and breadth of job opportunities.
Education in Vancouver vs. Toronto
As one would expect given their status as Canada's most prominent cities, both Toronto and Vancouver offer excellent educational institutions, and plenty of them. In fact, per Maclean's latest rankings, the two cities are home to Canada's top two universities: The University of Toronto and the University of British Columbia. About 62,000 students attend U of T, while UBC has a current enrollment of approximately 66,000 which makes both some of the largest schools in the country, with international reputations to match.
Vancouver is also home to Simon Fraser University, which Macleans ranks eleventh in Canada, as well as other schools like BCIT, Capilano University, Langara College, and more within the city itself and throughout Metro Vancouver.
Similarly, Toronto has a good assortment of top schools like York University, Ryerson University, Humber College and OCAD which all attract plenty of students from across the country and internationally.
Cost of living for students in Vancouver vs. Toronto
Living costs for students in Vancouver and Toronto vary by which school you're attending and whether you choose to live in student housing or off-campus. To help make your rental housing hunt easier, liv.rent has put together a series of guides for navigating the off-campus rental scenes for some of Vancouver and Toronto's major schools.
You can refer to these for more information on securing rentals as a student in these two cities.
Vancouver:
Toronto:
Healthcare in Vancouver vs. Toronto
Canada is renowned around the world for its excellent healthcare system, and neither Vancouver nor Toronto are exceptions to this. Comparing the two, Toronto ranks ever-so-slightly higher in terms of their Health Care System Index, per Numbeo.com. Toronto scored a 76.01 using this metric, and Vancouver is just below with a 74.77 rating. Notably though, Vancouver did score higher in some key stats like Skill and Competency of Medical Staff, and Friendliness and Courtesy.
Both have plenty of major medical centres to serve their populations, such as St. Paul's Hospital and Vancouver General Hospital in Vancouver, and Mount Sinai Hospital, Toronto General Hospital, St. Michael's Hospital, and Sunnybrook Health Sciences Centre in Toronto.
Traffic in Vancouver vs. Toronto
Another factor that becomes vitally important when considering a move to the big city is, of course, traffic. With job opportunity, convenience and population density inevitably comes congestion – raising the question of which Canadian city's roadways are more congested, Vancouver or Toronto?
Despite its scenic locale and green reputation, Vancouver has far worse traffic conditions of the two major cities, and is actually regarded as having the worst congestion in Canada, and the 53rd worst traffic in the world. Toronto's still not great in terms of traffic, ranked third in Canada and 145th in the world.
Weather in Vancouver vs. Toronto
Sorry, Toronto, but there's a clear winner in this category. Vancouver is known across the country for its mild temperatures, and even milder winters – especially when compared to other parts of Canada. Even in the depths of December, Vancouver averages a high of 7°C and a low of 3°C. Compare this to Toronto where highs average 3°C and lows sitting around -3°C, and temperatures frequently dip below -10°C during the coldest times of the year.
The only caveat is that Vancouver is notorious for its rain. Looking again at December, Vancouver averaged 15 days of rain during the month. Toronto, on the other hand, had 10 days of snow and 7 days of rain during the month of December.
The summer months are breathtaking in both cities, with Ontario slightly warmer with average highs of 27°C and lows of 18°C for the month of July, and approximately 7 days of rain for the month. Once again, Vancouver is much milder with average highs of 22°C and lows around 14°C. The rain also dissipates during the warmer months, with an average of only 4 days of rain for July.
Crime rate in Vancouver vs. Toronto
In most key respects, both Vancouver and Toronto are concerned very safe places to live, although their size and population density would lead you to believe that these cities have a higher-than-average crime rate, this isn't actually the case. The Canada-wide Crime Index according to Numbeo.com sits at 43.29, whereas Vancouver's is 37.43 and Toronto's 41.22. This number is taken from general fears about a variety problems occurring, as well as actual incidents.
In terms of safety, Vancouver possesses a 'Very High' rating on Numbeo.com's safety scale at 83.64 during the daylight and 60.12 at night. In Toronto, these numbers drop to 76.00 during the day and 54.00 at night.
---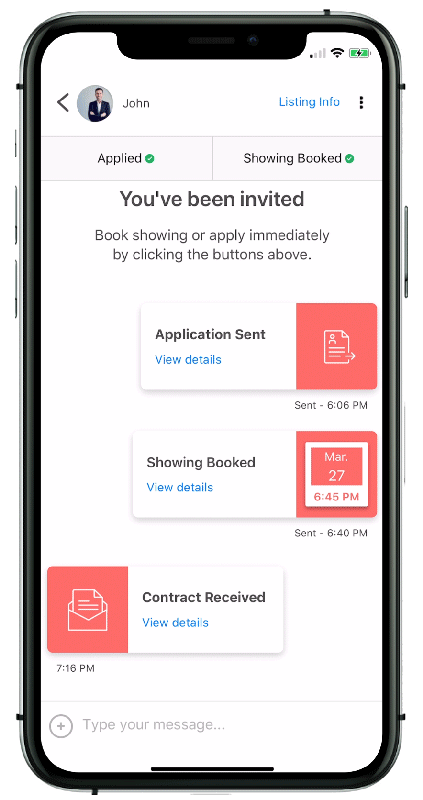 Rethink The Way You Rent
Not on liv.rent yet? Experience the ease of digital applications & contracts, verified tenants & landlords, virtual tours and more – all on one platform. Sign up for free or download the app.
Subscribe to receive the latest tenant & landlord tips and get notified about changes in the Canadian rental market.
>> Stay up-to-date on the average rent in Vancouver, Toronto and Montreal: Rent Reports.