Life on campus can be the time of your life, but it can also be expensive, crowded, and noisy. If you're looking to cut down on your expenses and find the best housing off-campus in Vancouver for UBC students, then this guide is for you —especially if you want a break from university life once class is over.
We're coving all the basics students need to know about off-campus living in Vancouver including the best places to find apartments and roommates.
We'll also look at a few neighbourhoods that are within a 30-minute commute to the central UBC campus. We've listed the best neighbourhoods for students in Vancouver in terms of convenience, proximity to campus, and available amenities. That way, your commute won't cut too much into your study time.
Table of Contents
Best off-campus housing for UBC students
Using liv.rent to search for your off-campus home is perfect for UBC students who can rent safely and securely from verified landlords and listings, sidestepping any scammers. Here's where to look for the best student housing options off-campus in Vancouver:
Living near transit in Vancouver
When it comes to off-campus housing, living close to transit options is extremely important. The U-Pass, Translink's monthly student transit pass, is typically included in your student fees and provides access to the bus and train networks. Planning your commute to class from off-campus housing is easy with Translink's Trip Planner, as well.
The Vancouver UBC campus is served by 16 bus routes with connections to destinations all over Metro Vancouver which leaves you with many options.
Living with roommates in Vancouver
The reality for many UBC students in a notoriously expensive city like Vancouver is that many of them will end up living in shared accommodations.
Looking for a place to share
If you're looking for a room in a shared space that's perfect for students, then your first place to check should be liv.rent's listings. You can use the map tool to find a place that's close to campus and use the search filter "Room" under "Housing Type" to look at all the available places in the area.
Looking for a roommate
Off-campus students at UBC who are looking for roommates to share their can available rooms for rent on liv.rent, where you can advertise for free.
Plus, the 100% digital platform means that you can connect with a roommate completely contactlessly, eliminating the need to meet in person.
Living in Wesbrook Village
Perched right on the edge of the campus proper and surrounded by forest, Wesbrook Village is a great place for students to live who don't want a long commute but also want to live outside of student housing.
Transportation in Wesbrook Village
Luckily, if you live in Wesbrook Village and have to get to class, you can easily walk, bike, or bus.
Translink's Route 68 — UBC Exchange / Wesbrook Village bus route connects you to every corner of campus you need to reach in minutes.
Types of accommodation in Wesbrook Village
In Wesbrook Village, you're mostly going to find apartments for rent, and many of them are new and in good condition.
Average monthly rent in Wesbrook Village
Studio apartment — $1620
One-bedroom apartment — $1,950
Two-bedroom apartment — $2,700
Three-bedroom apartment — $3,550
Source: Zumper
Wesbrook Village amenities
Wesbrook Village is its own tiny community just off-campus with restaurants, pubs, a grocery store, and plenty of services that are just steps away from many of the surrounding apartment buildings.
Westbrook Village apartments for rent
Living in Point Grey
This is the closest neighbourhood to UBC. This quiet, beautiful area is loosely defined lying between the beautiful beaches of Spanish Banks along Northwest Marine Drive and West 16th Avenue.
Transportation in Point Grey
You can easily catch a bus or ride your bike to the UBC campus in Point Grey. Depending on where you are in the neighbourhood, you're just a 10-minute bus ride away from UBC.
Try taking the 99 B-Line directly to campus or any number of the other bus routes in the area that take you there.
Types of accommodation in Point Grey
Here, accommodation is mostly shared in single-family homes. There are also some apartments, basement suites, and a growing number of laneway homes.
Average monthly rent in Point Grey
One-bedroom apartment — $1,750
Two-bedroom apartment — $3,100
Three-bedroom apartment — $4,750
Source: Zumper
Point Grey amenities
The busy commercial streets nearby include West 10th Avenue, Broadway, and West 4th Avenue and have plenty of the city's best restaurants, services, and grocery stores nearby.
Point Grey apartments for rent
Living in Dunbar/Southlands
Also adjacent to the UBC Endowment Lands but south of West 16th Avenue, the Dunbar/Southlands neighbourhood is another handy option for UBC students.
Transportation in Dunbar/Southlands
You'll want to take your bike or the bus to campus if you're living in the Dunbar/Southlands area. The 49 UBC line is one of the most popular bus routes.
Types of accommodation in Dunbar/Southlands
Most of the accommodation is in single-family homes, laneway houses, and basement suites though there are some apartments along the Dunbar corridor.
Average monthly rent in Dunbar/Southlands
One-bedroom apartment — $1,795
Two-bedroom apartment — $2,150
Three-bedroom apartment — $3,650
Source: Zumper
Dunbar/Southlands amenities
The Dunbar Village area has all amenities students need, but you're also just a quick bus trip away from all the best Westbrook Village has to offer on campus as well.
Dunbar/Southlands apartments for rent
Living in South Cambie/Marine Hub
In recent years, the area at the foot of Cambie has transformed into a vibrant new community known as Marine Hub.
Transportation in South Cambie/Marine Hub
This area is easy to access by public transit from anywhere in Vancouver. Students can access UBC along the West 49th Avenue bus route.
Types of accommodation in South Cambie/Marine Hub
There is a good mix of newly built condos, older apartment buildings, and single-family dwellings in this neighbourhood.
Average monthly rent in South Cambie/Marine Hub
One-bedroom apartment — $2,100
Two-bedroom apartment — $2,800
Three-bedroom apartment — $3,062
Source: Zumper
South Cambie/Marine Hub amenities
Centrally located between Vancouver and Richmond, this spot boasts restaurants, a T&T supermarket, Steve Nash Fitness Club and instant access to the Canada line that can take you Downtown or to the Airport in 15 minutes.
South Cambie/Marine Hub apartments for rent
The new W1 towers at the Marine Hub are a perfect fit for students with furnished or unfurnished options for two-bedroom, or three-bedroom places.
Living in Kitsilano
Kitsilano, also known as "Kits," is the preferred neighbourhood for many students who love to be between UBC and Downtown while just minutes away from Kits Beach.
Transportation in Kitsilano
Catch the 99 B-line bus along Broadway for the fastest and most direct route to campus. There are a handful of other bus routes in the area that take you right to the UBC bus loop as well.
Types of accommodation in Kitsilano
There are all kinds of possible accommodations in Kits from entire or partial houses to apartments and basement suites.
Average monthly rent in Kitsilano
Studio apartment — $1,740
One-bedroom apartment — $1,895
Two-bedroom apartment — $2,600
Three-bedroom apartment — $3,750
Source: Zumper
Kitsilano amenities
The neighbourhood is teeming with restaurants, bars, and shopping along West 4th Avenue and Broadway.
Kitsilano apartments for rent
How to rent near UBC from abroad
It's easy for UBC students who aren't yet in Vancouver or even in the country yet to rent an off-campus apartment safely and securely.
Once you have filled out your liv.rent profile completely, you can use it to apply to listings on our platform.
In your profile, you can select whether you are a first-time renter and whether or not you're renting from outside Canada. That way, a landlord can accurately assess your profile and help you secure a rental without having references in Canada.
Pro tip: watch our friend Tobi Adekeye's YouTube video that explains exactly how to use liv.rent to easily secure your Canadian home from abroad.
---
Student resources
liv.rent has a ton of resources for students renting in Vancouver. Especially if you're an international student, moving to B.C. from out-of-province, or just new in town — it's important to know the ins and outs of renting in B.C. so you protect yourself and get a fair deal.
Check out our guides on everything from renting and leases to tenants' rights and relationships with landlords.
---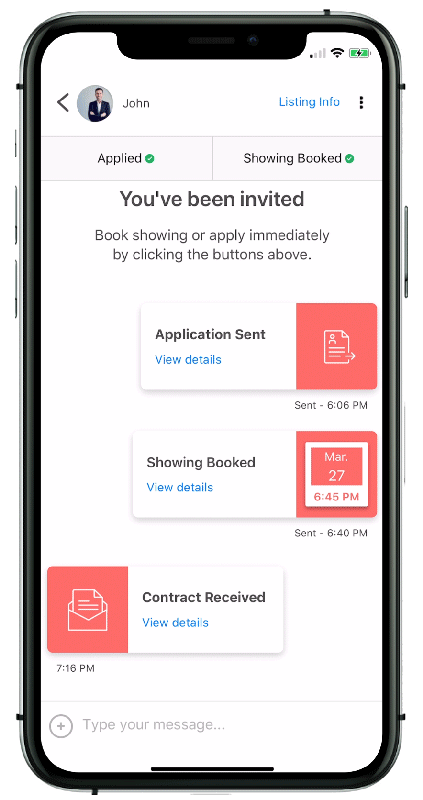 Rethink The Way You Rent
Not on liv.rent yet? Experience the ease of digital applications & contracts, verified tenants & landlords, virtual tours and more – all on one platform. Sign up for free or download the app.
Subscribe to receive the latest tenant & landlord tips and get notified about changes in the Canadian rental market.
>> Stay up-to-date on the average rent in Vancouver, Toronto and Montreal: Rent Reports