The Updated Trust Score
The Trust Score is an intelligent rating system designed to establish a renter's reliability and credibility when applying for places on the liv.rent platform. For renters, it's an part of the Renter Resume to help rental applications stand out among other renters. For landlords, it is a crucial tool used to screen tenants efficiently. Using AI and a powerful algorithm that corroborates submitted tenant information, the Trust Score gives landlords a more secure and accurate measure of a prospective tenant's suitability, thus simplifying their selection process.
As part of our continuous and concerted efforts to improve the liv.rent experience, we have recently enhanced this feature to work better for all our users – both landlords and renters.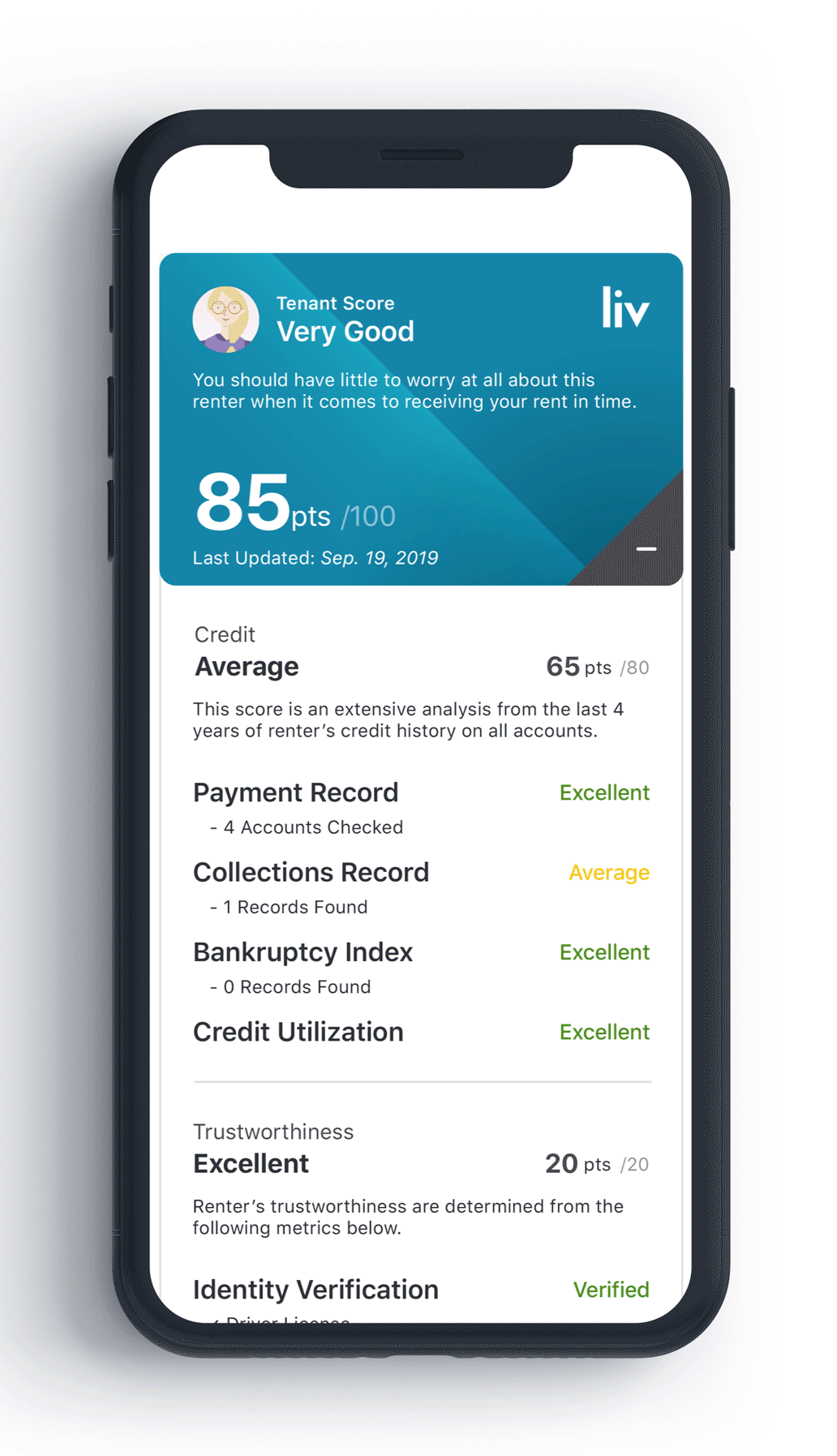 New Landlord Features
Landlords will now be able to gain a more comprehensive picture of prospective tenants. With any renters that apply to their listings, landlords will be able to see:
the number of accounts checked to qualify their payment record
collections record
bankruptcy index
credit utilization
In addition, their trustworthiness score will reveal:
Which piece of ID they used for Identification Verification
Income Verification and Employment Verification – separate verifications that can be attained by the following documents:

T4
Pay stub
Employment letter
Tenant viability and reliability is further confirmed by:
Income-to-rent ratio
Court record verification (where applicable)
Note: landlords are able to see all submitted tenant documents except for the picture ID, selfie, and Equifax report. However, as stated above, landlords will be able to see which documents were submitted for verification. Landlords will only be able to see this additional information when a renter applies to their listing.
New Tenant Features
Tenants can now choose from a longer list of acceptable documents when verifying their income including:
Tax slips
Bank statements
Job offer letter
Letter of employment
Payslip
Student loan financial statements
To verify their identity renters can upload any of the following:
Drivers license
Passport
Canadian citizenship card
Permanent resident card
Selfie – this is to ensure that the submitted ID belongs to the person uploading the information
Any other government-issued photo identification
Identification that is not accepted for ID Verification:
Student ID
Employee ID
Library cards

So what does the Trust Score rating mean?
| | | |
| --- | --- | --- |
| Trust Score | Rating | Renter |
| 80-100 | Excellent | Almost perfect! Tenant has an exemplary financial record and are trustworthy. |
| 70-80 | Very Good | A good bet! Despite 1-2 missed payments in your past, tenant is reliable, credible and financially stable. |
| 60-70 | Average | Looking pretty good! Tenant may have missed 2-3 payments and/or is using some of their credit allowance. Also, the information provided only partially matches information on LinkedIn, Equifax etc. Landlord will likely request more information. |
| < 60 | Poor | Needs improvement! Tenant hasn't provided enough information. If tenant is seriously interested in the property, they will need to give the landlord additional documents (i.e. photo ID) and solid references. |
Can a tenant improve their Trust Score?
Yes! There are a few steps a renter can take to boost their score and enhance their profile and improve their standing with landlords.
Complete your profile. The more complete it is, the more likely a landlord is to prioritize an application.
PRO TIP: According to liv.rent research, 88% of responded landlords say they prioritize completed applications.
Connect your profile to your LinkedIn account
Upload other financial documentation like pay stubs, letters of employment, etc.
Upload government-issued picture ID.
If tenant is young or new to Canada, they should start building a good credit profile.
Get a mobile phone under their own name (not parents or spouse).
Secure different types of credit. Credit bureaus love looking at different sources of credit when determining credit scores.
To avoid missed payments set up automatic payments so it doesn't happen again.
You can learn more about improving your Trust Score here.
Is personal information secure?
Picture ID and Equifax report are temporarily stored while the Trust Score is generated. Once verified, both are immediately and securely destroyed from our servers. Throughout the entire process, landlords will never receive or be able to view a tenant's uploaded ID or Equifax report.
For more information, please refer to our Privacy Policy.
---
Experience easy renting with liv.rent and sign up here.