Toronto's Rental Market In 2021
Not even a global pandemic could shake T.O.'s status as the most expensive city in Canada. While it still might cost a pretty penny to call it home, renting in Toronto is getting a tiny bit more affordable. In fact, the first half of 2021 is going to be a renter's market while rental rates continue to drop.
So while you might not find a cheap place, you can make $1,800 go further now. The team at liv.rent took a look at the average rent in Toronto and we're sharing what you can get for your money in each neighbourhood.
Table of Contents
liv.rent has officially landed in Toronto
Start your search today and browse through verified condos, houses and apartments for rent in Toronto. Connect instantly with verified landlords and apply to multiple listings with just a few clicks.
Average Rent In Toronto
What is the average rent in Toronto?
The current average rent in downtown Toronto is $1,903 — but you can find current rentals for $1800 or less.
Are rents going down in Toronto?
Of course, what you end up paying really depends on the neighbourhood you choose. A suite Downtown will cost you up to $300 more on average than a place in Scarborough. Here's the city broken down by area so you can get a glimpse of what's out there right now: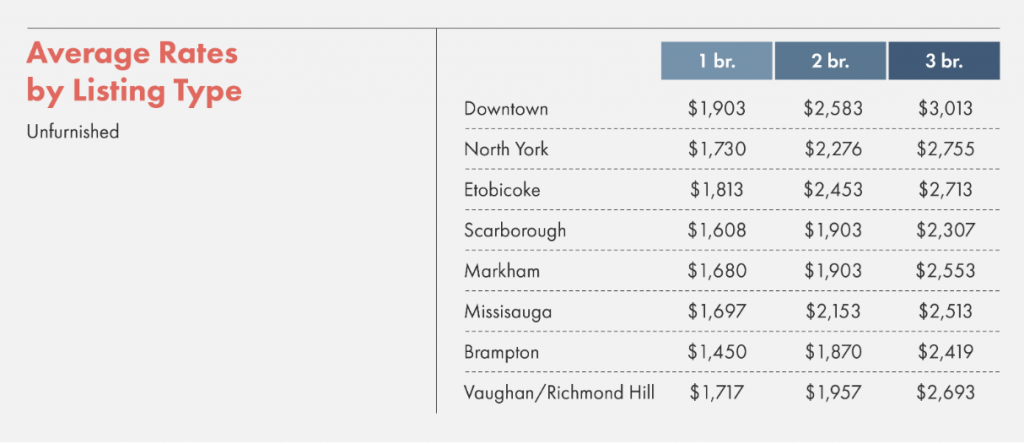 Find a place to rent for $1,800 or less near you
Apartments in North York
Diverse North York's close-but-not-too-close location relative to downtown is attractive for people looking for a quieter situation — but who aren't ready to call the farm home either.
It's an in-between neighbourhood — not proper suburbia with cookie-cutter developments but also not an area you'd associate with urban Toronto. It's residential and quiet but with enough going on that you don't have to go downtown for dinner and drinks if you don't want to.
Read More: Top 10 Tips for Renting an Apartment in Toronto (2021)
Apartments in Midtown
Easy to get to on the Yonge–University subway line, Midtown is relaxed. It's also hiding some of the city's best restaurants. If you have a dog or if you like runs in the park, then there's plenty of green space in this neighbourhood that you'll love.
Read More: Ontario Standard Lease Explained
liv.rent – Canada's trusted house & apartment rental website
Search apartments, condos, and homes for rent.
Verified Landlords: Rent from a trusted landlord. Look for the "ID Verified" tag to identify which landlords have been pre-screened.
Quality Rentals: Browse listings that have been checked by our team. Verified by official documents or by mail.
One-Click Applications: Fill out your Renter Resume once and apply to multiple listings in just a few clicks.



Apartments in Uptown
Uptown is home to a part of Yonge that has a good sense of community. It's almost like a little town in the heart of the GTA. More laidback than Downtown, this charming corner of T.O. has fantastic transit options — but you may find yourself paying more for that privilege.
Read More: Toronto Rental Market – 2020 Recap and 2021 Outlook
Apartments in Downtown
From flashy Yorkville to the lively Downtown Core, this neighbourhood is busy night and day. Of course, living in the heart of it all will cost you more. Your rent dollars don't seem to go far here. Expect some tighter quarters than you'd find in neighbourhoods further from the centre.
Read More: liv.rent's January 2021 Toronto Rent Report
Apartments in Etobicoke
Etobicoke gets points for being close to the airport and fairly accessible by public transit on the Bloor line. In particular, South Etobicoke is full of newer condos to rent. Its proximity to downtown coupled with a slightly more suburban, tree-lined streets vibe is making it attractive to young families now.
Read More: Frequently Asked Questions: Everything You Need to Know About Eviction in Ontario
Apartments in Scarborough
Scarborough is large and a bit more spread out and less walkable than the other neighbourhoods on this list. For those who are hoping to upgrade from a studio to a one-bedroom or from a one-bedroom to a two-bedroom, you'll get more room out here. If you like the fresh air or have a four-legged friend who loves to go for walks, then you'll love exploring the parks and the ravine system here. Plus, people come from all around the city to hang out at the beautiful Scarborough Bluffs along Lake Ontario.
Read More: Frequently Asked Questions: Everything You Need to Know About Eviction in Ontario
Apartments in York-Crosstown
This is a fun part of Toronto that keeps getting better. Hilly York-Crosstown is on the verge of getting its own Eglinton-Crosstown subway line that will make it feel much more connected to the rest of the city. It could be a good time to get a place here because once commuting gets easier, rents might go up.
Read More: FAQ: Tenant Responsibilities when Moving Out in Ontario
liv.rent – Search apartments & houses for rent in Toronto
Search houses, rooms, condos and apartments for rent in Toronto. Chat instantly with verified landlords. Apply to multiple listings. Save your chat history & signed documents all in one platform.
Apartments in East York
East York might not have great transit options, but it's a 15-minute drive away from Downtown and has bus connections to the subway. It's a more quiet and more community-centred residential area of Toronto that's popular with families.
Read More: 2021 Definitive Guide: Moving to Canada from the US
Apartments in the West End
The West End is centred around the beautiful High Park where you can see cherry blossoms in the spring and autumn colours in the fall. If you're not one for downtown life, then this adjacent and artsy neighbourhood could be a good fit.
Read More: Renting During COVID-19: A Renter's Journey
Apartments in the East End
You'll find unique pockets like Greektown and The Danforth in Toronto's East End. Although it's a mainly residential area, it's multicultural and full of hidden corners that are fun to discover.
Read More: Average Rent Near Transit in the Greater Toronto Area (GTA)
Renting in Toronto
In most corners of the city, $1800 can get you a great place to live. One thing you'll want to look out for is your public transit options, especially if you need to be well connected to other parts of the city.
Where you decide to find a home in Toronto is ultimately up to you. What are your priorities?
Do you want to be able to leave your apartment and head to the nearby park for a bit of fresh air and quiet? Or, would you rather get less square footage for your dollar to be closer to the centre of town? The choice is yours and there are lots of good homes out there to call your own.
---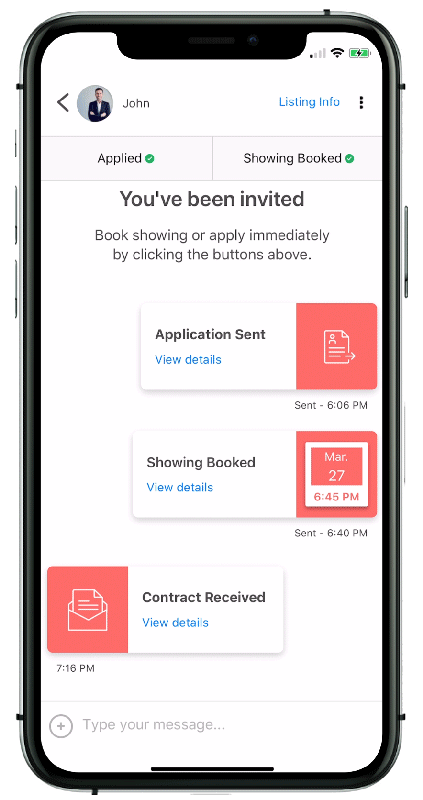 Rethink The Way You Rent
Not on liv.rent yet? Experience the ease of digital applications & contracts, verified tenants & landlords, virtual tours and more – all on one platform. Sign up for free or download the app.
Subscribe to receive the latest tenant & landlord tips and get notified about changes in the Canadian rental market.
>> Stay up-to-date on the average rent in Vancouver, Toronto and Montreal: Rent Reports
Cover Image Source: Adobe