Toronto's Rental Market In 2021
Toronto continues to be one of Canada's most expensive rental destinations, having rebounded from it's mid-pandemic lows. In fact, as of November 2021, it's second only to Vancouver in terms of rental rates in the country, with a city-wide average of $1,791 for an unfurnished, one-bedroom unit. With a $1,800 budget then, renters can still find plenty of places to live within the city. For this article, the team at liv.rent took a look at the average rent in Toronto and we're sharing what you can get for your money in each neighbourhood.
Table of Contents
liv.rent has officially landed in Toronto
Start your search today and browse through verified condos, houses and apartments for rent in Toronto. Connect instantly with verified landlords and apply to multiple listings with just a few clicks.
Average Rent In Toronto
In most corners of the city, $1800 can get you a great place to live. One thing you'll want to look out for is your public transit options, especially if you need to be well connected to other parts of the city. Where you decide to find a home in Toronto is ultimately up to you. What are your priorities?
Do you want to be able to leave your apartment and head to the nearby park for a bit of fresh air and quiet? Or, would you rather get less square footage for your dollar to be closer to the centre of town? The choice is yours and there are lots of good homes out there to call your own.
Of course, what you end up paying really depends on the neighbourhood you choose. A suite Downtown will cost you up to $300 more on average than a place in Scarborough. Here's the Greater Toronto Area broken down by area so you can get a glimpse of what's out there right now:
Find a place to rent for $1,800 or less near you
North York
Average Rent
North York is the GTA's second-most expensive rental destination, with averages nearing those of Downtown Toronto itself. As of November 2021, the average rental cost of an unfurnished, one-bedroom unit was as high as $1,852, making it a costly destination for renters.
Municipality breakdown
About: Diverse North York's close-but-not-too-close location relative to downtown is attractive for people looking for a quieter living situation — but who aren't quite ready to call the farm home either. It's an in-between neighbourhood — not proper suburbia with cookie-cutter developments but also not an area you'd associate with urban Toronto. It's residential and quiet but with enough going on that you don't have to go downtown for dinner and drinks if you don't want to.
Transportation: North York is a little removed from Downtown Toronto, but has its own vibrant infrastructure to make frequent trips mostly unnecessary. Expect about a 40-minute drive by car, or a 30-35 minute trip by transit.
Top neighbourhoods: North York is home to some of the Greater Toronto Area's most prestigious and desirable neighbourhoods, while also offering plenty of diverse options for the average renter. The municipality's vibrant City Centre has a ton to do, including multiple shopping centres, fitness facilities, and plentiful dining options. York Mills is one of the aforementioned prestigious neighbourhoods, and offers luxury amenities to match. Renters should expect to pay a little more for this distinguished postal code as it's home to many luxury condominium buildings and office towers.
Rental types: With a bustling business district and a vibrant family-friendly community, North York offers everything from one-bedroom and two-bedroom apartments and condos geared towards professionals, as well as larger family-oriented housing in its more suburban areas.
Midtown
Average rent
It's hard to pinpoint averages for Midtown specifically, but renters should expect to pay close to Toronto's $1,909 average in this desirable neighbourhood. Since it's close to the Downtown Core while forming its own administrative district, Midtown tends to command higher prices for its rental units.
Municipality breakdown
About: Easy to get to on the Yonge–University subway line, Midtown is a more relaxed alternative to Toronto's downtown core. It's also cleverly hiding some of the city's best restaurants, for those looking to enjoy the city's amazing food scene. If you have a dog or if you enjoy afternoon runs in the park, then there's plenty of green space in this neighbourhood that you'll love.
Transportation: One of Midtown's main perks is that it offers a slightly more relaxed feel than Downtown while remaining just outside its fringes. The Downtown core is only about 10-15 minutes by subway, or 15-20 by bus.
Top neighbourhoods: Rosedale, Moore Park and Forest Hill are all within the Midtown municipality, and are widely recognized as some of Toronto's most sought-after neighbourhoods. With plenty of history as well as unparalleled access to entertainment, shopping and dining, these three neighbourhoods are great places for renters seeking the best of both worlds.
Rental types: Midtown is a vast, diverse area with options for renters of all stripes. The older area has many rebuilt smaller homes and low-rise apartment buildings, as well as plenty of new builds and larger condominiums to house its many residents.
liv.rent – Canada's trusted house & apartment rental website
Search apartments, condos, and homes for rent.
Verified Landlords: Rent from a trusted landlord. Look for the "ID Verified" tag to identify which landlords have been pre-screened.
Quality Rentals: Browse listings that have been checked by our team. Verified by official documents or by mail.
One-Click Applications: Fill out your Renter Resume once and apply to multiple listings in just a few clicks.

Uptown
Average rent
Uptown is also included in our overall calculations of Toronto's rental averages, and precise numbers are difficult to track down. Renters should expect to pay close to Toronto's $1,909 average for an unfurnished one-bedroom, while prices for two and three-bedroom units can vary depending on the type of property.
Municipality breakdown
About: Uptown is home to a part of Yonge that has a good sense of community. It's almost like a little town in the heart of the GTA. More laidback than Downtown, this charming corner of T.O. has fantastic transit options — but you may find yourself paying more for that privilege. The area is also home to some of the city's highest-ranked public and private schools, making it ideal for young families seeking a discerning education for their little ones.
Transportation: Uptown is just North of Toronto's Downtown core, making it easy to access by car or transit. Depending on traffic, you can drive to Downtown in as little as 10-15 minutes, or even walk or bike if you're feeling adventurous. The area is also home to multiple subway stations for easy access to the rest of the city.
Top neighbourhoods: Uptown isn't a clearly marked area in its own right, but rather refers to the quieter, more suburban district just North of Downtown. Sherwood Park is technically within Uptown's borders, and is home to some excellent parks as well as being conveniently located for easy commutes.
Rental types: This family-friendly neighbourhood caters to its most common demographic with a variety of both multi-bedroom apartments and more suburban townhouses and small houses.
Downtown
Average rent
Downtown Toronto is truly the centre of the action, with a bustling business district, world-class shopping, and convenient access to nearly anything renters could ever ask for. All of this convenience doesn't come cheap though — Downtown Toronto averaged $1,909 for an unfurnished, one-bedroom unit in our latest Rent Report.
Municipality breakdown
About: From flashy Yorkville to the lively Downtown Core, this area is busy night and day. Of course, living in the heart of it all will cost you more. Your rent dollars won't go nearly as far here, but the unparalleled convenience makes this worthwhile for many renters. From dining, to sports, to shopping, Downtown Toronto has it all in spades as well as being recognized as Canada's primary urban centre thanks to its expansive business district and global financial institutions.
Transportation: As one would expect, Downtown Toronto residents are extremely connected to the rest of the city. With some of Canada's best transit including plentiful subway stops and tons of options for buses — not to mention great walkability, Downtown Toronto makes it incredibly easy to get where you need to go.
Top neighbourhoods: Downtown Toronto is an incredibly diverse community, with an array of neighbourhoods to match. Trinity Bellwoods is one of the hipper addresses in the city, with plenty of modern dining options, great parks, and a young, vibrant feel. West Queen West is equally renter-friendly, offering a variety of hip cafes and plenty of other amenities attracting young professionals.
Rental types: For those willing to pay a little more, Downtown Toronto has rental options for just about everything. In its core are many luxury high-rise condominiums and apartment buildings, while some of its less-busy neighbourhoods offer character houses and low-rise apartment buildings great for budget-minded renters.
Etobicoke
Average rent
As a whole, Etobicoke is right in the middle of the GTA's varying rental averages. As of November 2021, a one-bedroom, unfurnished unit costs an average of $1,734 to rent, with lots of options both above and below this number.
Municipality breakdown
About: Etobicoke is on the Western boundary of the City of Toronto, and gets plenty of points for being close to the airport and fairly accessible by public transit on the Bloor line. Its proximity to downtown coupled with a slightly more suburban feel complete with scenic tree-lined streets is making it attractive to young families now.
Transportation: A little farther from Downtown Toronto, Etobicoke is about a 45-minute drive, or an hour or so by transit. Both the Line 2 Subway and train run constantly, and the trip is very affordable, if a bit lengthy.
Top neighbourhoods: Etobicoke is home to many diverse neighbourhoods close to both nature and convenient amenities. Humber Heights is one example of a particularly attractive neighbourhood for nature lovers, with a rolling landscape full of lush greenery that's still close to the action.
Rental types: Etobicoke has an abundance of options for every budget. In particular, South Etobicoke is full of newer condos to rent at reasonable rates.
Scarborough
Average rent
Scarborough is on the cheaper end of the Greater Toronto Area's rental averages, with a one-bedroom unfurnished unit currently going for $1,696 on average as of November 2021.
Municipality breakdown
About: Scarborough is on the Eastern end of the City of Toronto, and is large and a bit more spread out than the other cities and municipalities on this list. For those who are hoping to upgrade from a studio to a one-bedroom or from a one-bedroom to a two-bedroom, you'll get more room out here. If you like the fresh air or have a four-legged friend who loves to go for walks, then you'll love exploring the parks and the ravine system here. Plus, people come from all around the city to hang out at the beautiful Scarborough Bluffs along Lake Ontario.
Transportation: Megabus operates a bus that runs from Scarborough to Downtown Toronto twice daily, and takes only about 30 minutes. Driving takes only slightly longer, owing largely to traffic. Still, this journey is only about 45 minutes during peak hours.
Top neighbourhoods: West Hill is a renter-friendly neighbourhood that has seen tons of new development in the last few years. As such, there is a variety of affordable options within its boundaries. The neighbourhood itself is positioned overlooking Highland Creek, making it ideal for those looking to escape from the city without sacrificing accessibility.
Rental types: Etobicoke's expansive, nature-forward community largely favours family living, but recent developments have seen it become a destination for budget-aware renters. Single-family homes are plentiful in this vast community, as well as many low-rise and high-rise apartment buildings for single occupants.
East York
Average rent
liv.rent hasn't yet collected data specific to East York, however it's estimated that an unfurnished, one-bedroom unit will cost renters anywhere from $1,450 to $1,800 within the municipality, making it a slightly more budget-friendly alternative to the area's more expensive areas.
Municipality breakdown
About: East York is a quieter and more community-centred residential area of Toronto that's popular with families. The municipality has a strong sense of neighbourliness owing to its relatively small size and variety of indoor and outdoor recreational facilities, many parks, and plenty of schools.
Transportation: East York might not have great transit options, but it's a 15-minute drive away from Downtown and has bus connections to the subway.
Top neighbourhoods: Technically a neighbourhood in itself, East York is family-friendly and locally-focused, without being too far from the city. Its idyllic setting and tight-knit community make it ideal for those looking to get away from the city, without truly leaving it.
Rental types: Many of East York's homes are older builds from between the 1890s and 1960s, though there continues to be new interest due to the area's family-friendly atmosphere. Still, the municipality has plenty of options for individual renters as well, including some older apartment buildings as well as a few newer ones.
FAQ: Renting in Toronto
So there you have it. Toronto may be recognized as one of the most expensive rental cities in Canada, but this guide hopefully shows that there are plenty of affordable options to be found throughout the GTA — especially if you're willing to do your homework.
Lets look now at some of your most frequently asked questions about renting in Toronto and throughout the GTA:
Is rent getting cheaper in Toronto?
After initially taking a downturn following the onset of the COVID-19 pandemic, Toronto's rental prices have rebounded in a big way. However, the city-wide average remains well below our $1,800 price target for an unfurnished one-bedroom unit, so renters shouldn't fear this rise too much. For a look at rental trends throughout the GTA, have a look at this graph from our November Rent Report
What is the best site to find a rental in Toronto?
Toronto has a variety of options for renters looking to secure a home, such as Craigslist and Kijiji, but those looking to streamline their search process and connect with trusted landlords and listings would do well to check out liv.rent. The all-in-one rental platform has a variety of built-in features designed to make renting easier, and provides secure options for both payment and contract signing to make your rental process easier.
Does rent in Toronto include utilities?
This should be looked at on an individual basis, and you should definitely enquire about this before signing a lease, if it isn't made clear. Toronto condos generally factor in hydro into the price, while individual residences may not.
How long in advance should I start looking for a place to rent?
In Ontario, the minimum notice to end a lease is 60 days, so it would make sense for renters to start looking for places within two months of their desired move-in date. It's worth mentioning that some rentals will be listed for cheaper closer to the specified move-in date, as there is urgency to fill the unit and avoid vacancies.
---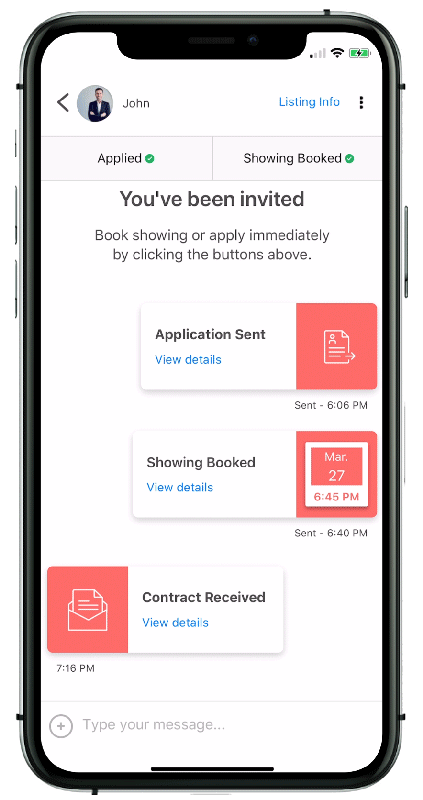 Rethink The Way You Rent
Not on liv.rent yet? Experience the ease of digital applications & contracts, verified tenants & landlords, virtual tours and more – all on one platform. Sign up for free or download the app.
Subscribe to receive the latest tenant & landlord tips and get notified about changes in the Canadian rental market.
>> Stay up-to-date on the average rent in Vancouver, Toronto and Montreal: Rent Reports.
Cover Image Source: Adobe