Hi there! We're liv.rent and we make renting easier for everyone. If you're a first-time renter, then check out this infographic we made just for you — it'll help you navigate the rental market like an expert. And if you're ready to join us on liv.rent, then you can start your journey off on the right foot!
Table of Contents
Download This Ultimate Renter Guide
If you're a first time renter, this is the guide for you. From searching and viewing to choosing and applying, it'll answer all your questions about renting in Canada.
Step 1: Searching for rentals
Every first-time renter will begin by first browsing for rentals in their chosen area. This will likely make up the bulk of your time spent trying to secure a property to rent, particularly in more competitive rental markets where you may find yourself tracking down and applying to multiple rentals before being accepted to rent. In this first section, we'll go over some of our tips and strategies to streamline your rental search and protect yourself from dishonest practices and potential rental scams.
Tip #1: Know your requirements
Before you even think about starting your search, it's important to have a good idea of what you're looking for and what really matters to you in a rental property. Consider your budget, ideal location, desired amenities, and any specifics pertaining to a lease, such as duration, pet policy, parking, etc. If you're using liv.rent for your apartment search, you'll be able to add all of these requirements as filters in order to focus your time and find a rental property faster.
Tip #2: Do your research
Knowledge is power for renters, and being aware of your chosen rental market makes all the difference in ensuring a smooth search and application process. Once you've chosen an area to look for rentals in, be sure to take a look at the latest Rental Data to get a sense of what the average rent is. This will help you to better negotiate your lease terms and rental rate when it comes time.
It's also a great idea to take a stroll around your potential new neighbourhood to get a feel for the area. Take note of the types of services and amenities nearby, and make sure that it has everything you'll need and aligns with your vision.
Tip #3: Beware of red flags
Unfortunately, renters also have to be aware of various rental scams on top of worrying about the day-to-day complexities of the rental process. Most of these scams are preventable though, if you know what to look out for. Here's a quick overview of some red flags to look out for when searching for and applying to rental units:
Too good to be true — If the rental price seems shockingly low for what's on offer, there's a good chance that you're looking at a false listing. While it may in fact just be a really good deal, it's worth approaching these types of listings with caution.
Urgent demand for cash deposit — Renters have no obligation to make a deposit until the lease is signed. If a landlord is pressuring you to send a cash deposit before signing, or even viewing, there's a good chance that you're looking at a rental scam.
Requesting too much information — It's important to understand what information is required by landlords to sign a lease, and to not provide them with anything that either encroaches on your Human Rights, or sets you up for potential financial scams.
Withholding address details — If the landlord is unwilling to provide you with the address of their rental property, this is a good indication that it either doesn't exist at all, or at least not in the capacity specified.
Obscured landlord identity — If you can't find any information on your potential new landlord or the company they claim to represent, be wary.
Rent your perfect home with liv.rent
Search houses, rooms, condos and apartments for rent. Chat instantly with verified landlords. Apply to multiple listings. Save your chat history & signed documents all on one platform.
Tip #4: Google the property
Renters can learn a lot about a property and the person/people managing it by conducting a simple Google search prior to getting in touch. Simply typing in the address or building name can give you valuable insight into how the property is managed, any problems or past experiences, and other information that will aid in your decision-making. Pay particular attention to any complaints regarding property management, maintenance, noise, and the neighbourhood itself as these are all things you'll need to be aware of.
Tip #5: Strategize in-person viewings
If the landlord is willing and able to provide them, video tours are an excellent way to preview a property before attending a showing, and will save you tons of time throughout the rental process. This way you can strategize your viewing schedule to only include those properties which you're most interested in, rather than going in unaware and wasting your time.
Tip #6: Search when it's cold
This may seem counter-intuitive, but it's generally much easier to find properties for rent in the winter months when fewer people are looking. Particularly in Canada where temperatures can often get cold quickly, less renters are prepared to move during the colder parts of the year and if you're able to, this can greatly increase your chances of finding the perfect home faster.
Step 2: How to prepare for an apartment viewing
Once you've found a rental property you're interested in and submitted your application, you'll need to start preparing for the all-important viewing. There are a number of steps renters can take to ensure they're ready to dazzle landlords at a viewing, while ensuring they're keeping themselves safe and making the most of the experience. Let's go over four of our top tips for viewing apartments now.
Tip #1: Don't be afraid to check
A viewing is likely one of your only opportunities to take a close look at the property you might be renting, and it's important to make the most of this time. That means checking to make sure that appliances and features of the unit are all in working order, and everything is as it was described. Many renters forego this vital step in the interest of appeasing the landlord, but it's essential to take your time to ensure there are no surprises later on, should you go ahead and sign the lease.
Be sure to check that faucets are all running, thermostats are working, toilets flush, stoves turn on, etc. Most trustworthy landlords will have no problem with this, and will likely even appreciate you taking the time to do your due dilligence.
Tip #2: View in daylight
If possible, it's always a good idea to view a property when it's light out. Not only is this a good practice for keeping yourself safe during the rental process, but it's ideal for getting a proper look at the unit. You can get a much better sense of the space when it's properly illuminated, and it's important to know how much natural light your future rental receives. Darkness can also hide imperfections and a lack of maintenance, so do try and arrange for a daytime viewing if you can.
Tip #3: Prepare questions
Questions aren't just for landlords to ask. Renters have the right to get all the information they need about a rental property upfront, and should come prepared to ask questions at their viewings. Not only does this help clear up any unclear details, but it shows the landlord that you're interested in the unit and engaged in the rental process.
Tip #4: Pre-submit your application
To stand out from the crowd and position yourself for a successful first face-to-face meeting, renters should consider applying for the unit in advance. This extra step helps to give landlords a sense of who you are, and if they like what they see on your application, it likely means they'll take more time to interact with you at the viewing. It also shows strong initiative and immediately puts you ahead of other renters, making your chances of securing the rental much higher.
Step 3: What do you need to apply for an apartment for the first time?
Whether you choose to apply before or after a showing, there are a few important things you'll need to include with your rental application. Landlords need to know more about you before they decide to enter into a lease, and having the necessary information handy in advance will save you both time. Here's a few quick tips on presenting the right information and documents:
Tip #1: Include identifiers
Before proceeding with the rental process, landlords will need to know who you are, and some basic information that confirms this. Here's a list of some information you'll be asked to provide on an application:
Full name
Date of birth
Current and former addresses
Tip #2: Include background information
Next, landlords will need to know about your employment history, education, and anything else that relates to your tenancy. Here's a list of what this background information might include:
Employment history/proof of employment
Educational history
Criminal record
Tip #3: Include financial information
Lastly, landlords will need information to confirm that you will be able to consistently pay rent in full and on time, without any problems. Some things you may be asked for include:
Income source (e.g. pay stubs)
Credit check/debt info
Bank account information (e.g. bank statements)
For a complete list of the information you'll be asked to provide on an application, be sure to download our full Guide For First-Time Renters.
---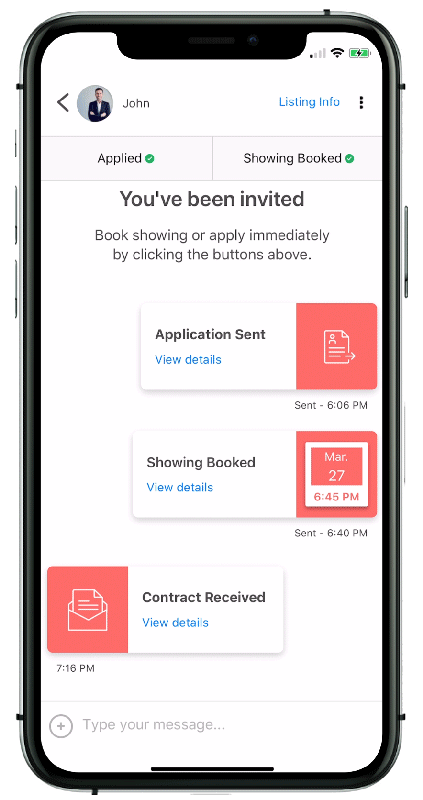 Rethink The Way You Rent
Not on liv.rent yet? Experience the ease of digital applications & contracts, verified tenants & landlords, virtual tours and more – all on one platform. Sign up for free or download the app.
Subscribe to receive the latest tenant & landlord tips and get notified about changes in the Canadian rental market.
>> Stay up-to-date on the average rent in Vancouver, Toronto and Montreal: Rent Reports.