Finding an apartment to rent in Vancouver requires research, communication with landlords & property managers, securing references, and ultimately finding a place you want to call home. All this can add up to a lengthy endeavour if you're not familiar with how to find an apartment in Vancouver. To help renters, we've put together this guide for every step of the way; with apartment viewing tips, advice for how to find apartments, and more. We're liv.rent, a Vancouver-based rental platform and more with digital solutions for every step of the rental process. Use these tips for renting in Vancouver to find an apartment easily, efficiently, and safely.
Don't miss your perfect home with customizable alerts
Can't find what you're looking for? Set up a listing alert and get notified about listings that meet your criteria (location, price, housing type, bedrooms, pet policy, and more).
Note: If you're not a liv.rent user, sign up first. Then apply your filters and click the "Create Alert" button on the upper right hand corner to set up your alert.
How to search for an apartment
1. Search for rentals at the right time
For potentially negotiable rates, search after the 20th of the month. The time of year is important, too. If you have the option, consider looking in the months between October and February when fewer people are looking.
2. Visit the neighbourhoods you're interested in
If you're wondering how to find an apartment in Vancouver, sometimes the tried-and-true strategies can still prove effective. Hit the pavement. Explore the neighbourhood to get a lay of the land — see where the grocery stores, transit, gyms, schools, restaurants, community centres, and parks are located. Notice things like construction projects – will they bother you?
In addition, while exploring your neighbourhood, keep your eyes peeled for those vacancy and "for rent" signs in front of apartment buildings. Some property managers are old-fashioned and rely simply on inquiries from passerby traffic. Collect and call the numbers.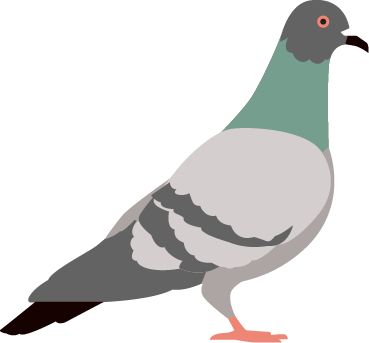 Check out these comprehensive guides to various Metro Vancouver cites & neighbourhoods:
3. Do your research
Once you've narrowed down a few neighbourhoods that you're interested in, then it's time to do a bit of research on local rental averages. What's the going rate for a furnished studio around these parts? Or an unfurnished two-bedroom?
When you know the rental averages, you'll know how to find and negotiate for a better deal. At liv.rent, we break down rental averages across Metro Vancouver's neighbourhoods each month for our community:
4. Rent from your network
Leverage all your contacts, both real and virtual, and share with your network that you're looking for a new home. On liv.rent, if your profile preferences match up with listings, we'll connect you to landlords through our suggested tenants feature and they may reach out to you!
5. Check rental listing sites
This is the easiest and most common way to find rentals in your area is by checking digital listing sites. Craigslist, Kijiji, and Facebook Marketplace are all popular options, but given recent increases in the prevalence of rental scams, we suggest using a platform with verified landlords & listings – like liv.rent.
The liv.rent platform also allows you to indicate your preferences for things like pet policy, contract type, and number of bedrooms & bathrooms so you can quickly & easily find rentals that meet your needs.
6. Google the property names
A wealth of information can be revealed by a Google search. Look to see if there are any complaints online regarding building management, maintenance, noise or anything else notable that you can't tell by looking at a listing.
7. Apply often
You may think you are the ideal tenant and a shoo-in for that perfect apartment. But there are likely others just as qualified as you who are competing for the same home. So don't put all your eggs in one basket and apply for all the places that you would want to live in.
What to do when viewing an apartment
8. Check appliances, cell reception, networks
When you are viewing an apartment, have the landlord demonstrate that all appliances are in working order, cell phone reception is adequate and verify connectivity (i.e. whether it is included in the building.)
9. View rental units during the day
One of our top apartment viewing tips is to try and schedule showings during the daytime, when it's nice and bright out. Viewing a home in daylight will give you a better sense of the living space. You will see how much light exposure there is, and how well the unit is maintained.
Using liv.rent, you can book a viewing directly with landlords within the app, so no more back and forth with landlords trying to set up times. Our tenants have a 95% booking rate with our ID-verified landlords.
10. Prepare questions
Just like a job interview, you want to prepare a few questions ahead of time. Asking questions gets you more information on the rental and also conveys your interest to the landlord. Try asking them conversational questions like:
What's the neighbourhood like?
How are the other tenants, are they families, young renters, etc?
What kind of tenant were you hoping to get in here?
How long do people typically stay in the building?
11. Pre-submit your application
Get your application in early or as soon as possible to stand out from the crowd of applicants. Now, the landlord will have more time to review your application and check your references. Plus, on liv.rent it's easy to send multiple applications to units so you aren't even spending much time on this task.
How to apply for a rental
12. Treat getting a rental like a job hunt
Have all your application information ready so you can apply on the spot. You will need the following documents:
– proof of employment and recent pay stubs
– references from past landlords
– a short description of you and your hobbies;
– a photo ID (which makes it easier for them to remember you)
On liv.rent, your profile becomes a renter's resume. Then, you can use the platform to handle everything from searching for listings, to signing a contract and paying rent.
Download This Ultimate Renter Guide
If you're a first time renter, this is the guide for you. From searching and viewing to choosing and applying, it'll answer all your questions about renting in Canada.
13. Prepare financially
Make sure you have enough money to cover at least one month's rent as well as a security deposit so you can commit on the spot.
In B.C., a security deposit can be a maximum of half the monthly rent (e.g. if rent is $1,000 per month, a security deposit can be up to $500.)
For pet owners, you may need to pay another 1/2 month's rent as a pet deposit, in which case you will need a full month's rent in total for a deposit.
14. Contact your references in advance
In preparation, contact your references letting them know they might be receiving a call from a landlord. That way, they won't be surprised when another landlord calls them and they'll be able to provide a good reference.
15. Provide notice to your current landlord
If you are currently renting, remember to provide your current landlord with a minimum of 30 days' notice of your departure in writing. Double-check your lease, too, to see what it says about move-outs.
What to do before signing a lease
16. Narrow your rental selection
Once you've decided on three to four possible homes, be prepared to negotiate with the landlord or property manager. Ask the landlord questions like:
What is included in the rent — utilities, internet, parking etc?
What are the building rules? Ask to see a copy of the strata bylaws.
Are any discounts available? Some landlords may give you a month free if you are willing to sign a longer lease.
What is the elevator booking cost and protocol for moving day?
17. Submit your tenancy application
If you didn't already pre-submit your application, then you can apply either on the spot or right after the viewing if you want the place. The sooner a prospective landlord can review your application and call your references, the better your chances are.
18. Check out the BC Residential Tenancy Act
Do you know what the RTA is? The BC Residential Act protects renters and landlords who enter into lease agreements. It's really important to familiarize yourself with this to know what your rights and responsibilities are in B.C. as a renter.
How to start paying rent to your landlord
19. Pay rent online
E-transfers and paper cheques are not efficient the same way as digital payment methods are. On liv.rent, renters can choose to pay by credit card, Union Pay, or even Bitcoin for their rent.
Once your landlord sends you a payment request in the liv.rent app, you can pay it right away with whichever method you prefer.
20. Keep receipts organized
liv.rent's chat feature keeps track of your entire history between you and your landlord. So all your receipts for your digital rent payments are found here. For anyone claiming a tax deduction on rent, these receipts are valuable to have on hand for the CRA to help you save on taxes.
What to do if you need to rent from abroad
21. Search verified listings to avoid scams
Look for the verified checkmark by landlords and listings. When you see the checkmark, you know that the liv.rent team has independently verified their identity and the property by checking government-issued photo ID and documentation like land titles.
A listing by a verified landlord on liv.rent, see the blue checkmark. Verified listings have orange checkmarks.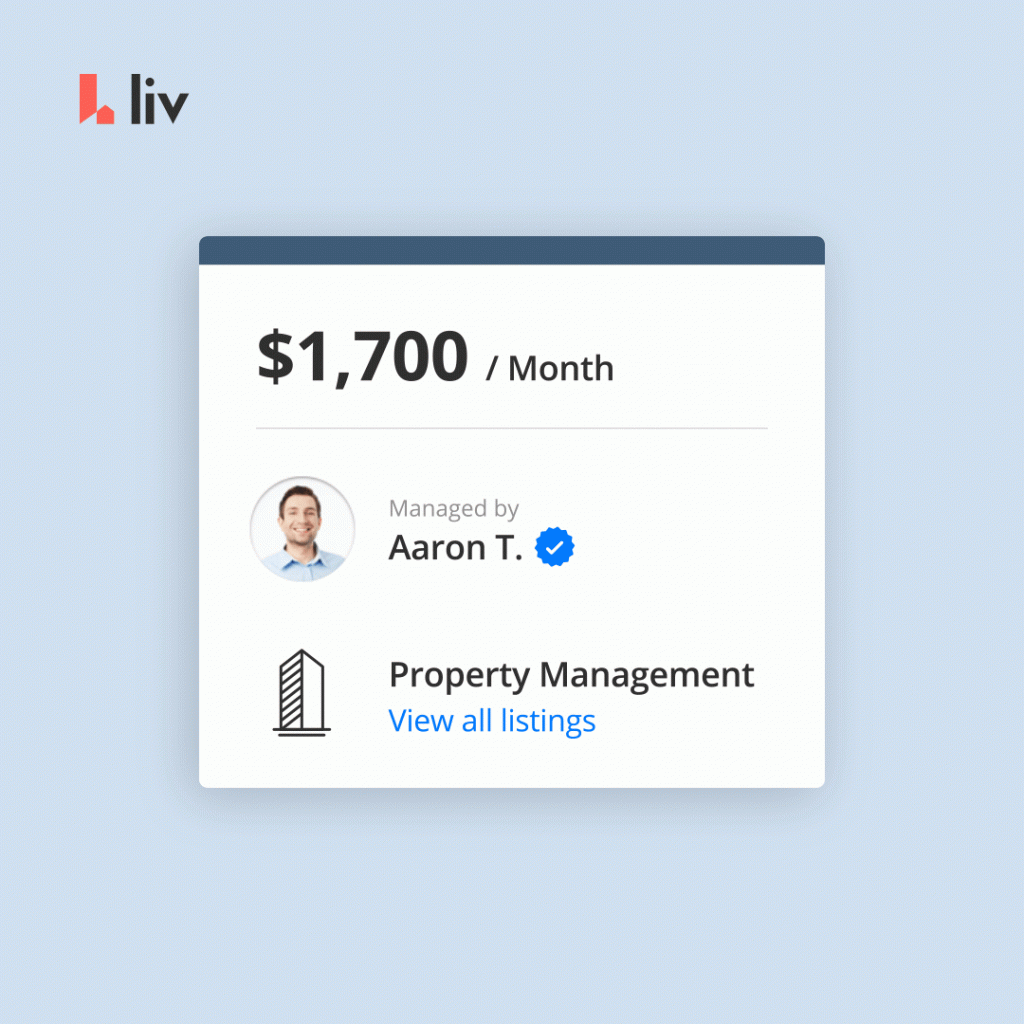 22. View apartments with video tours
Even if you haven't arrived in the city yet, you can still tour the property. Many landlords are opting to include video & 3D tours with their listings. If you find a listing you like but don't see a tour, try messaging the landlord to ask for a video.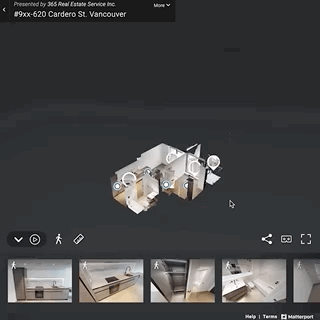 Even a live video chat walkthrough of the unit is better than nothing. Plus, during the pandemic, landlords became familiar with virtual tours, so this won't be an unusual request at all.
23. Use the feature "I'm a first-time renter" and/or "I do not live in Canada"
Landlords are pretty busy and can receive hundreds of applications. Unfortunately, that means if they see your application doesn't include references or previous Canadian addresses, you might end up at the bottom of the pile.
That's why we put I do not live in Canada and I'm a first-time renter as profile options on liv.rent — to help to streamline communication and show to landlords right away why key information might be "missing" and to give you a better chance of showcasing yourself as a trustworthy tenant.
24. Sign digital leases
You can sign a lease on your place from anywhere. Once your application is accepted on liv.rent, it'll get converted into a lease which you can sign online or in our app. This is an official, binding lease, and now when you arrive in Canada, you'll be able to move in right away.
FAQ: How to rent an apartment in Vancouver
---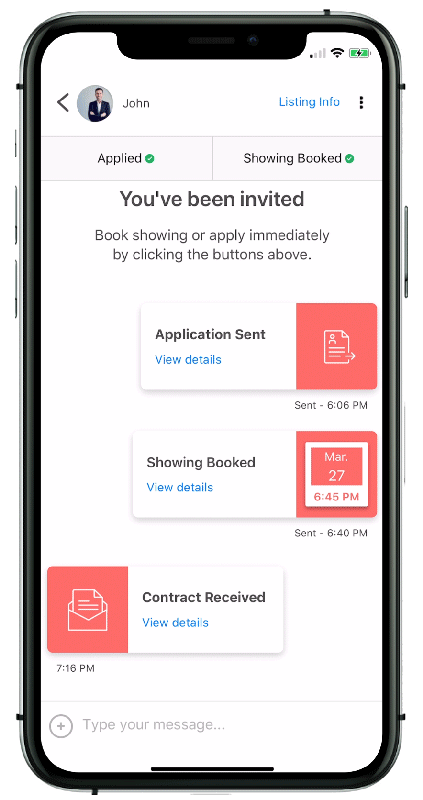 Rethink The Way You Rent
Not on liv.rent yet? Experience the ease of digital applications & contracts, verified tenants & landlords, virtual tours and more – all on one platform. Sign up for free or download the app.
Subscribe to receive the latest tenant & landlord tips and get notified about changes in the Canadian rental market.
>> Stay up-to-date on the average rent in Vancouver, Toronto and Montreal: Rent Reports.
Cover Image Source: Unsplash