As the rental landscape continues to move online as a response to current global events, there has been a notable increase in scams targeting renters. It's no surprise that apartment rental frauds exist in Canada, especially in the hottest rental markets such as Toronto and Vancouver. In fact, as many as 43% of renters throughout North America have encountered fake ads during their search. These scams can largely be avoided by using a safe, trusted rental platform like liv.rent that manually verifies landlords and listings, but it's always wise to have an idea of the red flags that signal a potential rental scam and know how to spot a rental scammer. Whether you're renting in Toronto, Vancouver, or any other Canadian city, here are some of the most common rental scams and tips to help you avoid them.
Table of Contents
10 Must-Haves To Avoid Rental Scams
When it comes to rental scams, knowledge is power. Look out for these 10 things when searching for and applying to rentals.
Common rental scams and how to avoid them
There are a number of potential scams renters may encounter during their search, but with the right knowledge and tools on your side, you can recognize and steer clear of these scams in advance. For renters wondering how to avoid rental scams, here's a breakdown of some of the most common rental scams in Canada.

Scam #1 – Too Good To Be True
If the rental rate seems shockingly low, raise an eyebrow. It may very well be a false listing.
How to Avoid:
Do some comparison shopping. Look at comparable properties in the same neighbourhood to determine appropriate market value. It is possible that you have come across a good deal, but it is wise to do your due diligence first.

Scam #2 – Urgent Demand For Cash Deposit
You have no obligation to make any deposit until a lease is signed. If a landlord is pressuring you to send a cash deposit before viewing a place and signing a lease, don't do it!
How to Avoid:
If there is pressure to sign or send money, you should be suspicious. Legitimate businesses, especially in a hot rental market, have no need to pressure prospective tenants; they know you might need some time to make your decision. Moreover, they should be using their time to screen you first (references, work, etc.) before moving to the financial step.

Scam #3 – Request For Too Much Information
You are only obligated to share contact information or SIN, credit card or bank account information with a prospective landlord until you decide to move forward with a lease.
How to Avoid:
DO NOT provide your SIN, credit card or bank account information until you have decided to move forward with a property. You are under no obligation to share these details. Once you do decide on a property, the landlord may ask you to show bank statements or tax information ensuring your salary can support the rent payments. You can show it to them but it is not mandatory. Your SIN is NEVER required by a landlord.
NOTE: The liv.rent platform requests some personal information, like bank statements and identification to verify you as a tenant and to complete your renter profile, which serves as your application for ALL property listings. As a verified tenant, landlords will prioritize your application; thereby, boosting your chances of securing your preferred rental. In fact, verified renters are 77% more likely to secure a rental as they are deemed more reliable and desirable by landlords.

Scam #4 – Reluctance To Use Traceable Payment Methods
If a landlord seems reluctant to use traceable payment methods like cheque or e-transfer, be suspicious!
How to Avoid:
It is for your protection to pay by a traceable means – it provides evidence that payments have been made. Do not enter into a lease agreement with a landlord that doesn't insist on traceable methods of payment.
TIP: The payment feature within liv.rent provides renters and landlords with a digital rent payment receipt. This is saved in the chat history between landlord and renter. It can be easily exported and printed for your records.

Scam #5 – Difficulty Arranging Viewings
If setting up a property viewing is problematic, this could be a sign the property doesn't actually exist. For renters looking to secure a property from abroad, this could mean landlords ignore requests for video tours or not providing up-to-date pictures.
How to Avoid:
If a landlord keeps switching viewing times or is a no-show, these are red flags. Scammers are reluctant to meet with their victims to avoid recognition and police descriptions. Make sure to check out your city's Police Department website for more info on common scams. (Here's a post by the Vancouver Police Department on Rental Scams.)
Also be wary when viewings are difficult because the owner is allegedly in another country. They may send lengthy emails flattering your suitability and selling the value of their property; you are right to be suspicious and to steer clear.

Scam #6 – Address Details Withheld
If the landlord is reluctant to provide an address or unit number, this is suspicious and may indicate that the unit does not exist or the images posted are for a different unit than the one available.
How to Avoid:
Viewing a listing in person should be one of your first priorities and a key way to confirm the legitimacy of the listing. Be sure to schedule a viewing with the landlord or property management company. They should always be willing and prepared to set up appointments for live or virtual tours.

Scam #7 – Lack of Screening Process
Landlords will typically want to verify your information (e.g. employment, credit score etc.) and conduct reference checks. While most renters dread the screening process, it's a necessary part of a landlord's job to ensure the person they're renting to is a good match. Avoiding this altogether or rushing through it to try and expedite signing the lease is certainly something to be wary of.
How to Avoid:
If a landlord seems too eager to skip the screening process and move ahead to deposit collection and contract signing, this may be a red flag. Move onto another property!
TIP: Using liv.rent, landlords and property managers have all been verified; thus, providing security to renters. In addition, once a renter has completed their profile, or 'renter resume', they are 'verified' and it serves as their application for all the listings they wish to apply for.

Scam #8 – Informality
Be wary if a landlord suggests that there's no need for a lease, and a handshake is just fine. This is not true!
How to Avoid:
It is great if your landlord is friendly and you can develop an easy rapport with them. However, when it comes down to the business of leasing and paying rent on a property, a lease agreement is a MUST. You, as a tenant, need the protection of a lease agreement and a legitimate landlord should be willing to provide a lease agreement, their own contact info and references. Insist on it!
TIP: With liv.rent, you can sign and send digital contracts to landlords without having to meet up in person.

Scam #9 – Listing Photos are Suspicious
Are the photos blurry? Do you see the same photos used in another listing?Is the landlord refusing to provide photos? If any one of the aforementioned situations occurs, be suspicious.
How to Avoid:
View listing photos carefully. Ensure that the images provided match the description. Ask for more if required. Also, search up the address by viewing it on Google Maps and ensure that the images aren't pulled from an actual sale listing.

Scam #10 – Obscured Landlord Identity
If a landlord's identity is hidden behind a numbered company or is otherwise unclear, be cautious.
How to Avoid:
Transparency between a landlord and potential tenant is vital to building a trusted relationship. Before signing the lease agreement, ask the landlord for home ownership documents and/or try to verify the legitimacy of the property management company using LinkedIn or Google searches.
If you're wondering how to verify landlord ownership in Canada, look no further than liv.rent. We manually verify both landlord profiles and listings to protect our community of renters from scams.

Scam #11 – Deceptive Listings & Emails
There are many ways scammers try to lure a renter. First and foremost, through exaggerated listings or complicated communications. For example, in response to your inquiry, their email claims that they live abroad and provides many irrelevant details such as describing the complexity of their situation and often asking for money immediately.
How to Avoid:
Refer to Scam #1 and Scam #2, and have a look at some of this flagged correspondence by a fake landlord on rentboard.ca. If you're renting in Toronto, follow the subreddit r/TorontoRenting for updates on rental scams in Toronto. It's important to be on guard for similar listings.

Scam #12 – Inconsistent Rent Pricing
The primary intent of any scam is to make money illegally. Some scammers rely solely on a tenant's inattention to detail. They may list a property at one rate but then discretely modify the amount on the rental contract hoping that the new tenant will not notice the discrepancy.
How to Avoid:
Read through your rental agreement diligently to ensure the amount on the contract matches the amount you discussed. If you miss a discrepancy and sign the contract, you will be obliged to pay the amount listed in the contract.
How to verify landlord ownership in Canada
The majority of rental scams revolve around landlords claiming to own property when they actually don't. These can range from "landlords" renting a property that they saw was for sale, to someone renting a unit on a short-term basis as a tenant, then pretending they own it and re-listing it. Of course, most of these scams can be avoided altogether if you're able to verify whether the landlord owns the property they're renting.
To do this, renters have a few options:
Use a rental platform with verified landlords & listings – The most straightforward, easy way for renters to be sure they're dealing with the real landlord is by using a platform that manually verifies landlords and listings — like liv.rent. Here, renters can easily search for verified listings and proceed with confidence knowing that they're not facing a scam.
Ask for proof of ownership – Renters can also simply ask landlords for documents that prove they own the property in question. Things like land title documents and property tax statements, paired with a piece of photo ID, can be an effective way to prove the landlord is who they say they are.
Searching land titles – Many Canadian provinces have a way for tenants to search land title or land property records to confirm who owns the property they're applying to. To do this, you'll typically need to have the landlord's legal name and the property's address.
What to do if you've been Scammed
This list of scams is by no means comprehensive. Dishonest people are always devising new and clever ways to fool unsuspecting renters. Regardless of whether a platform or website is reputable and well-respected, scams still occur. Keep your eyes wide open and do your best to protect yourself from rental scams in Canada.
If, however, you realize you've been scammed, consider taking these measures:
Flag the listing with the platform immediately so they can remove the listing and flag the person who placed the ad
Freeze any financial transactions you may have put in motion (i.e. cancel cheques, e-transfers etc.)
Inform local authorities:

If you've been the victim of a rental scam or another type of fraud, or if you have information about this type of scam, report it to the Canadian Anti-Fraud Centre (1-888-495-8501);
Local RCMP detachment or Police Department (9-1-1 non-emergency line)

Seek guidance from your provincial government or regulatory body:
If you're in BC, you can seek advice from the Tenant Resource and Advisory Centre or call their Tenant Infoline at 604-255-0546 or 1-800-665-1185.
However, the most important thing is to educate yourself to avoid being a victim of rental scams.
Inform yourself of your right as a tenant.
Understand the ins and outs of a standard Residential Tenancy Agreement
Keep your eyes wide open and do your best to protect yourself from rental scams in Canada!
FAQ: How to protect yourself from rental scams in Canada
How do you make sure you are not getting scammed by a rental?
Being cautious and looking out for the twelve scams outlined here is a great way to avoid getting scammed, but unfortunately, this isn't always 100% effective.
A great way to ensure you're staying safe is by using a rental platform that manually verifies both landlords and listings, such as liv.rent. Here, renters can browse safely thanks to strict verification processes and features that make this Canada's safest rental platform.
How do I know if a landlord is legitimate in Canada?
Don't be afraid to ask landlords for documents that prove they own the property they're renting, as well as for identification that confirms who they say they are. For property managers, requesting to see their license is a good way to avoid being scammed.
Again, liv.rent can take care of this step for you by manually checking landlords' identities.
How do I verify a landlord before renting?
Renters are within their rights to ask landlords for documentation proving their ownership, and the same goes for property managers as well. Things like land title documents, property tax statements, and other documents are good ways to prove you're dealing with the real landlord. If you're using liv.rent, simply look out for a verified badge to know you're in good hands.
How do you validate a rental agreement?
Many Canadian provinces like B.C. and Ontario have standard residential tenancy agreements designed to regulate the rules regarding tenancies. Once signed, these agreements are legally binding until the end of the lease term.
For extra security, consider taking advantage of liv.rent's contract verification feature. When you sign a digital contract on liv.rent, a unique contract ID is generated. This code can then be entered into the platform to confirm that the contract is valid.
How do I find out who owns my rented property?
---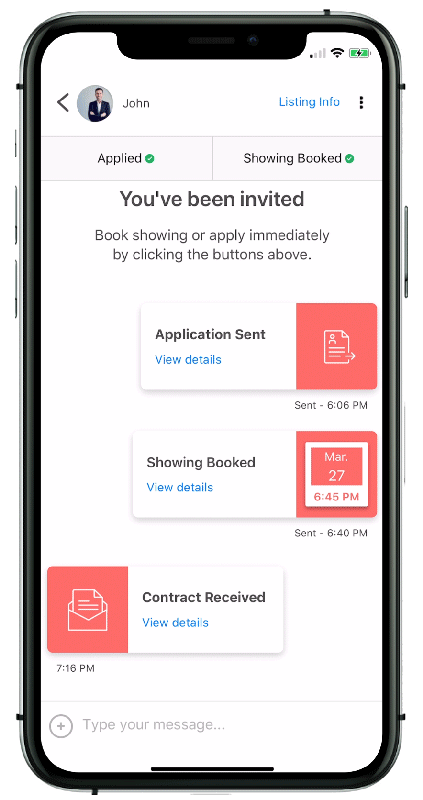 Rethink The Way You Rent
Not on liv.rent yet? Experience the ease of digital applications & contracts, verified tenants & landlords, virtual tours and more – all on one platform. Sign up for free or download the app.
Subscribe to receive the latest tenant & landlord tips and get notified about changes in the Canadian rental market.
>> Stay up-to-date on the average rent in Vancouver, Toronto and Montreal: Rent Reports.