The University of Alberta is Canada's fifth-largest public research university and one of the largest schools in the province, welcoming approximately 41,000 students each year across its five distinct campus locations. If you're one of the students attending the University of Alberta in the coming semester, chances are you'll need to look for off campus housing. Residence is primarily offered for first-year students at U of A, meaning that upper-year students will need to search for rentals in the city of Edmonton before the start of the semester. This handy guide from liv.rent, Canada's safest all-in-one rental platform, was designed to help students navigate their search for off-campus housing at the University of Alberta safely, with tips for everything from the best neighbourhoods to searching for listings from abroad.
Rent your perfect home with liv.rent
Search houses, rooms, condos and apartments for rent. Chat instantly with verified landlords. Apply to multiple listings. Save your chat history & signed documents all on one platform.
University of Alberta off campus housing overview
Types of accommodation
In Edmonton, these are the typical types of rental properties that are available to rent:
There are also houses, laneway homes, and townhomes for rent with varying numbers of bedrooms.
Students will likely either live on their own or with roommates. Even though Edmonton's rental rates are significantly lower than average prices in cities like Vancouver and Toronto, many U of A students will still find themselves living in shared accommodations.
Looking for a place to share
If you're looking for a room in a shared space with other students, then your first place to check should be liv.rent's listings. You can use the convenient map tool to find a place that's close to campus, using the search filter "Room" under "Housing Type" to look at all the available places in the area.
Looking for a roommate
Students living in off campus housing at the University of Alberta looking for roommates can post their available rooms for rent on liv.rent for free. Plus, the 100% digital platform means that you can connect with a roommate safely and easily, entirely online.
Average rent in Edmonton
Here are the average rental prices for Edmonton's different sectors as of November 2023. For the latest numbers as well as more statistics and figures for Edmonton's different residential areas, be sure to check out our latest rent report.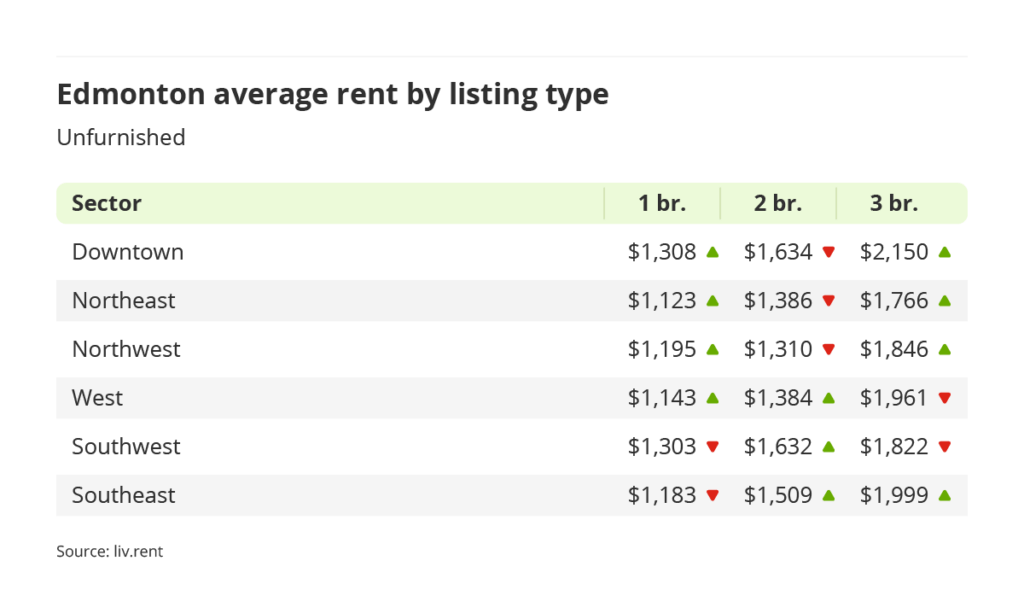 Edmonton transportation
The Edmonton Transit Service (ETS) is an efficient and cost-effective way for students to get around the city, consisting of both buses and a light rail system. Included in tuition fees, the University of Alberta provides eligible students with a Universal Transit Pass (U-Pass), giving them unlimited access to the city's excellent transportation network. The ETS has a convenient Trip Planner feature that U of A students can use to map out their commute and any other trips they need to make within the city and around the region.
Neighbourhoods to consider
Of course, convenience isn't always cheap and renters will often have to decide whether they'd prefer to pay a bit more each month for a short commute, or live a bit further afield for potential rent savings. Regardless of what you'd prefer, here are a few of the most popular neighbourhoods for University of Alberta students to look for off campus housing:
Garneau
Strathcona
Allendale
Parkallen
Ritchie
Tips for saving on rent in Edmonton
Although Edmonton renters will be glad to hear that the city has much cheaper rental prices than Canada's most expensive cities, like Vancouver, Toronto, and even Calgary, the "student budget" is a very real thing, and expenses can pile up quickly while you're busy studying. Teaming up with a roommate is a great way to reduce your monthly rent payments, but here are some other tips and guides for saving on rent and making the most of your budget.
Best student housing options off-campus in Edmonton
Using liv.rent to search for your off-campus home is perfect for University of Alberta students who can rent safely and securely from verified landlords and listings, sidestepping any scammers. Here's where to look for the best student off-campus housing for U of A students in Edmonton:
Best neighbourhoods to rent off campus housing near the University of Alberta
Garneau
Garneau might be one of Edmonton's most historic neighbourhoods, but it has a ton to offer modern students. Located just east of the Unniversity of Alberta, the area has a ton of student-friendly housing options including mid- and high-rise apartment buildings and a scenic location overlooking the North Saskatchewan River Valley. The central positioning of this exceedingly appealing neighbourhood also makes it easy to get to Downtown Edmonton and other areas of the city.
Types of accommodation in Garneau
Garneau's housing supply is largely catered to the area's student population with a wide selection of large and small apartment and condo buildings plus older multi-bedroom houses that are great for sharing with a roommate.
Average monthly rent in Garneau
One-bedroom unit — $1,195
Two-bedroom unit — $1,310
Three-bedroom unit — $1,846
Source: liv.rent
Transportation in Garneau
Estimated commute to campus: 5 to 10 minutes
The best part about living in off campus housing in the Garneau neighbourhood is how quick & easy it is to get to the University of Alberta campus. Depending on where in the area you live, you likely won't even need the bus to get to class – but if you do, the 002 bus has a stop close by.
Garneau amenities
Just walking around Garneau as the storied neighbourhood is full of old character houses and has a unique old-timey feel and plenty of historic sites to take in. Kinsmen Park and the Kinsmen Sport Centre are nearby, as well as the John Walter Museum.
Strathcona
This vibrant area was once the centre of the former city of Strathcona, and its namesake neighbourhood preserves much of the historical charm while also offering U of A students a well-rounded place for off campus housing. Close to campus and containing some of Edmonton's most popular streets, the exciting and diverse area is a student's dream.
Types of accommodation in Strathcona
Low-rise apartment buildings, the majority of which are rented, make up nearly half of Strathcona's housing supply, while there is also a good portion of high-rise condominiums and other forms of housing like duplexes and townhomes.
Average monthly rent in Northwest Edmonton
One-bedroom unit — $1,195
Two-bedroom unit — $1,310
Three-bedroom unit — $1,846
Source: liv.rent
Transportation in Strathcona
Estimated commute to campus: 5 to 20 minutes
Strathcona is a large neighbourhood, so the exact time it takes to commute to campus varies based on where you're renting. From its centre, renters can expect about a 20-25 minute walk to U of A, or about a 15 minute trip by either the 004 or 008 buses.
Strathcona amenities
There's no shortage of things to do in the exciting Strathcona neighbourhood. Students can enjoy the many restaurants, shops, and bars along Whyte Avenue, as well as taking in a show at one of the area's theatres or picking up some dinner supplies at the year-round Old Strathcona Farmers' Market.
Allendale
Allendale is a smaller, primarily residential neighbourhood located southeast of the U of A campus. The area is known to offer a community-focused feel combining a quaint charm with urban convenience.
Types of accommodation in Allendale
Allendale is ideal for student renters seeking a little extra space in a quiet, laid-back locale. Approximately 70% of the neighbourhood's housing supply are single-family residences with only about 15% being low-rise apartments.
Average monthly rent in Northwest Edmonton
One-bedroom unit — $1,195
Two-bedroom unit — $1,310
Three-bedroom unit — $1,846
Source: liv.rent
Transportation in Allendale
Estimated commute to campus: 10 to 30 minutes
Allendale is a little further removed from the University of Alberta campus, but students still won't have to go far to get to classes. By car, it's only about a 10-minute drive at most from the quaint neighbourhood, with the 009 and 701 buses both stopping close by.
Allendale amenities
Allendale has a unique small town feel with many community-operated amenities for its residents to enjoy. The neighbourhood has public tennis courts, an outdoor rink, and a community hall that offers plenty of fun classes.
Parkallen
Just west of Allendale and east of the University of Alberta Farm, Parkallen is a largely residential area that's well connected to the U of A campus and other urban amenities. Similar to Allendale, Parkallen is largely defined by its tight-knit, neighbourly vibe and small town charm.
Types of accommodation in Parkallen
Parkallen is almost entirely made up of single-family residences, which represent more than 80% of the neighbourhood's housing supply. About a third of these homes are rented, so renters should have some options when it comes to finding a place to live.
Average monthly rent in Parkallen
One-bedroom unit — $1,195
Two-bedroom unit — $1,310
Three-bedroom unit — $1,846
Source: liv.rent
Transportation in Parkallen
Estimated commute to campus: 5-20 minutes
Though it can often feel like its own little world, Parkallen is surprisingly close to the University of Alberta campus. It's a short trip up 113 Street to get to class, or renters can take the 004 bus and be there in about 10 minutes.
Parkallen amenities
Parkallen has a small but particularly active community who maintain amenities like an outdoor rink and community hall, plus nearby Violet Archer Park. The neighbourhood is also connected to the LRT through the South Campus/Ford Edmonton Park Station.
Ritchie
Ritchie is another excellent neighbourhood for University of Alberta students seeking off campus housing as it provides a quiet, residential place to call home while also being close to the nightlife of Strathcona and Downtown Edmonton.
Types of accommodation in Ritchie
Single-family dwellings make up the bulk of Ritchie's housing supply, though about a third of the area is made up of rented apartments.
Average monthly rent in Ritchie
One-bedroom unit — $1,195
Two-bedroom unit — $1,310
Three-bedroom unit — $1,846
Source: liv.rent
Transportation in Ritchie
Estimated commute to campus: 10 to 25 minutes
Ritchie residents live in one of Edmonton's best-connected neighbourhoods, which makes getting to U of A a breeze. It's just a short 10-15 minute drive to campus, or about 20 minutes by way of the 004 bus.
Ritchie amenities
Ritchie has a strong Community League that maintains both a hall and an outdoor rink in the neighbourhood. The area is also home to three schools and the community-based Ritchie Market, an innovative space that houses an assortment of local business including a butcher a restaurant, and a brewery.
Tips on how to find & secure off-campus rental housing
How to avoid rental scams in Edmonton
Unfortunately, rental scams are growing more commonplace across Canada, but luckily, you can protect yourself. Know your rights as a renter and use a trusted rental platform. Here are some of the most common scams to look out for:
Scam #1 Rent is too low
If the rental rate seems shockingly below the rental average for the city, it could be a fake listing.
Scam #2 Urgent demands for cash
Renters don't have to pay for anything until a lease is signed. So, if someone's pressuring you to send cash now, don't do it.
Scam #3 Too much info
Until you're 100% ready to move forward with a lease, you're not obligated to share your bank account or SIN number.
Scam #4 Not enough details
While some smaller landlords may withhold unit numbers for privacy, you should know the exact address of the unit you're looking at. without that info, it could be a scam.
Pro tip: rent from ID-verified landlords on liv.rent to avoid scams.
Be smart with your rental search
Tip #1 Know your needs
List of your priorities: pricing, location, amenities, lease duration, pet policy, etc. Use liv.rent filters to narrow your search.
Tip #2 Do your research
Find out the average rent in your target area. It'll arm you with the necessary info to negotiate terms & rates.
Tip #3 Google the property
See if there are any complaints online regarding building management, maintenance, noise, neighbourhood, etc.
Tip #4 View video tours first
If possible, view video tours first. Then, narrow down your selection and book viewings only for places you're seriously considering.
Tips to improve your search
Tip #1 Don't be afraid to check
Have the landlord demonstrate that all appliances are working – run faucets, check thermostats, flush toilets, turn on stoves, etc. Also, check cellphone reception.
Tip #2 View in daylight
Viewing a home in daylight will give you a better sense of the living space.
Tip #3 Prepare questions
And ask the hard questions (e.g. how much interest have you had for this unit) to uncover info not in the listing.
Stand out when you apply for your rental
Completing your liv.rent profile, or renter's resume, is the easiest way to stand out. You can also go the extra mile and pre-submit your application before your viewing if you're pretty sure you want to rent the unit. By introducing yourself upfront, it shows that you're serious about the unit – leaving a strong impression on your landlord.
Pro tip: on liv.rent, we use the Trust Score to rate renters' trustworthiness and reliability — it's free for students to get theirs with their profile!
How to secure a rental before arriving in Canada
It's easy for University of Alberta students who aren't yet in the province, or even in the country yet, to find and rent off campus housing safely and securely.
Once you have filled out your liv.rent profile completely, you can use it to apply to listings on our platform.
In your profile, you can select whether you are a first-time renter and whether or not you have a Canadian credit history yet. That way, a landlord can accurately assess your profile and help you secure a rental without having references or a credit score in Canada.
For more on how you can browse listings in Edmonton from anywhere in the world, you can check out this step-by-step guide we've put together.
---
Student resources
liv.rent has a ton of resources for students renting in Edmonton. Whether you're moving to Alberta from abroad, or ust from out of province, there are unique tenancy laws & practices to study up on in order to protect yourself throughout the rental process and ensure you're getting a fair deal.
Check out our guides on everything from renting and leases to tenants' rights and relationships with landlords.
---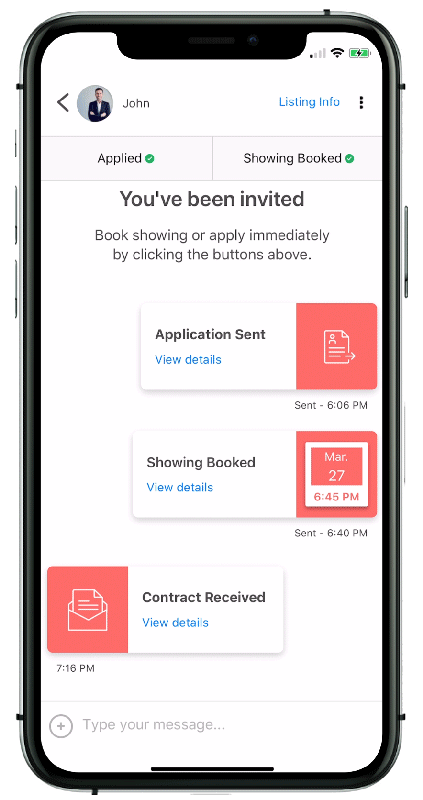 Rethink The Way You Rent
Not on liv.rent yet? Experience the ease of digital applications & contracts, verified tenants & landlords, virtual tours and more – all on one platform. Sign up for free or download the app.
Subscribe to receive the latest tenant & landlord tips and get notified about changes in the Canadian rental market.
>> Stay up-to-date on the average rent in Vancouver, Toronto and Montreal: Rent Reports.