Renters have to get well organized and be prepared to share some personal information if they want to get an apartment. Credit checks are important for landlords and property managers because it's a standardized way for them to see if a potential tenant is reliable and will be able to pay their rent on time.
But what is a credit score, and what kind of credit score do you need to rent an apartment? We're looking at exactly what a landlord is looking for so that you know what to expect in the application process.
The more prepared you are, the more your landlord will thank you and hopefully let you rent the unit since you were the one who promptly provided them with the details they needed.
Table of Contents
liv.rent – Canada's trusted house & apartment rental website
Search apartments, condos, and homes for rent.
Verified Landlords: Rent from a trusted landlord. Look for the "ID Verified" tag to identify which landlords have been pre-screened.
Quality Rentals: Browse listings that have been checked by our team. Verified by official documents or by mail.
One-Click Applications: Fill out your Renter Resume once and apply to multiple listings in just a few clicks.
What is a credit score?
In Canada, there are two main credit bureaus that run credit checks and provide credit scores: Equifax and TransUnion.
A low credit score might indicate to a landlord that the person has a history of paying bills late or even not paying creditors back at all. They're going to be more inclined to rent to someone they trust.
That said, your ability to get an apartment doesn't hang in the balance of a credit check. There are lots of reasons why a credit score might be low even if the renter has a good, steady income and an ability to pay rent consistently in a timely fashion.
You are also able to provide your landlords with some details that might help them get a full picture and understand your credit history better.
Maybe you were foolish with your student loan payments in your early twenties or had to max out a credit card because of a family emergency. supplementing a weak credit score with honest explanations might help landlords get a more full picture of you as a renter.
What is a credit check for renters?
When a potential tenant applies for an apartment and a landlord feels like they could be a good fit, they're going to run a credit score before starting a tenancy.
This is a normal part of the rental process and typically renters should expect landlords to ask for their information and consent to run a credit check. You can double-check with your local privacy laws to see how you're protected.
A landlord will use a service like Equifax, for example, and using your information they will pull a credit report.
What's in the credit report will vary, but typically it will show:
Your credit score
Your credit history
Your loans, both current and past
Why do landlords do credit checks?
Credit checks cost money and take time. There's no reason why a landlord would do it for fun or to satisfy their curiosity.
For them, it's a necessary part of their tenant screening process to get them their ideal renter who always pays their rent on time. When tenants are late or even delinquent on rent it creates so many problems more than just being out one months' rent. It creates a lot of extra work for them, especially if they decide they have no other option than to evict a renter.
To avoid the headaches, stress, and even legal problems that can come with having a tenant who's late with their rent or doesn't pay it they use the credit check as a pre-screening tool.
Credit checks can help landlords in so many ways. Not only is it additional protection against fraud by verifying their identity, but it also will show them a potential renter's payment habits.
Join Our Newsletter
For more info on rental laws and policies (e.g. eviction, lease agreements, repairs & maintenance), subscribe to get the latest news.
What is the tenant screening process?
Landlords and property managers aren't going to just rent to anyone. They want to make sure they're getting high-quality tenants who will be respectful, communicate well, and above all — pay their rent on time consistently.
This is not only how, as a landlord, you protect your investment, but it's also how you can avoid future conflicts and even legal disputes. Having a tenant screening process important for everyone.
Pro tip: Renters will actually want landlords to do a thorough tenant screening. If they don't seem to have any screening process and skip ahead to asking for a deposit, then that could be a red flag.
Your typical screening process involves authenticating a renter's identity, financial information, and references. Government-issued IDs, financial records, and letters or phone numbers from previous landlords are all common things landlords look at.
liv.rent's community of safe and trusted renters makes the screening process unfold really easily. Renters can get a Trust Score and get verified for free, so landlords and renters don't have to spend time exchanging documents and making copies of records.
What can a landlord ask for?
Tenants do end up sharing personal information with landlords as part of the application process. So, what exactly are these landlords asking for and are they even allowed?
Privacy laws and local tenancy laws may vary depending on where you live. Typically, landlords are looking for proof of identity, references, and financial information like your income and credit score — and yes, they're legally allowed to ask for this information and run a credit check with your permission. They're also obligated to keep your information safe and only use it for verification purposes, meaning they can't keep it in their personal records.
Here's an example of what they would ask you and the kinds of documents you might be expected to share:
| Identifiers | Background Information | Financial Information |
| --- | --- | --- |
| Name | Employment History | Credit Score |
| Date of birth | Educational History | Income and financial resources |
| Current and former addresses (business and personal) | Criminal Information | Debt information |
| Email address | Pet Information | Bank account information |
| Social Insurance Number (SIN) | Personal References | Rent payment information |
| Driver's License Number | Emergency Contact Information | Additional Financial Documents |
What credit score do landlords want?
When it comes to credit scores, the higher the better. Unfortunately, there isn't a magic number. Keep in mind that different credit bureaus will use different scoring systems, but this one from Equifax gives a good glimpse of your typical credit score results:
Under 580 — Poor
580 to 669 — Fair
670 to 739 — Good
740 to 799 — Very Good
800+ — Excellent
A credit score of 670 or more is pretty acceptable. Any lower and that might be a red flag to a landlord. However, a credit score isn't the be-all-and-end-all of a renter's financial story.
A tenant's personality, lifestyle, and trustworthiness are sometimes more important than their credit score. In fact, a credit score is just one chapter in our comprehensive Trust Score rating system.
What is the Trust Score™?
Rather than waiting for landlords to pay for and run credit checks, we created a system called the Trust Score. It allows renters to be proactive about communicating their financial background to a landlord at a glance.
Our rating system uses an algorithm to analyze your profile. We'll look at your photo ID, references, and cross-check the information provided on your public LinkedIn profile.
We also use Equifax® to do a credit check and compile it into our score. Here's a look at the Trust Score rating system and what the numbers mean: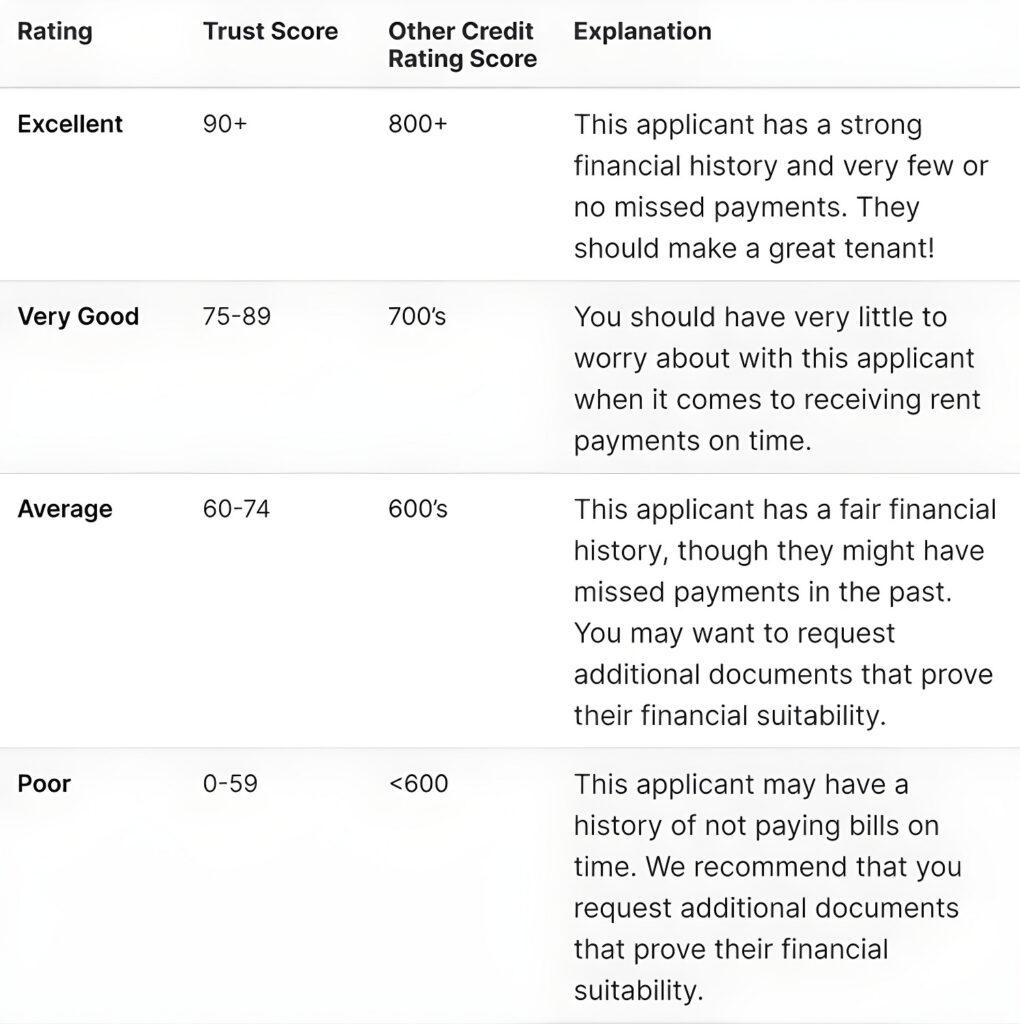 This rating system also takes into account an applicant's income-to-rent ratio, among other pieces of information like a risk assessment. Ideally, a tenant will be able to spend no more than 30% of their total income on rent. Of course, in cities like Vancouver and Toronto, that's not always easy, but it's just one part of the AI-powered algorithm that calculates your Trust Score.
Credit score takeaways
Having good credit, strong references, and a verified liv.rent account are all things landlords will be looking for in a potential tenant.
For both landlords and renters, it's a good idea to educate yourself on your local privacy laws and know exactly how information can be shared and what information can be shared.
And while credit scores are an important aspect of renting an apartment, they don't tell a renter's complete history. Start by setting up your renter's resume with a free Trust Score and take control of your story today.
---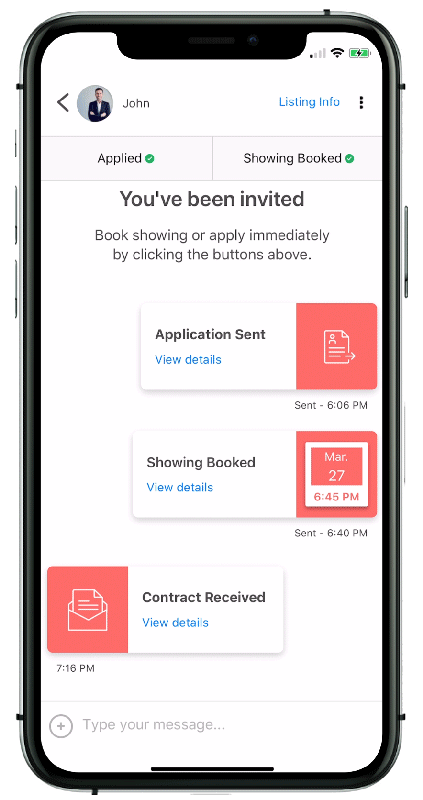 Rethink The Way You Rent
Not on liv.rent yet? Experience the ease of digital applications & contracts, verified tenants & landlords, virtual tours and more – all on one platform. Sign up for free or download the app.
Subscribe to receive the latest tenant & landlord tips and get notified about changes in the Canadian rental market.
>> Stay up-to-date on the average rent in Vancouver, Toronto and Montreal: Rent Reports.