Imagine hacking your investments and getting them to work harder while you work smarter. We've brought together our favourite ways to maximize investments and get the most out of your rental property.
Whether you're a budding landlord about to list your first-ever unit, a seasoned property manager with a big portfolio, or someone looking to purchase your first investment property, you'll want to keep these tips in mind to maximize the profitability of your first rental property.
Here are four easy and effective strategies to make the most of your rental investment:
Table of Contents
Video transcription
This article is a partial transcription from our liv.talk live webinar How To Maximize Your Rental Investment Income In 2021. Watch the video and download the full guide to get our insights now.
Want to access the full guide?
Learn how to maximize your rental investment at every stage of the process.
1. Location: how to pick a location for a higher rental return
When we start looking at investment properties, that old saying in real estate comes to mind — location, location, location! Where your property is located matters.
Consideration 1) Renters moving away from Downtown
After COVID-19, being in the heart of downtown suddenly wasn't a priority for renters. In fact, many were looking to get a break from the city and even upgrade to a larger living space as many people transitioned to work-from home-lifestyles and didn't have to commute. Though growth may have slowed slightly, these areas continue to be hotbeds for rental property investment.
Watching these consumer behaviours helps us figure out what up-and-coming hotspots will be trending next in major real estate investment areas.
Consideration 2) Buying near transportation hubs
Renters are always looking for easy access to transit. That's part of the reason why the location of your rental property will play a huge role in the money you get out of it.
So, how do you know where to invest in property? We'd recommend places that are near good public transportation. This will be especially important as consumer confidence returns with the continued vaccine rollout. Plus, students could be going back to in-person classes and employees could be going back to the office soon.
liv.rent looked at the cost of rent near Skytrain stations in Metro Vancouver and found that the greatest value for renters could be found at the end of a long train ride.
That means that property in Richmond, Burnaby, New Westminster, Coquitlam, or Surrey are attractive alternatives to homeownership in Vancouver only. We also looked at the rental rates near transit in the Greater Toronto Area that showed similar results.
Investing in rental properties close to newly constructed stations and stations with lots of transportation services is ideal. Here are some hubs that we are watching closely:
Vancouver Transit Hubs
Toronto Transit Hubs
– Waterfront
– Broadway City Hall
– Langara 49th
– Joyce-Collingwood
– Lougheed Town Centre
– Surrey Langley Skytrain (upcoming)
– Burnaby Mountain Gondola (upcoming)
– Union
– Bloor
– Weston
– Danforth
– Scarborough
2. Foundation: how to choose the right rental property type
When you're buying an investment property to rent, you have to start with the right foundation to maximize your returns. Whether you're renting out a single-family home or a one-bedroom condo, each property will come with its own advantages.
For example, you don't have to worry about hiring someone to come mow the lawn if you're renting out a condo, and homeowners don't have to deal with strata fees.
Step 1) Compare returns on rental types
Let's take a quick look and compare the return on different kinds of places to see how to determine a good rental property. These gross yield estimates were made by taking the annual rental revenue and dividing it by the property value.

Note: this gross yield does not factor in property taxes, insurance, maintenance, repairs, or vacancy costs.
Source: liv.rent & zolo.ca
So, how do I choose the right rental property? Without accounting for anything else, it looks like right now the best returns are with a one-bedroom condo in Vancouver and a two-bedroom condo in Toronto.
Step 2) Calculate turnover rate
For landlords wondering, "how do I maximize my rental property that I already have?" You want to keep your turnover rate low to save you time and reduce your expenses.

The type of tenants your property attracts has a big effect on your turnover rate. For example:
Larger multi-bedroom condos & detached homes

These are geared towards families and older tenants who are looking to settle in — so you're more likely to find longer-term tenants for this unit

One-bedroom condos

Attract a younger renter base meaning more mobility and higher turnover
Attract young working professionals who will move based on employment opportunities and are likely to stay a couple of years
Also attracts students who might stay for two to three years

Two-bedroom condos

Attract a mix including young professionals, students, couples and smaller families
Be thorough with your tenant screening to reduce your turnover rate
Step 3) Compare the costs of rental types
Each property type will come with its own expenses. Here are the biggest differences between owning a condo and a house that you will want to consider for your bottom line:
Condo
House
– Strata by-law
– Strata fee PAD
– Rental, pets allowed
– Form K
– Move-in & move-out fee
– Strata notice
– By-law violation fine
– Compatible insurance
– Filter replacement
– Duct cleaning
– Heating system service
– Furnace service
– Gutter cleaning
– Filter replacement
– Duct cleaning
– Landscaping
– Sprinkler system
– Fire and carbon monoxide detector
Landlords & Property Managers
Advertise your rental for free on liv.rent – an all-in-one rental platform.
Maximize Exposure: Multiplatform syndication to Craigslist, Kijiji, Zumper, Facebook Rental Groups & more.
Generate Quality Leads: Chat instantly with ID verified renters & search from a list of suggested tenants.
Screen Tenants Smarter: Easily assess a renter's reliability & trustworthiness with Trust Score – the new intelligent rating system.
Step 4) Decide to have a furnished or unfurnished unit
After COVID-19 there was a drop in the rental price for furnished units in both Vancouver and Toronto. These prices have rebounded significantly since though, for both furnished and unfurnished units.
Beginning 2023, rent prices are at all-time highs in both Vancouver and Toronto's markets, with both furnished and unfurnished rentals experiencing similar growth. In Toronto especially, furnished and unfurnished units are practically neck-and-neck, though this might not show the whole picture. Much of the data regarding furnished units is taken from basement suites and rooms, which will show a lower rental cost.
Overall, furnished rentals will continue to yield a higher return on your rental property investment.
City of Vancouver average monthly rent
Unfurnished one-bedroom: $2,525
Furnished one-bedroom: $3,049
Downtown Toronto average monthly rent
Unfurnished one-bedroom: $2,428
Furnished one-bedroom: $2,668

As you can see, furnished rentals continue to command a significantly higher rental price in both of these key markets.

For investors playing the long game, a furnished place is likely going to continue to have a higher ROI year over year.
Step 5) If you choose to furnish, decide how you want your suite to be furnished
Offering a furnished suite is great for people who are travelling or moving to the city for the first time, such as students and newcomers to the country. If you decide to furnish your suite, the most successful places will have:
Affordable & durable furniture
A full kitchen and cleaning supplies
Basic electronics
Well-organized storage areas
3. Lead Generation: how to generate quality leads
Nothing is sadder than a unit sitting empty. The best way to lower your vacancy rate and keep a rental income cashflow going is by starting out with quality leads. When vacancy rates go up and average rent prices go down, your priority should be generating enough leads to keep your rental property occupied.
Tip 1) Quality leads over quantity
Focusing on increasing the quality of your leads will, in the long-term, save so much time and energy by opening communication channels to only serious inquiries.
Of course, to get the kinds of quality lead results you want, you might have to invest in making your property shine.
Things like professional photos, tenant credit checks, and fresh marketing opportunities can all cost money. But the thing about investments is that they pay off — they'll help get you your dream tenant.
liv.rent actually made a way to get better leads overnight and increase listing views by 300%. Featured listings also get a 65% increase in inquiries and applications if you're looking for a quality tenant ten times faster than normal.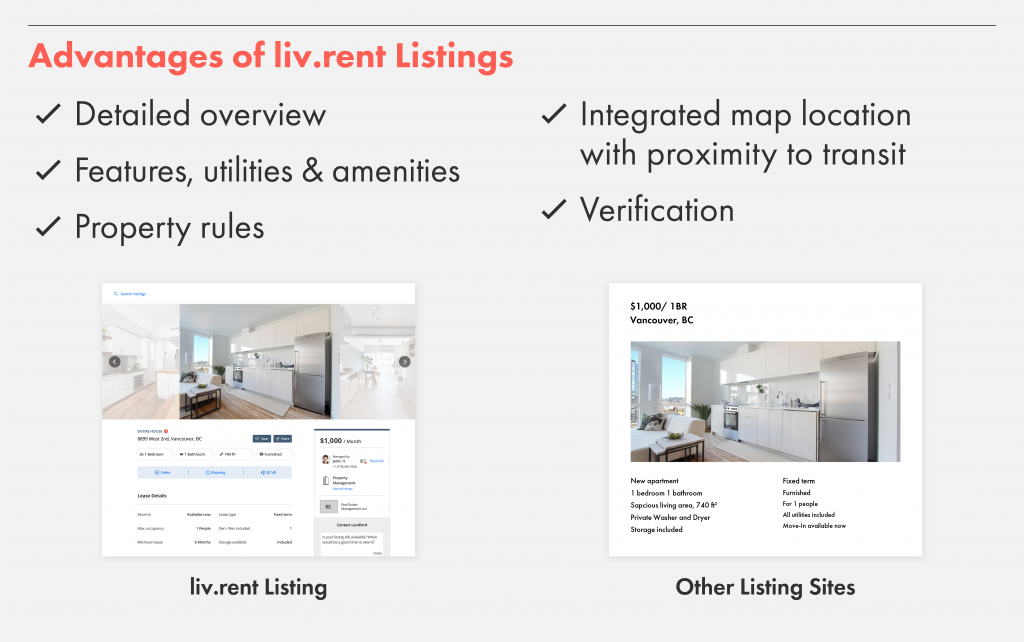 Another way to get more leads is by going more digital. People aren't keen to meet face-to-face in a COVID-19 world right now, so tenants are looking online more than ever for places to rent. Get them to view your units instantly with virtual tours, live-streamed showings, and Matterport 3D tours.
Pro tip: Before you schedule an in-person showing, confirm that a prospective tenant has already watched or explored your 3D or VR tours.
Tip 2) Digital & social media presence for landlords
In our digital world, you have to keep growing your online presence. People want to rent from people, so let prospective tenants get to know you. Putting a face to a name helps build trust and gets you better leads.
Once you're comfortable with your website and online presence, it's time to fully leverage the suite of online tools and social media features that can get your units filled. Set yourself up for virtual tours by having professional photo and video assets to attract more leads and qualified tenants.
You can even compare the different platforms like Facebook, Instagram, or YouTube to see which one will work for you the best:
Facebook Live
Pro: you can see real-time comments and respond to questions right away.
Con: you're limited to a 90-minute video.
Instagram Live
Pro: you can collaborate with guests
Con: you can only live stream through mobile
YouTube
Pro: great searchability high searchability
Con: you need 1000 subscribers before you can unlock mobile live streaming
Tip 3) Hacking the cost of vacancy
You could consider reallocating the cost of vacancy into creative ways to market your listing smarter. Hacks like this are even more important when the market is slower and when the rental market is getting competitive, like what we saw when COVID-19 began.
Pro tip: Smart investors keep up with the latest data. Knowing the average cost of rent in Vancouver or Toronto is crucial for maximizing your investment.
For example, let's say that the cost of your unit sitting empty for two weeks is $835. You could decide to use that towards rental incentives and unique marketing like:
Visa or Amazon gift cards giveaways for people who watch your live streams
Offering to cover the cost of a security deposit
Reallocating part of those funds to get your place on liv.rent's Featured Listings
4. Automation: how to make the rental process easier
While the "World Wide Web" has been live since 1991, the COVID-19 pandemic really kicked the adoption of digital services and products into overdrive.
Before you get your tenant you want to look at these questions to assess where you're at now:
How long does it take you to list your rental?
Are you sharing your rental listing across multiple platforms?
Are you responding to your prospective tenants fast enough?
The great thing about automating your rental process is that computers are fast and they have very good memories. For example, on liv.rent you can automate things like:
Instantly reposting old listings
Listing syndication across channels
Online storage for documents
Signing digital contracts
Collecting rent online
These set-it-and-forget-it processes will reduce the amount of time spent managing your property and ensure that you don't miss anything crucial.
Imagine scrapping all phone calls, text messages, and emails and keeping all inquiries and channels of communication in one place. liv.rent also lets you use preset response templates to communicate with prospective tenants faster and get your units filled. Plus, you'll keep all your correspondence filed and on hand in the landlord dashboard.
Recommendation 1) Signing digital contracts
Digital tools are so important for communication. If you don't have a fast response time for tenants, they'll most likely sign a lease on someone else's property just because they got back to them faster.
If you decide to adopt only one automation process, it has to be using digital rental contracts.
Drafting and handling contracts is one of the biggest time sinks for landlords. It's also where they're most likely to make a mistake or leave a bad impression on their tenant by taking too long.
Rather than searching online for lease templates or going back and forth via email with a tenant — you can do it all in one place without one trip to staples to print off a contract.
liv.rent makes auto-filed contracts once an application is received and approved. Then, landlords get to customize and make any amendments they need. next, they can instantly send it to the new tenant within the same chat that they've already been communicating with.
This makes it easy to find leases when they're up, makes it clear
and if you get them a contract before another landlord in, then you just scored a tenant.
Recommendation 2) Using smart data
Since the best way to make your rental property more profitable is to keep tenant turnover low, you always want to have your units occupied and the liv.rent dashboard can help.
The landlord dashboard's insights can show you how your listing stacks up when compared to the average rent of similar units to help you price competitively and keep the rent flowing.
---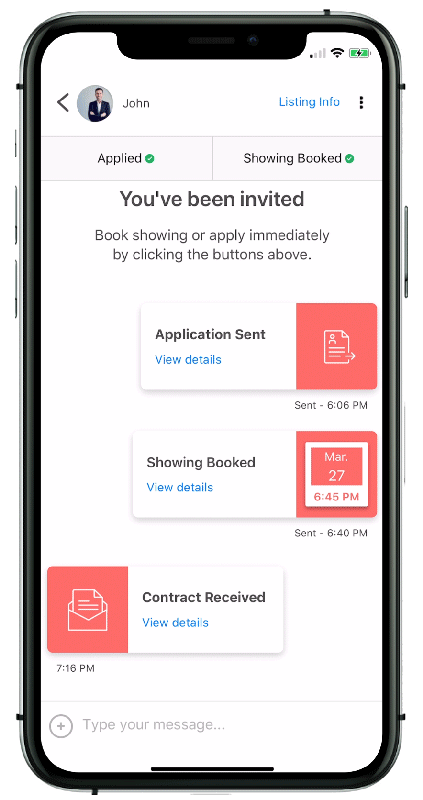 Rethink The Way You Rent
Not on liv.rent yet? Experience the ease of digital applications & contracts, verified tenants & landlords, virtual tours and more – all on one platform. Sign up for free or download the app.
Subscribe to receive the latest tenant & landlord tips and get notified about changes in the Canadian rental market.
>> Stay up-to-date on the average rent in Vancouver, Toronto and Montreal: Rent Reports.