It's not easy being a student. The constant pressure of coursework, looming exams, and extra-curricular activities make for a busy schedule – not to mention the other curveballs life tends to throw our way. Combine this with the fact that many students are living alone or with roommates for the first time, and it's no wonder why students tend to be stressed out. While we can't help you study for tests or plan your social calendar, liv.rent does have the digital tools students need to save time and effort in finding a place to rent.
In this guide, we'll walk you through the basics of coming to Canada to study this fall as an international student, how to stay safe while searching for and applying to listings, how to secure a home before you arrive, and the best places to look for rental housing.
Table of Contents
10 Must-Haves To Avoid Rental Scams
When it comes to rental scams, knowledge is power. Look out for these 10 things when searching for and applying to rentals.
International students coming to Canada during COVID-19
Though we're now over two years into the global COVID-19 pandemic, there are still steps travellers must take to prepare for their trip and ensure they're permitted entry to Canada. Being an international student requires you to have all your travel, school, and government documents together before flying. Unfortunately, with the COVID-19 pandemic still going on in Canada, there are a few more things that students need to be aware of before they arrive. Here's what you need to know:
Note: COVID-19 rules and guidelines are constantly changing. That's why we included a resources section at the end of this article for you to check with the Government of Canada for the latest updates.
Getting a study permit
The study permitting process has, for the most part, returned to normal in Canada after potential delays related to the COVID-19 pandemic. Still, students are encouraged to apply online before arriving to the country – unless they meet one of a few conditions, in which case they may apply at the port of entry.
Be aware that even with things mostly returned to normal, it may take up to 90 days for your study permit to be processed. Make sure to leave ample time between your acceptance and your arrival date to avoid any hiccups.
Designated learning institutions
In order to apply for a study permit in Canada, you must first have been accepted to a Designated Learning Institution (DLI). This is a school that has been approved by the province's or territory's government to host international students.
COVID-19 travel rules & guidelines
Canada's COVID-19 travel rules are constantly changing, so it's important to check for the latest updates before you depart. Here's a quick breakdown of what you'll need to know before you arrive in Canada:
Fully Vaccinated Travellers – If you've received at least 2 doses of an accepted COVID-19 vaccine, with the second dose administered at least 14 days before entering Canada, you'll be exempt from pre-entry testing upon arrival. Students seeking this designation should also show no signs of COVID-19, and make sure to upload the required documents to the ArriveCAN app to prove their vaccination status.
Unvaccinated Travellers – If you don't qualify as a fully vaccinated traveller, you may still be allowed entry into Canada in most cases, although you'll need to complete pre-entry, arrival, and day-8 tests. For specific requirements, check the latest updates here.
Note: each province in Canada has their own provincial guidelines about COVID-19, in addition to policies at individual post-secondary institutions.
How to rent in Canada from abroad
Once you've been accepted to study in Canada and you've successfully acquired your study permit, it's time to start looking for a place to live. Depending on when you receive your
That's not a lot of time, but if you use liv.rent then you can start your search today and secure a home from anywhere.
We made every step of the rental process digital. That means you can search for listings, view units, chat with landlords, apply, sign your contract, and pay your rent all online and in our app.
Sign up to liv.rent now and complete your profile only when you're ready to apply.
Complete your liv.rent renter profile
We call your profile your "renter resume" because once you fill it out, you can use it to apply to multiple listings to save you time. Once you apply to a place, your information is shared securely with the landlord, who can review your profile, ask you some questions, and send you a lease to sign in-app.
As part of your profile, you can select the "I do not live in Canada" option. This communicates to landlords instantly that you're moving to Canada from abroad and will help them understand why your prior Canadian address is "missing," helping them build trust with you faster.
As a student, this might be your first time renting a home. On your liv.rent profile, you can also select "I'm a first-time renter," so that a landlord can understand why you don't have previous landlord references from Canada.
Note: try to secure a Canadian cell phone number as soon as possible. Having an active local number in advance will help you open utility accounts, bank accounts, and more once you're in Canada.
liv.rent recommends Canadian cell phone service provider, PhoneBox, for the most affordable LTE plans on the market and free shipping of SIM cards anywhere in the world!
Unlock liv.rent exclusive deals and receive even better deals as a liv.rent member. Click here >> Go Phonebox
Apartments for rent in Canada
In Canada, there are a few varieties of rental housing available, from single rooms in shared houses and entire houses to condos and townhomes.
Often, students are on a budget and looking for affordable homes. While studios and one-bedrooms are still viable options, prices for these types of units tend to be higher. With rent prices consistently high across the country, it can be much more affordable to search for a room to rent, or find roommates in advance and apply to two- or three-bedroom units. Whichever type of unit you choose, liv.rent allows you to easily search for homes and filter them by price or rental type, making it easy to narrow down your search.
Although we have listings across Canada, we've pulled listings and links for three major Canadian cities where international students often go to study:
Apartments for rent in Vancouver
If you're headed to Vancouver, B.C. for your studies, it's more important than ever to understand the local rental market averages. That way, you can empower yourself to make decisions that work for you and your budget.
Historically, Vancouver is not an affordable place to call home and for a while now has held the top spot as the most expensive city to rent in Vancouver.
Still, it's a breathtaking city and home to many exciting educational institutions like The University of British Columbia, Simon Fraser University, and Emily Carr University of Art + Design.
Learn more about Vancouver's distinct neighbourhoods:
Apartments for rent in Toronto
Living in the Greater Toronto Area (GTA) is a popular choice for many newcomers to Canada. There are lots of great schools in Toronto and beyond. And, if you're living in Downtown Toronto, then it can feel like you're a part of the country's urban centre.
If you have questions about renting in Ontario, we have answers. Check out our series Applying For A Rental In Ontario:
Apartments for rent in Montreal
Montreal is a relatively affordable Canadian city for renters, especially compared to the high prices in Vancouver and Toronto. The French and English-speaking city is home to many of the country's finest schools like McGill and Concordia.
Resources for international students in Canada
FAQ: Coming to Canada as an international student
What are Canada's travel restrictions?
Though restrictions have largely relaxed, Canada still has measures in place for travellers arriving to the country. In order to be admitted to the country, students must qualify as fully-vaccinated, have a valid study permit (unless exempt), and be attending a Designated Learning Institute (DLI).
Check the Travel Canada website for more details.

Can international students travel to Canada now?
Yes, international students can travel to Canada, although they must adhere to COVID-19 procedures and guidelines. Be sure to check both federal and provincial guidelines for more details.

How do I submit my travel information during the COVID-19 pandemic?
Students can submit their travel information using ArriveCAN. You can use the ArriveCAN website or the ArriveCAN mobile app to submit the necessary information and supporting documents.
Are international students exempt from the Canadian travel restrictions?
International students entering Canada must still follow all COVID-19 protocols and guidelines, including uploading any required documents to the ArriveCAN app.
What happens after I arrive in Canada during the COVID-19 pandemic?
Provided you qualify as a fully vaccinated traveller, you won't be required to submit a pre-entry test before arriving. The Government of Canada has also temporarily suspended mandatory random testing at airports, but travellers must still use the ArriveCAN app within 72 hours of arriving in Canada.
Learn more about the COVID-19 travel rules in Canada.
---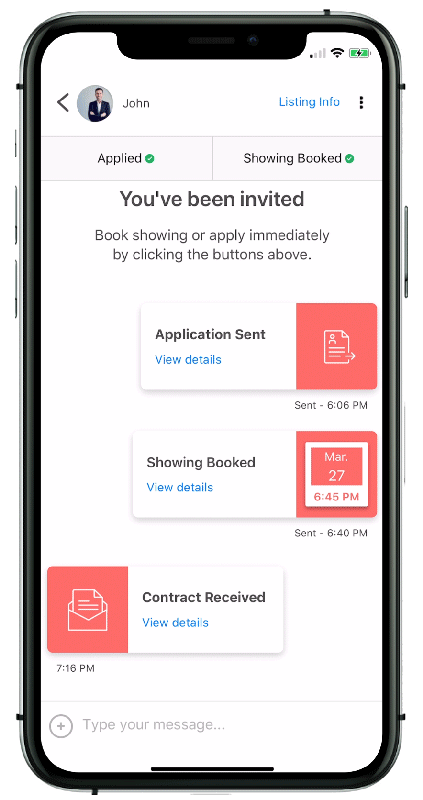 Rethink The Way You Rent
Not on liv.rent yet? Experience the ease of digital applications & contracts, verified tenants & landlords, virtual tours and more – all on one platform. Sign up for free or download the app.
Subscribe to receive the latest tenant & landlord tips and get notified about changes in the Canadian rental market.
>> Stay up-to-date on the average rent in Vancouver, Toronto and Montreal: Rent Reports.