Finding apartments for rent in Canada can be a daunting task if you're new to the country, or just new to the rental scene. Whether or not you've narrowed down which province, city, or neighbourhood you're interested in, or if you're still keeping your options open, a good rental platform should help you navigate every part of the rental process with ease, keeping you safe throughout. The same goes for landlords just starting their rental business. In order to keep your new income stream profitable, it's important to choose a rental platform that gives you access to a wide audience of renters, with safety & security built right into the platform. Here, liv.rent will cover the best and most popular options used by Canadian renters and landlords to post and rent properties across the country.
Get your listing rented for less this Black Friday
Unlock premium marketing & tenant screening features or upgrade your landlord plan with our lowest prices of the year – available for a limited time.
What renters should look for in a rental platform
When choosing where to look for a place to rent, renters should take into account the following factors:
Verified landlords & listings – Rental scams are a common sight in the current market, and it's important for renters to be able to distinguish real listings from fake ones meant to swindle them out of their hard-earned money. The safest way to go about this is to choose a rental platform with multi-layered, manual verification protocols that can reliably spot and block suspicious listings and user profiles.
A variety of customizable search filters – Looking for listings can be a lot of work without the right tools. To save you time in your search, opt for a rental website with lots of options for searching, such as number of bedrooms & bathrooms, pet policy, contract duration, and included amenities to streamline your quest for the perfect place.
Security features – Renters are required to submit a variety of personal and financial information throughout the rental process, and it's important that you're sure where this information is going and how it's being used. Ideally, choose a rental platform with a clear privacy policy that won't sell your data.
liv.rent – Canada's trusted house & apartment rental website
Search apartments, condos, and homes for rent.
Verified Landlords: Rent from a trusted landlord. Look for the "ID Verified" tag to identify which landlords have been pre-screened.
Quality Rentals: Browse listings that have been checked by our team. Verified by official documents or by mail.
One-Click Applications: Fill out your Renter Resume once and apply to multiple listings in just a few clicks.
What landlords should look for in a rental platform
Tenant screening features – Protecting your property investment should be a priority for every landlord. The wrong tenants can cost you thousands of dollars in damages and missed rent payments, so it's important to utilize a tenant screening tool like the Trust Score that goes beyond a credit check, giving you a complete picture of tenants' reliability.
All-in-one tools – Today's landlords live busy lives, and deserve a rental platform that can keep up, helping them save time at every stage of the rental process. While listing sites are great for sharing your listing to in order to expand its reach, landlords can make their leaves easier with a platform that supports listing, leasing, and signing contracts & receiving rent payments in one place.
Flexible pricing plans – Some Canadian rental platforms charge a listing fee or a percentage charge for ongoing use of their services. Especially if you're just getting started as a landlord, you'll want to keep as much of your profits as possible with free listings and optional pay-per-use features to give you greater flexibility.
How to find apartments for rent in Canada
No matter where in Canada you're located, the process for finding an apartment tends to be more or less the same. While some renters may still prefer to canvas the neighbourhoods they're interested in in-person, looking for vacancy signs, the majority of Canadian renters will conduct the majority of their housing search online. Today's landlords know that renters are increasingly searching online, and you'll find almost every available property in your area listed online, where you can inquire and arrange viewings.
The main challenge facing renters is deciding which rental website will be the most beneficial in helping them find apartments for rent in Canada. Not all rental platforms are built equally, and where you choose to conduct your search will influence not just how much time and money you spend on the rental process, but also how safe & secure you are during your search.
To help simplify your decision, we've broken down some of Canada's best and most popular rental platforms to give you a better sense of where you should begin your search for the perfect place.
1. liv.rent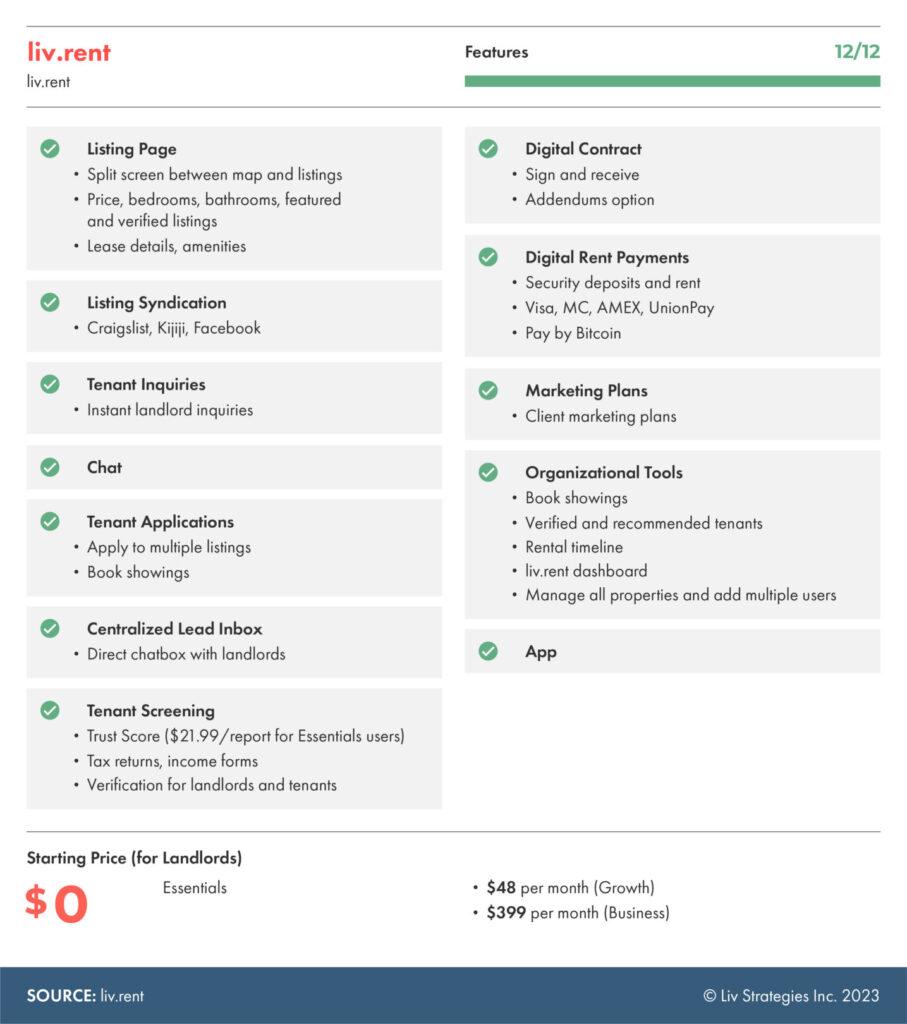 liv.rent is a Vancouver-based all-in-one rental platform available in B.C., Ontario, Montreal, and Calgary & Edmonton that allows landlords and tenants to rent safely and securely thanks to an extensive verification process and tools like the Trust Score tenant screening tools, available on a pay-per-use basis for Essentials users and included in the platform's Growth and Business plans. As you can see, liv.rent unsurprisingly ticks all of our boxes, and has a variety of features for every stage of the rental process, for both landlords & renters.
Renters
On liv.rent, tenants can easily search for rentals using a variety of filters and even a map view, then quickly message landlords for more information using built-in instant chat. From there, they can submit applications, book viewings and when it comes time, sign lease agreements and pay rent and security deposits through a variety of methods including credit card, UnionPay and even Bitcoin.
Landlords
For landlords, liv.rent provides pre-filled listing templates to help you create attractive, effective listing pages, including a newly added Smart Description feature which uses AI To write an engaging listing description for you, plus tools to allow for sharing to other platforms like Craigslist and Kijiji. Simply put, liv.rent is the best website to post a rental property for landlords.
The platform also comes with pre-loaded standard digital lease agreements for B.C. and Ontario, in addition to a variety of lawyer-vetted lease addendums to add detail to your contract. For quick and effective tenant screening, liv.rent has refined and added to their innovative Trust Score feature, which gives landlords a comprehensive picture of a tenant's suitability including a credit summary, a detailed risk assessment, income & employment verification, and more. All in all, this complete platform is the best way to advertise and manage your apartments for rent in Canada.
Post unlimited listings for free
Do you need to advertise multiple rental listings? Look no further. Post as many listings as you want on liv.rent – all for free.
For landlords looking to further streamline their rental process and gain access to the same tools used by professional property managers, liv.rent's new Growth plan is here to make renting even easier. The Growth plan is effectively an all-in-one property management software package, with all the tools you'll need to digitize and streamline your rental process from start to finish. For just $48/month, this comprehensive plan includes:
Unlimited lease protection addendums
2 Trust Score reports with credit check per month
Automated rental advertising (2 per month)
Shared management tools for up to 3 users
…plus everything in our Essentials plan.
Unlock The Trust Score Tool
Save time and remove the manual labour of tenant screening with the Trust Score from liv.rent. This comprehensive tool helps you evaluate a renter's reliability & credibility with flexible pricing options for every landlord. Click here to view an example of the Trust Score.
2. Zumper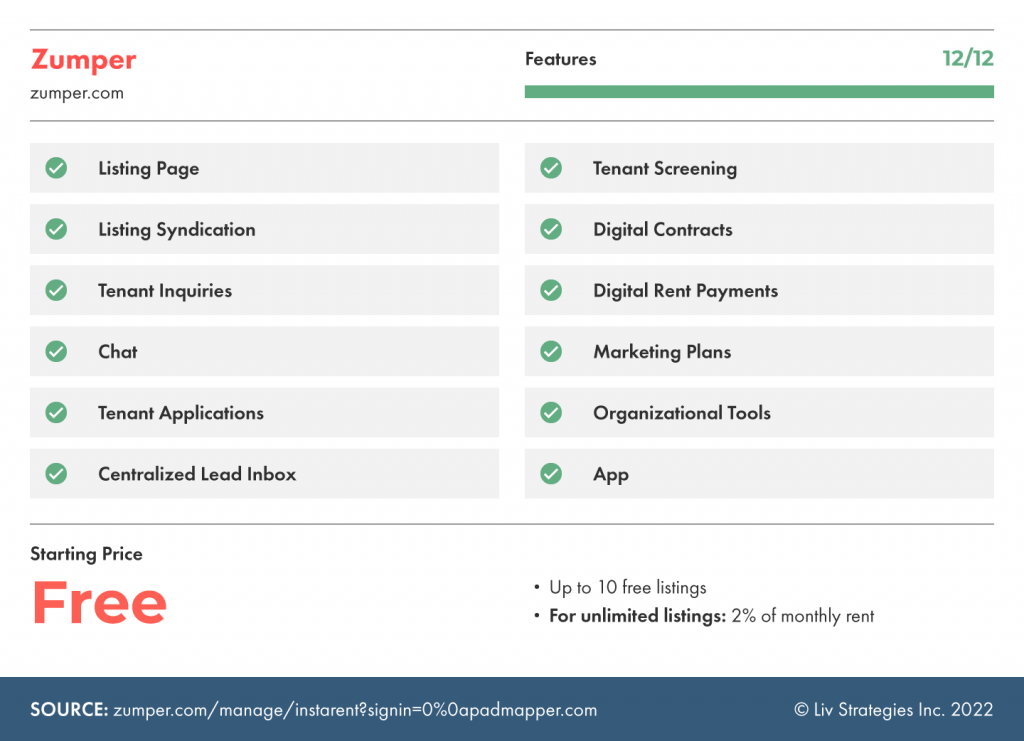 Like liv.rent, Zumper is an all-in-one rental platform that's popular among renters and landlords across Canada. On top of a user-friendly layout, Zumper has features to help landlords and tenants streamline every stage of the rental process, including tenant screening and rent payment & collection.
Renters
For renters, Zumper is a convenient way to browse and apply for listings thanks to its visually-appealing layout. With that being said, the site does lack the comprehensive security and verification features of other platforms like liv.rent, though it does allow for the entire rental process to be completed within the site and there are some measures in place to prevent against fake landlords and listings.
Landlords
Zumper also has a full 12/12 features, including digital contracts and rent payment and a variety of tools to help you create and share listings. The only area where the site falters is in its security protocols, which aren't as in-depth as other platforms. As well, though it's free to start, Zumper charges a fee for landlords or property managers who have more than 10 listings, which makes it a costly option for businesses. Still, this platform's wide range of features put it in contention for the best rental websites in Vancouver.
3. Zillow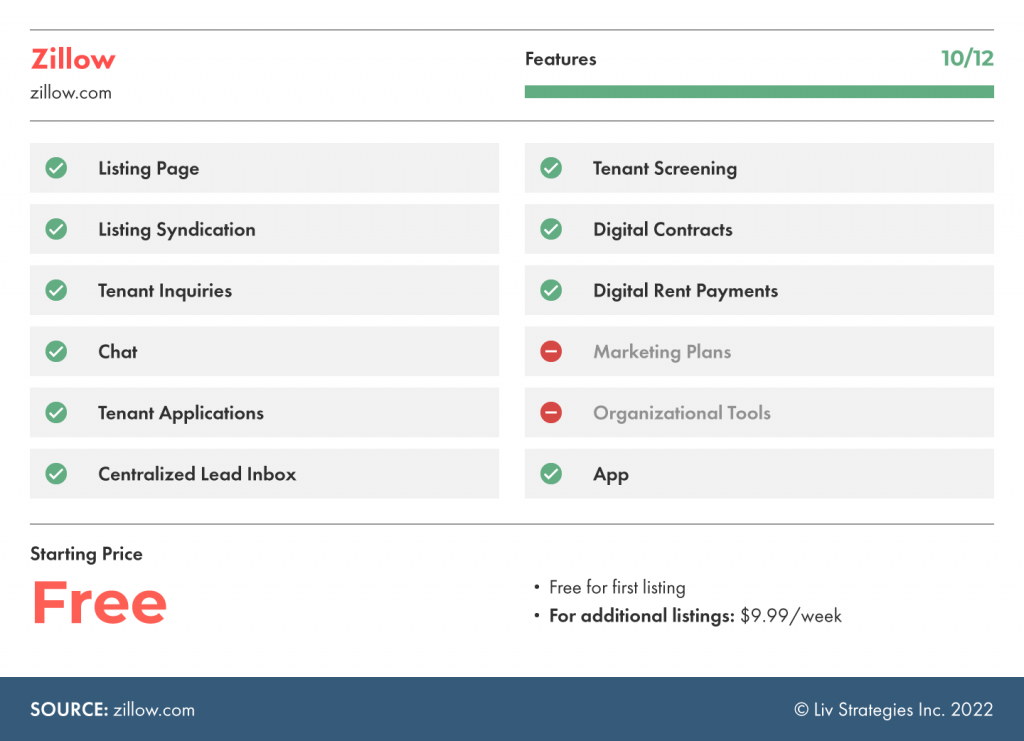 Zillow is primarily a platform for buying and selling real estate, but the site is also a popular place for renters & landlords, especially in metropolitan areas like Vancouver and Toronto. The platform has a variety of tools to simplify the lives of both landlords and renters, although it's two shy of a perfect 12/12. Zillow is free to start for landlords but has ongoing weekly fees for additional listings, which means it can get expensive quickly if you have multiple properties to rent.
Renters
Zillow is fairly easy to browse thanks to a handy map view and a simple, easy-to-navigate layout. Renters can also request to book showings/submit applications directly from the listing page using pre-set forms. It's also handy to be able to see exactly when listings were posted front and centre to save time applying to outdated posts.
Landlords
Zillow has a good range of descriptors and options for creating great-looking listings which include room for tons of photos as well as 3D tours. The site also provides a convenient neighbourhood map for all listings, in addition to an FAQ section that gives more information about the property and its location. Zillow has a number of convenient features for managing rentals as well, including rent payments and digital contracts, though it lacks some marketing and organizational tools.
4. Condos.ca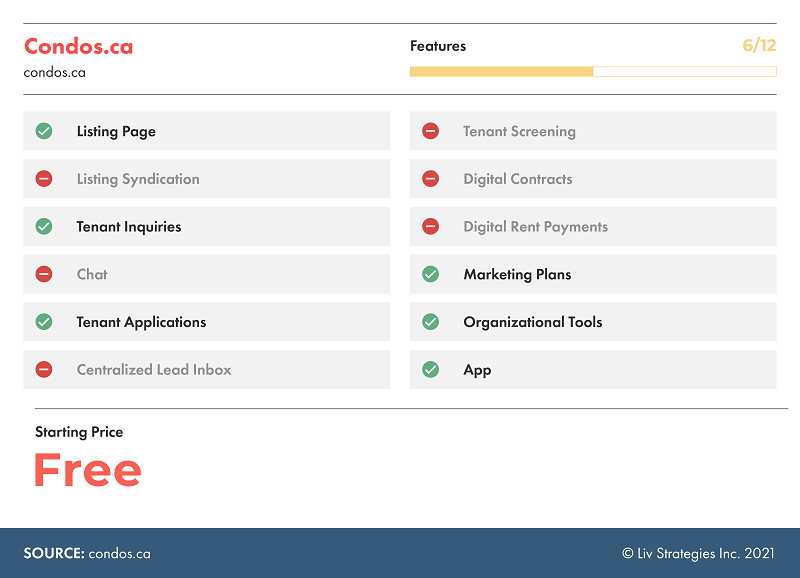 For both renters and landlords, Condos.ca has a lot of the basics you need to rent a home in Canada. Available in a number of Canadian cities, this popular platform facilitates both sales and rentals in one location, with quite a few of the most important features users should look for.
Renters
Renters will benefit from the many listings available on Condos.ca, particularly if you're looking to rent in the Greater Toronto Area. The map view makes searching for listings easy and it's fairly simple to inquire & apply to properties you're interested in, but the lack of a built-in chat can make communication difficult.
Landlords
Built-in marketing plans and organizational tools are a big plus for landlords, but Condos.ca is still primarily a listing site, without the all-in-one features of other platforms on this list. Despite this, the platform is easy to use with a fairly wide audience and is free to get started.
5. Kijiji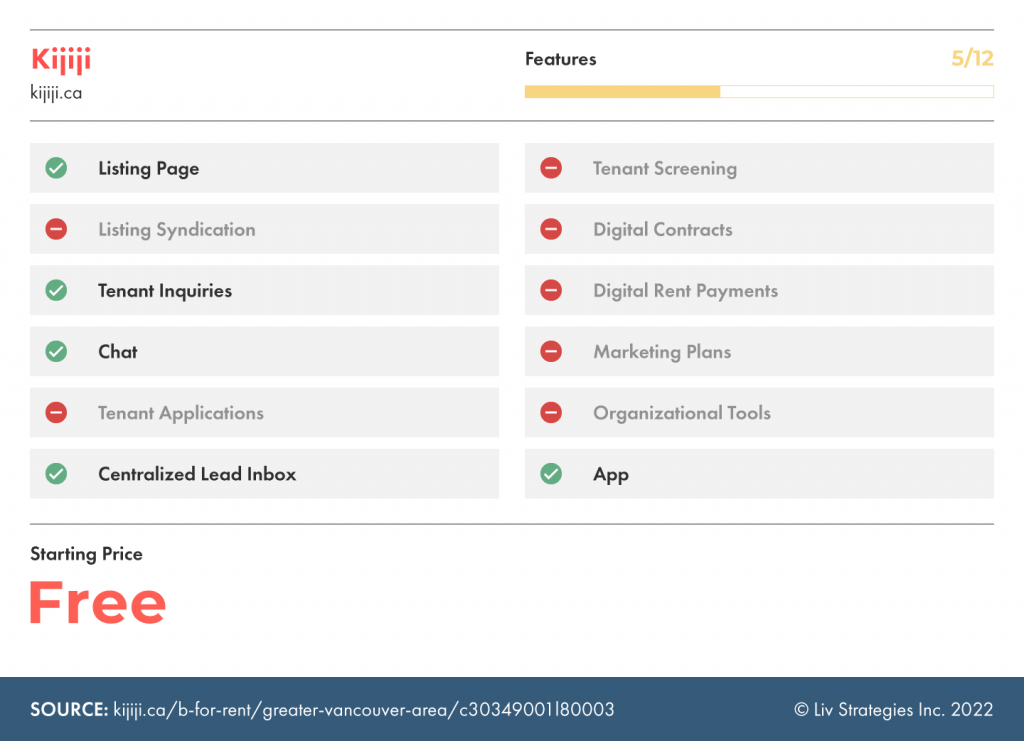 Kijiji is a marketplace site that doubles as a popular place for landlords and renters to post and find rental listings. The platform offers a basic suite of listing features including plenty of fields and filters for filling out specific details and room for lots of photos.
Renters
Kijiji is a good basic option for browsing and applying for listings, though it lacks many features that renters may look for. The site does allow for messaging within the platform which makes for much easier communication. Unfortunately, Kijiji doesn't have much in the way of security features and provides little protection against scams.
Landlords
For landlords, Kijiji is a perfectly suitable place to post your listings due to the site's broad audience and high traffic, though that's about all it offers. Unlike Craigslist, Kijiji does have a chat feature for easy communication, as well as a centralized inbox for easy lead management.
6. Rentals.ca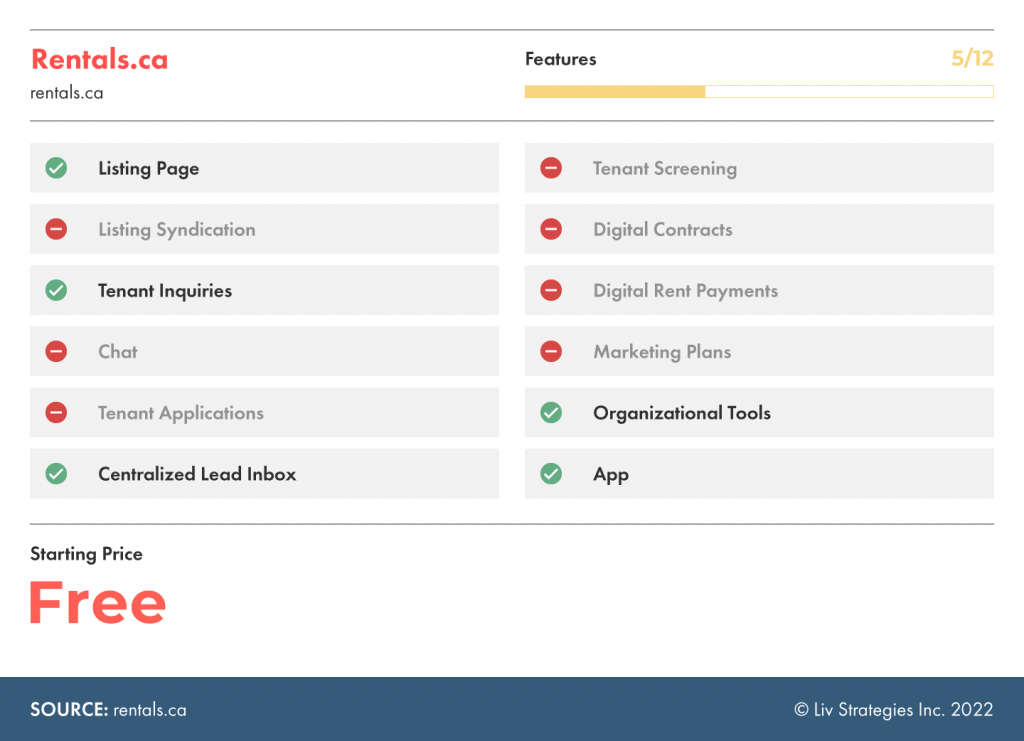 Rentals.ca is another popular place to find and rent apartments, houses and condos, and offers a user-friendly layout as well as excellent search capabilities and an interactive map.
Renters
Rentals.ca is a great option for renters primarily because of the number of listings available. Since it's such a popular platform, there are plenty of rentals to choose from and the site makes it easy to navigate them thanks to a split-screen map/photo view and lots of different search filters.
Landlords
Rentals.ca allows landlords to post for free, and the site offers lots of ways to customize your listing and make it stand out, including a photo gallery and neighbourhood score. Because it's a listing site, Rentals.ca doesn't provide features for navigating the rental process beyond inquiries.
7. Realtor.ca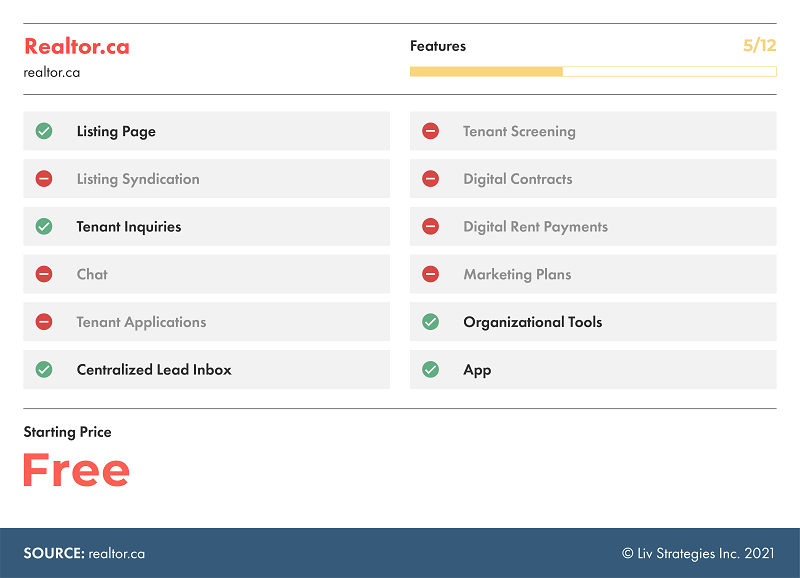 Realtor.ca is another top website for finding apartments and houses for rent in Canada in terms of popularity. Having an app is handy for when you're on the go and about to spend a day viewing listings. However, without digital contracts and rent payments, it's still a bit old-school and may prefer to save paper in the rental process.
Renters
Despite being used primarily for real estate sales, Realtor.ca is also a popular and easy-to-use website for finding rentals. Since the majority of the rental properties on this platform are posted by licensed real estate agents on behalf of their owners, tenants have a bit more security than with other options.
Landlords
Although it's primarily a listing platform, landlords should find Realtor.ca fairly intuitive with attractive listing pages and standard options for facilitating tenant inquiries via phone or email. The site also has basic organizational tools to help you manage your listings efficiently, as well as a mobile app for on-the-go rental management.
8. PadMapper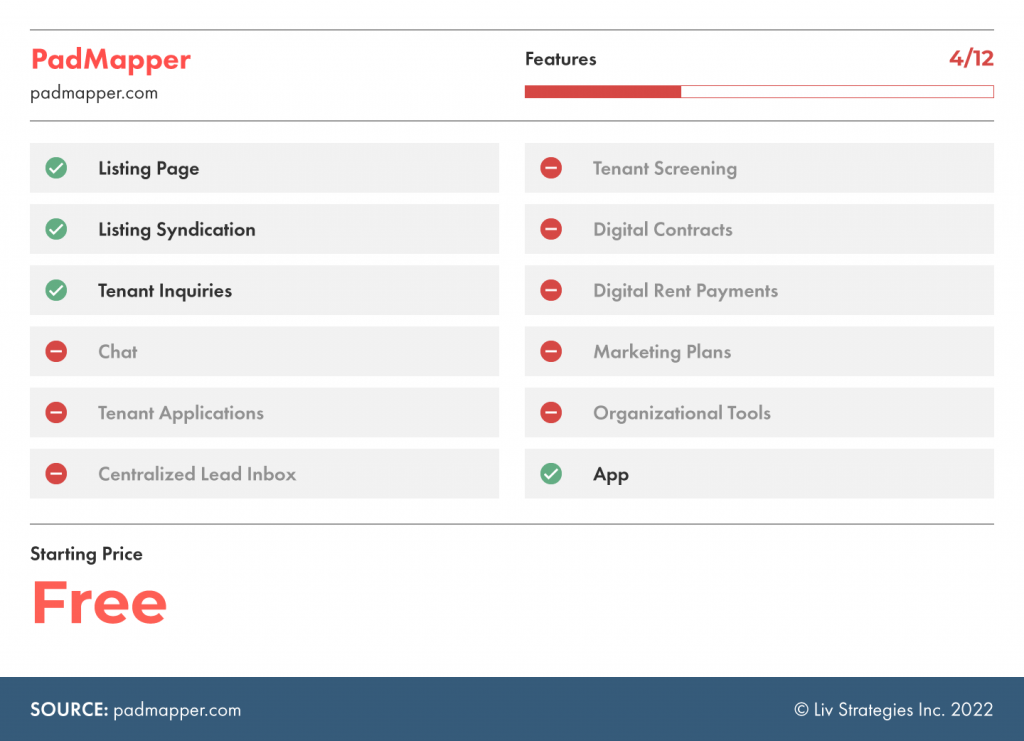 PadMapper is another popular option in Canada due to its easy-to-use map view for easy browsing, as well as a variety of built-in search features. The site is fairly bare-bones in terms of appearance and features, but works quite well and is simple to use for what it does.
Renters
PadMapper lets renters browse with ease thanks to an interactive map and various filters. As far as communications, PadMapper allows tenants to send messages with their phone number and email address to get in touch with landlords. The platform doesn't mention any specific security or verification processes, though it does require a precise address in order to post a listing.
Landlords
PadMapper is a simple, effective way for landlords to get their listings posted quickly, though the site doesn't offer support for much beyond inquiries. The site's map view is extremely easy to navigate though, a feature which tenants still gravitate towards.
9. Facebook Marketplace/Groups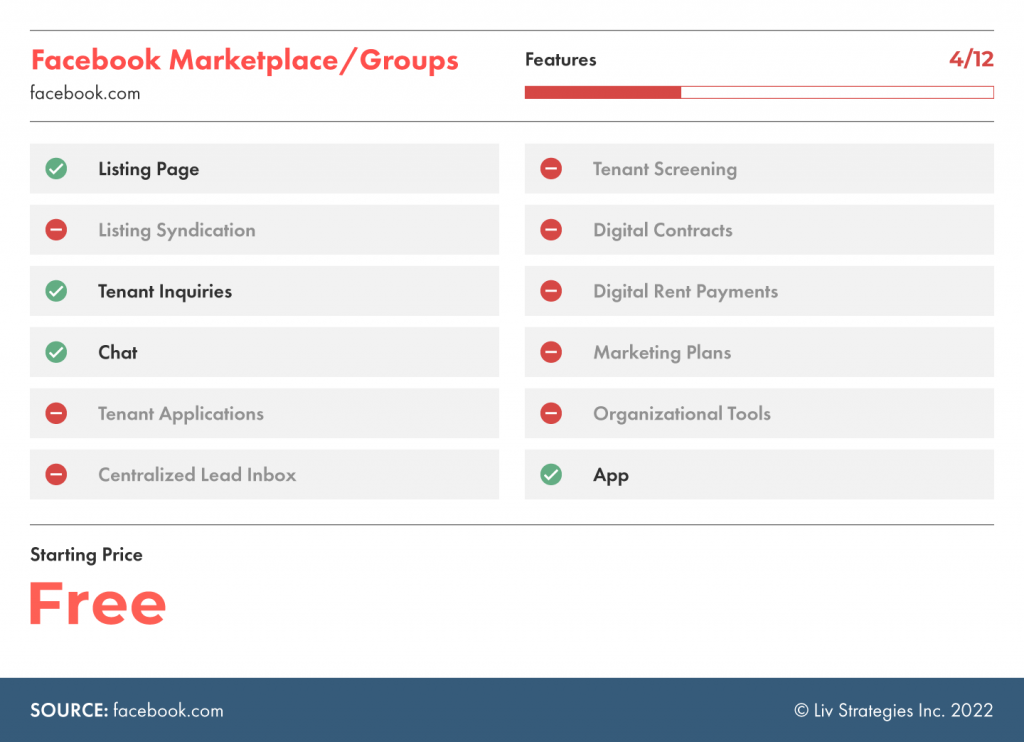 Facebook Groups and even Marketplace are great ways to find apartments and houses for rent in Canada. Though renters and landlords should exercise caution when using the platform due to the potential for fraudulent posts and users, there are plenty of local, moderated groups that allow for easy browsing and the ability to get in touch over Facebook Messenger. For a safe, convenient Facebook Group, check out liv.rent's own curated rental group, where we post and share apartments, houses and rooms for rent in Canada.
Renters
Facebook is an extremely popular place for renters to browse apartments thanks to the volume of posts, though this is also its greatest downfall. Because Facebook has never claimed to be a rental platform, the site has few checks in place for screening out scams, although there are many moderated groups that provide a safer alternative.
Landlords
Landlords looking to reach a broad audience would do well to post their listing to Facebook due to the large number of renters browsing the platform. Though it doesn't provide much in the way of additional features, it's easy to get your listing posted and communicate through the built-in Messenger app.
10. Craigslist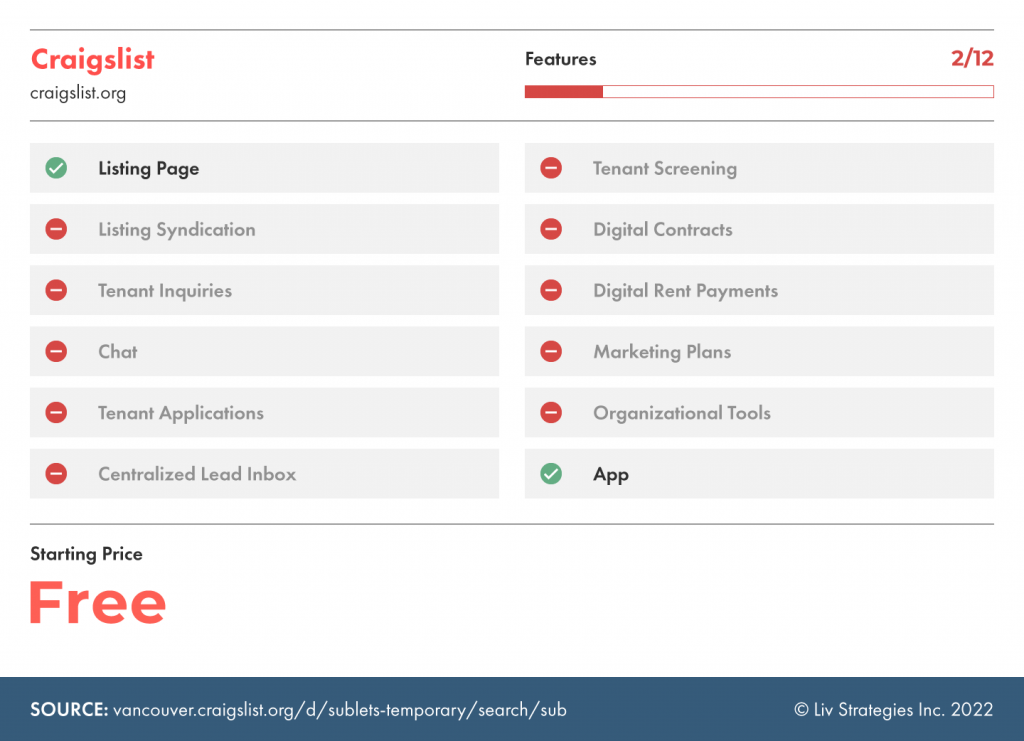 If you've ever rented in Canada, you're likely already familiar with Craigslist. The marketplace site has long been the go-to place to post and find rental listings, as well as a variety of other goods & services, due to its pared-down appeal and ease of use. Though it may come out on top in terms of the number of listings available, the site lacks many of the security features renters and landlords should look for in a rental platform.
Renters
Renters can easily browse the site using a good selection of filters. For applications, Craigslist lists landlords' email addresses and/or phone numbers for renters to get in touch. Do use caution when applying to rentals on Craigslist though – since there's little in the way of verification, it's not uncommon to come across rental scams on the site.
Landlords
Craigslist does provide a basic listing template including room for plenty of photos. The site also allows for a map view of each property and provides ample room for a description, as well as pre-set options for details about the unit. Renters can easily browse for rentals using a good selection of filters. For applications, Craigslist lists landlords' email addresses and/or phone numbers for renters to get in touch.
11. 4rent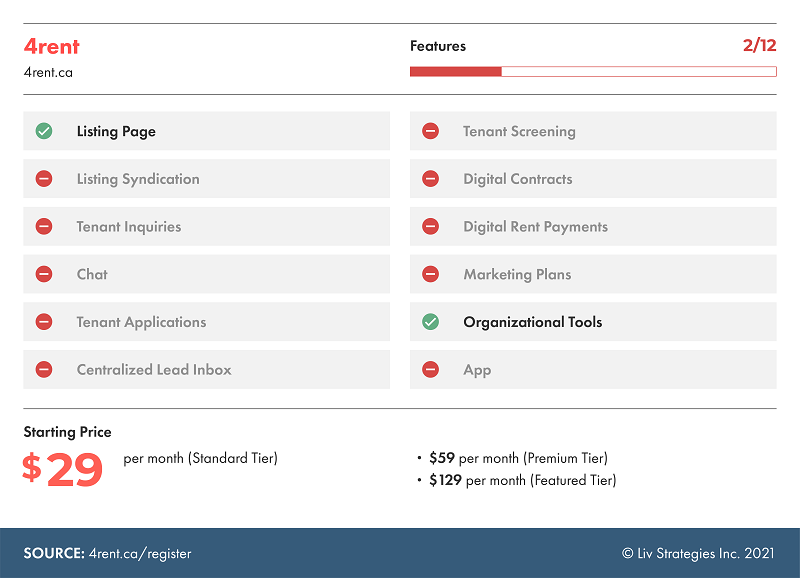 4rent is a rental listing website that's popular across Canada and offers both attractive listing pages and organizational tools for landlords. However, it does fall short in other categories, notably, it does not have an app or a chat feature, which can allow for instant communication between landlords and tenants.
Renters
4rent has listings in cities & towns across Canada and is easy for renters to navigate thanks to convenient drop-down filters and a map view for navigating listings. There's even a 'create alert' option for hands-off browsing and you can submit inquiries directly using a built-in form.
Landlords
Posting listings is straightforward with 4rent, however you'll likely need to go elsewhere for things like leasing and rent payments since this minimal platform keeps things simple. Still, listings look good and reach a wide variety of renters and some of the organizational tools built into the platform can be useful.
Renters: what is the best website to find apartments for rent in Canada?
Given the rapid rise in rental scams in recent years, renters looking for apartments for rent in Canada should put their safety & security first when it comes to choosing a rental website. Particularly for first-time renters, students, or those renting from abroad, using a rental website that safeguards you from the stress and financial burden of scams is vitally important. In the absence of face-to-face communications, there are plenty of opportunities for dishonest or deceitful behaviour on either end of the rental process. Our goal at liv.rent is to reduce the risk of potential scams by helping connect verified landlords & tenants to build a trusted rental community.
Not only is liv.rent safe, it's also incredibly easy for renters to use thanks to time-saving features like listing alerts, tons of customizable search filters, and video tours to allow you to browse listings with ease. To make your applications even easier, you'll only need to fill out your profile once and can then apply to multiple listings with just a few quick clicks.
Watch the video below for a step-by-step tutorial on getting started searching for listings on liv.rent.
Landlords: where should you post apartments for rent in Canada?
As a landlord, your main focus should be creating a profitable rental business while also ensuring your property is protected from troublesome tenants who can lead to damage, complaints, missed payments, and other costly issues. While most landlords will already be familiar with popular websites like Craigslist and Kijiji, the rental scene has evolved with new, all-in-one options creating a far easier and safer way to rent in Canada..
For these reasons, landlords unsure of where to post their listing for rent should be sure to check out liv.rent. The Vancouver-based platform's broad range of tenant screening, marketing and management features make it the best-in-class, while flexible pricing plans let both landlords and property managers find an option that works for them. As well, liv.rent has a detailed verification process for tenants including the revamped Trust Score, where you can view employment/income verification, credit checks, a detailed risk assessment, and more in an easy-to-understand format. Best of all? It's completely free to post unlimited listings, as well as access many liv.rent features like rent collection and standard digital contracts.
If you're searching for an easier way to list and manage your rentals, be sure to sign up for liv.rent today.
FAQ: The best websites to post & find apartments for rent in Canada
What is the best site to find accommodations in Canada?
For renters rightfully prioritizing their safety & security while also saving time, liv.rent is the best choice for finding accommodations in B.C., Ontario, Alberta, and Montreal. You can compare your options above based on key features and other information.
How to find a house for rent in Canada?
If you're looking specifically for a house for rent, you can simply navigate to liv.rent's rental listings, enter in the city you're looking for housing in in the search bar, then use the filters to select "House".
Which province in Canada has the cheapest rent?
Rent prices are constantly fluctuating in Canada, and it's difficult to pick out a particular province with the cheapest rent. If you're on a budget and aren't sure where to begin your search, our monthly Rent Reports for Metro Vancouver, Toronto, Calgary & Edmonton, and Montreal can help you stay up-to-date on the latest rental rates across the country.
How to find good rentals in Toronto?
If you're looking for listings in Toronto specifically, you'll want to familiarize yourself with the area before deciding on a neighbourhood, also comparing the best region-specific rental platforms for your needs.
Which province has the highest rent in Canada?
---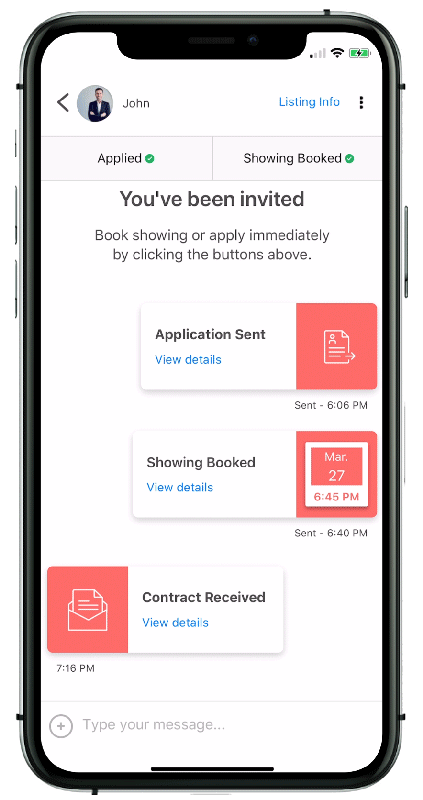 Rethink The Way You Rent
Not on liv.rent yet? Experience the ease of digital applications & contracts, verified tenants & landlords, virtual tours and more – all on one platform. Sign up for free or download the app.
Subscribe to receive the latest tenant & landlord tips and get notified about changes in the Canadian rental market.
>> Stay up-to-date on the average rent in Vancouver, Toronto and Montreal: Rent Reports.