No landlord wants their unit to sit empty for long. Even with a month's notice or the expected end of a fixed-term lease, finding quality tenants in time to fill vacancies can be an arduous process. To counter this, we've made this guide to help landlords prepare for the listing or re-listing process and find suitable renters faster. We'll be going over how to research and create effective advertising that attracts renters, including what to include when writing an ad, which listing sites to advertise your rental property on, and how the many features on liv.rent can streamline the listing process for landlords.
Do you want to get your listing rented out faster?
From posting and advertising to screening and signing a contract, find out how you can get your listing rented out faster – in as little as 7 days.
How to conduct market research for your rental property
Before you even think about writing a rental ad, it's a good idea to have a sense of the rental market in your area. This doesn't have to mean gaining a deep understanding of the inner workings of your local rental scene, but landlords should always be aware of where rent prices stand, how their unit compares to similar ones in the area, and what local renters are looking for in a listing. When conducting your market research, you should have a clear picture of who your ideal tenant would be. Are you looking for a young family to fill the unit? A working professional? Students? Having a sense of your target audience and being aware of what your unit offers that they might be interested in brings you one step closer to finding your ideal tenant.
Let's look at a few things to consider when deciding what to include in your rental listing ad:
Location — For most renters, location is everything. While everyone looks for something different in a rental location, there are a few universally desired qualities when it comes to the location of a unit. Proximity to grocery stores, hospitals, parks, and restaurants is always worth mentioning in a listing ad, while being close to primary and secondary schools, universities and colleges, or a business district can help to attract more niche groups.
Amenities — It's always a good idea to make note of any amenities within your unit or building. Parking, common spaces, fitness facilities or a pool, laundry in the unit or a shared space, children's play areas, etc. can all help your unit stand out to potential renters. When researching, you can find out which of these your ideal renter might be looking for and highlight these factors in particular.
Pricing — Have a look through the popular rental listing sites to get a sense of how units are being priced in your area. Pricing your listing competitively while maintaining profitability is a fine balance, but can make all the difference when trying to attract quality tenants. The Landlord Dashboard on liv.rent makes this easy, showing landlords average rent in the area and how their listing compares to similar properties.
Other considerations — Think about what else your ideal renters may want to see in a listing. Anything you think is worth mentioning in an ad, probably is. Make note of whether the unit is full or partially furnished as this might be attractive to students or professionals who may only be in town temporarily. Things like new appliances, great views, natural light, and storage are all small details that may set your listing apart from other units.
The psychology of renting: 3 principles to appeal to renters
Knowing what renters are looking for and when is vitally important for maximizing your listing and getting your unit rented as quickly as possible. To understand how prospective tenants will respond to different elements of your listings, landlords should understand these three key principles of renter psychology:
The Framing Effect — This is a phenomenon whereby decisions are influenced by the way in which information is presented. Landlords should be aware of the words they're using to describe their rental properties, as certain descriptors can help paint your listing in a positive light and make what could be seen as a negative feature, into a more appealing one. Words like "cozy" for smaller units and "unique" for older properties can help draw in renters and ultimately get your listing rented out faster.
Anchoring Bias — This idea suggests that people naturally tend to 'anchor' themselves in the first piece of information they encounter on a topic, for example, if a renter were to come across a one-bedroom listing in Downtown Vancouver for $1,200 per month, this would likely be the price they measure all listings against – regardless of the quality of the unit or how realistic the price is. As landlords, there isn't much that can be done to counter this, but being able to refer to up-to-date rental rates to clarify how you priced your unit can help show your rental property's value to prospective tenants who may have a differing idea of how much it's worth.
The Von Restorff Effect — This proven theory indicates that the more something stands out from the crowd, the more likely it is to be seen. This has clear implications for landlords advertising their units, suggesting that they should do everything in their power to call attention to unique selling points like neighbourhood characteristics, unique building amenities, and other features that may appeal to renters – whether through photos, videos, or call-outs within the description.
How to advertise your property for rent
Once you've compiled your research and know what you want to include in your listing to attract the type of tenants you're looking for, it's time to create an engaging rental listing ad. Let's go over how you can create effective ads, breaking the process down into three steps: writing the ad, taking pictures of your unit, and including the right pre-screening criteria.
Looking to fill your unit fast? With Sponsored Listings on liv.rent, landlords and property managers can attract more high-quality tenants faster. For more information, read up on this feature here.
How to write an effective rental listing
With so many rental listings out there, it can be hard to advertise your rental property in a way that stands out from the crowd. Here are three quick tips landlords can follow to ensure their listing is written to attract renters:
Use engaging language — When writing your listing ad, you want to talk about your listing in a way that engages renters — with language that appeals to the specific demographic you wish to attract.
Highlight key features — Be sure to highlight any of the features we discussed above so that renters can immediately see the unique features and amenities that make your unit special.
Be descriptive — Be as descriptive as possible to give readers a sense of what it would be like to live in your rental property. Don't get carried away though, you want to be realistic about what you're offering or else you'll wind up with disappointed renters when it comes time for a showing.
If you just can't seem to find the right words to describe your rental property, or you simply don't have time to spend on writing a lengthy description, liv.rent's new Smart Description AI feature uses artificial intelligence to create a compelling description based on your listing's details. This feature is available to all landlords on the liv.rent platform, all you'll need to do is create a listing to get started.
What pre-screening criteria to include in a rental listing
To filter out unqualified tenants and save yourself time later on in the rental process, your listing ad should make note of any requirements or rules for your rental suite. Including pre-screening criteria helps tenants by letting them know upfront what renting your suite entails. Rather than wasting their time and yours, you can start narrowing the field right away by making clear your expectations for the unit.
Keep in mind though that there are some things landlords cannot ask for when screening tenants. For more information on what you can ask for in each province, consult these resources for B.C. and Ontario. Here's an idea of what pre-screening criteria your listing should include:
Pet policy
Non-smoking unit/premises
Type of lease required (one-year, month-to-month)
Expected move-in date
Deposits required (Note: if you're in Ontario, be sure to read up on the types of deposits allowed in the province)
How to take better pictures of your rental property
There are a few important rules to follow when taking pictures of your unit. Renters don't have much to go off of before they actually view the property, so it's important that the photos you include capture the unit in all its glory. Here are some quick and easy steps to follow to ensure your pictures are eye-catching and captivate your target audience of renters.
De-clutter the unit — Especially if the unit is currently occupied, be sure to hide any mess before taking photos.
Wait for a bright, sunny day — Natural light does wonders for a space, so it's always best to wait for a sunny day when taking pictures of your unit
Capture the best angles — Center your photographs so that there's an equal distance between any vertical and horizontal lines. This can make rooms look more spacious and provides the most accurate representation of your unit.
Highlight unique features — If your unit has gorgeous hardwood flooring, huge windows, or a charming nook, don't be afraid to capture these features. Unique details add character to your listing and help it stand out in a crowded field.
For a complete list of tips on how to take better pictures of your rental unit, check out our post here.
What are the best rental listing sites?
Now that you've created the perfect listing ad, where do you post it to? There are a number of viable options for landlords, so it's good to have an idea of which ones you're going to be using. We're going to break it down by area, key features, and pricing to give you a better sense of your choices. You can also consult the handy chart at the end of this section for a side-by-side comparison of the most popular rental listing sites available in Canada.
liv.rent
4rent

Cities active in: Edmonton, Toronto, Winnipeg
Key features: listing pages, organizational tools
Pricing: $29/month Personal Tier, $59/month Premium Tier, $139/month Featured Tier

Craigslist

Cities active in: Vancouver, Toronto, Montreal
Key features: listing page, app
Pricing: Free

Kijiji

Cities active in: Toronto, Vancouver
Key features: listing page, chat, centralized lead inbox
Pricing: Free

Zumper

Cities active in: Toronto, Montreal, Vancouver
Key features: listing sharing, tenant applications, digital rent payment
Pricing: Free (up to 10 listings, 2% of rent for unlimited listings)

Condos.ca

Cities active in: Toronto, Vancouver
Key features: tenant applications, marketing plans, app
Pricing: Free

Realtor.ca

Cities active in: Vancouver, Toronto
Key features: tenant inquiries, organizational tools, app
Pricing: Free

RentSeeker

Cities active in: Toronto, Vancouver, Calgary, Montreal
Key features: listing sharing, marketing plans, tenant inquiries
Pricing: $49/month Silver Tier, $69/month Gold Tier, $99/month Platinum Tier

Rentals.ca

Cities active in: Toronto, Vancouver
Key features: organizational tools, tenant inquiries, centralized lead inbox
Pricing: Free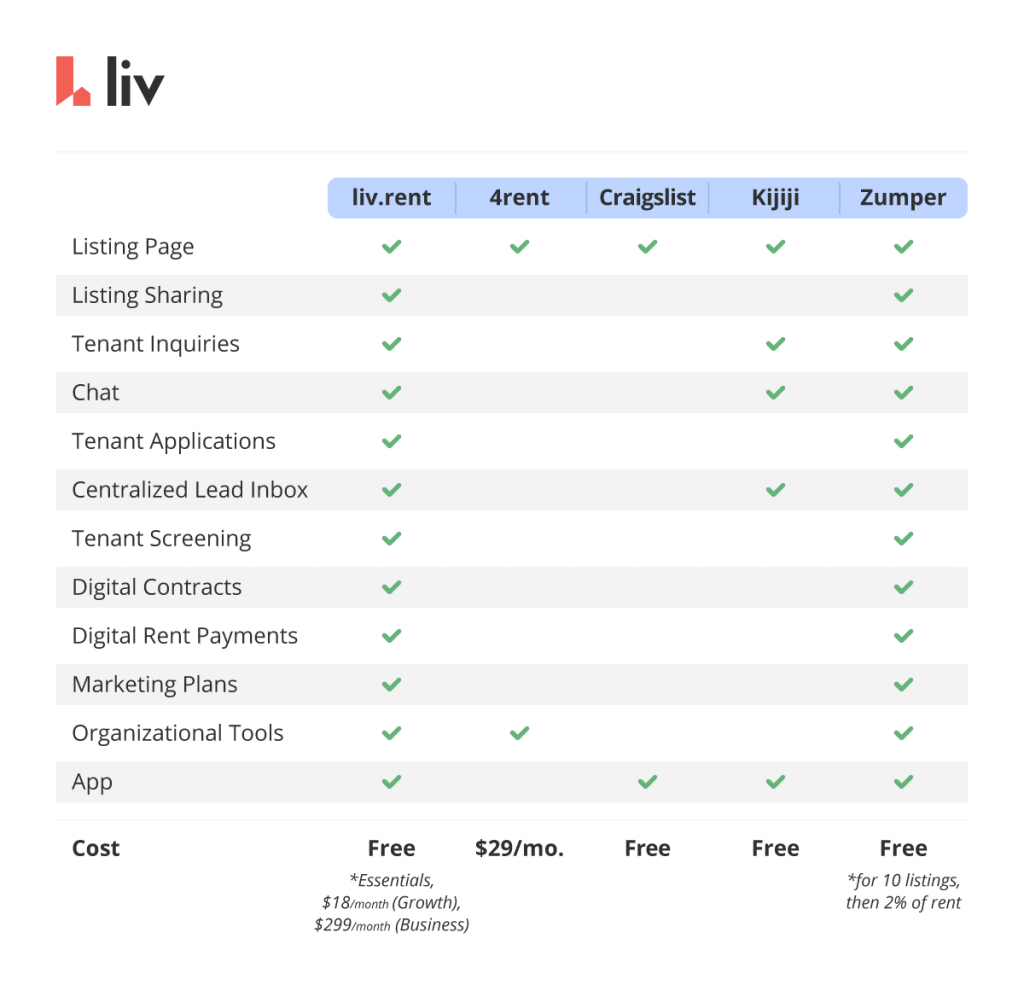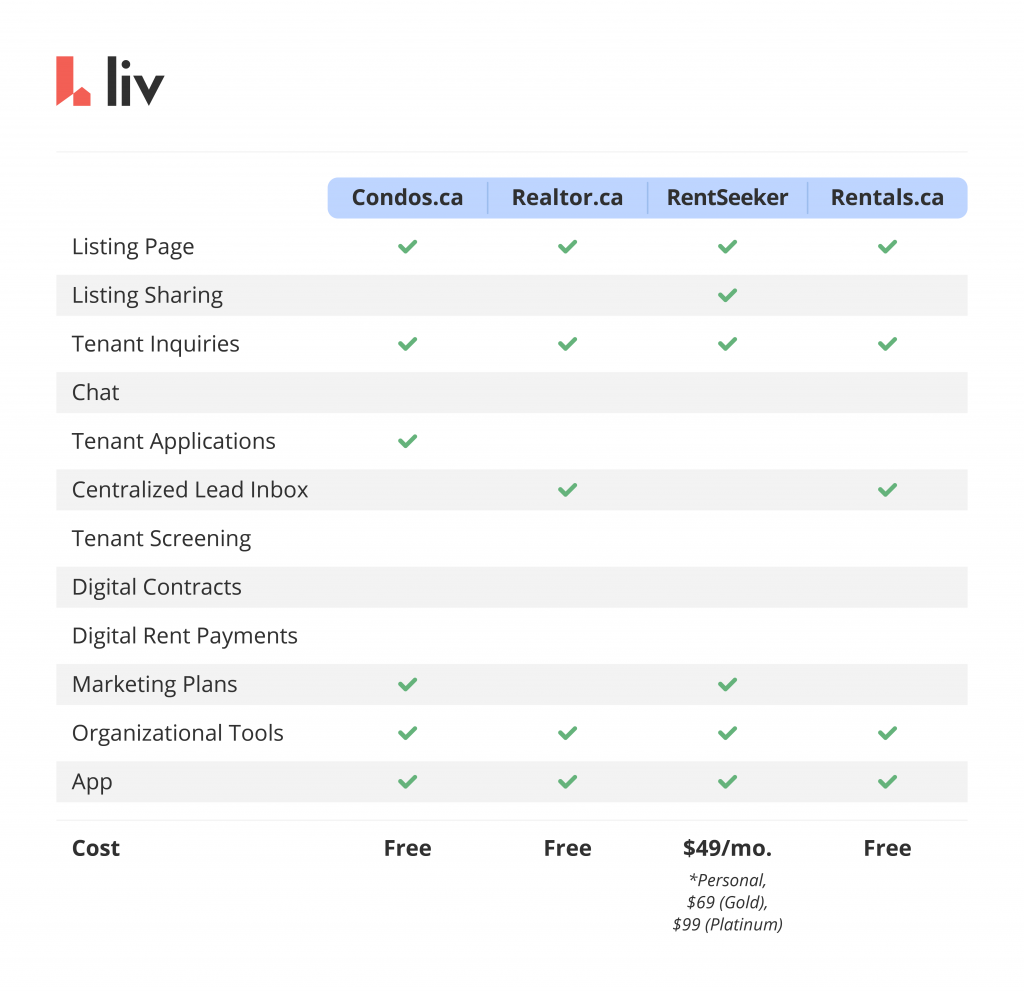 How to use liv.rent to advertise your rental property
As you can see from the visual above, liv.rent provides some excellent tools that make it stand out amongst Canada's top rental listing sites. From listing, to sharing, to signing, and even digital rent payment, liv.rent helps landlords discover a more efficient, effective way to rent their units. Features like the Listing Dashboard help landlords gain insight into their local rental scene, making market research a breeze.
Sharing your listings is a breeze too with easy, multi-click syndication to Craigslist, Kijiji and Facebook Marketplace.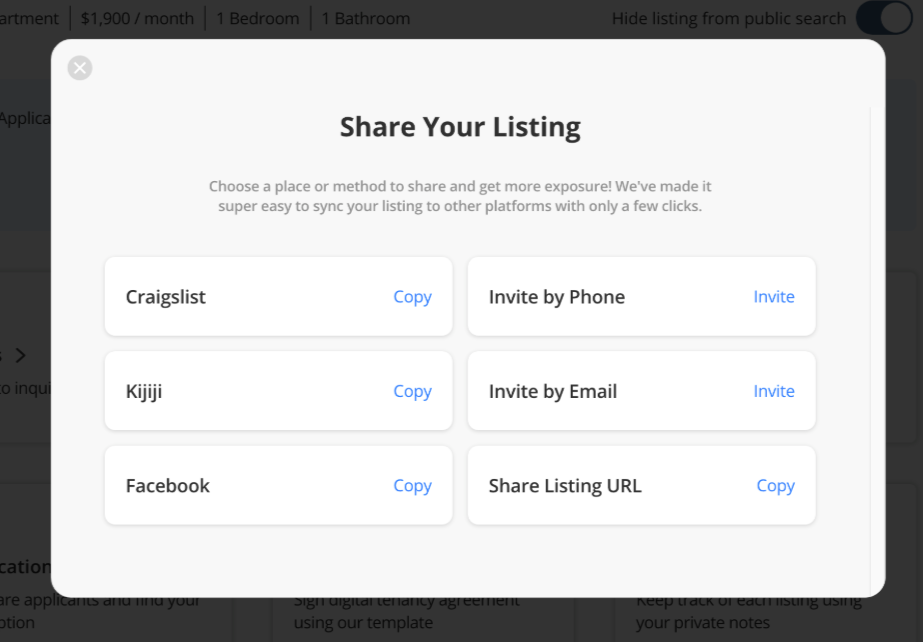 From within your listing, simply click the "Share" icon to open up the window above. Then, you can copy a pre-formatted listing template for the platform of your choosing. You can also choose to invite renters to the liv.rent platform by phone or email in order to speed up the application process, or copy a link to your listing to share with your network.
Curious to learn more? Discover how a liv.rent landlord used the features available within the platform to rent out her apartment in just 10 days.
Attract more qualified renters with Smart Description AI
Save time in the rental process and make your listings stand out with compelling AI-generated descriptions based on your rental property's unique features.
---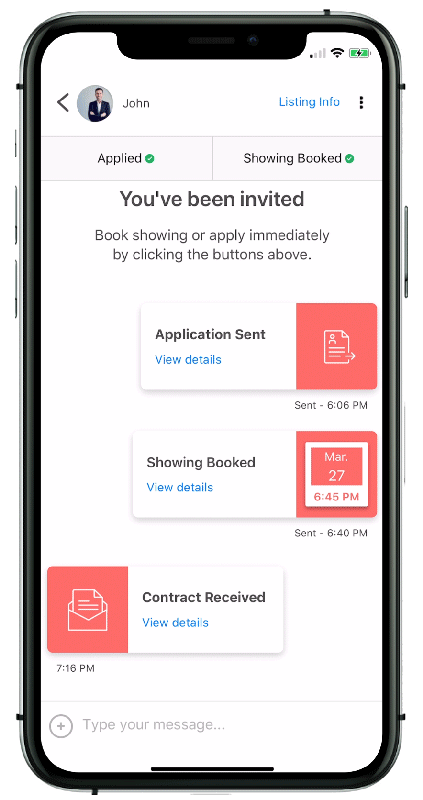 Rethink The Way You Rent
Not on liv.rent yet? Experience the ease of digital applications & contracts, verified tenants & landlords, virtual tours and more – all on one platform. Sign up for free or download the app.
Subscribe to receive the latest tenant & landlord tips and get notified about changes in the Canadian rental market.
>> Stay up-to-date on the average rent in Vancouver, Toronto and Montreal: Rent Reports.