If you're looking for your next Toronto home, you might feel like you have a daunting task ahead of you. At liv.rent, we know renting can be easy, so let us show you how. To help you save time, we're going over all the best apartment rental sites in Toronto for when you need to start the search for your next home.
You can get the latest updates on the Toronto rental market straight to your inbox when you subscribe to keep on top of the trends.
Once you see the features that each platform offers and get a chance to compare their key differences, then you're going to be able to make the best decisions moving forward. Whether you're listing a rental property of your own or you're a renter searching for Toronto rentals and homes for rent in Toronto, the tools you use matter.
Let's dive into our list of the best Toronto rental websites now. You can use the table of contents below to jump ahead to #1.
liv.rent – Renters Can Now Create Alerts
Don't see what you're looking for? Set up an alert and get notified about listings that meet your criteria (location, price, housing type, bedrooms, pet policy, and more).
Note: If you're not a liv.rent user, sign up first. Then apply your filters and click the "Create Alert" button on the upper right hand corner to set up your alert.
How do I find rentals in Toronto?
The best way to find apartment rentals in Toronto is by checking what listings are available online. There is a myriad of options available, from liv.rent to Kijiji, and more. These types of rental apps function as apartment search engines, allowing you to scout out properties for rent from the comfort of your home.
However, some like to walk around their preferred neighbourhood and see the "for rent" signs on the lawns and in the windows of buildings, calling the numbers listed to inquire about a unit. Still, in today's digital-first world, using an app or website is the go-to option for many in Toronto.
But there are so many to choose from when it comes to the best websites for finding apartments, so where should you start? And, if you're a landlord or property manager, what listings platform makes the most sense for you? Let's look now at our list of the most popular rental listings sites in Toronto:
1. liv.rent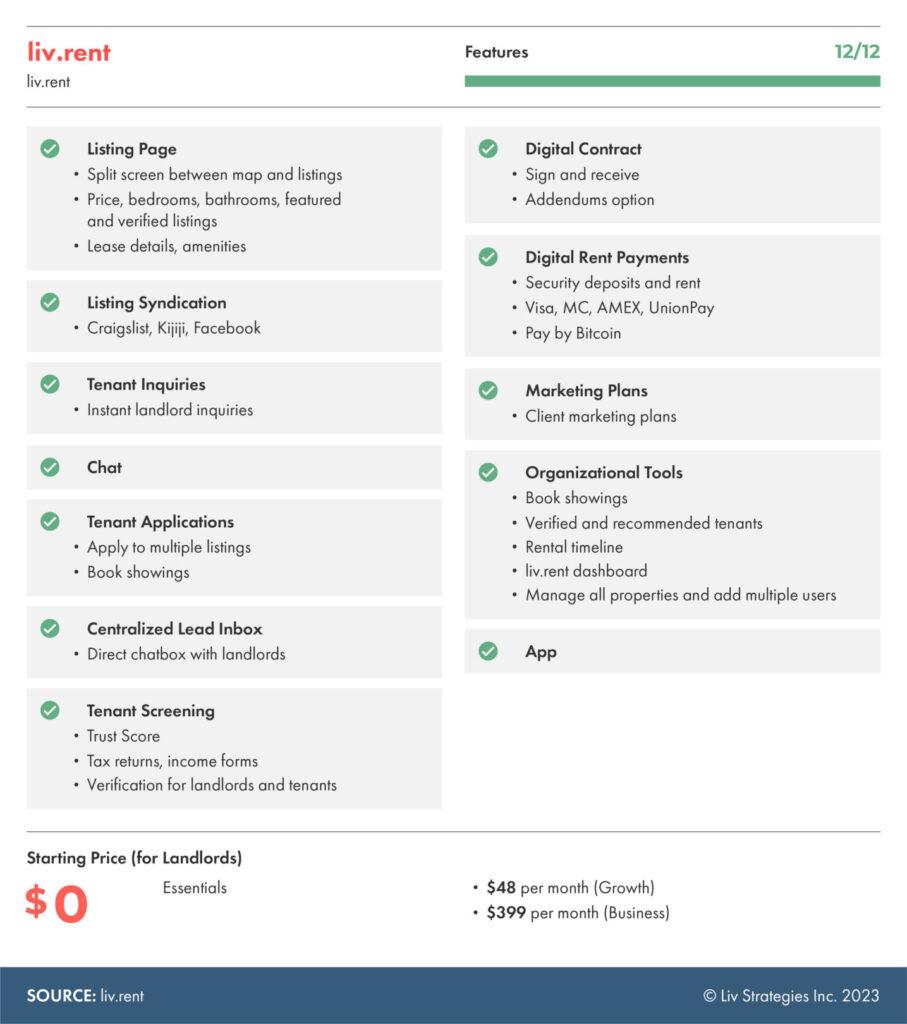 It's no surprise that liv.rent clocks in at 12/12 features and stands heads-and-shoulders above the rest!
Although other platforms have similar features, liv.rent is unparalleled, especially after adding a new feature to let tenants pay for their rent with Bitcoin. This all-in-one rental app not only allows you to search for listings, but renters and landlords alike can enjoy piece of mind thanks to liv.rent's strict manual verification processes for users and listings.
Always free for renters and able to generate higher quality leads than other leading platforms, it's your all-in-one rental solution.
Post unlimited listings for free
Do you need to advertise multiple rental listings? Look no further. Post as many listings as you want on liv.rent – all for free.
2. Zumper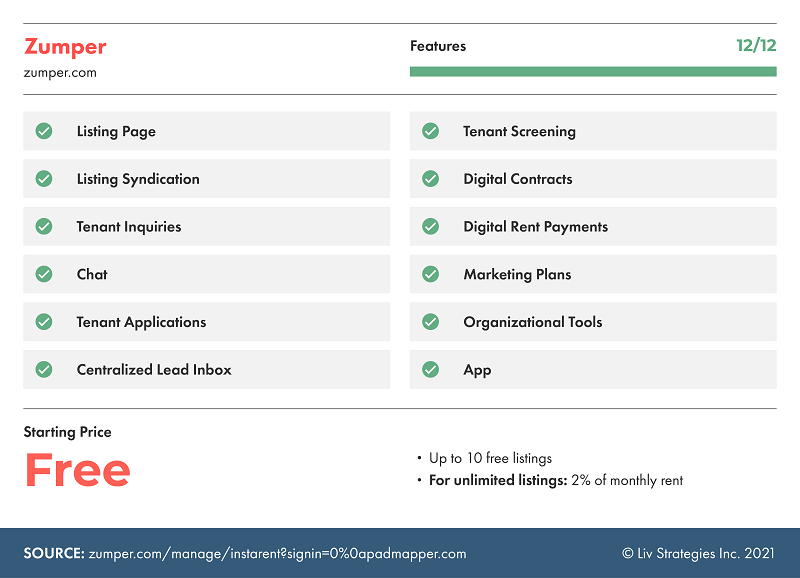 Zumper and liv.rent are the only students in the class who get top marks. It's also worth noting that Padmapper exists underneath the Zumper platform with similar functionality. For renters, one of the biggest distinctions would be that there are more digital rent payment options for liv.rent users, including payment by credit card, UnionPay, and even Bitcoin.
For landlords and property managers the difference that you can't see in the chart above is that liv.rent leads tend to be much higher quality than inquiries from other platforms.
In addition to being a rental listings platform, we're also a community of safe and trusted landlords and renters, which is a huge strength of ours.

3. RentSeeker
Download This Ultimate Landlord Guide
If you're a first time landlord, this is the guide you'll need to get started on finding and securing good tenants — summarizing the steps you need to take from marketing your property and screening tenants to drafting lease agreements.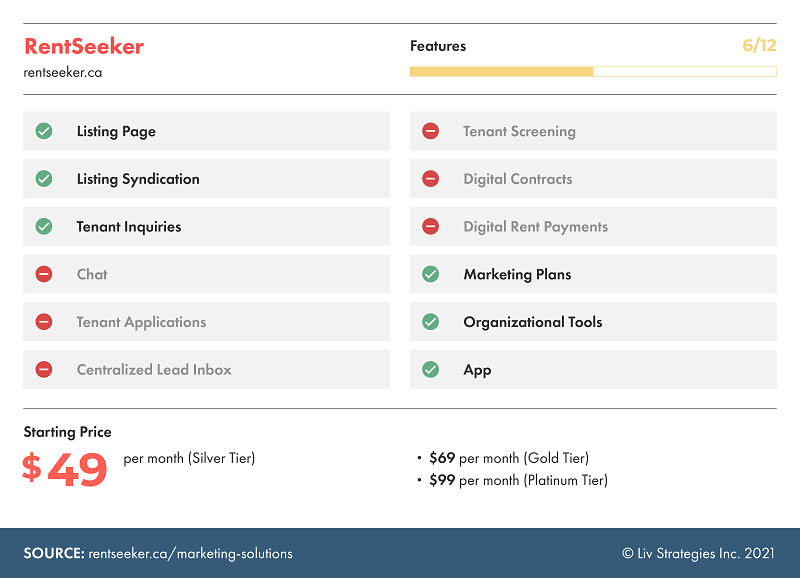 Listing syndication, which allows you to publish a listing onto various social networks, is a top feature for RentSeeker. Both renters and landlords will find that platforms with a direct way to apply to listings and chat features for streamlined communication are missing from RentSeeker though.
4. Condos.ca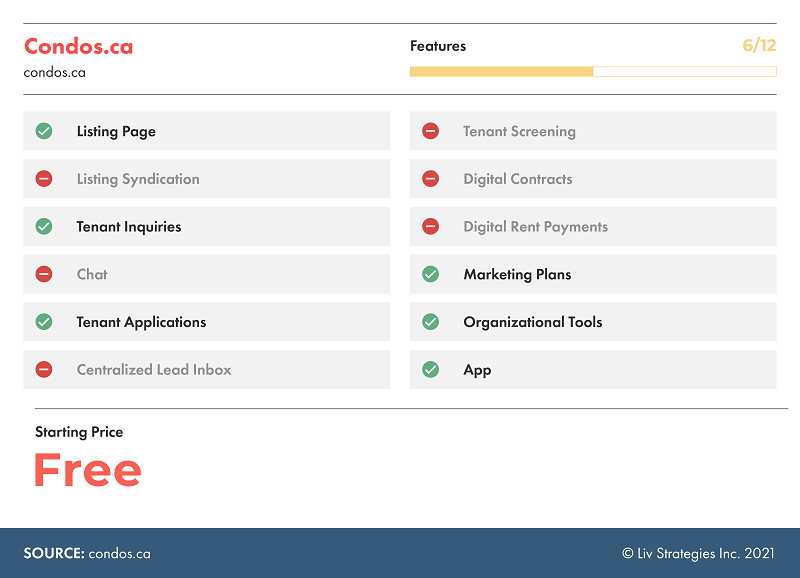 Condos.ca has a lot of the basics you need to rent a home in Toronto. Marketing plans are a big plus for landlords, especially during a renters market, and tenant inquiries make it easy for renters to have their questions answered. But without a chat feature or rental payment options, it's still a bit barebones.
5. Kijiji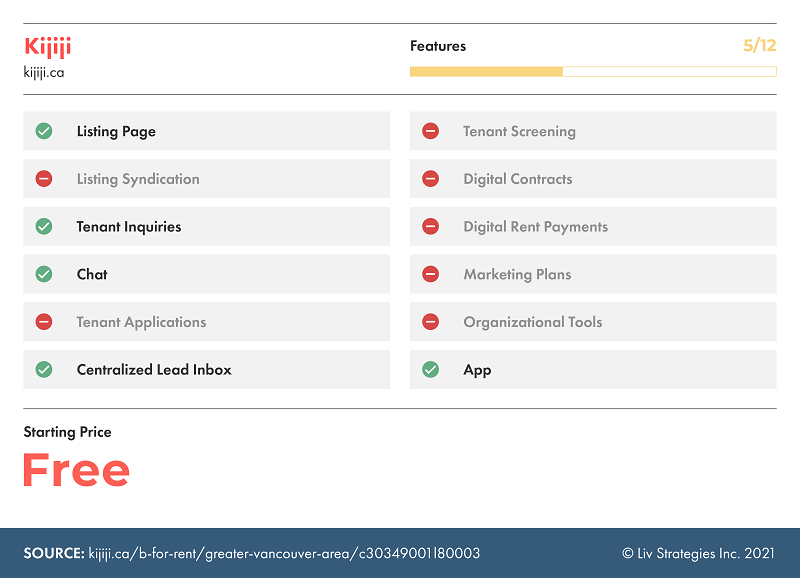 Kijiji is extremely popular in Toronto and comes with more features than Craigslist does. However, it does not have the capacity to accept applications directly from tenants, and so, offers no screening opportunities.
6. Realtor.ca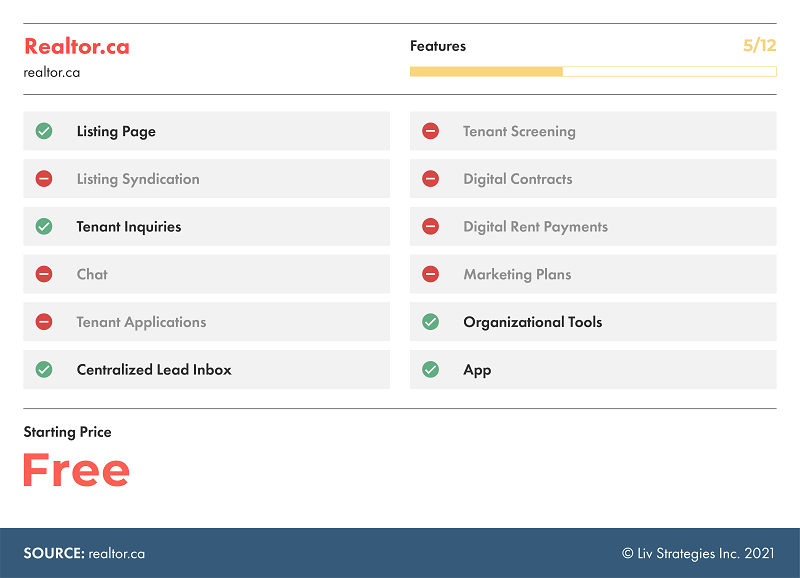 Realtor.ca is another top website in terms of popularity. Having an app is handy for when you're on the go and about to spend a day viewing listings. However, without digital contracts and rent payments, it's still a bit old-school and may prefer to save paper in the rental process.
7. Rentals.ca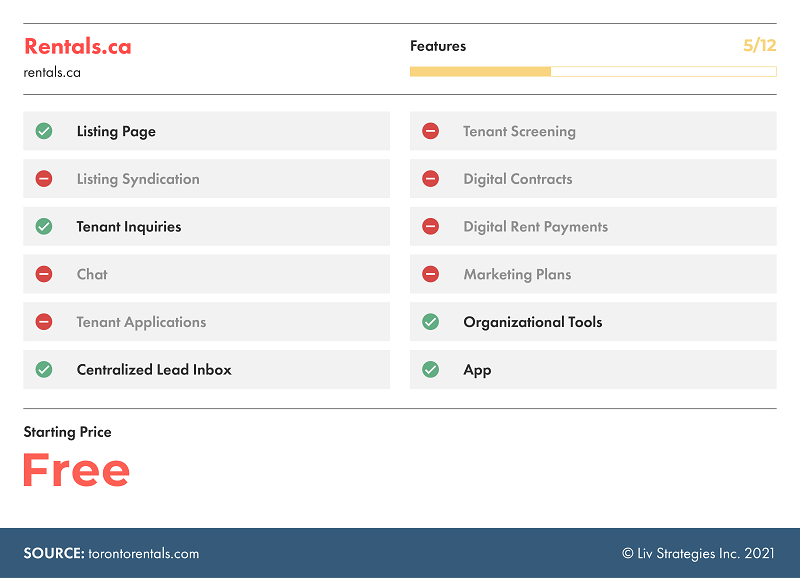 Rentals.ca should be a good place to look for rentals, after all, it's in the name! But look closely at what they offer and you'll see that they're not fully digitizing the rental process so you might end up having to do more leg work than if you went with another platform. Also, it's worth noting that TorontoRentals.com is part of the Rentals.ca Network.
8. Craigslist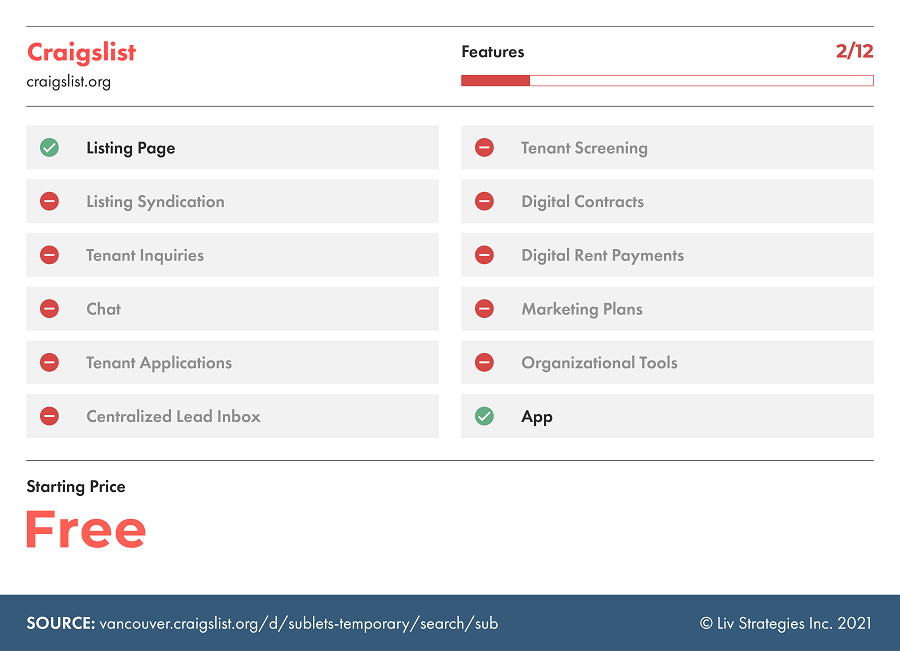 Craigslist is a great platform because you can shop for furniture and hire movers all on the same website where you find your apartment. Unfortunately, it does not come with a lot of the key features you need to safely and efficiently rent a home in the same way that other platforms allow.
9. 4rent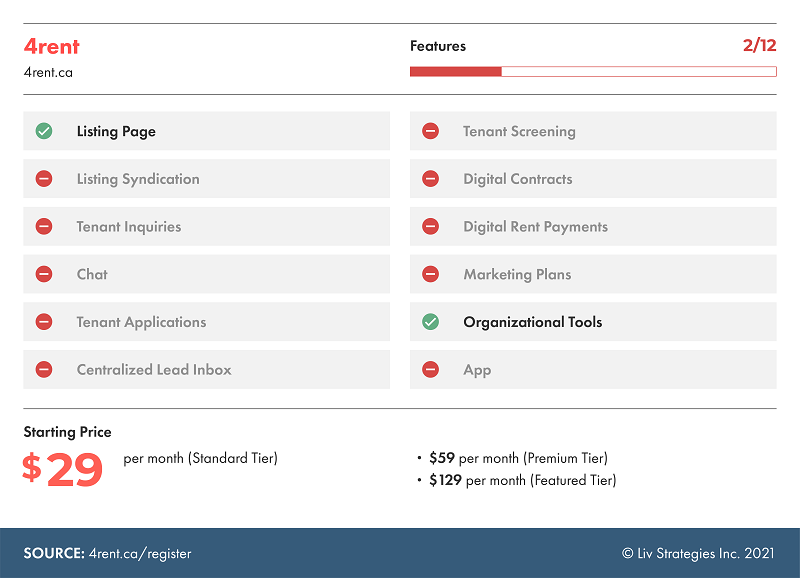 4rent is a popular rental listings website that offers listing pages and organizational tools. However, it does fall short in other categories, notably, it does not have an app or a chat feature, which can allow for instant communication between landlords and tenants.
What is the best website to find rental homes?
Whether you're a renter or a landlord, you need to use the right tools to get you the results you want, because no one wants to waste time or energy on the rental process if they don't have to.
After taking a look at the different features and pricing options available, it's clear that liv.rent is the superior choice. Although Zumper seems like a close second, liv.rent is extremely innovative and responsive to client needs.
For example, when our community wanted new payment options, we introduced "Pay by Bitcoin" as a feature for renters paying rent.
What is the best rental app?
Not all of the platforms listed included an app version, but liv.rent can work both on your desktop and your phone via our own phone application. While it might not seem like a necessity, having access to the app is super helpful for both landlords and renters, especially when you're on the go a lot.
Plus, if the perfect unit or tenant comes up, then having all of liv.rent's features in your pocket will help you communicate instantly and get you the results you want.
Download This Ultimate Renter Guide
If you're a first time renter, this is the guide for you. From searching and viewing to choosing and applying, it'll answer all your questions about renting in Canada.
FAQ: The best apartment rental websites in Toronto
How do I find good rentals in Toronto?
A good apartment rental website or rental app can go a long way in helping to streamline your search for housing. This list should provide a good idea of where to begin your search, but you can also try walking around the neighbourhoods you're looking in, or enlist the services of a Realtor.
If you do choose to rent online, it's important to use a platform with verified landlords and listings, like liv.rent, in order to avoid rental scams.
What is the best website for finding rentals?
We might be a bit biased, but our rankings here clearly indicate that liv.rent comes out on top in terms of the best Toronto rental sites. With a full 12/12 features, not to mention additional functionality like Bitcoin rent payments, verified landlords & listings, built-in tenant screening and so much more, there's a clear winner for the city's best rental app.
What is the best way to find an apartment in Toronto?
Ultimately, renters should try to find an apartment-hunting method that works for them. With competition so tough for rentals across the country, renters might have to use multiple listing sites before they find the right place.
---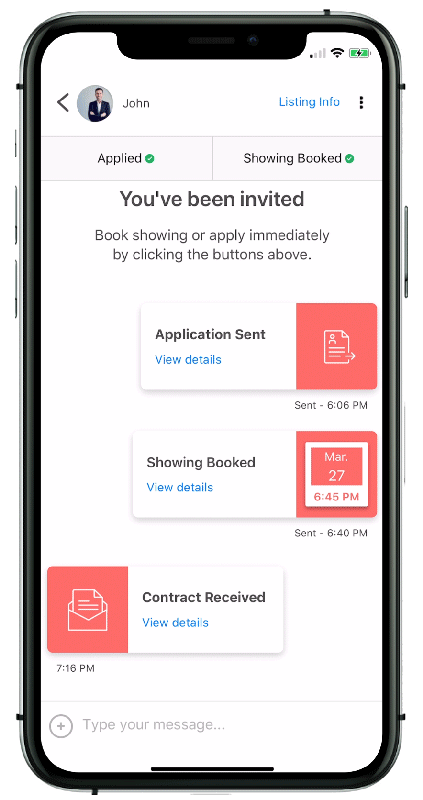 Rethink The Way You Rent
Not on liv.rent yet? Experience the ease of digital applications & contracts, verified tenants & landlords, virtual tours and more – all on one platform. Sign up for free or download the app.
Subscribe to receive the latest tenant & landlord tips and get notified about changes in the Canadian rental market.
>> Stay up-to-date on the average rent in Vancouver, Toronto and Montreal: Rent Reports.