Love it or hate it, it's undeniable that when people are looking for their next home, they're checking the apartments for rent on Craigslist. For one reason or another, it seems to be where everyone goes to list and find places to live in Canada.
So, as long as it's here to stay, it's helpful to know exactly how you can use it to your advantage as a landlord or property manager. We're going to walk you through exactly how to advertise apartments for rent on Craigslist to get you maximum reach and efficiency.
Knowing the ins and outs of how to use this tool will help you market and list your property. From what goes in a listing to how to avoid scams on Craigslist, this guide has everything you need to post with confidence.
Table of Contents
Do you want to get your listing rented out faster?
From posting and advertising to screening and signing a contract, find out how you can get your listing rented out faster – in as little as 7 days.
Why Craigslist apartment listings are helpful for landlords
First off, why should landlords bother posting to Craigslist? Is it even a way to get a good-quality tenant?
The best way to use this online listing site is as part of your holistic marketing strategy.

The bottom line is that it's a free way to generate leads, so it's very easy to include it as part of your marketing plan. You also have free reign to include any info or pictures you want in your posting and it's convenient to relist or update a posting if it's close to expiring.
However, if you rely only on Craigslist to find tenants, then you are missing out. There's more that goes into marketing a listing that could get your unit filled faster.
Pro tip: It's free for landlords and property managers to post their first three properties on liv.rent
How to market your rental apartment listing
Marketing your rental unit is crucial to attract a good tenant. Especially when supply is outpacing demand, you want to make your unit stand out so it can help you get a respectful and responsible tenant who will pay their rent on time.
Here are the most common ways to market a rental listing:
Social media, including Facebook, Instagram, YouTube, and more
Putting a physical sign outside the location of your property
Newspaper classifieds
Online listing sites
Online listing sites and social media are simple ways to reach a wider audience for less.
The best way to market your rental listing
There is a simple two-step approach to marketing your rental listing lightning fast that looks professional and that gets you a good quality tenant.
Step one: post your listing on liv.rent
Step two: post your listing on Craigslist with a link to your liv.rent posting
Because it's widely known, a Craigslist posting will reach a big audience. Then, when you get prospective tenants looking at your listing, they will navigate to liv.rent to see more photos and information about the listing.
Here, tenants will see a professional-looking listing. You have just instantly created trust between you and the potential renter, even more so if you are a verified landlord who has verified your property.
Next, only those tenants who are serious about the unit will apply and contact you through the liv.rent platform. And because of all our verification processes, you get an additional layer of protection from scams and even get suggested, pre-screened tenants.
This two-step approach casts a wide net but uses additional filters to find only the best fit for your property. All you need to get started is sign up with liv.rent and Craigslist!
How to make a Craigslist posting
Making a Craigslist posting for your rental unit is pretty simple. In fact, it's remarkably easy because you don't even need to set up an account to put up your listing.
However, it's much better if you first log in or sign up for a Craigslist account. While not mandatory, it does give you access to more features, most notably, the ability to repost a listing after it's expired. Plus, it's completely free to make an account.
So, once you've set up your account and logged in, it's time to make your posting. Here are the steps to posting an apartment on Craigslist:
Navigate to Craigslist.org
Choose the city and region that matches your unit
Click "create a posting"
You may have to select an additional location description
Choose "housing offered" as your posting type
Choose the correct category, it will likely be one of these four depending on your unit and your needs:

rooms & shares
apartments / housing for rent
sublets & temporary
vacation rentals

Fill out the listing template with applicable information
Confirm the location of the unit on a map
Upload images
Publish your draft
As you can see, in just ten steps your listing could be live! However, this list is deceptively simple. Filling out the listing template and uploading images to the post are the most important steps.
It's here that a landlord or property manager has a chance to highlight and showcase their listing to help it stand out in a sea of Craigslist apartments for rent.
What to write in a Craigslist apartment posting
There are two portions of the listing where you should pay special attention:
The posting title
The posting body
Also, before you hit publish, don't forget to check your work for inaccuracies, typos, or misspellings. Ask a friend to read your listing and posting in case they catch any errors.
1. Craigslist apartment rental listing titles
The posting title is what people will see as they search through listings. It's important that it's eye-catching and enticing enough that people will click through to read the rest of your posting. Choose a good mix of identifiers and adjectives to clearly and accurately represent your unit.
For example, if it's a Vancouver Craigslist posting, you might want to say something like:
1 BR Olympic Village Condo w/Flex Space – City & Mountain Views
4 Bedroom 3 Bath House For Rent In East Vancouver Close To Skytrain
2 Bedroom/1 Bathroom Basement Suite For Rent In Dunbar
The same is true for Toronto Craigslist postings or, indeed, postings in any city.
The cost of the unit will be shown in the listing, so there's no need to repeat it in your title unless you feel like the cost is an exceptional selling point for your unit and you'd like to show how it's priced competitively.
Putting "1-bedroom," or "1BR" instead of "One-bedroom" can save you characters in your title, giving you more room to add additional information.
Is your rental priced competitively?
Find out with a free rent estimate. Our team of rental experts will calculate your unit's true value based on your listing details & current market trends.
2. Craigslist apartment rental listing descriptions
The second step is your description. As you fill out the listing template, there are a number of fields to fill out by adjusting toggles and selecting from drop-down menus. But it's the description where you have the most flexibility and potential to make your listing shine. Here are our top tips for making a killer description for your listing:
A brief description of the unit including the number of bedrooms and bathrooms
Highlight the amenities available in the unit, such as in-suite laundry, and the amenities available in the building, like a gym
Describe the location of the unit and its proximity to community amenities, shopping centres, and nearby public transit options
Communicate the move-in date
If you allow pets, be sure to highlight that with a quick section as that's a good selling point for renters
Pro tip: it's common to see postings written in all caps, however, this approach may come off as pushy, aggressive, or even suspicious to some renters.
Ultimately, the content and style of a listing title and description are up to you. It's our recommendation based on our extensive work with landlords and property managers that you opt for a clear, simple, and concise posting paired with professional-quality photos.
How to add photos to a Craiglist post
It's absolutely necessary for landlords and property managers to include photos in their Craigslist posts. Many renters even decide to search through listings and filter only those postings with photos.
If you don't have the budget or time to get professional photos taken, then your next best bet is to try to photograph your property as best as you can.
Here are some quick tips to getting the best shots of your unit:
Take pictures during the daytime only to maximize natural light
Turn on all the lights
Use a real camera, you can rent one or borrow from a friend if you don't have one
Use the rule of thirds to frame your shots
Show off your unit realistically, highlighting its best features
Pro tip: Add a 3D virtual tour or video tour of your unit to your liv.rent listing — places with virtual and video tours get more engagement from renters
After you've written and spell-checked your description, you're able to upload your photos. You can choose one photo to highlight as the featured image, which will show up on search result pages.
Additionally, having good quality photos offers a sense of legitimacy to your post which will help renters trust your listing more because there are fewer indications of it being a scam.
How to avoid Craigslist apartment scams
When you hear about scams on Craigslist, it's typically the poor renter getting swindled. However, landlords and property managers can just as easily encounter potential rental scams.
Here are some common red flags to look for that could be linked to renters trying to scam landlords:
Overpayment of rent
Requests for rent overpayment or refund to be sent back by cashier's cheque or wire transfer
Rent payment prior to signing a contract or even a refusal to sign a contract
Urgent demands
Reportedly out-of-country renters who want to send money by wire transfer or cashier's cheque
Luckily, if landlords and property managers have an extensive tenant screening process, then it should be fairly straightforward to weed out any would-be scammers from your pool of potential renters.
Another way to reduce your exposure to potentially fraudulent activity is by renting to a tenant who's verified on liv.rent with an outstanding Trust Score because their identity, credit, and income have already been checked by our team.
Alternatives to posting apartments on Craigslist
A viable alternative to Craigslist apartment listings are tools and products that automate the rental process from start to finish for you so that you can more easily scale your business.
For example, liv.rent listings can easily be syndicated to multiple channels including Craigslist, Facebook Marketplace, and WeChat. Here's what it looks like when you add your listing directly from liv.rent to Craigslist:

Posting your listing on Craigslist can be part of a comprehensive marketing strategy to get your unit filled by a quality tenant.
However, it is not the be-all-and-end-all for apartment rentals. In fact, recent property management trends show that digital solutions that go beyond listing on Craigslist are becoming more and more prevalent.
Still, it's a helpful tool for any landlord or property manager looking to get more exposure for their unit.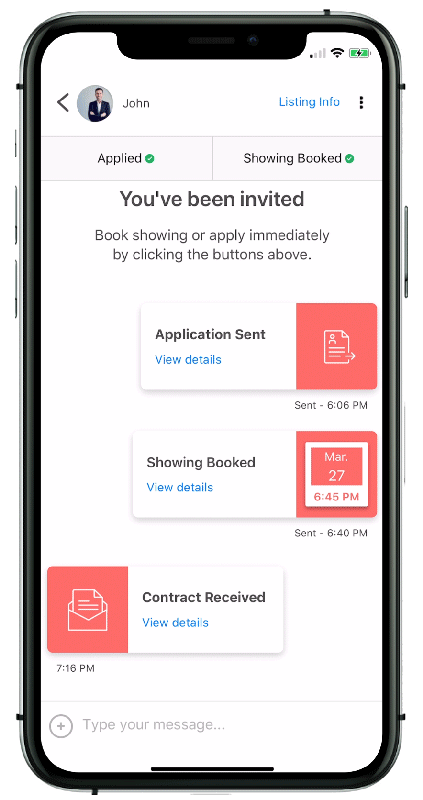 Rethink The Way You Rent
Not on liv.rent yet? Experience the ease of digital applications & contracts, verified tenants & landlords, virtual tours and more – all on one platform. Sign up for free or download the app.
Subscribe to receive the latest tenant & landlord tips and get notified about changes in the Canadian rental market.
>> Stay up-to-date on the average rent in Vancouver, Toronto and Montreal: Rent Reports