Information privacy is a hot-button issue that's taken centre stage in this new age of digitalization we find ourselves in. Despite efforts to regulate data privacy, 67% of Canadians still feel as though they have no control over their data privacy. This is especially significant in the rental industry, where both landlords and tenants typically need to provide personal details about their identity and income, among other things. That's why liv.rent is committed to protecting our safe and trusted rental community by never selling your data.
For Data Privacy Day this year, we're taking a closer look at data privacy during the rental process and what landlords and renters can do to ensure their precious information remains secure.
Table of Contents
liv.rent – Canada's trusted house & apartment rental website
Search apartments, condos, and homes for rent.
Verified Landlords: Rent from a trusted landlord. Look for the "ID Verified" tag to identify which landlords have been pre-screened.
Quality Rentals: Browse listings that have been checked by our team. Verified by official documents or by mail.
One-Click Applications: Fill out your Renter Resume once and apply to multiple listings in just a few clicks.
What is data privacy?
First and foremost, what exactly is data privacy? Essentially, data privacy refers to strategies for handling sensitive data online in a way that meets regulatory standards and protects the confidentiality of users' information. This is of key concern when it comes to renting, due to the amount and sensitivity of information exchanged between landlords and renters.
As more aspects of our day-to-day lives move online, there's growing concern about how and why companies are using our data and personal information – and rightfully so. Your information has become a valuable commodity for brokers and marketers who can use your data for a number of purposes. Normally, these purposes are relatively harmless. Plenty of websites claim to capture user data in order to refine the user experience and improve their marketing, but there are certainly more nefarious uses as well.
Renting online certainly isn't exempt from this. Both renters and landlords need to provide key information about themselves, their finances, and more in order to register and use most platforms – making it an easy target for data brokers or worse: data breaches. Your best strategy for safeguarding your digital privacy as a consumer is seeking out platforms and websites with robust security measures, clear privacy policies and concrete statements as to what they're doing with your information. Naturally, this isn't always easy to find.
In spite of the Canadian Government's efforts to regulate data privacy through policies like The Personal Information Protection and Electronic Documents Act (PIPEDA), it's ultimately up to individual businesses to decide how they'll use and store their users' information. That's why liv.rent promises to never sell your data in order to protect our safe, trusted community of renters and landlords.
Renters: How to protect your information when renting online
Renters face a disproportionate risk when it comes to data security during the rental process. Today's landlords understandably look for a complete picture of a tenant's personal, financial and rental history before putting pen to paper on a lease agreement, which requires renters to fill out numerous forms, checks and registrations in the hopes of securing a rental. Ensuring that all of this precious data stays in the right hands is a frequently overlooked but hugely important aspect of the rental process.
Let's look now at some common data privacy threats renters face, and our tips for preventing them:
Threat #1 – Rental sites sharing/selling personal data
Unfortunately, it's more common than you think for rental platforms to share or sell your personal information. While data sharing has become an almost inevitable part of the rental process in order to improve business' marketing and user experience as well as offer credit and background checks, renters should be careful about the extent of the sharing. Selling data is a different story. By commodifying your information, your data is essentially sold to the highest bidder and by that point, the matter is almost entirely out of your hands.
liv.rent tip:
Before entering any personal information on a rental platform, take a closer look at their privacy policy. These documents aren't meant to be a thrilling read, but they should provide more insight into what that site is doing with your data. If it's hard to find this information or the wording is ambiguous, that's generally not a good sign. Do note that the majority of websites will share your information in some way, so it's important to decide what you're comfortable with
Instead, opt for rental platforms that collect minimal data and are clear about where it's going, and why. We can't speak for our competitors, but liv.rent is committed to never selling your data and we provide clear direction as to what data we do collect, and why we collect it.
Threat #2 – Fake listings designed to steal personal information
Rental scams are unfortunately growing more common and more sophisticated, forcing renters to stay on their toes when browsing for apartments. There are countless variations out there, but perhaps the most sinister are fake listing scams that encourage you to submit a full application immediately, often including private information like your Social Security Number or banking info.
liv.rent tip:
Watch out for red flags as you're browsing listings – if it looks too good to be true or you have a bad feeling, trust your gut. A popular tactic to encourage applications is creating a false sense of urgency by saying that the listing is only up for a limited time and that renters must act immediately to be considered. Requesting too much information upfront is also a notable warning sign.
For added security, consider using a rental platform with verified landlords and listings, such as liv.rent. Our multi-step verification process gives renters peace of mind by ensuring that you're dealing with real landlords and real listings.
Threat #3 – Hackers attack landlords to steal tenants' information
Unfortunately, renters don't have a ton of control over how landlords handle and store their personal information, meaning that if their security is compromised, your data is also at risk. While thankfully these cyber attacks aren't all that common, it's a frightening concept and definitely worth protecting yourself against however possible.
liv.rent tip:
Be aware of how landlords are storing your information. Wherever possible, go through the rental process on an all-in-one platform that offers secure, encrypted storage of sensitive information. Naturally, this isn't always an option when you're trying to secure a rental as fast as possible, but platforms like liv.rent are an obvious choice thanks to secure cloud-based storage backed by military-grade encryption protocols for safe, convenient data storage. As well, liv.rent automatically deletes identifiers once the information has been used for its specified purpose, and asks only what is necessary.
Threat #4 – Landlords asking for too much information
It's understandable for landlords to ask for lots of information during the rental process in order to get a good picture of who you are as a renter. With that being said, there's plenty of pieces of information that are off-limits. Knowing your rights as a tenant and only providing what's necessary is a great way to keep yourself safe during the rental process.
liv.rent tip:
Brush up on your knowledge of your local tenancy and human rights laws before you start applying for rentals. In many cases, landlords simply aren't aware of what they can ask and there's no malicious intent, but it never hurts to be cautious.
Threat #5 – Unsecured mobile devices/WiFi networks
This applies to pretty much any online activity, but is especially relevant when it comes to renting. Unsecured devices and wireless networks are prime candidates for information theft due to how easy it is to monitor others' activity without the proper protocols in place.
liv.rent tip:
Never submit applications or fill out sensitive information over public WiFi as these networks are extremely susceptible to information theft. If you can avoid it, try to wait until you're home to access or send any important rental documents rather than using the network at your local coffee shop. For your personal devices, be sure to turn on two-factor authentication for added security.
Landlords: How to ensure your tenants' and your own data privacy
Tenants aren't the only ones whose data privacy is at risk during the rental process. Since landlords typically store information about applicants throughout the rental process and even afterwards, they're just as likely to fall prey to cyber-attacks and information theft. Taking steps to protect not only yourself but your tenants is key to renting online safely.
Let's look now at some of the threats facing landlords and how liv.rent can help you prevent them before they become an issue.
Threat #1 – Data that isn't stored securely
Are you familiar with how your rental platform of choice is storing your and your tenants' information? Plenty of sensitive information is exchanged during the rental process and safeguarding this data should be a priority for every landlord and property manager. Especially when you're using multiple platforms for different facets of the rental process like listing, tenant screening, marketing, and rental management, it's hard to stay on top of where all this data is going.
liv.rent tip:
When deciding where to post your rental listing, look for an all-in-one rental platform that offers secure data storage. This way, both you and your tenants can rest assured that information is handled properly and isn't at risk of being sold or otherwise compromised. One great option is liv.rent – our secure, cloud-based storage allows landlords to keep track of their most important documents in one place, all protected by military-grade encryption.
Threat #2 – Weak passwords
You've no doubt heard it before, but weak passwords are a one-way ticket to jeopardizing your personal information, and in landlords' case, can put your tenants' data at risk as well. Particularly if you're re-using passwords for multiple websites and platforms, one weak password can quickly turn into a data privacy nightmare.
liv.rent tip:
Create strong passwords for any new accounts, and update existing passwords whenever you can. As well, try not to use the same password for different websites as this puts you at risk of having multiple accounts compromised. Another good strategy is to not incorporate personal details like your pet's name or where you grew up into your password as this information can easily be dug up on social media.
Threat #3 – Malicious emails & Malware/Viruses
We've all received questionable emails in the past, and hackers are showing no signs of stopping. The links and attachments contained within these messages are more often than not connected to phishing scams that put your passwords and information at risk.
liv.rent tip:
Don't open any messages from suspicious email addresses, and certainly don't click on any links or attachments. It's also a good idea to install anti-virus software on your computer and avoid using company devices for general use.
FAQ: Data privacy and renting
What's the most common way data is stolen?
On an individual level, weak passwords are the leading culprit for stolen data. See above for some tips on creating secure passwords and protecting your accounts.
Who is responsible for data privacy?
Data privacy has many layers, and we all have a role to play. Despite regulations from governments around the world, the responsibility falls on companies to ensure they have clear, effective policies in place for protecting their clients/users' data. As individuals, there are many steps we can take to protect our own information online as well, like using secure platforms and being cautious about where and how we share our data.
No, not without direct consent. Landlords must have a tenant's permission to view or share information found on credit or background checks. Also, under PIPEDA, renters have the right to request to access their own personal information held by a landlord.
Is a rental lease agreement confidential?
Yes, as with any information exchanged during the rental process, a landlord must obtain direct consent before disclosing any of the information found within a standard lease agreement.
Are there any privacy laws for how landlords handle tenants' personal information?
In Canada, landlords must adhere to the regulations set out in PIPEDA, which sets out how any business must handle and store customers' information. Essentially, landlords can only collect, use, or disclose a tenant's personal information and must take reasonable action to ensure that it's protected.
For both landlords and renters, the best way to protect your information during the rental process is by using a secure, all-in-one rental platform. Rent with confidence on liv.rent with secure, encrypted data storage, verified listings, landlords & tenants, and more. Sign up today to take back control of your data privacy.
---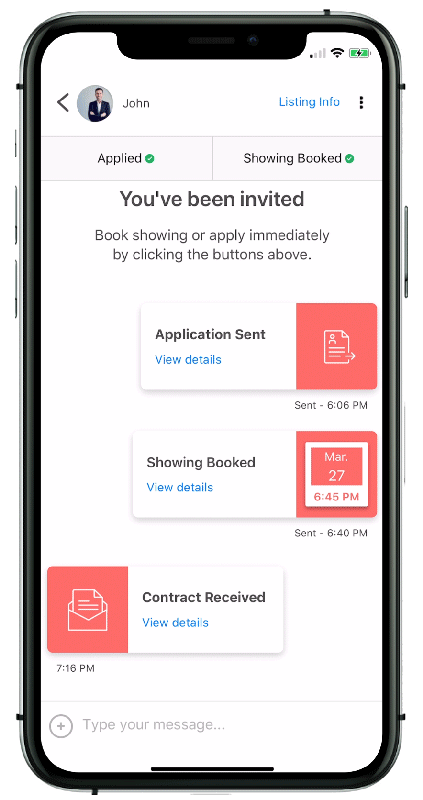 Rethink The Way You Rent
Not on liv.rent yet? Experience the ease of digital applications & contracts, verified tenants & landlords, virtual tours and more – all on one platform. Sign up for free or download the app.
Subscribe to receive the latest tenant & landlord tips and get notified about changes in the Canadian rental market.
>> Stay up-to-date on the average rent in Vancouver, Toronto and Montreal: Rent Reports.