Just outside of Vancouver's city limits, you'll find Richmond, a city that brings diversity to new heights. From sprawling farmland and beaches that stretch as far as the eye can see to the Airport and bustling urban centre, Richmond B.C., Canada has a lot to offer — especially if you are fond of Chinese food.
You can subscribe now to get the latest updates on the Richmond and Vancouver rental markets straight to your inbox.
In this neighbourhood guide, we're going to cover all the basics of what it's like to live in Richmond with a heavy focus on the cost of rent. So what's Richmond like? In many ways, it can be seen as an extension of Vancouver itself. However, it does have its own character and interesting neighbourhoods full of hidden gem eateries, beautiful parks, and exciting things to do.
Use our table of contents to quickly jump ahead to the section you want to see and let's dive into this neighbourhood guide now:
Table of Contents
What is it like to live in Richmond?
Living in Richmond can offer experiences as diverse as the city itself. A vibrant and multi-ethnic city, more than 60% of Richmond residents have Chinese or South Asian ancestry, according to the city. And, newcomers to the city account for a lot of its growth and innovation.
Full of incredible biking trails, nature walks, cultural hot spots, and, perhaps most importantly, fabulous food, Richmond is a great place to call home.
Where is Richmond BC?
Richmond is a city in B.C. (the province of British Columbia) in Canada. It's also part of what's referred to generally as Metro Vancouver, a federation of 21 different municipalities around and including the City of Vancouver that also includes North Vancouver, Burnaby, Surrey, and more.
Geographically, Richmond is primarily flat and surrounded by water on all sides like an island. Their slogan is even "Island City by Nature."
The Fraser River serves as a division between it and the adjacent city of Vancouver. It's also home to the Vancouver International Airport, so Richmond is actually the first place that visitors see when they arrive.
What's the population of Richmond, BC?
Close to 200,000 people call Richmond, B.C. home, although that figure is based on 2016 data so the true number is likely higher and the City of Richmond says it's closer to 224,425.
So, fewer people live in Richmond than in Vancouver, B.C. where the population was 631,486 according to the same census data.
Transportation in Richmond
Richmond's transit connectivity and traffic will vary depending on which neighbourhood you're in.
For example, Translink's rapid transit Skytrain system called the "Canada Line" forks through Richmond. One prong runs from Brideport Station to the Airport and the other continues on into Richmond, terminating at Richmond-Brighouse Station.
Translink's fare structure is based on zones with Vancouver being Zone 1 and Richmond being Zone 2. A two-zone monthly pass, which would allow for travel between Richmond and Vancouver, is $131 per month or $ $4.25 for a one-time cash fare.
In addition to the Canada Line, there are many Translink buses that service the area and connect the trains with other corners of Richmond. However, unless you are close to the centre and can access the trains easily, you may want a car to get around.
What is Richmond, B.C. known for?
Home to the Dumpling Trail and North America's most exquisite and diverse Asian cuisine, Richmond is foodie heaven. And even though it may be a smaller city than Vancouver, it's not without its charms, conveniences, and fun things to do.
The best food in Richmond
Take this small list with a grain of salt, for no round-up could convey the breadth and quality of food you'll find in Richmond. Another good way to find decent food is to ask a local and see where they're getting dinner that evening!
The best things to do in Richmond
Average rent in Richmond
There are a lot of homes in Richmond, B.C. for rent. Average rent here is less than what you'd find in Vancouver but more than other Metro Vancouver neighbourhoods like Surrey. Here's a recent rental breakdown for you from our May 2021 liv.rent data:
Unfurnished rentals
| | |
| --- | --- |
| One-bedroom | $1,686 |
| Two-bedroom | $2,274 |
| Three-bedroom | $2,735 |
Furnished rentals
| | |
| --- | --- |
| One-bedroom | $1,804 |
| Two-bedroom | $2,338 |
| Three-bedroom | $2,915 |
Average house price in Richmond
For those who are looking to buy, Richmond can be just as expensive as Vancouver, it seems. Here are the average house prices for a condo, home, and townhome:
| | |
| --- | --- |
| Apartment | $597,000 |
| Detached home | $2 million |
| Townhouse | $964,000 |
Source: Zolo
Richmond neighbourhoods
Now, let's take a look at the different neighbourhoods that make up Richmond. And, when you find one you like, renters can use liv.rent to:
Search for listings
View units
Inquire about rentals
Apply for a home
Sign a lease
Pay your rent
…from anywhere on our 100% digital platform. Plus, there's a no-commitment signup, and you don't even have to complete your whole renter profile until you're ready to apply.
Ready to dive into the neighbourhoods? Let's see what average rent is like plus a few important things to note about each area. Plus, we have included where to visit in Richmond, B.C., you can use the map to see where each neighbourhood is:
Richmond BC Map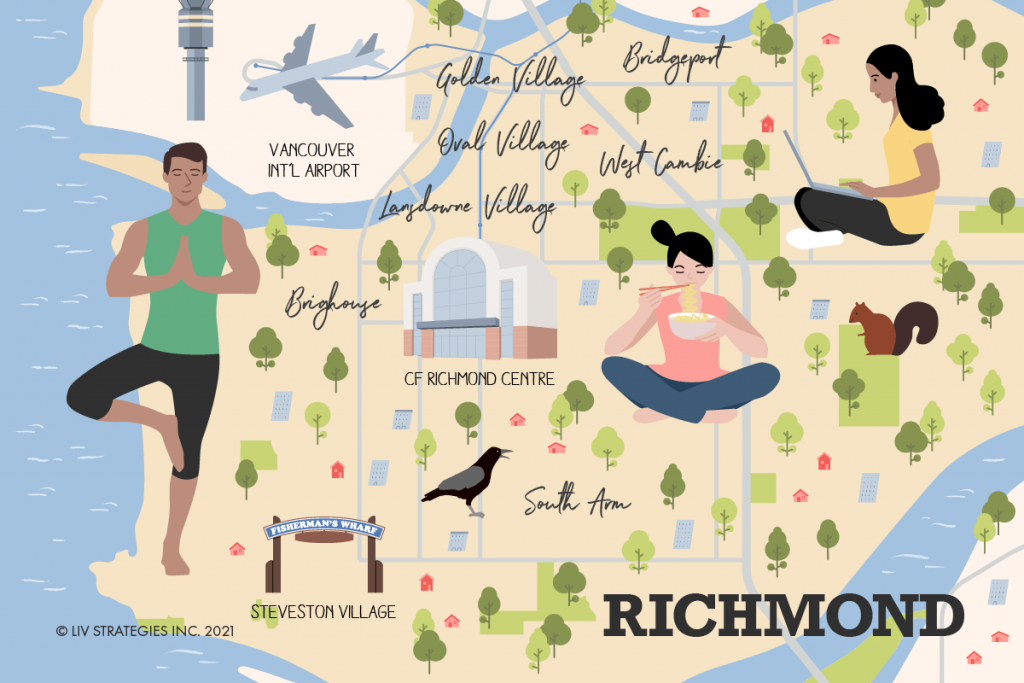 1. Bridgeport
Richmond's most northern neighbourhood is extremely close and connected to Vancouver, making it a dream for commuters to get to work.
Many parts of the neighbourhood are industrial, but you'll find some unique hidden gems amongst the warehouses and it's an especially lively area during the summer thanks to the Richmond Night Market.
Bridgeport local favourites
Average rent in Bridgeport
In Bridgeport, the average cost of rent for a one-bedroom is $1,695.
liv.rent – Canada's trusted house & apartment rental website
Search apartments, condos, and homes for rent.
Verified Landlords: Rent from a trusted landlord. Look for the "ID Verified" tag to identify which landlords have been pre-screened.
Quality Rentals: Browse listings that have been checked by our team. Verified by official documents or by mail.
One-Click Applications: Fill out your Renter Resume once and apply to multiple listings in just a few clicks.


2. Golden Village
Incredible food, good shopping opportunities, and proximity to transit make Golden Village an attractive choice for young people to lay down their roots and rent their first condo. After all, with a name like "Golden Village," how could it not be spectacular?
Golden Village local favourites
Average rent in Golden Village
There isn't a lot of rent data available for this neighbourhood, but the rent in Richmond's Golden Village is $1,975 on average.
Source: Zumper
3. Brighouse
Also known as Richmond's City Centre, Brighouse is a commercial and residential area that's a vibrant place to call home. There are hundreds of shops, services, and recreational opportunities here, not to mention it's where some of the city's best eats are hiding.
Brighouse local favourites
Average rent in Brighouse
You can find one-bedrooms for rent in Brighouse for $1,425 on average and $2,009 for a two-bedroom.
Source: Zumper
4. Oval Village
The area around the Richmond Olympic Oval is unrecognizable now compared to 15 years ago. Now, it's become a young neighbourhood full of newly built condo buildings as shops and services continue to come into the area like T&T Supermarket. Plus, Oval Village is right along the Fraser River and its refreshing walkable and bikeable riverside trail.
Oval Village local favourites
Average rent in Oval Village
Oval Village is a little bit more expensive than some of the other Richmond neighbourhoods on this list at $2,137 for a one-bedroom and $2,400 for a two-bedroom.
Source: Zumper
5. Lansdowne Village
Lansdowne has been experiencing a huge surge in development, adding housing and density to the area over the last 10 years. The Lansdowne Centre Mall is like a little heart for the community which spirals out around it, and there are plenty more plans in the works to continue to add housing and build community here.
Within walking distance to the Canada Line and some of Richmond's most popular shops and services, this is a convenient place to call home.
Local tip: head to The Dolar Shop for some of the best Hot Pot in Richmond.
Average rent in Lansdowne Village
There isn't enough extensive data on this area, but we know that the median rent in the Landsdowne Village area is about $1,650.
Source: Zumper
6. West Cambie
Just east of Richmond's city centre, the West Cambie neighbourhood is less bustling but still very connected to good transit options and not far from Vancouver. It's a neighbourhood that's been growing and changing a lot in the past decade, but it's still largely filled with families and it's largely residential.
Local tip: the unassuming Prata-Man Singapore Cuisine is one of the best restaurants in the area.
Average rent in West Cambie
In Richmond's West Cambie neighbourhood, a one-bedroom is $1,700 on average while a two-bedroom is $2,168.
Source: Zumper
7. South Arm
South Arm, which neighbours another community called Broadmoor, is a suburban and kid-friendly area with a beautiful park and a busy community centre at its heart. With lots of schools and primarily single-family homes, it's a popular area for families to live.
Average rent in South Arm
South Arm is one of Metro Vancouver's most affordable neighbourhoods. Here, rent for a one-bedroom averages $1,450 while a two-bedroom is $1,700 on average.
Source: Zumper
---
We hope you have a good understanding of Richmond and its neighbourhoods after reading this guide. When you're ready to find your new home, use liv.rent — we've automated the entire rental journey for you to make renting fun again.
---
Please note that some restaurants and attractions mentioned in this article may be subject to COVID-19 related measures. Before you go, always check for updated information regarding openings and follow all public health guidelines.
Check out our other Metro Vancouver neighbourhood guides: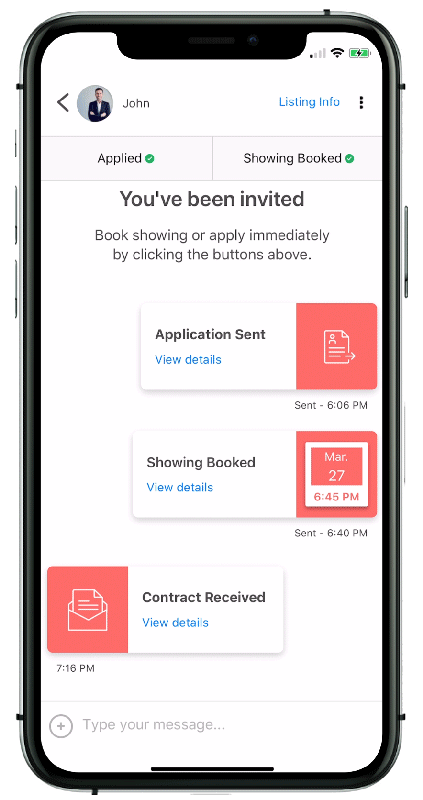 Rethink The Way You Rent
Not on liv.rent yet? Experience the ease of digital applications & contracts, verified tenants & landlords, virtual tours and more – all on one platform. Sign up for free or download the app.
Subscribe to receive the latest tenant & landlord tips and get notified about changes in the Canadian rental market.
>> Stay up-to-date on the average rent in Vancouver, Toronto and Montreal: Rent Reports