Rental Trends in May 2021
We can't believe it's already May and here we are almost halfway into 2021. This month, we're looking at the latest realities of the cost of rent in Metro Vancouver and we have a fresh crop of new data to share.
You can get the latest updates on the Vancouver rental market straight to your inbox when you subscribe to keep on top of the latest rent trends.
Our monthly rent reports always identify and share key market data that supports our community of tenants and landlords by helping them to stay informed. Knowing the latest rental averages helps tenants navigate the rental landscape while helping landlords price their units according to the market.
Let's take a look now at the cost of rent in Metro Vancouver in May 2021. This data was manually gathered both from our own liv.rent platform and other listings websites. Plus, you can also download a one-pager PDF to review it at a glance.
Jump to the following May Vancouver Rent Report sections:
Average rent across Metro Vancouver
If we look at the last six months, a clear trend emerges — Vancouver rent has been rising steadily since February 2021. The average rent for an unfurnished one-bedroom apartment is $1,713 in May when in February, it was $1,661.

Month-to-month rent change
Unfurnished rent skyrocketed in West Vancouver where it went up almost 15% from April to May. Meanwhile, in Vancouver proper, Downtown rents went up (+2.59%) while South Van rents went down almost 5%.
Rentals for unfurnished units in Surrey (+3.92%) and New Westminster (5.06%) went up slightly month over month, while they dipped (-2.33%) in North Vancouver.
Regarding furnished rent, it's kind of split across the board. It's important to note the spike in (+11.18%) Burnaby and the drop (–6.36%) Downtown.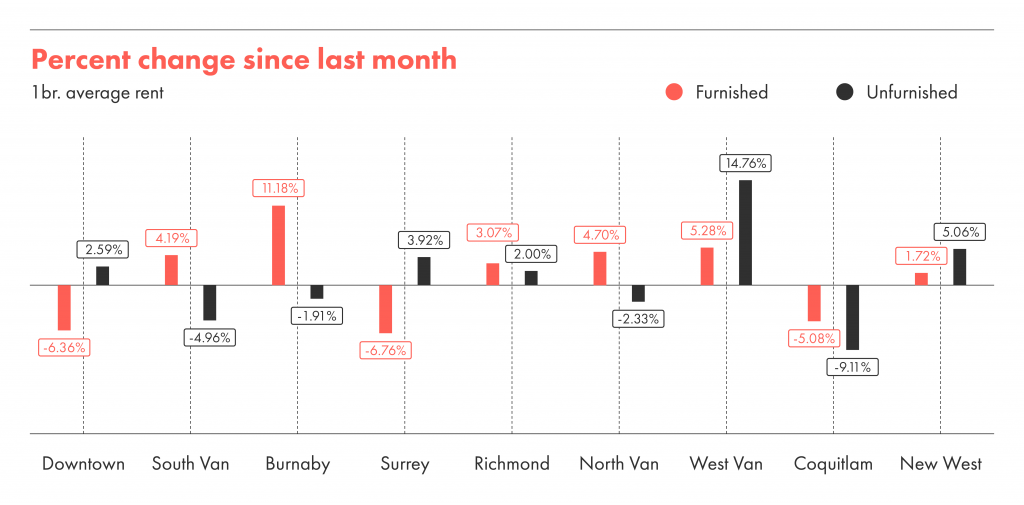 Income-to-rent ratio
An update to our income-to-rent ratio data shows that renters in Vancouver are paying on average 33.35% of their income on rent.
Landlords are looking for renters to be able to afford to pay close to 30% of their income on rent, the generally accepted standard percentage of income that should be spent on housing.

Rent per square foot
For those wondering where the cheapest place to rent in Metro Vancouver is, looking at rent per square foot is a helpful metric.
Overall, the average rent per square foot across Metro Vancouver was $2.70 per square foot, up from $2.54 in April.
Surrey is still where you can get the most real estate for your rental dollars at $2.09 per square foot, and Burnaby is right behind them at $2.54. And, the most expensive place is unsurprisingly Downtown at $3.38.





Renter demographics
It looks like liv.rent's data on renter demographics have not shifted much since April. There are 71% of our users under the age of 34.
Close to half of the renters on our platform are between the ages of 25 and 34. The second-largest contingent is those who are under 22.

liv.rent – Canada's trusted house & apartment rental website
Search apartments, condos, and homes for rent.
Verified Landlords: Rent from a trusted landlord. Look for the "ID Verified" tag to identify which landlords have been pre-screened.
Quality Rentals: Browse listings that have been checked by our team. Verified by official documents or by mail.
One-Click Applications: Fill out your Renter Resume once and apply to multiple listings in just a few clicks.




Pet-friendly rentals
It's sometimes hard to find a pet-friendly suite in Vancouver, although they appear to be more and more available lately. liv.rent has more pet-friendly rentals than any other platform, with more than a third (38%) of listings open to pets.
Typically, other platforms have fewer pet-friendly rentals, and in May they had 31% of listings that allowed pets.

Average unfurnished vs. furnished rates
Furnished rentals in Vancouver are approaching $1,900 on average for a one-bedroom. For unfurnished rentals, it's $1713 on average, which is a difference of $185.

Neighbourhood breakdown
Because the region of Metro Vancouver is so varied, we broke up the average rent in each neighbourhood to give you the clearest, most accurate look at the cost of rent by comparing one, two, and three-bedroom rates for both furnished and unfurnished units.
Living in Surrey continues to offer the best deal on rent where a one-bedroom apartment averages $1,325 per month. On the other hand, Downtown Vancouver fetches the highest rent prices at $1,972 for the same kind of apartment.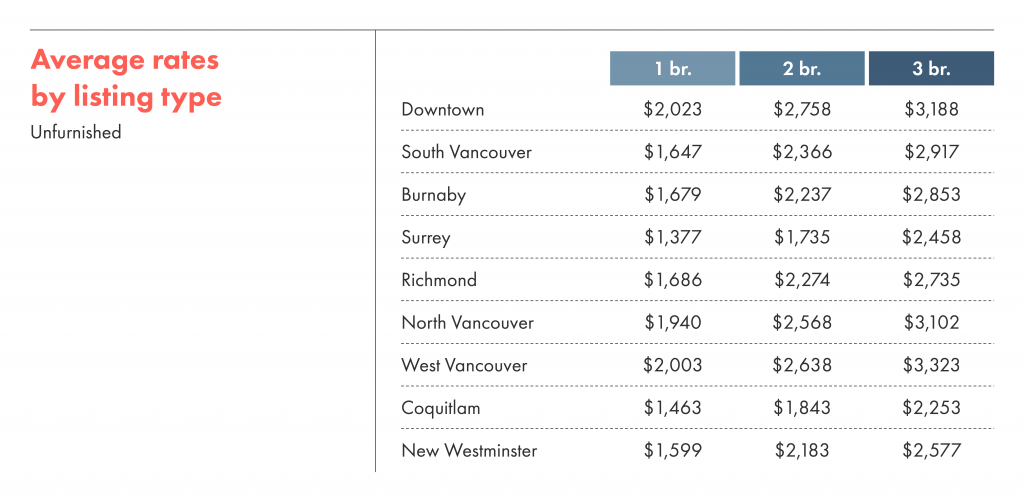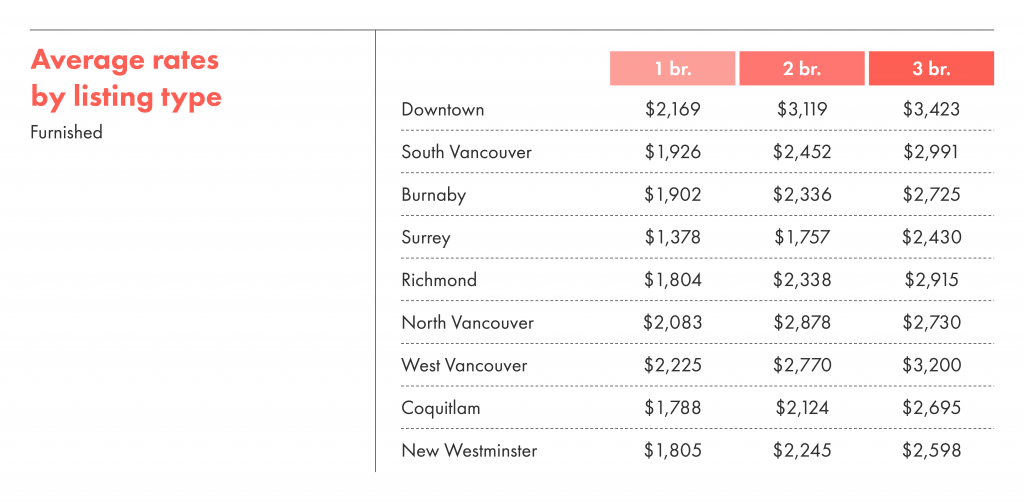 Gain comprehensive insights about your listings with the new liv.rent Landlord listing Dashboard. Sign in to unlock live insights – find out the average rent for a comparable property, number of views your listing received and more!
Most expensive cities in Canada
Vancouver has officially overtaken Toronto as the most expensive city in Canada. In March, the average cost for an unfurnished one-bedroom apartment in Toronto is $1,679.
However, in Vancouver, it's $1,696. If you're looking to save on rent in the city, then a place like Montreal is a better bet than T.O. or the West Coast.

---
Downloadable resources
Impress at your next video conference by repping the latest rental averages and trends with our custom virtual backgrounds.
Looking for the full report? Download it for free below.
---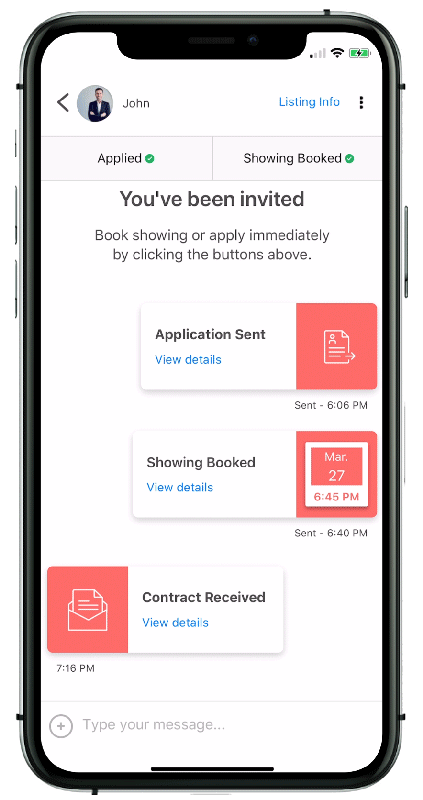 Rethink The Way You Rent
Not on liv.rent yet? Experience the ease of digital applications & contracts, verified tenants & landlords, virtual tours and more – all on one platform. Sign up for free or download the app.
Subscribe to receive these monthly updates on the Vancouver rental market. Discover last month's Rent Reports below:
April 2021 Vancouver Rent Report
April 2021 Toronto Rent Report
April 2021 Montreal Rent Report
---
COVID-19 resources
For information about COVID-19 for landlords and tenants, you can check our comprehensive resource posts. They include information on the various federal and provincial assistance initiatives available to help support landlords (small business relief) and tenants (rent relief):
BC rental resources
For more information on renting in B.C., read these comprehensive guides to help you on your rental journey: