The last thing you want to do after finding your dream apartment or dream tenant is more paperwork. Figuring out what's going on in your new Ontario standard lease doesn't have to be harder than finding an affordable place in Yorkville, though. Here, we're going to break down exactly what you need to know before you put your signature on anything.
Table of Contents
Join Our Newsletter
For more info on rental laws and policies (e.g. eviction, lease agreements, repairs & maintenance), subscribe to get the latest news.
What is Ontario's standard lease agreement?
The standard lease is simply a contract between landlord and tenant.
Landlords of residential rental units use it to create an agreement between them and the new renter who will live there. So when you want to start renting a place, expect to use this contract.
It's important to know that Ontario recently updated their standard lease in December 2020. Any agreements signed on March 1, 2021, or after have to use this new version.
What should be on a rental agreement?
The Ontario standard lease summarizes all the important info about renting a place in one document.
In the order that you find them, here are the 17 sections of the residential tenancy agreement in Ontario and what they mean:

1. Parties to the agreement
This part has the legal names of the landlords and tenants (aka, the parties.)
2. Rental unit
This is a description of the residential unit including its address and whether it's part of a condominium or not. Plus, info about any parking spaces that come with it is here.
3. Contact information
This is where you'll find the landlord's address, as well as their email address and phone number if they choose to include it.
This is an important section to make note of since it provides a way for the tenant to contact the landlord in case of emergency or to give formal notice.
4. Term of tenancy agreement
This section states the type of tenancy and the start date. The options are fixed-term, month-to-month, or another specified type like daily or weekly.
5. Rent
It's time to talk money, and the rent portion of the agreement shows the full amount tenants will pay.
This section also breaks down the total sum owed into base rent and additional charges, like included utilities. Also, details on how and when tenants will pay rent are finalized here. Typically, most leases will say that rent will be paid monthly and on the first day of each month, but the options are left open.
6. Services and utilities
This is an important piece of the document to pay close attention to because it outlines what's included in the rent and who's responsible for what, including:
Gas
Air conditioning
Additional storage space
On-site laundry
Guest paring
Electricity
Heat
Water
There's lots of flexibility in this section and parties can come up with more arrangements and include them in the document here. You can also use the Standard Form Lease Additional Terms Sheet if you need to go into more detail and simply attach it to the document.
7. Rent discounts
Here's where the details of any discounts offered by the landlord are, like if the first month of rent is free, for example.
8. Rent deposits
Both parties agree on the rent deposit and indicate either that it's not needed or the tenant agrees to pay the set price.
The rent deposit can't be used as a damage deposit but it can be applied to the rent for the final rental period of the tenancy.
9. Key deposits
In this section, you'll either tick the box that says there's no key deposit or the box that agrees to the landlord's key deposit rules.
Note: this is refundable and can't legally be more than the cost of replacing the key.
10. Smoking rules
This section makes clear that Ontario law prohibits smoking in any indoor common areas, and allows landlords to outline additional rules regarding smoking, if any exist.
If there are special rules about smoking, then they have to follow the provincial laws. Also note that the lease doesn't make a distinction between cannabis or tobacco smoke.
That's important to note for both landlords and tenants to avoid any miscommunications in the future. Plus, you can always make additional agreements about smoking elsewhere in the document.
11. Tenant Insurance
Here, landlords will check a box to indicate if insurance is a requirement or not. Tenant insurance isn't mandatory in Ontario but Landlords can require tenants to have insurance in this section of the lease.
12. Changes to the rental unit
In this section, there's nothing to fill out. It just means that both parties agree that tenants can put up things like pictures on the walls and their own curtains, but they can't make other changes to the unit without the landlord's permission.
13. Maintenance and repairs
Both parties agree that the landlord has to keep the unit up to standard and the tenant has to keep the place clean.
The tenant also has to pay for any unreasonable damage that they or any of their guests cause.
There's nothing to fill out here, but there's more about the breakdown of responsibilities in the document's "Part J" in General information.
14. Assignment and subletting
Both parties agree that if there will be subletting, that it's subject to the landlord's approval. There's nothing to fill out here, but it does defer parties to the General Information for additional rules regarding subletting.

15. Additional terms
Here, landlords can add additional specifications to the agreement that aren't contained in the standard lease form. Parties will attach them as a separate document. In this section though, landl
16. Changes to this agreement
Agreeing to this section means that in the future if this document is going to be changed in any way, then both parties must agree to it in writing. There's nothing to fill out here.
17. Signatures
Everyone named in section one, meaning all landlords and tenants in the agreement, must sign the document.
This indicates that they're agreeing to follow the terms laid out inside. Also, if both parties agree to it, this document can also be signed electronically.
What can I add to my Ontario standard lease form?
While we would not go so far as to say that it's customizable, there are things you can add.
Section 15 is called "Additional Terms" and you'll find two boxes to tick. Basically, these boxes indicate whether or not there are any additional terms to the lease.
If they have decided to add any, these will be included as an attachment to the document. Examples can include things like:
How to use common spaces or amenities
Making landlords update the unit prior to the move-in date
What's not allowed on a lease?
There are also lots of things that can't be added as a special term. Anything that would take away rights or responsibilities that are protected by Ontario's Residential Tenancies Act and the Ontario Human Rights Code are not allowed. This could include things like:

Pet policies that ban pets (except when they must follow condo rules)
Refusing to allow guests or roommates
Asking the tenant for money that's not mentioned in the standard agreement
Asking the tenant to pay for repairs that are the landlord's responsibility
If a landlord puts something in here that isn't legal, then it won't be binding. As a renter, it's a good idea to look closely at this section.
As a landlord, if you decide to add additional terms, we'd recommend getting your lawyer to take a look at them before you sign the contract.
The Ontario standard lease agreement is still relatively new. It's only been around since 2018. Plus, they brought in an updated version very recently.
It's a good idea to have your lawyer approve your additional terms so you protect yourself, your property, and to make sure you aren't adding anything that's not allowed.
liv.rent – Search apartments & houses for rent in Toronto
Search houses, rooms, condos and apartments for rent in Toronto. Chat instantly with verified landlords. Apply to multiple listings. Save your chat history & signed documents all in one platform.
Is the Ontario standard lease mandatory?
Yes, the Ontario Standard lease is mandatory for landlords. All residential tenancies in the private rental market that started on or after April 30, 2018, are required to have the lease.
There are a few places where it is not used, like:
Care homes and mobile home spots
Social, supportive, or co-op housing
Land lease communities
Landlords have 21 days to get tenants a copy of the standard lease after it's been signed.
For a mandatory document, it's pretty easy to follow. They designed it to be simple to read and understand.
Does the Ontario standard lease come in other languages?
The lease comes in English or French. However, Ontario also made guides to understanding their standard lease available in 21 languages. For renters who speak other languages or who are looking for their first-ever home in Canada, this is super helpful.

Landlords who rent to new immigrants or international students will want to remember these multilingual guides. They could help you make the contract signing process much smoother and your tenant will appreciate the thought.

You can get a copy of a guide that explains Ontario's residential lease agreement in languages like Arabic, Chinese (simplified and traditional), Punjabi, and more.
What happens when a lease ends in Ontario?
There are two kinds of terms — fixed-term and month-to-month. The difference is that month-to-month contracts have no set "end" date.
Many fixed-term leases are often a year-long, for example, and they called it "fixed" because they've agreed to specific start and end dates.
But just because a term ends, tenants don't have to leave. When a lease ends in Ontario, the tenant will automatically transition to a monthly tenant.

Everything inside the original signed Ontario standard lease form still applies. This is great because you won't need to sign a new lease, you can keep the old one and it's still valid.

We'd definitely encourage you to slow down and take Section 4, the "Term of Tenancy Agreement" seriously. This is the part where the parties agree on the move-in date and the term (or the length of time) of the tenancy.
---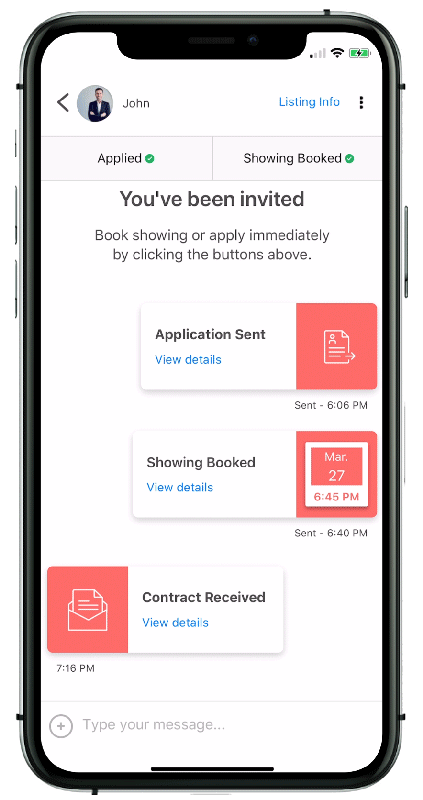 Rethink The Way You Rent
Not on liv.rent yet? Experience the ease of digital applications & contracts, verified tenants & landlords, virtual tours and more – all on one platform. Sign up for free or download the app.
Subscribe to receive the latest tenant & landlord tips and get notified about changes in the Canadian rental market.
>> Stay up-to-date on the average rent in Vancouver, Toronto and Montreal: Rent Reports.