Frequently Asked Questions: Tenant Responsibilities when moving out in Ontario
Though many are reluctant to move home during the COVID-19 pandemic, life sometimes forces the change. Students return home early, roommates leave, or maybe, a new, attractive rental opportunity arises. For many in Ontario, navigating a move may be new to them. Understanding how to provide notice to a landlord, collect and provide deposits, terminate or initiate a lease, may be unfamiliar territory. In this post, we offer an FAQ on tenant responsibilities to help readers who might be moving from one Ontario rental property to another.
liv.rent is launching in Toronto
In preparation for the official launch, stay tuned for our upcoming webinars and surprise giveaways!
Be the first to know when liv.rent has landed in Toronto plus special promotions.
How do I get out of my rental agreement?
If you want to move out before the end of your lease and you've missed the opportunity to give enough notice to your landlord, there are a couple of things you can do to avoid paying more rent:  
· get your landlord to agree to end your tenancy
· find another tenant to take over your place (assign or sublet)
· give notice if your landlord refuses to let you assign
· get the Landlord and Tenant Board to end your tenancy
Also, you may be able to leave early without penalty if the residence poses a threat to your health or safety or the landlord is neglectful. In the latter case you would need to file an application to ask the Landlord and Tenant Board to end your tenancy.
How do I tell my landlord I am leaving?
This is called "giving notice". If you are on a fixed term lease, most commonly a one year lease, you must indicate in writing, your intention to move out at least 60 days' prior to the termination date (2 full calendar months) on your lease agreement. The move-out date must be the last day of a month.

NOTE: The last day of the month could vary if you moved in mid-month. In this case, the 14th would be the last day of the month.
What condition should a rental property be left in?
The rental should be in its original condition – in the same or better condition than when you moved in. You can be charged for any damage to your unit, beyond normal wear and tear. If there are damages, the landlord must make an application against you to collect those funds. The landlord cannot use your 'rent deposit' to pay for damages.
What time does a tenant have to move out in Ontario?
You must move out by midnight on the last day of the month (as outlined in your lease which could be mid-month in some cases).
What happens if you move out of your apartment before the lease is up?
If you have given an adequate 60 days notice to your landlord, returned keys, fobs, etc., and gone through an inspection with your landlord or property manager, you can leave before the end of your lease.

However, you must still pay rent until the end of the lease term unless your landlord has provided explicit permission that exempts you from paying the rent for the remainder of time left on the lease. To avoid penalty see answer to question above: How do I get out of my rental agreement?
My lease is ending. Do I have to renew it or move out?
In Ontario, if no other lease arrangements are made, namely, you in dicate you are vacating, a one year, fixed term lease – it automatically renew as a month-to-month arrangement. You can ask your landlord for another year lease if you wish.
How do I end a month-to-month lease?
For month-to-month arrangement you must give a 60 days' notice before vacating just as you would with a fixed one year term arrangement.

How and when do I get my deposit back?
In Ontario, landlords collect a 'rent' (not security) deposit at the beginning of a lease agreement to cover the last month of rent. The rent deposit may not exceed one month's rent. It can not be used to cover damages or for any other purpose.

Thus, in most cases, once you've given your 60 days notice, you will need to pay your second-to-last month's rent but the last month's rent deposit will take care of your final month's rent payment.
Can I give 30 days notice in Ontario?
No. In Ontario, you must provide the landlord with a written notice to terminate the tenancy at least 60 days before the last day of a rental period.
Can I come back for some of my things after moving day?
No. Be sure to remove all your belongings on your move-out day. If something is left behind your landlord has the right to keep, sell, or throw out anything you've forgotten.
What information must be included when I give notice to my landlord?
What classifies as "Improper Notice"?
A notice will be considered "improper" by your landlord if:
· it is even one day short of the required 60 days;
· it does not indicate the last day of the rental period;
· it is not in written form; or
· your address, your signature or the date are missing.
How do I give notice on a weekly or daily rental?
If you rent on a weekly basis, you must end your stay on the last day of the rental- typically, this is the day before your rent is due. If you pay rent daily, then your termination date can be any day you choose. In both daily and monthly cases, you must give your landlord the notice at least 28 days before your termination date.
Can my landlord refuse to return my rent deposit?
No, they can not keep it.

If your landlord alleges you have damaged or left a property dirty, they must ask for payment separately. The rent deposit is your last month's rent and can only be used to cover your last month's rent.
What can happen if I don't provide adequate notice?
If you do not give proper notice (60 days typically), your tenancy might continue for a period of time after you depart which means you could owe rent for that time, potentially then paying rent for two places.
---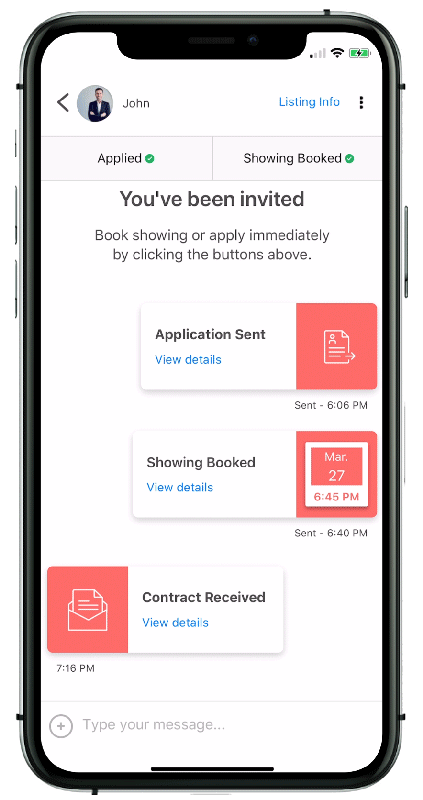 Rethink The Way You Rent
Not on liv.rent yet? Experience the ease of digital applications & contracts, verified tenants & landlords, virtual tours and more – all on one platform. Sign up for free or download the app.
Subscribe to receive the latest tenant & landlord tips and get notified about changes in the Canadian rental market.
>> Stay up-to-date on the average rent in Vancouver, Toronto and Montreal: Rent Reports