At some point, nearly everyone moves out of their rental unit – whether it's when the lease agreement ends, or prematurely for whatever reason. Students return home early, roommates move out, or maybe an unbelievably good rental opportunity arises. For many in Ontario, navigating a move may be a wholly new concept. Understanding how to provide notice to a landlord, collect rent deposits, and terminate a lease can all be tricky subjects at best, with plenty of rental laws to navigate. In this post, liv.rent answers all of your frequently asked questions about tenant responsibilities when moving out in Ontario to help readers who may be considering a move in the not-so-distant future.
Table of Contents
liv.rent – Renters Can Now Create Alerts
Don't see what you're looking for? Set up an alert and get notified about listings that meet your criteria (location, price, housing type, bedrooms, pet policy, and more).
Note: If you're not a liv.rent user, sign up first. Then apply your filters and click the "Create Alert" button on the upper right hand corner to set up your alert.
How to tell a landlord you're moving out?
Tenants planning on moving out of their rental property in Ontario must give their landlord proper notice in writing, 60 days before the end of their tenancy agreement. If a tenant wants to leave early, they can only do so under certain conditions, according to the Ontario LTB:
You and your landlord agree
You assign the tenancy (and the unit) to someone else
The LTB issues an order ending the tenancy agreement early
You are a victim of sexual or domestic violence
You entered into a tenancy agreement with your landlord on or after April 30, 2018, the landlord did not use the standard lease tenancy form and you sent a written demand to the landlord to provide you with the proper standard lease form.
How to end a tenancy on liv.rent
Ending a tenancy can be done quickly and easily right within the liv.rent platform. Remember that you cannot end a tenancy unless you meet the above conditions.
To end a tenancy on liv.rent, follow these simple steps:
Tenant Dashboard –> Select Tenancy –> Select More Options –> Choose End Tenancy –> Select End Tenancy Date
How much notice to give landlords in Ontario?
If you are renting on either a fixed-term or a month-to-month basis, you must indicate in writing, your intention to move out at least 60 days prior to the termination date (2 full calendar months) on your lease agreement. The move-out date must be the last day of the rental month – not necessarily the last day of the calendar month.
What time does a tenant have to move out by in Ontario?
Tenants must move out by midnight on the last day of the tenancy (as outlined in your lease which could be mid-month in some cases).
Are tenants responsible for cleaning when moving out in Ontario?
Tenants in Ontario must maintain a reasonable standard of cleanliness throughout the course of their tenancy, returning the unit in a normal state of cleanliness/repair.
How to look for your next home in Ontario?
If you're looking for a new place to rent in Ontario, liv.rent is the perfect place to start. In addition to being Canada's safest rental platform, liv.rent has a ton of features designed to help renters streamline their search and connect with trusted landlords and listings.
One thing that sets liv.rent apart is that when browsing for listings, you'll notice 'Verified' badges on both properties and landlord profiles. This means that our team has manually verified the user's photo ID or the property's land title documents to confirm a match. Rental scams are a growing threat facing Canadian renters, so it's important to be on the lookout for warning signs. Using liv.rent effectively eliminates most of this danger, so you can focus on finding a place that works for you.
Renters on liv.rent can also do everything in one place – from applying to signing a lease, making your next rental home search smooth and efficient.
FAQ: Tenant responsibilities when moving out in Ontario
How do I get out of my rental agreement?
If you want to move out before the end of your lease and you've missed the opportunity to give proper notice to your landlord, there are a couple of things you can do to avoid paying additional rent:
Get your landlord to agree to end your tenancy
Find another tenant to take over your place (assign or sublet)
Give notice if your landlord refuses to let you assign
Get the Landlord and Tenant Board to end your tenancy
Also, you may be able to leave early without penalty if the residence poses a threat to your health or safety or if the landlord is neglectful. In the latter case, you would need to file an application to request that the Landlord and Tenant Board end your tenancy.
How do I tell my landlord I am leaving?
This is called "giving notice". If you are on a fixed-term lease, most commonly a one-year lease, you must indicate in writing, your intention to move out at least 60 days prior to the termination date (2 full calendar months) on your lease agreement. The move-out date must be the last day of the rental month.
NOTE: The last day of the rental month could vary if you moved in mid-month. In this case, the 14th would be the last day of the month.
What condition should a rental property be left in?
One of your responsibilities as a tenant when moving out in Ontario is leaving the unit as you found it – that is, in the same or better condition compared to when you moved in. You can be charged for any damage to your unit beyond normal wear and tear. If there are damages, the landlord must make an application against you to collect those funds. The landlord cannot use your rent deposit to pay for damages.
What happens if you move out of your apartment before the lease is up?
If you have given an adequate 60 days' notice to your landlord, returned keys, fobs, etc., and gone through an inspection with your landlord or property manager, you can leave before the end of your lease.
However, you must still pay rent until the end of the lease term unless your landlord has provided explicit permission that exempts you from paying the rent for the remainder of the time left on the lease. To avoid penalty see the answer to thequestion above: How do I get out of my rental agreement?
My lease is ending. Do I have to renew it or move out?
In Ontario, if you do not move to end the tenancy by giving proper notice to vacate the unit, your tenancy will automatically continue on a month-to-month basis. This applies to both fixed-term leases and month-to-month lease agreements with a specified end date. Alternatively, you can ask your landlord to renew the lease agreement for another year if you wish.
How do I end a month-to-month lease?
For a month-to-month lease agreement, you must still give 60 days' notice before vacating just as you would with a fixed-term arrangement.
How and when do I get my deposit back?
In Ontario, landlords may collect a 'rent' (not security) deposit at the beginning of a lease agreement to cover the last month of rent. The rent deposit may not exceed one full month's rent. It can not be used to cover damages or for any other purpose.
Thus, in most cases, once you've given your 60 days' notice, you will need to pay your second-to-last month's rent but the last month's rent deposit will take care of your final month's rent payment.
Can I give 30 days notice in Ontario?
No. In Ontario, you must provide the landlord with a written notice to terminate the tenancy at least 60 days before the last day of a rental period.
Can I come back for some of my things after moving day?
No. Be sure to remove all your belongings on your move-out day. If something is left behind, your landlord has the right to keep, sell, or throw out anything you've forgotten.
What information must be included when I give notice to my landlord?
What classifies as "Improper Notice"?
A notice will be considered "improper" by your landlord if:
It is even one day short of the required 60 days;
It does not indicate the last day of the rental period;
It is not in written form; or
Your address, your signature or the date are missing.
How do I give notice on a weekly or daily rental?
If you rent on a weekly basis, you must end your stay on the last day of the rental- typically, this is the day before your rent is due. If you pay rent daily, then your termination date can be any day you choose. In both daily and monthly cases, you must give your landlord the notice at least 28 days before your termination date.
Can my landlord refuse to return my rent deposit?
No, they cannot keep it.
If your landlord alleges you have damaged or left a property dirty, they must ask for payment separately. The rent deposit is your last month's rent and can only be used to cover your last month's rent.
What can happen if I don't provide adequate notice?
If you do not give proper notice (60 days typically), your tenancy might continue for a period of time after you depart which means you could owe rent for that time, potentially then paying rent for two places.
Free Move Out Cleaning Checklist For Renters
Are you moving out of your rental unit? Download this full cleaning checklist to make sure you're not missing anything that can result in deductions on your damage deposit.
---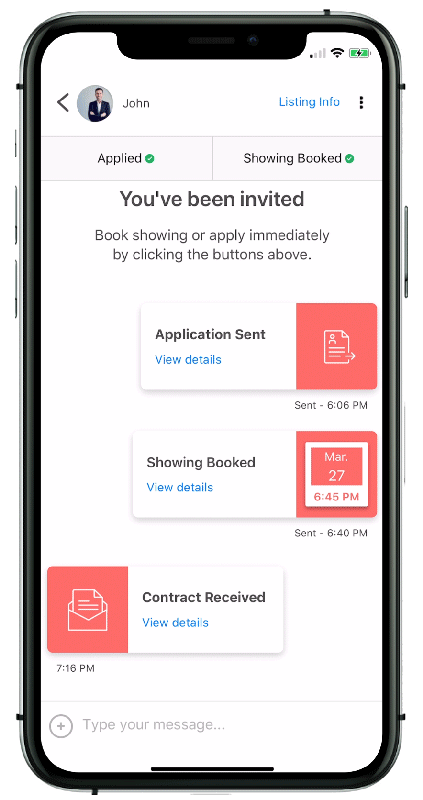 Rethink The Way You Rent
Not on liv.rent yet? Experience the ease of digital applications & contracts, verified tenants & landlords, virtual tours and more – all on one platform. Sign up for free or download the app.
Subscribe to receive the latest tenant & landlord tips and get notified about changes in the Canadian rental market.
>> Stay up-to-date on the average rent in Vancouver, Toronto and Montreal: Rent Reports.