For many Americans looking to relocate, Canada is one of the top choices. Not only do we share a border, but we also share many values and a similar standard of living; however, the two countries differ in other ways that make Canada an attractive destination for renters in particular.
In this article, we explore the ins and outs of orchestrating a move to Canada from the U.S. – covering everything from healthcare and cost of living to immigration requirements and securing a place to live.
Rent your perfect home with liv.rent
Search houses, rooms, condos and apartments for rent. Chat instantly with verified landlords. Apply to multiple listings. Save your chat history & signed documents all on one platform.
How to Immigrate to Canada from the U.S.
Depending on whether you want to move to Canada permanently or temporarily, the process varies. If you want to come as a student or temporarily, you must apply for a visitor's visa AND a student visa or work permit if you plan to study or work in Canada.
If you plan to immigrate to Canada and seek permanent residency, you can apply through Canada's Express Entry System. This system assigns points to your application and assigns high scoring candidates entry through the Federal Skilled Worker Program, the Canadian Experience Class and the Federal Skilled Trades Program. The benefit of this Express Entry immigration system is that applications are processed in as little as 6 months and a job offer is not required to qualify
For assistance with Visas or Working Permits, we recommend our partner VisaFirst for experienced, affordable guidance and stress-free processing help.
Express Entry Immigration
| | |
| --- | --- |
| Skilled Worker Type | Example Occupations |
| Professionals | Doctors, medical workers, accountants, architects, lawyers, scientific researchers |
| Managers | Hospitality, mining, legislation, finance |
| Technical workers | Civil engineers, broadcast technicians, IT workers, etc |
| Trade workers | Carpenters, welders, plumbers, cooks, chefs, etc, |
How Much Money is Needed to Immigrate to Canada?
The basic, logistical cost of immigrating to Canada isn't prohibitive. You will need to pay approximately $155 CAD (approx $120 USD) to process a work permit or study permit for students. A visitor visa application permitting you to stay longer than 180 days will cost $100 CAD and an additional $100 for renewal. If you make the choice to apply for permanent residency, additional application fees will cost you about $1300 CAD.
The majority of your expenses will come from moving costs (flights, movers, accommodation etc.) and will depend on your individual circumstances. If you have secured employment in Canada, there may also be a moving allowance available to you from your employer.
Can I Live in Canada if I am a U.S. Citizen?
Yes, you can live in Canada as a U.S. citizen provided you have the correct work visa or permanent residency status. Canada does not require Americans to renounce their American citizenship. If you do decide to go ahead with Canadian citizenship application, you can remain a dual citizen.
Can I rent an apartment in Canada as a US citizen?
Renting in Canada as an American citizen is definitely possible provided you follow the proper steps. An American citizen can rent in Canada as long as they already have a work visa, student permit or permanent residency. Landlords may require additional paperwork to prove your ability to pay rent, though, as well as potentially asking for a guarantor to co-sign the lease to safeguard their rental income.
Can you rent in Canada without a visa or study permit? Only on a short-term basis, such as a vacation rental. We cover more tips for how to rent an apartment in Canada as an American throughout the rest of this guide.
How to Secure a Place to Rent before Coming to Canada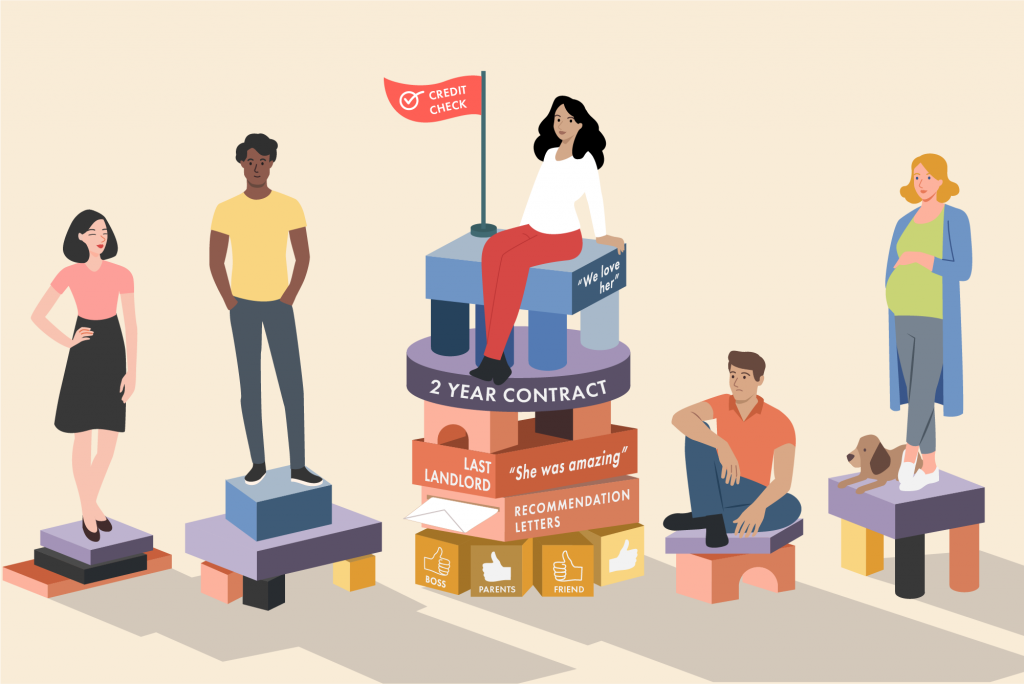 Before you embark on a search for a Canadian home, make sure you have the right documentation ready. Landlords will ask you for financial documents that prove your financial viability. These might include letters from your bank, your employer or your government revenue agency. They will also want reference letters from previous landlords and/or employers.
liv.rent – Canada's trusted house & apartment rental website
Search apartments, condos, and homes for rent.
Verified Landlords: Rent from a trusted landlord. Look for the "ID Verified" tag to identify which landlords have been pre-screened.
Quality Rentals: Browse listings that have been checked by our team. Verified by official documents or by mail.
One-Click Applications: Fill out your Renter Resume once and apply to multiple listings in just a few clicks.
Applying through liv.rent
If you live in the U.S., looking for an apartment in Canada poses some unique challenges. Thankfully, liv.rent makes finding a home easier regardless of where you might be physically.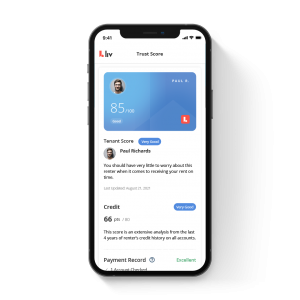 On liv.rent, we guide you through the entire application process to protect our users' privacy. When submitting an application, renters must submit a variety of documents to verify the following:
– Government-issued ID
– Income/employment
– Social verification
– Credit
This information is temporarily stored until the verification process is complete, and compiled into our comprehensive Trust Score. The Trust Score is a tenant screening tool used by our liv.rent landlords and property managers to gauge tenant credibility and reliability.
For more information, please refer to our Privacy Policy.
Check out some of our other posts designed to help tenants:
BC Residential Tenancy Act Explained
Residential Tenancy Act: Dispute Resolution
Setting Up Utilities
Complete your liv.rent renter profile
Your renter profile serves as your application. You only need to complete it once and then submit it to all the properties that interest you. The more information you provide, the more likely you are to secure your preferred rental. Here are the steps to follow:
1. Select "I do not live in Canada"
We understand that credit ratings do not cross national boundaries so we have given users the option of selecting "I do not live in Canada" when creating their renter profile. This will explain to prospective landlords why a credit score is not available for you.
NOTE: Secure a Canadian cell phone number as soon as possible. Having an active local number in advance will help you open utility accounts, bank accounts, and more; in addition, you may be asked for a domestic number at your point of entry.
liv.rent recommends Canadian cell phone service provider, PhoneBox, for the most affordable LTE plans on the market and free shipping of SIM cards anywhere in the world!
Unlock liv.rent exclusive deals and receive even better deals as a liv.rent member. Click here >> Go Phonebox
2. Select "I'm a first-time renter"
If you are renting for the first time and thus, do not have any landlord references, select the option "I'm a first-time renter". Also, choose this if your landlord references are from your home country, letting your landlord know that this is the case.
3. Attest for your Pets
If you have pets, make sure you include a picture of them and send additional information via chat (videos, testimonials from your current landlord or even from a dog trainer etc.) – anything that shows your pet is well-behaved.
4. Upload Financial Documents
If you do not have an active letter of employment or job offer in Canada, this is the most important section for you to complete. Upload bank statements showing you have at least one year's worth of rent in your bank account.
5. References
If you do not have employment or landlord references, cite an employer, teacher, immigration agency, as your reference; essentially, choose someone who can attest to your reliability and credibility as a tenant.
6. Treat the application like an immigration or job application
Just as you would try to prove your worth as a contributing member of Canadian society or suitable employee, do the same for your landlord. Ask yourself, why would the landlord choose you over other candidates and then demonstrate why.
The biggest differences in work life pertain to the benefits employees receive.
In Canada, workplaces are legally obligated to offer a minimum of 2 weeks vacation. Most companies offer more than the required minimum. After a few years of employment, the number goes up to 3 weeks. In the U.S., by contrast, paid vacation time is not legally required.
Maternity and Parental Leave are far more generous in Canada with most mothers typically taking a year's leave or sharing their permitted leave with their partners.
Differences between Canada and the U.S.
The differences between Canada and the US may not be obvious at first but there are some key differences that shape Canadian society and differentiate it from the US.
Government
Starting from the top, while the U.S. is led by a president, Canada is led by a prime minister and Queen Elizabeth is technically (though not practically) the Head of State.
Canada is a parliamentary system whereby we elect Members of Parliament to represent our riding (or region) in Ottawa, our capital. We do not vote directly for our Prime Minister but rather for our local representative from the same party of our desired Prime Ministerial candidate.
Canada has five major political parties: Liberals, Conservatives, NDP, Green Party and the Bloq Quebecois from our French speaking province, Quebec.
In general, Canada's entire political spectrum is to the left of the U.S. with all parties believing in the value of a public healthcare system, the value of immigration and other social safety nets that ensure a more equitable society.
Immigration & Diversity
Generally speaking, immigration isn't as politically charged a subject as it is in the U.S. Canadians recognize that their economic well-being is dependent on immigration due to low birthrates and a population of only 38 million (roughly 1/10 the population of the U.S).
The COVID-19 pandemic has slowed the flow of immigrants in 2020. In response, the federal government has announced its 2021-2023 Immigration Plan that boosts immigration targets to the highest levels in Canadian history – over 400,000 each year for the next three years (Source: CIC News).
Canada prefers to call immigrants "New Canadians" recognizing their intention to stay and offering them a clear path to citizenship.
Much of the focus is on family reunification – bringing in parents, spouses, children or siblings who live abroad.
Newcomer centres and services for immigrants provide support to help you transition to your new life in Canada.
1/5th of the population is foreign-born making for a dynamic, diverse, multi-cultural country.
Work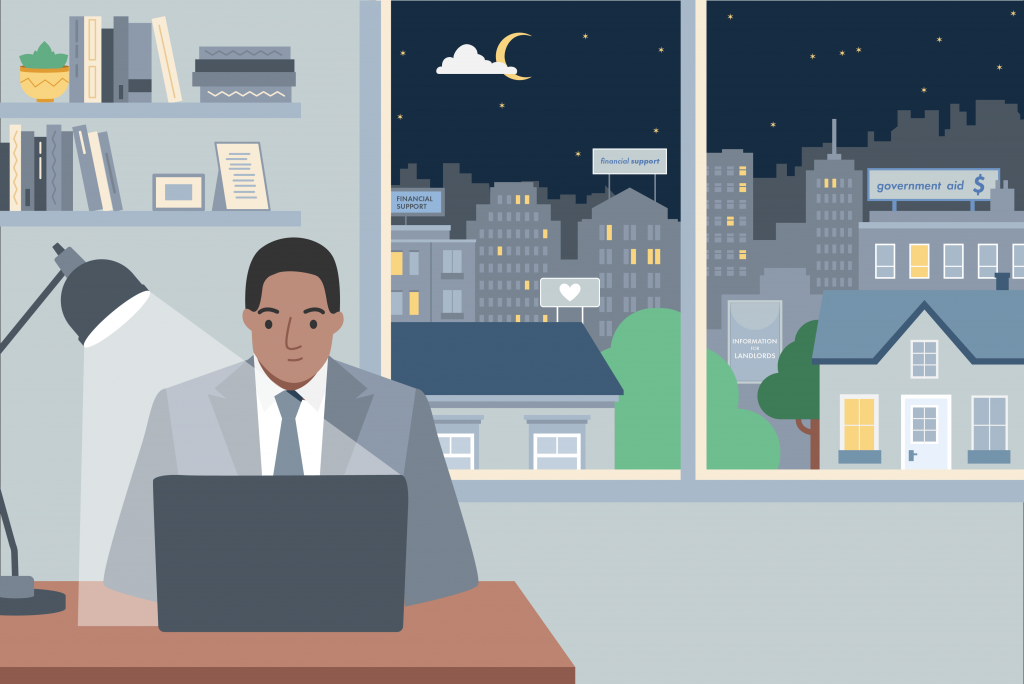 Healthcare

Canada enjoys the benefits of universal healthcare. Once you are a Permanent Resident or citizen, you register provincially for public healthcare insurance and pay a nominal fee that varies from province to province; you are then eligible to receive free basic healthcare anywhere in Canada. This means you can walk into a clinic or hospital and receive medical attention without fear of being turned away.
This government health insurance gives you access to basic medical services. However private insurance, often provided by employers, will help cover costs for prescription medicine, dental care, eyeglasses, physiotherapy, massage therapy, and ambulance services.
There is a shortage of doctors in many parts of Canada so finding a permanent, family doctor may be a challenge. Thankfully, you can rely on the medical services provided by clinic doctors until you can secure a permanent doctor.
Education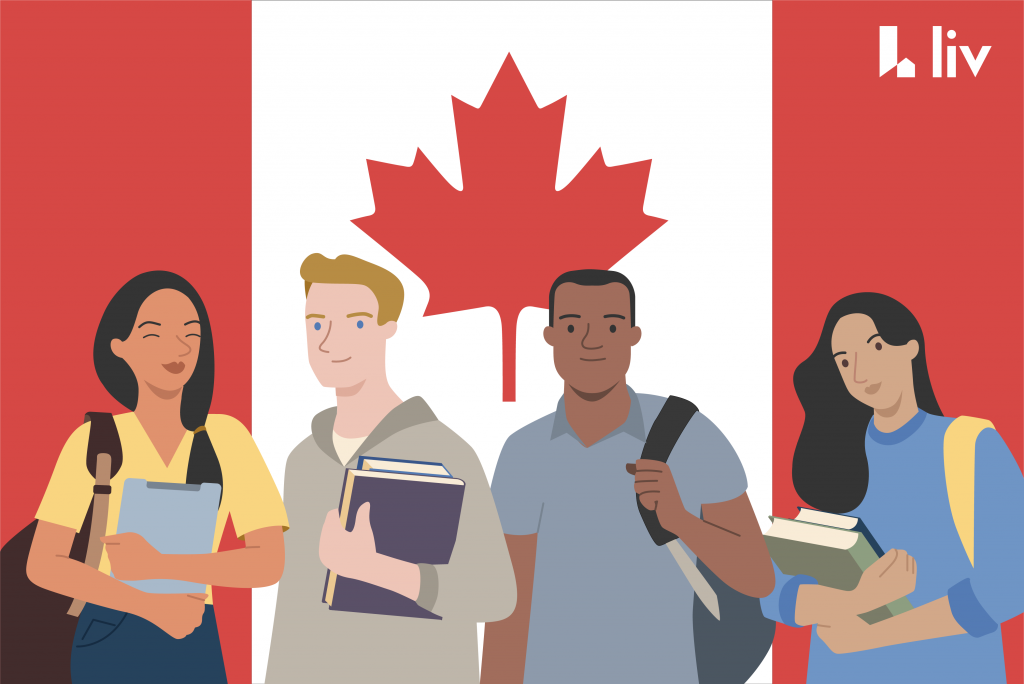 Costs of post-secondary education are significantly lower in Canada than the U.S. The average tuition in Canada is $6,693 vs $35,676 for a private university in the US.
Canada has the largest percentage of adults seeking higher education. According to the OECD, 55% of Canadians between 25-64 years have some level of college education compared to 33% of Americans.
Canadians view education more as a right than a privilege.
Canadian Universities are fewer and thus, typically larger than American universities.
Greek life (fraternities and sororities) exists at Canadian universities but it is not as ubiquitous as it is in America.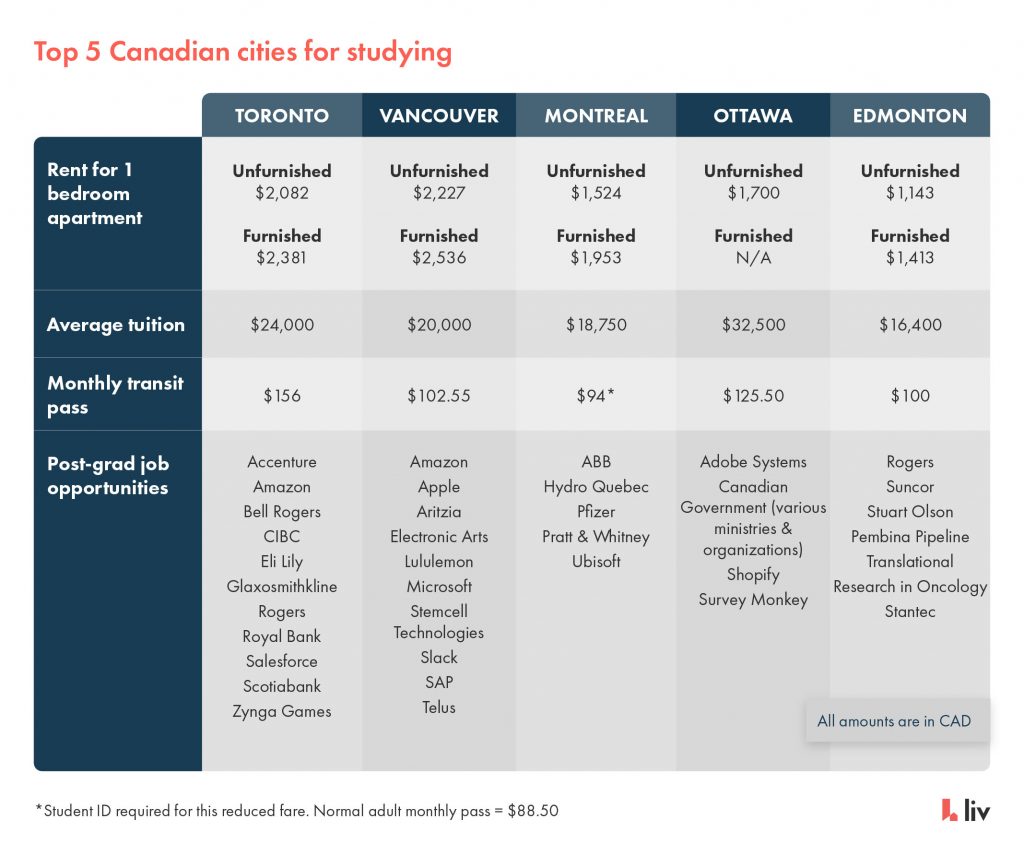 Language
Canada has two official languages – English and French as England and France co-founded the country.
French is spoken primarily in Quebec but there are Franco-Canadian communities in every province.
French Immersion schools are federally funded and public. As such, Canadians across the country can choose to educate their children in these schools that promote bilingualism at no extra cost.
All packaged products display English and French text and ingredients.
English is still the dominant language in all provinces other than Quebec so Americans are not compelled to learn French unless they want to.
Measurement
Canada, like most of the world, uses the metric system. Thus, our measurements are in kilometres, metres, kilograms, grams, litres etc.
Our temperature is in Celsius as opposed to Fahrenheit.
Culture
Canadian culture is challenging to define as it does vary somewhat from region to region. The West Coast (British Columbia), the Prairies (Alberta, Saskatchewan, Manitoba), Central Canada (Ontario), Quebec, the North (Yukon and Northwest Territories) and the Maritimes (Nova Scotia, Prince Edward Island, New Brunswick, Newfoundland) all contribute their own flavour and nuance to the Canadian cultural landscape. Similarly, urban Canadians and rural Canadian bring something different to the cultural discussion as well.
In general, our culture does embody artistic, culinary, literary, comedic, musical, political and social elements that are all the product of our diverse, tolerant society.
Indigenous peoples of the First Nations, Inuit, and Metis have inhabited Canada for thousands of years, and are only recently a being recognized and celebrated. The government is taking strides to pay for reparations, negotiate treaties and laud their contributions to Canadian society and culture. This is in contrast to the US where America's indigenous people have made far fewer legal strides.
From music legends like Glenn Gould, Oscar Peterson, Leonard Cohen and Neil Young to pop stars like Drake, The Weeknd and Justin Bieber, literary giants like Margaret Atwood, Alice Munro, Michael Ondaatje and Yann Martell or the brilliance of Canadian Comedy shows, that highlight our self-deprecating, dry sense of humour, like Kids in the Hall, Trailer Park Boys or most recently Schitt's Creek, Baroness Von Sketch Canadian culture is recognized globally.
Or artistic greats like the Canadian landscape painters known as the Group of Seven who painted from 1920 to 1933 (Franklin Carmichael, Lawren Harris, A. Y. Jackson, Frank Johnston, Arthur Lismer, J. E. H. MacDonald, and Frederick Varle), Emily Carr, or contemporaries like Douglas Coupland, Rodney Graham, Gordon Smith, Attila Richard Lukacs.
Sport
Hockey is Canada's favourite professional sport. Hockey greats like Wayne Gretzky, Gordie Howe, and Sidney Crosby are recognizable names across Canada and major cities with NHL franchises (Vancouver, Edmonton, Calgary, Toronto, Montreal) always have their own local hockey celebrities as well (43% of NHL Players are Canadian).
Basketball popularity is on the rise. The 2019 Toronto Raptors win further boosted Canadian interest in the NBA (Toronto has the only Canadian NBA team).
Canada also has its own football league called the CFL (Canadian Football League) with slightly different playing rules from the NFL. The NFL, however, has a strong fan following in Canada.
At a community level, hockey, soccer and basketball are very popular – the latter two being more accessible than hockey (less costly).
Benefits of Living in Canada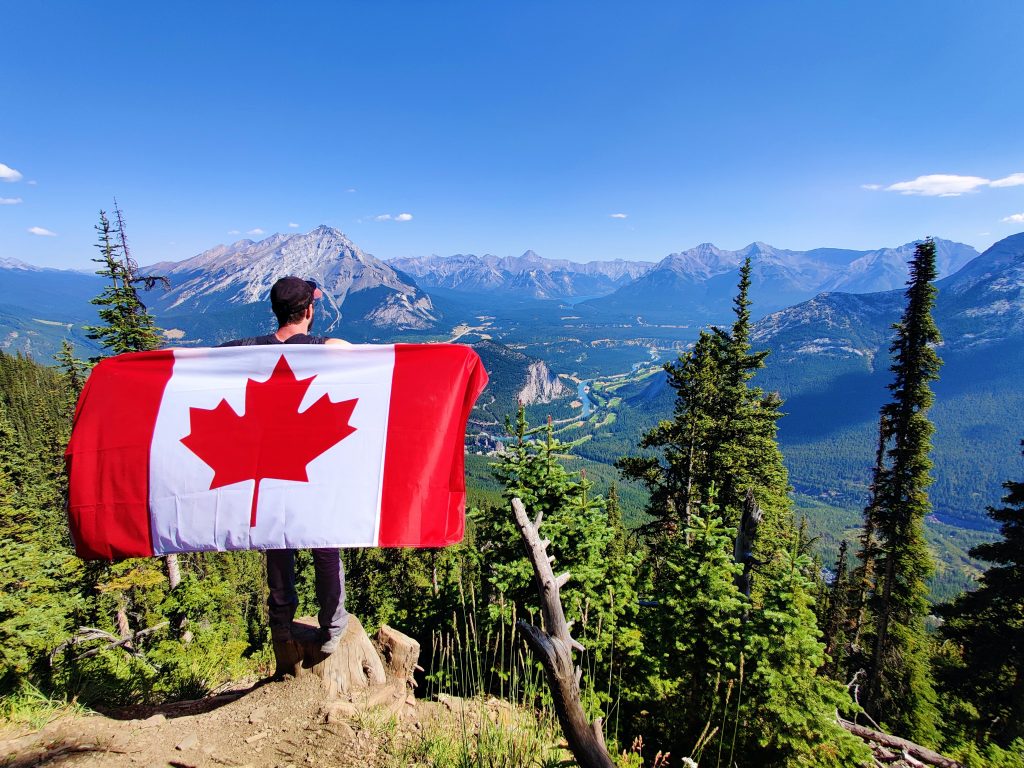 The benefits of living in Canada are numerous and varied. Of course, some will resonate more than others with Americans. Although we have touched on some of them indirectly in our section on differences, here are 5 important benefits worth highlighting.
Space – Both of our countries have vast open spaces featuring magnificent natural wonders from the highest peaks of the Rockies to the Great Lakes that straddle the border, to the sandy beaches along the Atlantic and Pacific Oceans. Canada, however, is more sparsely populated. With only 37.7 million residents (2019 Census figure) compared to America's 328 million, our huge land mass has room to spare. To provide some perspective, California's population is approximately 39 million – one state has more people than our entire country!
Universal Healthcare – Canada's public healthcare system ensures medical care is provided to everyone who lives here regardless of income or status.
Job Opportunities – Canada's Federal Skilled Workers programme outlines more than 300 occupations that can qualify you for fast track entry. The list is extensive and covers a variety of occupations including medical, engineering, management, construction and more. (See Section Below – How to Move to Canada from the US)
Education – Canada is considered an education powerhouse according to studies conducted by the Organisation for Economic Co-operation and Development (OECD). Our students rank at the very top in reading, math and science. And, in terms if post-secondary education, Canada's world class universities are far more financially accessible.
Low Crime Rates– Canada does not have a gun culture like the US. Gun ownership levels are exceedingly low and acquiring guns is difficult and highly regulated. Where the US has 121 civilian firearms per 100 inhabitants, Canada has about 35 per 100. This may explain why the US has 7 times more homicide deaths than Canada (Source: L.A. Times).
Cost of Living in Canada
The Cost of Living in Canada, like that in the United States, can vary widely depending on where you live. Cities like Vancouver and Toronto have high costs of living due to the cost of housing. In comparison, Montreal is far more affordable and offers the same big city vibrancy and culture of Vancouver and Toronto with a French twist.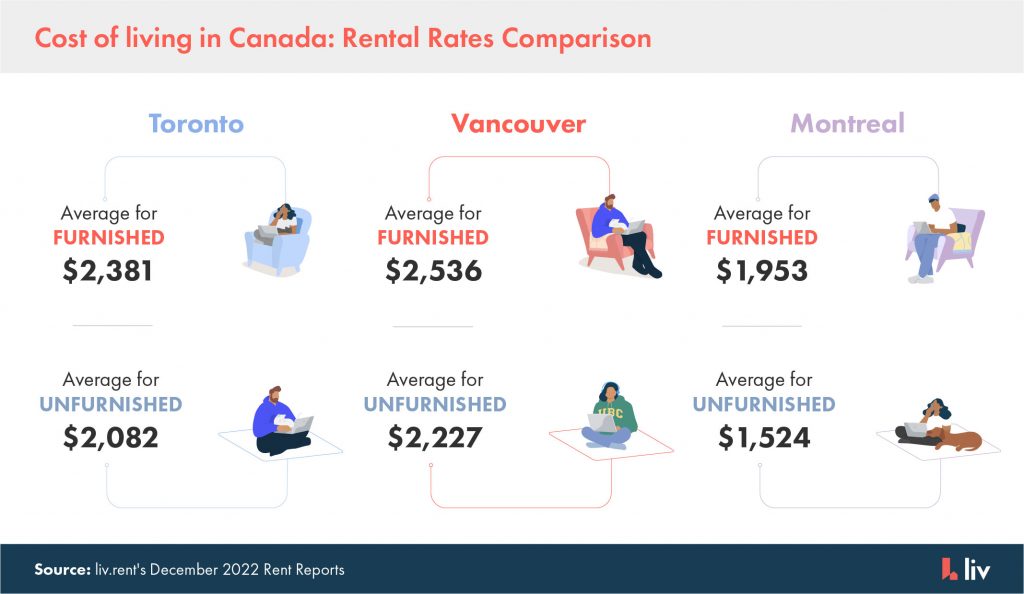 Other mid-sized cities like Quebec City and Winnipeg, Manitoba are considerably cheaper. Winnipeg, for example, is cheaper to live than 82% of cities in North America according to expatistan.
Though Canada is considered to be one of the world's more expensive countries, for Americans, the cost of living is reasonable. For example, the national average cost of living for a single person is estimated to be $2,730 per month and $5,158 per month for a family of four.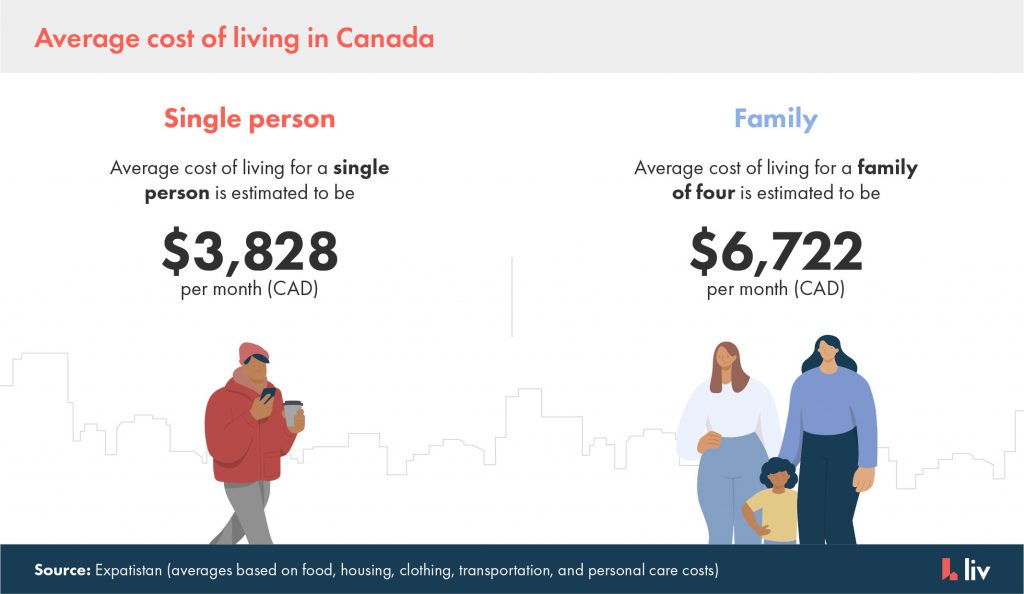 liv.rent – Search apartments & houses for rent in Vancouver
Search houses, rooms, condos and apartments for rent in Vancouver. Chat instantly with verified landlords. Apply to multiple listings. Save your chat history & signed documents all on one platform.
Moving to Canada during COVID-19
Canada has almost entirely lifted restrictions from the COVID-19 pandemic. Here's some key information that you should be aware of if you have started the process of immigration or are looking to move to Canada soon:
Proof of COVID-19 vaccination is not required
COVID-19 pre-entry and arrival tests are not required
Quarantine after you enter Canada is not required
Using ArriveCAN is not required

if you're flying into Toronto Pearson, Vancouver, Winnipeg, Halifax or Montréal-Trudeau international airports, you can still use ArriveCAN to complete your Advance CBSA Declaration to save time upon arrival

Pre-boarding tests for cruise passengers are not required
As always, travel documents are required
Health checks to board planes and trains are not required
Wearing masks on planes and trains is not required
If you have symptoms of COVID-19, you shouldn't travel to Canada.
You are exempt from these restrictions if you fall into one of the categories below:
Temporary foreign workers who are coming for an essential purpose – workers who have a valid work permit and normally live in Canada or a letter of introduction for a work permit and a valid job offer which ensures you can work once you've completed your mandatory quarantine.
Permanent resident applicants who had been approved for permanent residence before the travel restrictions were announced on March 16, 2020, but who had not yet travelled to Canada.
International students with a valid study permit.
Transiting passengers, but must remain in the secure transit area of a Canadian airport to complete their connection.
Any person who is coming at the invitation of the Minister of Health for the purpose of COVID-19 assistance.
Any person whose purpose is to make medical deliveries.
For a complete list of current restrictions, consult this resource.
With these considerations in mind, your plans to move to Canada may very well be deferred by some months as the pandemic situation resolves.

FAQ: Moving to Canada from the USA
Is it hard to move from the US to Canada?
Though any move comes with its challenges, it's relatively easy to move from the U.S. to Canada. You'll still need to meet the requirements for your individual situation, but this guide should provide all the information you need to make your move a seamless one.
Is it worth it to move to Canada from the US?
Canada's natural beauty, abundant employment opportunities, world-class educational institutions and diverse culture make it an excellent destination for those looking to move. You'll first need to examine the pros and cons for your individual situation before moving, of course.
Can a US citizen move to live in Canada?
Yes, U.S. citizens are welcome to live in Canada provided they follow the proper procedure.
How much money do you need to immigrate to Canada?
The basic cost of immigrating to Canada is $155 CAD (approx $120 USD) to process a work permit or study permit for students. A visitor visa application permitting you to stay longer than 180 days will cost $100 CAD and an additional $100 for renewal. Applying for permanent residency will cost you about $1300 CAD.
Can a tourist rent an apartment in Canada
Tourists can rent an apartment in Canada for the duration of their visa, usually up to 6 months. While this eliminates most fixed-term leases, tourists can still rent on a short-term basis or even monthly rentals.
With this being said, some landlords may require a guarantor with Canadian documents before allowing you to rent from them.
Can I rent an apartment in Canada if I'm not a citizen?
Yes, but the above tips apply. Landlords may also require a check on your Canadian credit history, so it's worth letting them know that you don't have one yet.
Do you need a visa to get an apartment in Canada?
Renters in Canada should at least have a tourist or student visa before applying for apartments. If you're just visiting for a very short term, you'll still be able to rent a short term/vacation rental.
How long can a US citizen live in Canada?
As a visitor, U.S. citizens can typically stay in Canada for up to 6 months. Any longer than this will require a student or work visa, or participation in other permitted program.
---
Making the decision to move to Canada from the United States will never be easy. However, Canadians welcome Americans as though they are family. We share the same continent, similar way of life, a common language and democratic values. Our shared, undefended border is the longest in the world and metaphorically underlines our enduring friendship and mutual respect. Most importantly, our neighbouring proximity ensures easy travel back to visit friends, family and your beautiful country (once COVID has passed, that is).
---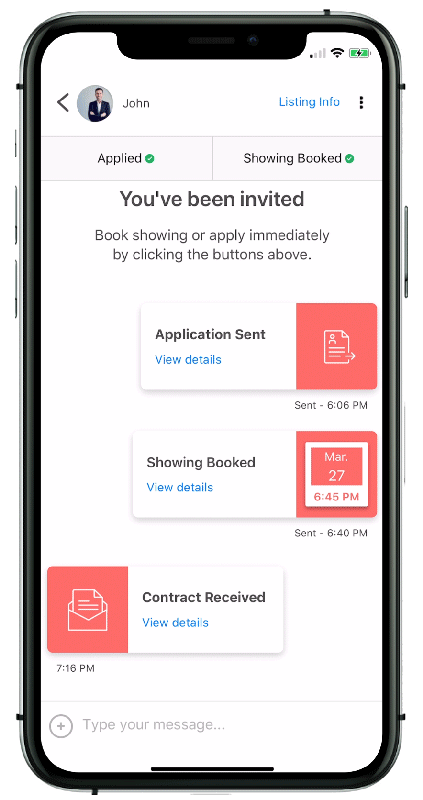 Rethink The Way You Rent
Not on liv.rent yet? Experience the ease of digital applications & contracts, verified tenants & landlords, virtual tours and more – all on one platform. Sign up for free or download the app.
Subscribe to receive monthly updates on Canada's major rental markets. Discover last month's Rent Reports below:
Vancouver Rent Report
Toronto Rent Report
Montreal Rent Report
Calgary and Edmonton Rent Report