For many newcomers, finding a place to rent in Canada can be a daunting task. Instead of trying to secure a rental right after you land, a better option is to secure a home before arriving in Canada.
In this article, we'll show you how to secure a place in Canada from abroad by doing everything online — search, apply, view, sign and pay.
Table of Contents
10 Must-Haves To Avoid Rental Scams
When it comes to rental scams, knowledge is power. Look out for these 10 things when searching for and applying to rentals.
How to search online for a home to rent in Canada
Where to start your search
Rental listing sites — This is probably the easiest and most efficient way to look for apartments and houses for rent in Canada. From liv.rent to Kijiji, there's a myriad of rental websites you can search from. If you're searching for rentals in Toronto, here are the top 9 apartment rental websites you can start off with.
Social media — Another way to look for rentals is through Facebook Marketplace, Facebook Groups, Instagram, YouTube and Subreddits. You can check out Facebook Groups such as Vancouver Rentals and Toronto Rentals or subreddits such as r/vancouverhousing and r/TorontoRenting.
University housing sites — If you're a student, try contacting the "off-campus housing" department of your university or college. They'll be able to assist you and direct you to the right resource or housing site specific to students.
[Free Checklist] How To Secure A Home Before Arriving In Canada
Download this checklist for a quick summary of what you need to do if you're looking to rent in Canada from abroad — how to search, apply, view, sign and pay online.
What to look out for when you're searching
Is the landlord who they say they are? If the landlord's identity is unclear or hidden behind a numbered company, be cautious. Identify theft and cash deposits being stolen can happen, so it's important to know how to protect yourself.
Does the rental unit actually exist? If the photos seem similar to another listing or address details are withheld, you should dig deeper. Search on Google Maps to ensure that the images aren't pulled from an actual sale listing. Also, request a live virtual tour of the property.
Tip: When you're searching on liv.rent, check that the landlord and listing has a "verified checkmark" next to their profile and address. This means that the landlord has been verified with a government-issued ID or business license, and the listing has been verified by mail or land title documents.
Is too much information being requested upfront? Never provide your credit card or bank account information until you decide to move forward with a lease. However, some landlords may request that you apply before booking a viewing. In this case, they may ask for bank statements or tax information to ensure that you're able to cover rent payments.
Learn more to find out what information a landlord is allowed to ask for.
How to apply online for a rental in Canada
Before you apply for a rental, make sure you have the right documentation. The two most important pieces of information you'll need to provide are financial documents (e.g. bank statements, employment letters) and references from your past landlords.
Here's a quick overview of what landlords may ask for:
| Identifiers | Background Information | Financial Information |
| --- | --- | --- |
| Name | Employment History | Credit Score |
| Date of birth | Educational History | Income and financial resources |
| Current and former addresses (business and personal) | Criminal Information | Debt information |
| Email address | Pet Information | Bank account information |
| Social Insurance Number (SIN) | Personal References | Rent payment information |
| Driver's License Number | Emergency Contact Information | Financial information |
How to apply for a rental through liv.rent
When you're applying on liv.rent, you'll be guided through the entire rental application that consists of four components: ID verification, basic profile, Trust Score (renter's credibility rating system), and references. Once completed, you'll be able to submit this application (think of it as your Renter's Resume) to any listing on liv.rent.
Watch now: How to fill out your application (i.e. Renter's Resume)
Step 1) ID Verification
The first step is to verify your ID, so that landlords know you're a verified renter. This involves uploading a government-issued document: driver's license, passport, health insurance card, or permanent residence card. Once uploaded, you'll be asked to take a photo of yourself and the liv.rent team will manually verify to ensure your identity and information match.
Note: Your authentication information is only temporarily stored. Once you've been verified, liv.rent will immediately remove all copies in a secured manner.
Step 2) Basic Profile
The next step is to provide background information that will give landlords an overview of who you are and your current status. This includes information such as your name, contact info, current address and an introduction about yourself. If you're living outside of Canada, select the country you're currently residing in and put down your home address.
Tip: Take advantage of the "About Yourself" section by sharing any additional information you would like landlords to know.
Step 3) Trust Score
Powered by AI and an algorithm that corroborates submitted information to assign a score for every renter, Trust Score is an intelligent rating system that evaluates a renter's reliability and credibility. This score will be used by landlords to assess and rank prospective tenants.
In order to receive a Trust Score, there are three parts to complete:
Credit check — As a newcomer to Canada, you can select the option "I do not have a credit history in Canada". This will explain to prospective landlords why a credit score is not available for you.
Financial documents — If you do not have an active letter of employment or job offer in Canada, you can select the option "Not Employed". Then, under Income Verification, you can upload a bank statement that shows you have at least one year's worth of rent in your bank account.
If you're a student, you can select the option "Student" and upload your enrolment letter or student card to prove your student status.
Note: Once these documents have been verified, it will be securely removed from the system and landlords will not have access to any sensitive information.
ID verification — If you've completed Step 1, then no action is required.
Step 4) References
The last step in your rental application is to provide either employment or landlord references. If you're renting for the first time or your landlord references are from your home country, select the option "I'm a first-time renter and do not have any landlord references". As an alternative, cite an employer, teacher, or immigration agency as your reference; essentially, choose someone who can attest to your reliability as a renter.
Tip: Secure a Canadian cell phone number as soon as possible. Having an active local number in advance will help you open utility accounts, bank accounts, and more. You may also be asked for a domestic number at your point of entry.
liv.rent recommends Canadian cell phone service provider, PhoneBox, for the most affordable LTE plans on the market and free shipping of SIM cards anywhere in the world!
Unlock liv.rent exclusive deals and receive even better deals as a liv.rent member. Click here >> Go Phonebox
[Free Checklist] How To Secure A Home Before Arriving In Canada
Download this checklist for a quick summary of what you need to do if you're looking to rent in Canada from abroad — how to search, apply, view, sign and pay online.
How to view your rental virtually
Virtual tours can be just as effective as in-person viewings if a) you know what to look for and b) you know what to ask. There are two things to keep in mind during a virtual tour:
Don't be afraid to check — Have the landlord demonstrate that all appliances are working (e.g. run faucets, flush toilets, check stoves, turn on lights).
Prepare questions — Let the landlord do the talking by asking open-ended questions (e.g. describe your ideal tenant.) Also, ask questions that can uncover information not addressed in the ads (e.g. how much interest have you had for this unit?)
How to sign a digital lease agreement
You can review, sign, send and renew leases for rental agreements in B.C. and Ontario on the liv.rent platform — online or in app.
The advice we always give to renters is to review before signing. Once you've signed, the lease becomes binding.
First, make sure you're familiar with what should and should not be allowed on the lease agreement. This will vary by province.
Next, as you're looking over the lease agreement, make note of three areas:
Rent amount and additional costs — Check if the lease states the correct rent amount, when it is due, and the acceptable forms of rent payment (e.g. e-transfer, credit card, cheque, etc.) Also, see if there are any additional costs like security or pet deposits.
Custom addendums — Landlords may choose to add additional terms to the basic lease agreement through custom addendums. It can be related to pets, smoking, subletting or late payment fees. Pay extra attention to these portions! These are also binding as long as the tenant agrees to them and they don't conflict with the Residential Tenancy Act.
Lease extension — Pay attention to what the lease says will happen after the lease ends. In B.C. and Ontario, after a lease expires, it's transitioned into a month-to-month rental agreement — unless the landlord added an addendum about vacating.
In most cases, when the lease term is up, you and your landlord may decide to sign another lease. However, you are not required to do so.
[Free Checklist] How To Secure A Home Before Arriving In Canada
Download this checklist for a quick summary of what you need to do if you're looking to rent in Canada from abroad — how to search, apply, view, sign and pay online.
How to set up digital rent payment
Even if you did not apply and/or sign a lease agreement through liv.rent, you can still set up digital rent payment on liv.rent and select one of the following payment options: credit card (Visa, MasterCard, American Express), Union Pay, and even by Bitcoin.
Note: If your landlord isn't on liv.rent but you want to pay with credit card, Union Pay or Bitcoin — contact support@liv.rent so that we can help you onboard your landlord and set up digital rent payment.
How it works: Your landlord will send you a payment request through the liv.rent app. Then, you can easily pay via whichever method you choose. You'll also receive payment reminders that you can turn on or off in your profile settings after your rental contract is active.
---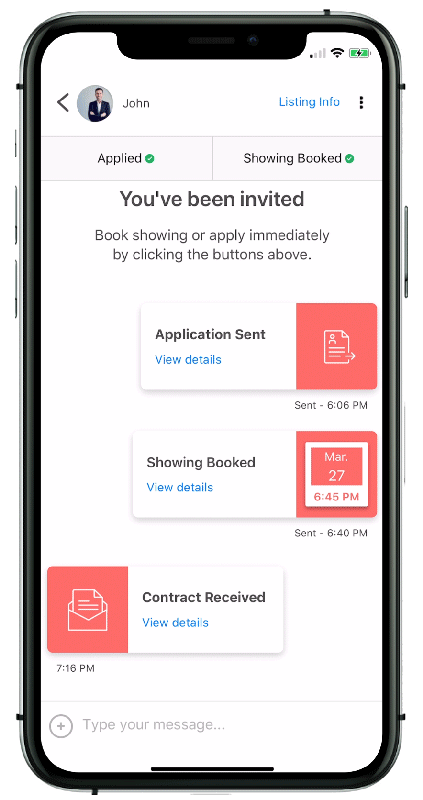 Rethink The Way You Rent
Not on liv.rent yet? Experience the ease of digital applications & contracts, verified tenants & landlords, virtual tours and more – all on one platform. Sign up for free or download the app.
Subscribe to receive the latest tenant & landlord tips and get notified about changes in the Canadian rental market.
>> Stay up-to-date on the average rent in Vancouver, Toronto and Montreal: Rent Reports.