Located in one of the most vibrant and constantly evolving neighbourhoods in the city, the Emily Carr University of Art + Design, sometimes referred to as ECU, attracts creative talent from worldwide to study in Vancouver. Before students can focus on their studies though, they first have to find a place to live – ideally as close to campus as possible to reduce the amount of time spent commuting. To assist with this, liv.rent has compiled our top tips for Emily Carr University students planning to live off-campus, including how to search for listings, average rent prices, and advice on where & how to look for rental housing in Vancouver.
Don't miss your perfect home with customizable alerts
Can't find what you're looking for? Set up a listing alert and get notified about listings that meet your criteria (location, price, housing type, bedrooms, pet policy, and more).
Note: If you're not a liv.rent user, sign up first. Then apply your filters and click the "Create Alert" button on the upper right hand corner to set up your alert.
Emily Carr University off-campus housing overview
Types of accommodation
In Vancouver, these are the typical types of places that are available to rent:
There are also houses, laneway homes, and townhomes for rent with varying numbers of bedrooms.
Students will likely either live on their own or with roommates. The reality for many Emily Carr students in a city like Vancouver is that many of them will end up living in shared accommodations due to the city's perennially high rent prices compared to other parts of the country.
Looking for a place to share
If you're looking for a room in a shared space that's perfect for students, then your first place to check should be liv.rent's listings. You can use the convenient map tool to find a place that's close to campus, using the search filter "Room" under "Housing Type" to look at all the available places in the area.
Looking for a roommate
Students living off-campus while attending Emily Carr University who are looking for roommates can post their available rooms for rent on liv.rent for free. Plus, the 100% digital platform means that you can connect with a roommate safely and easily, entirely online.
Another great place to look for roommates is on liv.rent's Vancouver Facebook Group. Here, you can connect with other students seeking off-campus housing within a safe, moderated group.
Average rent prices in Vancouver
Here are the average rental prices for Vancouver's different neighbourhoods as of June 2023. For the latest numbers as well as more statistics and figures for different Metro Vancouver cities and neighbourhoods, be sure to check out our latest rent report.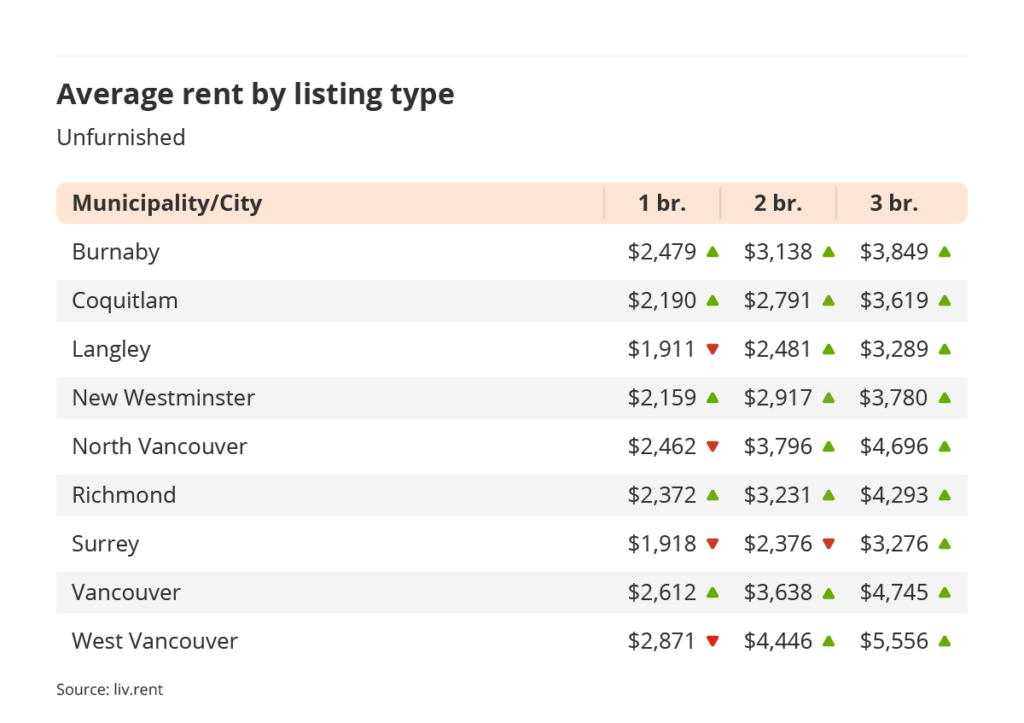 Vancouver transit
When it comes to off-campus housing, living close to transit options is extremely important. The U-Pass, Translink's monthly student transit pass, is typically included in your student fees and provides access to the bus and train networks. Planning your commute to class from off-campus housing is easy with Translink's Trip Planner, as well.
Luckily, Emily Carr students will find it easy to get to class from almost anywhere in the Lower Mainland thanks to its convenient location between Main Street-Science World and VCC-Clark SkyTrain Stations. There are also a number of bus lines that run directly past the school, including the 84.
How to find off-campus housing near Emily Carr University
Given Vancouver's often high rent prices, it's ultimately up to individual renters whether they want to live as close to campus as possible, or save on rent by looking a little further away from campus. Here are a few neighbourhoods that combine the best of both worlds, with relatively student-friendly average rent prices and convenient access to campus by transit, walking, or driving.
Here are a few different ways you can begin your search for rental housing, based on your priorities:
Search by budget
The price point of a home is so crucial for students. On liv.rent, you can search listings by price point.
Search by rental type
The best neighbourhoods to rent off-campus housing near Emily Carr University
Emily Carr does not currently have any on-campus housing options for students. Thankfully, the university is centrally located between Olympic Village, Mount Pleasant and Chinatown, along Great Northern Way in Vancouver's Strathcona neighbourhood.
When searching for off-campus housing near Emily Carr University on liv.rent, you can use the map feature to drag and zoom your way across Vancouver's neighbourhoods to find the perfect rental for you.
To get you started, here are some of the neighbourhoods you can rent in that are close to the Emily Carr campus:
Strathcona
A primarily residential neighbourhood on Vancouver's East Side, Strathcona is the perfect area for Emily Carr students seeking off campus housing due to its proximity to campus, relatively inexpensive average rent prices, and vibrant culture.
Types of accommodation in Strathcona
Strathcona is primarily known for its restored row homes from the city's early days, which now form an eclectic backdrop throughout the diverse neighbourhood. To meet the growing needs of the city's residents, there has also been an increase in multi-residential development in the area, as well as homeowners renting out partial houses such as basement suites.
Average monthly rent in Strathcona
One-bedroom apartment — $2,316
Two-bedroom apartment — $2,920
Three-bedroom apartment — $3,950
Source: liv.rent
Transportation in Strathcona
Estimated commute to campus: 5 to 10 minutes

Emily Carr University is actually located within the Strathcona neighbourhood, along Great Northern Way. If you're lucky, your new rental home may only be a few minutes walk from campus, or you can take bus routes like the 22 depending on where in the neighbourhood you're located in.
Strathcona amenities
Home to lots of community-focused parks and green spaces along the neighbourhood's quiet streets, Strathcona has plenty of places where students can take a break from studying. The area is also known across town for its cafes, boutiques, restaurants, and vintage stores for when you're looking to immerse yourself in Vancouver's rich culture.
Mount Pleasant
Just up the hill from Emily Carr University's Great Northern Way campus, Mount Pleasant spans from Clark Drive to Main Street and encompasses some of the city's finest shopping and restaurants, though it also has plenty of quieter areas that are perfect for students looking to balance school life with other pursuits.
Types of accommodation in Mount Pleasant
Mount Pleasant has changed a lot since its origins as one of Vancouver's original working-class neighbourhoods, and now has an impressive array of single-family residences along its side streets, with lots of newer multi-residential developments along its main roads.
Average monthly rent in Mount Pleasant
One-bedroom apartment — $2,659
Two-bedroom apartment — $3,993
Three-bedroom apartment — No Data
Source: liv.rent
Transportation in Mount Pleasant
Estimated commute to campus: 5 to 15 minutes

Mount Pleasant is a walkable distance to Emily Carr from some parts of the neighbourhood, and is easy to transit from even from its outer reaches. If you're near Main Street, the 3 bus will take you within walking distance of the campus, and there's also the 84 for heading East & West along 2nd Ave. to Great Northern Way.
Mount Pleasant amenities
Main Street is one of Vancouver's most popular shopping & dining destinations with lots of breweries, locally-owned clothes stores and boutiques, plus nearby parks for gathering with friends and classmates.
Downtown Vancouver
For students looking for a true big-city experience, Downtown Vancouver is certainly worth looking into. Connected to surrounding areas by an excellent public transit system, there are plenty of ways to get to campus in a hurry and certainly no shortage of things to do within your own neighbourhood.
Types of accommodation in Downtown
Downtown Vancouver is densely populated compared to other parts of the city and consists mostly of high-rise apartment buildings with some lower multi-residential buildings along the outskirts.
Average monthly rent in Downtown
One-bedroom apartment — $2,741
Two-bedroom apartment — $4,385
Three-bedroom apartment — $5,866
Source: liv.rent
Transportation in Downtown
Estimated commute to campus: 15 to 25 minutes

Taking the SkyTrain to either VCC-Clark or Main Street-Science World Stations is your best bet to reach Emily Carr from Downtown Vancouver, as there are stations scattered throughout the city's downtown core.
Downtown amenities
A true urban centre, Downtown Vancouver is teeming with local and large-scale businesses, great views along the Seawall, and all sorts of events happening every night of the week.
Tips on how to find & secure off-campus rental housing
How to avoid rental scams in Vancouver
Unfortunately, rental scams in Vancouver are becoming increasingly common, but luckily you can protect yourself if you have the right knowledge & tools. Know your rights as a renter and use a trusted rental platform. Here are some of the most common scams to look out for:
Scam #1 Rent is too low
If the rental rate seems shockingly below the rental average for the city, it could be a fake listing.
Scam #2 Urgent cash demand
Renters don't have to pay for anything until a lease is signed. So, if someone's pressuring you to send cash now, don't do it.
Scam #3 Too much info
Until you're 100% ready to move forward with a lease, you're not obligated to share your bank account or SIN number.
Scam #4 Not enough details
While some smaller landlords may withhold unit numbers for privacy, you should know the exact address of the unit you're looking at. without that info, it could be a scam.
Pro tip: rent from ID-verified landlords on liv.rent to avoid scams.
Be smart with your rental search
Tip #1 Know your needs
List of your priorities: pricing, location, amenities, lease duration, pet policy, etc. Use liv.rent filters to narrow your search.
Tip #2 Do your research
Find out the average rent in your target area. It'll arm you with the necessary info to negotiate terms & rates.
Tip #3 Google the property
See if there are any complaints online regarding building management, maintenance, noise, neighbourhood, etc.
Tip #4 Video tours first
If possible, view video tours first. Then, narrow down your selection and book viewings only for places you're seriously considering.
Tips to improve your search
Tip #1 Don't be afraid to check
Have the landlord demonstrate that all appliances are working – run faucets, check thermostats, flush toilets, turn on stoves, etc. Also, check cellphone reception.
Tip #2 View in daylight
Viewing a home in daylight will give you a better sense of the living space.
Tip #3 Prepare questions
And ask the hard questions (e.g. how much interest have you had for this unit) to uncover info not in the listing.
Stand out when you apply for your rental
Completing your liv.rent profile, or renter's resume, is the easiest way to stand out. You can also go the extra mile and pre-submit your application before your viewing if you're pretty sure you want to rent the unit. By introducing yourself upfront, it shows that you're serious about the unit – leaving a strong impression on your landlord.
Pro tip: on liv.rent, we use Trust Score to rate renters trustworthiness and credibility — it's free for students to get theirs with their profile!
Another way to stand out is by using your renter's story in your renter's resume to give landlords more information about your credit score. As students may not have strong credit histories yet, use this space to provide more context to a landlord to help them trust you.
How to secure a rental before arriving in Canada
It's easy for Emily Carr University students who aren't yet in Vancouver or even in the country yet to rent an off-campus apartment safely and securely.
Once you have filled out your liv.rent profile completely, you can use it to apply to listings on our platform.
In your profile, you can select whether you are a first-time renter and whether or not you're renting from outside Canada. That way, a landlord can accurately assess your profile and help you secure a rental without having references in Canada.
Pro tip: watch our friend Tobi Adekeye's YouTube video that explains exactly how to use liv.rent to easily secure your Canadian home from abroad.
---
Student resources
liv.rent has a ton of resources for students renting in Vancouver. Especially if you're an international student, moving to B.C. from out-of-province, or just new in town — it's important to know the ins and outs of renting in B.C. so you protect yourself and get a fair deal.
Check out our guides on everything from renting and leases to tenants' rights and relationships with landlords.
---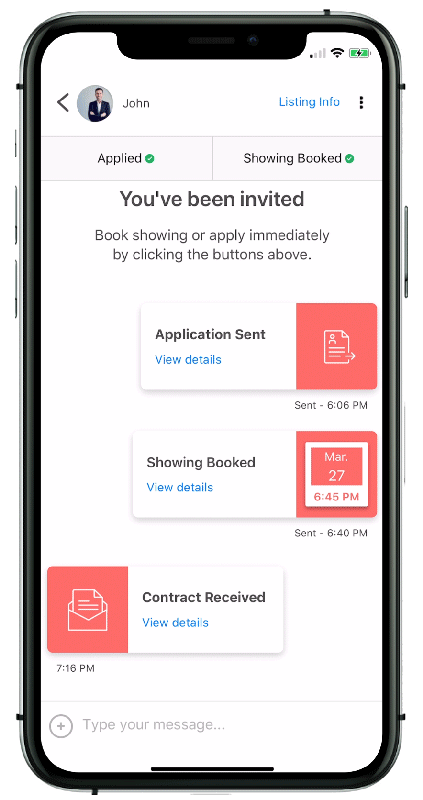 Rethink The Way You Rent
Not on liv.rent yet? Experience the ease of digital applications & contracts, verified tenants & landlords, virtual tours and more – all on one platform. Sign up for free or download the app.
Subscribe to receive the latest tenant & landlord tips and get notified about changes in the Canadian rental market.
>> Stay up-to-date on the average rent in Vancouver, Toronto and Montreal: Rent Reports.