The University of Toronto, or "U of T" for short, has three campuses — St. George, Mississauga, and Scarborough. Like most universities, there isn't room on every U of T campus for all upper-year undergraduate and graduate students, so unless you plan on living in the library, you're going to need a place to stay in the city during the course of your studies. We're liv.rent, an all-in-one Canadian rental platform with the solutions you need to make renting in Toronto easier, and we created this guide to help U of T students navigate the rental market and find off-campus housing that works for them.
liv.rent – Renters Can Now Create Alerts
Don't see what you're looking for? Set up an alert and get notified about listings that meet your criteria (location, price, housing type, bedrooms, pet policy, and more).
Note: If you're not a liv.rent user, sign up first. Then apply your filters and click the "Create Alert" button on the upper right hand corner to set up your alert.
U of T off-campus housing overview
If you have decided not to live on campus or were unable to obtain student housing, then you'll have to look at off-campus housing. This can be especially challenging for the many second-year students who do not get a spot on campus and need to transition to off-campus housing. Even if you do apply and get offered a spot, that offer can come pretty late. According to University of Toronto Student Life, depending on availability, offers for a spot campus residence might not come until after the school year begins, putting second-year students in a difficult situation.
However, getting your own off-campus place to live is possible, especially using liv.rent. If you need to get an apartment in Toronto on your own as a student, then here's what you need to know:
Types of accommodation
In Toronto, you can generally find these kinds of accommodation for rent:
Many students opt to split a larger rental with roommates to cut down on costs as well.
Average rent in Toronto
Toronto is one of the most expensive cities in Canada. According to our latest Rent Report, the average cost of rent across the Greater Toronto Area was $1,979 for an unfurnished, one-bedroom unit, and $2,091 for a furnished unit as of August 2022.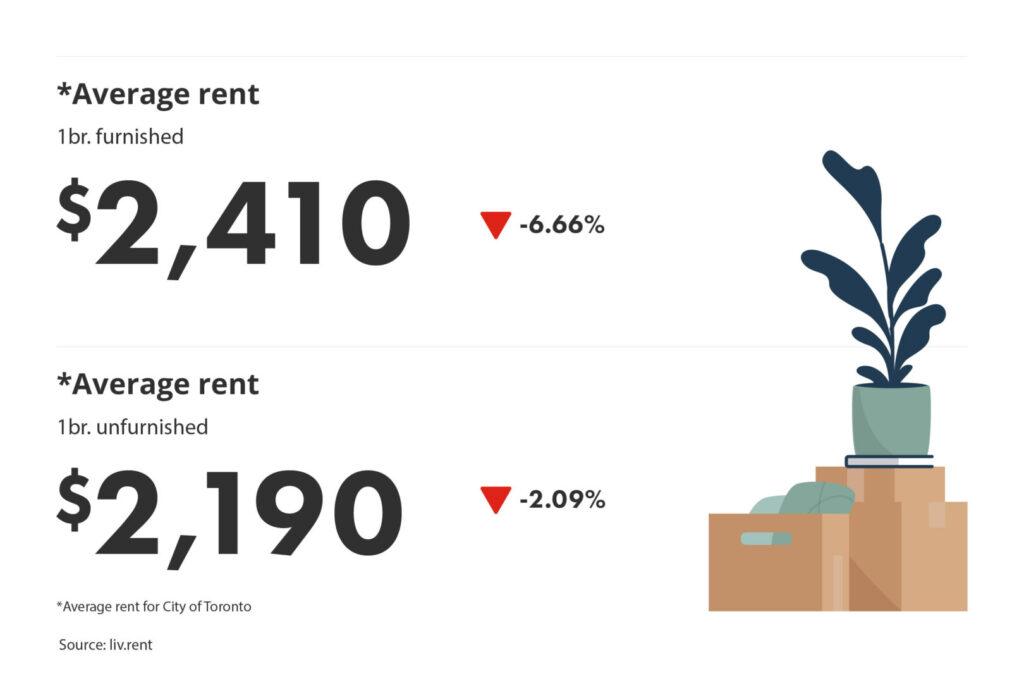 Of course, rent differs from neighbourhood to neighbourhood. The difference between a one-bedroom downtown and one in Brampton can be significant. That's why liv.rent has broken down Toronto's municipalities to provide a more accurate look at rent in each area. See below for average rent prices as of August 2022 – U of T students should pay particular attention to Downtown Toronto, Scarborough, and Mississauga since these areas are where campuses are located.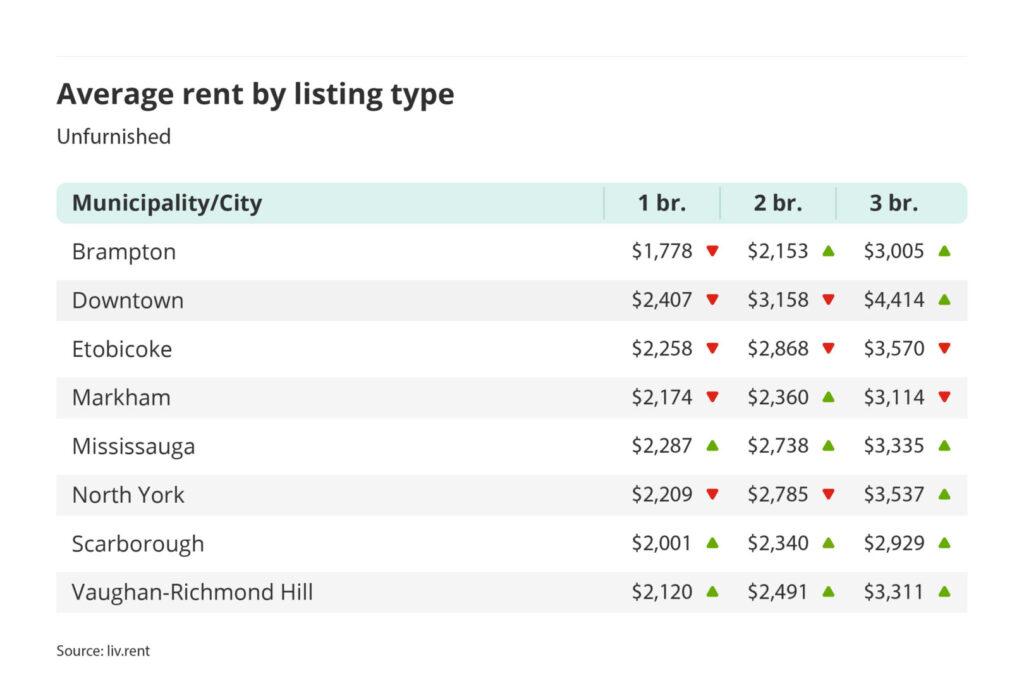 Transit in Toronto
Getting a place as close to campus as possible is important because being a student is hard enough — tacking on a difficult commute can really wear you down.
When you're looking for a place, be sure to keep public transportation options at the top of your wish list. Here are some transit tips for students looking for off-campus housing: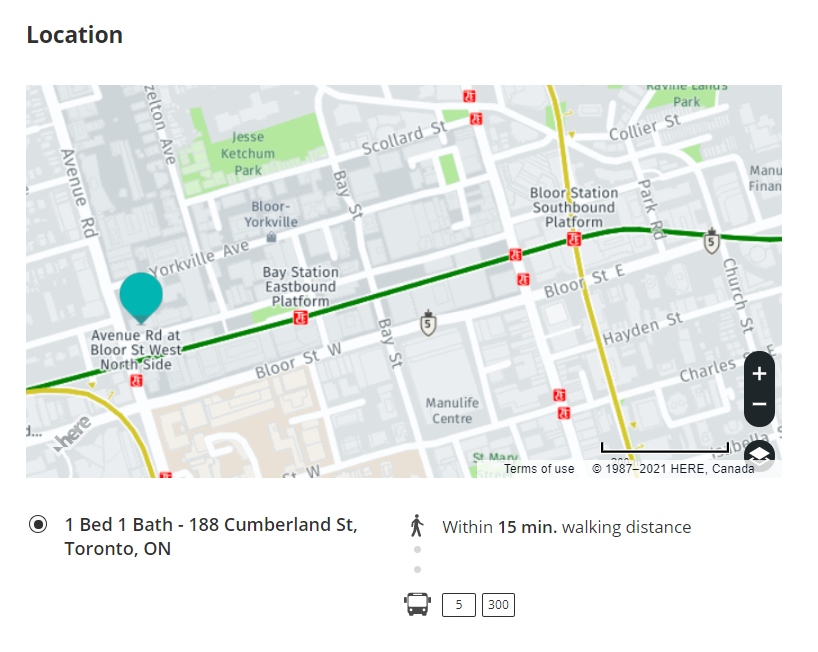 Use liv.rent listings to see how far each unit is from which public transit options
Look for apartments along the subway lines
Ask a landlord what the neighbourhood's public transportation options are like
Neighbourhoods for U of T students
These are the most popular GTA neighbourhoods for students including an estimated commute time to the main St. George campus calculated with Google Maps:
Tips for saving on rent in Toronto
Students who need affordable housing in Toronto, Canada's second-most expensive city, are going to have to be creative. Here are some ways to make living off-campus in Toronto more affordable:
Look for smaller units like bachelor suites and studios
Look at renting further from the city centre but still close to rapid transit
Consider finding a roommate (or two) to bring the cost of rent down
Negotiate the cost of rent with a landlord
Renting near U of T St. George campus
Location
The U of T main campus is St. George in Downtown Toronto. This is the biggest and most central campus, where the majority of students do their studies. The official address for the campus is 27 King's College Circle, Toronto. It's so close to the heart of the city that you can see the iconic CN tower from campus.
Transportation
The Toronto Transit Commission (TTC) runs buses, streetcars, and subways that all connect the campus to the entire city:
There are four subway stops that surround the campus: Spadina, St. George, Museum, and Queen's Park.
Buses and streetcars go along Bloor Street, Spadina Avenue, Harbord Street, College Street, Queen's Park Crescent, Wellesley Street, and Bay Street.
Apartments for rent near U of T St. George campus
Those looking for off-campus housing in or near St. George can find a variety of housing types available.
Renting near U of T Scarborough campus
Location
The University of Toronto's Scarborough campus, also known as UTSC, is about 22 kilometres east of the St. George campus. Its official address is 1265 Military Trail, Scarborough. Scarborough is still in the City of Toronto, although it's a different neighbourhood than Downtown where the St. George campus is.
Transportation
The campus is accessible by public transit thanks to buses run by the TTC. For example, the 198 U of T Scarborough Rocket route has a direct connection between campus and Kennedy Station where you can get the subway.
Apartments for rent near U of T Scarborough campus
Renting near U of T Mississauga campus
Location
The Mississauga campus, also known as UTM, is about 27 kilometres west of the St. George campus. The official address for the campus is 3359 Mississauga Road, Mississauga. Though it's still within the Greater Toronto Area, Mississauga is a separate city from Toronto – although they are right next to each other just a 35 to 45-minute drive apart.
Transportation
Public transportation is provided by MiWay and their bus routes take you around the city and connect to campus. They also link up to the TTC and other neighbouring city transit systems. Plus, shuttle buses run from UTM to the St. George campus.
Apartments for rent near U of T Mississauga campus
Renting tips: how to find & secure off-campus housing
How to avoid rental scams in Toronto
Rental scams are always out there. The best way to protect yourself is by knowing your rights and choosing trusted rental platforms. Here are a few of the most common scams to look out for:
Scam #1 Rent is too low
If the rental rate seems shockingly below the rental average for the city, it could be a fake listing.
Scam #2 Urgent cash demand
Renters don't have to pay for anything until a lease is signed. So, if someone's pressuring you to send cash now, don't do it.
Scam #3 Too much info
Until you're 100% ready to move forward with a lease, you're not obligated to share your bank account or SIN number.
Scam #4 Not enough details
While some smaller landlords may withhold unit numbers for privacy, you should know the exact address of the unit you're looking at. without that info, it could be a scam.
Pro tip: rent from ID-verified landlords on liv.rent to avoid scams.
Be smart with your rental search
Tip #1 Know your needs
Make a list of your priorities – pricing, location, amenities, lease duration, pet policy, etc. Then, use liv.rent filters to narrow your search.
Tip #2 Do your research
Find out the average rent in your target area. It'll arm you with the necessary info to negotiate terms & rates.
Tip #3 Google the property
See if there are any complaints online regarding building management, maintenance, noise, neighbourhood, etc.
Tip #4 Video tours first
If possible, view video tours first. Then, narrow down your selection and book viewings only for places you're seriously considering.
Tips to improve your search
Tip #1 Don't be afraid to check
Have the landlord to demonstrate that all appliances are working – run faucets, check thermostats, flush toilets, turn on stoves, etc. Also, check that cellphone reception is adequate & verify connectivity.
Tip #2 View in daylight
Viewing a home in daylight will give you a better sense of the living space.
Tip #3 Prepare questions
And ask the hard questions (e.g. how much interest have you had for this unit) to uncover info not in the listing.
Stand out when you apply for your rental
Completing your liv.rent profile, or renter's resume, is the easiest way to stand out. You can also go the extra mile and pre-submit your application before your viewing if you're pretty sure you want to rent the unit. By introducing yourself upfront, it shows that you're serious about the unit – leaving a strong impression on your landlord.
Pro tip: on liv.rent, we use Trust Score to rate renters trustworthiness and credibility — it's free for students to get theirs with their profile!
Another way to stand out is by using your renter's story in your renter's resume to give landlords more information about your credit score. As students may not have strong credit histories yet, use this space to provide more context to a landlord to help them trust you.
How to secure a rental before arriving in Canada
International students can rent their off-campus Toronto home from abroad. When you sign up, as part of your profile you can select:
"I don't live in Canada."
and, "I'm a first-time renter."
These profile options give landlords the full picture of you as a renter. It streamlines the rental process and makes it easy to understand why references or a previous Canadian address may appear to be "missing" from your application.
Watch now: How To Rent In Canada
U of T off-campus housing resources
Here are some resources that can help you navigate off-campus housing at U of T:
Use liv.rent to find your off-campus apartment for U of T — helping you save time, stay organized, and stay safe. Our trusted rental platform is perfect for students, no matter which campus you're studying at.
Additional off-campus resources for students
FAQ: U of T off-campus housing
Where do U of T students live off campus?
Since U of T is spread out across three campuses, the most popular off-campus housing for U of T students varies depending on which campus they're primarily attending. This guide should provide an idea of the most popular neighbourhoods for the St. George, Mississauga, and Scarbourough campuses.
You can check out rentals in other neighbourhoods near each campuses using liv.rent's handy map view for Toronto.
How much does it cost to live in residence at U of T?
On-campus residence fees vary by campus and what year you're in. You can learn more about applying for on-campus housing at each U of T campus here.
Can U of T students live off-campus?
Yes! Absolutely. This guide should provide a good overview of what students need to know and where to look for off-campus housing near U of T. Before you start your search, it's important to be aware of the prevalence of rental scams, and take steps to educate yourself on how to avoid them.
One strategy for steering clear of scams is to use a platform that verifies both landlords and listings, like liv.rent. You can read more about our verification processes and how they keep renters safe here.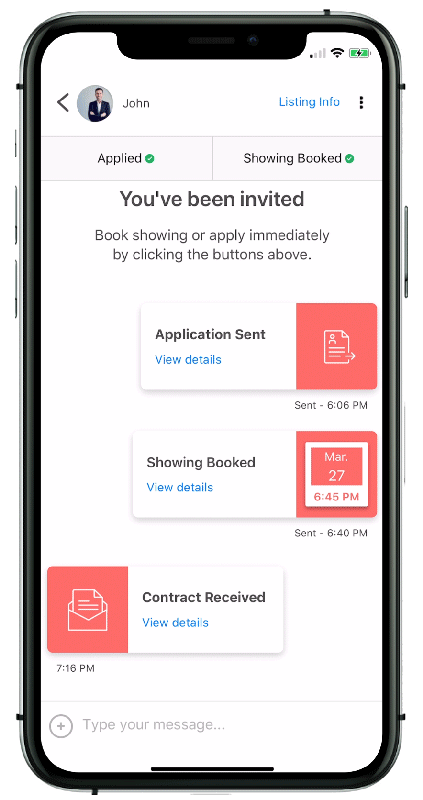 Rethink The Way You Rent
Not on liv.rent yet? Experience the ease of digital applications & contracts, verified tenants & landlords, virtual tours and more – all on one platform. Sign up for free or download the app.
Subscribe to receive the latest tenant & landlord tips and get notified about changes in the Canadian rental market.
>> Stay up-to-date on the average rent in Vancouver, Toronto and Montreal: Rent Reports.
Cover Image Source: Flickr | City of Toronto