It's hard to be a student. There's a lot of pressure, especially during exam times! But add on the fact that you are coming to school from abroad and there's a global pandemic happening? International students are already feeling stress before the Fall 2021 semester even starts.
We're liv.rent and in this constantly shifting COVID-19 landscape, we wanted to create a resource for international students coming to study in Canada this fall to help them navigate.
Our 100% digital rental platform makes it safe and easy to get great rental housing for students before they even arrive in Canada.
In this guide, we'll walk you through the basics of coming to Canada to study this fall as an international student, how to get a home before you arrive, and where to look for the best housing options.
Use the table of contents to jump to where you want to go and we'll get started:
Table of Contents
12 Mistakes To Avoid When Meeting Landlords
Want to win over landlords and secure a rental faster? This checklist will help you avoid the most common renter mistakes.
FAQ: going to Canada as an international student
What are Canada's travel restrictions?
Right now, discretionary (non-essential) travel to Canada is restricted. However, some people are allowed to enter if they have a valid reason, including if you're entering the country to study.
Check the Travel Canada website for more details.

Can international students travel to Canada now?
Yes, international students can travel to Canada. They must follow COVID-19 procedures and guidelines, which may include a hotel stopover and mandatory quarantine. Check both federal and provincial guidelines for more details.

When will Canada open borders for international students?
Even though Canada's borders are "closed" for travellers, they are open to qualified international students. However, students must follow strict COVID-19 protocols and guidelines.
Are international students exempt from the Canadian travel restrictions?
Right now, everyone entering Canada has to have a valid reason, and one approved reason is if you're entering the country to study. However, international students must still follow all COVId-19 protocols and guidelines.
What COVID-19 tests are needed to go to Canada?
People entering Canada during the COVID-19 pandemic must provide documentation of pre-flight testing and do additional testing once they arrive. Your pre-flight test must not be an antigen test.
Check Canada's full list of accepted COVID-19 tests.
What happens after I arrive in Canada during the COVID-19 pandemic?
After you arrive in Canada, you will take a COVID-19 test. Then, you will need to share the details of your quarantine plan, travel to your place of quarantine, and remain there for a minimum of 14 days. There's also an additional "Day 8" COVID-19 test you need to perform, and once that's come back negative and the 14 days are over, you've completed your entry requirements.
Learn more about the COVID-19 travel rules in Canada.
International students coming to Canada during COVID-19
Being an international student requires ensuring you have all your travel, school, and government documents together. Unfortunately, with the COVID-19 pandemic still going on in Canada, there are a few more things that students need to be aware of before they arrive.
Note: the COVID-19 rules and guidelines are always changing. That's why we included a resource section at the end of this article for you to check with the Government of Canada for the latest updates.
Getting a study permit
Even with the pandemic, Canada did not stop providing study permits to international students.
Currently, any applications submitted before May 15, 2021, are being processed. If there are no concerns with the application, they should get approved by August 6, 2021.
However, if there is supplemental documentation required, the application could get delayed. And there is no expected approval date for any applications sent in after May 15, 2021.
Designated learning institutions
Even though Canada's borders have been closed for a long time, international students outside Canada can enter the country to attend a designated learning institution (DLI) if they have been approved for a study permit.
COVID-19 travel rules & guidelines
Even though the rules and guidelines for travel during COVID-19 can be overwhelming, in Canada, it breaks down into three main things you need to know:
COVID-19 testing: there are both pre-entry and arrival COVID-19 tests required to enter Canada.
Quarantine: prove you have a quarantine plan in place where you can isolate for 14 days or more and will be able to have life's basics without leaving the dwelling.
Hotel stopover (air travellers only): book and pay for a three-night "hotel stopover" at a government-authorized hotel before arrival while you wait for your COVID-19 test results.
Exemptions for vaccinated students
COVID-19 vaccinated people travelling to Canada could be eligible for some exemptions to the travel rules and guidelines if they meet requirements after July 6 — or 11:59 p.m. ET on July 5, 2021, to be specific.
Requirements:
Those who meet the requirements may be exempt from quarantine, the hotel stopover, and the day-8 testing requirement.
Note: each province in Canada has their own provincial guidelines about COVID-19 and the return to in-person classes at post-secondary institutions.
How to rent in Canada from abroad
If you get your study permit approved on August 6, 2021, that gives you a month to secure off-campus rental housing.
That's not a lot of time, but if you use liv.rent then you can start your search today and secure a home from anywhere.
We made every step of the rental process digital. That means you can search for listings, view units, chat with landlords, apply, sign your contract, and pay your rent all online and in our app.
Sign up to liv.rent now and complete your profile only when you're ready to apply.
Complete your liv.rent renter profile
We call your profile your "renter resume" because once you fill it out, you can use it to apply to multiple listings to save you time. Once you apply to a place, your information is shared securely with the landlord, who can review your profile, ask you some questions, and send you a lease to sign in-app.
As part of your profile, you can select the "I do not live in Canada" option. This communicates to landlords instantly that you're moving to Canada from abroad and will help them understand why your prior Canadian address is "missing," helping them build trust with you faster.
As a student, this might be your first time renting a home. On your liv.rent profile, you can also select "I'm a first-time renter," so that a landlord can understand why you don't have previous landlord references from Canada.
Note: try to secure a Canadian cell phone number as soon as possible. Having an active local number in advance will help you open utility accounts, bank accounts, and more once you're in Canada.
liv.rent recommends Canadian cell phone service provider, PhoneBox, for the most affordable LTE plans on the market and free shipping of SIM cards anywhere in the world!
Unlock liv.rent exclusive deals and receive even better deals as a liv.rent member. Click here >> Go Phonebox
Apartments for rent in Canada
In Canada, there are a few varieties of rental housing available, from single rooms in shared houses and entire houses to condos and townhomes.
Often, students are on a budget and looking for affordable homes. So renting a studio or one-bedroom on your own is a cheaper option, but so is renting a room in a shared house. On liv.rent, you can search for homes and filter them by price or rental type, making it easy to narrow down your search.
Although we have listings across Canada, we pulled listings and links for our three major cities where international students often go to study:
Apartments for rent in Vancouver
If you're going to Vancouver, B.C. for your studies, it's more important than ever to understand the local rental market averages. That way, you can empower yourself to make decisions that work for you and your budget.
Historically, Vancouver is not an affordable place to call home and has recently even taken the top spot as the most expensive city to rent in Vancouver.
Still, it's a breathtaking city and home to many exciting educational institutions like The University of British Columbia, Simon Fraser University, and Emily Carr University of Art + Design.
Learn more about Vancouver's distinct neighbourhoods:
Apartments for rent in Toronto
Living in the Greater Toronto Area (GTA) is a popular choice for many newcomers to Canada. There are lots of great schools in Toronto and beyond. And, if you're living in Downtown Toronto, then it can feel like you're a part of the country's urban centre.
If you have questions about renting in Ontario, we have answers. Check out our series Applying For A Rental In Ontario:
Apartments for rent in Montreal
Montreal is an affordable Canadian city for renters, especially compared to the high prices in Vancouver and Toronto. The French and English-speaking city is home to many of the country's finest schools like McGill and Concordia.
Resources for international students in Canada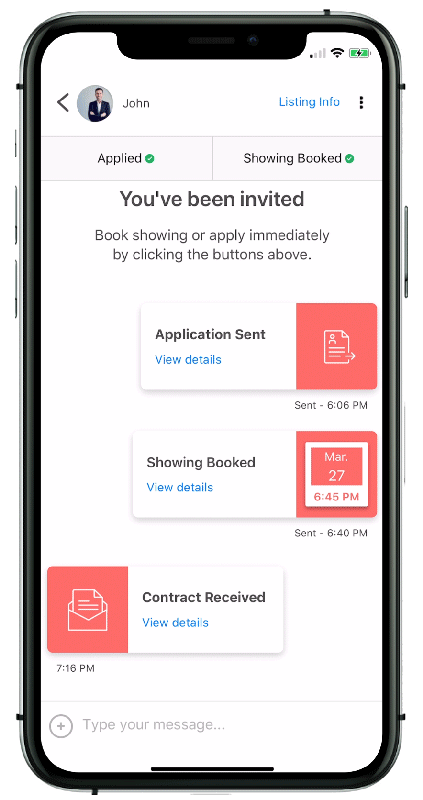 Rethink The Way You Rent
Not on liv.rent yet? Experience the ease of digital applications & contracts, verified tenants & landlords, virtual tours and more – all on one platform. Sign up for free or download the app.
Subscribe to receive the latest tenant & landlord tips and get notified about changes in the Canadian rental market.
>> Stay up-to-date on the average rent in Vancouver, Toronto and Montreal: Rent Reports