Canada is our home. We take pride in its natural beauty, vibrant cities, and its stable democracy. In addition, our universities and other learning institutions are highly regarded globally. All these factors combine to attract a steady stream of students from around the world who add to the vitality and character of our country.
If you are considering beginning, or continuing, your studies in Canada, there are many factors to consider before choosing the city in which to pursue your education. This is especially important given that 60% of international students (Source: Canadian Bureau for International Education) aspire to stay in Canada after their studies are completed, and, chances are, you will settle in the city you are studying and making friendships and connections.
In this article, we explore the top Canadian cities for studying considering the colleges and universities, diversity, safety, transportation and the cost of living in each place. Taken together, this information will help guide your decision making.
Top 5 Canadian Cities for Studying
Jump ahead to the city section below:
Canadian City Comparison
Below is a city by city comparison of rents, tuition, transit and job prospects in each of Canada's top 5 cities for studying.
Toronto
Students love living in Canada's biggest city. Vibrant and multi-cultural, it is easy to see why Toronto attracts droves of international students. Not only is it home to Canada's highest-ranked university, University of Toronto, it is also home to some of Canada's best art galleries and museums (Art Gallery of Ontario, Royal Ontario Museum), world-class restaurants, music venues, the CN Tower, and of course, the 2019 NBA Champions, Toronto Raptors. There are plenty of diversions to give you a break from your studies!
And OCXEE has plenty of student accommodations in Toronto, as well. They also have a pick up
Toronto Universities
Toronto is home to some of Canada's very best universities and colleges. All the ones below, except for York, are located in Toronto's downtown core. York University is just north of the city and easily accessible by transit.
Working in Toronto
As Canada's biggest city, many of Canada's head offices are located here. In addition, Toronto boasts a vibrant start up culture, spurring innovation and entrepreneurism. The job market is strong and can provide students with extensive opportunities for part-time, co-op/intern, or full time employment. For suitable student employment, be sure to check company websites, university job boards or job boards like:

SimplyHired
Indeed
Once you've completed your studies and have chosen to pursue a career in Toronto, there are countless options. Toronto is home to many head offices including most Canadian banks and large Canadian telecoms.
Living in Toronto
Though Toronto is Canada's most expensive city, it offers students a wide variety of housing options. However, if you'd like to live centrally, the average rent for a one bedroom, unfurnished apartment on liv.rent is $1,737.
Thankfully, the entire Greater Toronto Area is well-served by a vast transit system of buses, streetcars (trams), subway, and commuter rail and a monthly pass can be obtained for $156. Thus, living in cheaper areas further from the downtown core, is a viable option. For detailed information on the cost of rentals around the Toronto area, see our October 2020 Toronto Rent Report here.
Vancouver
Vancouver is renowned for its natural beauty, cultural diversity, and work/life balance. It is also Canada's gateway to the Pacific attracting newcomers and students from all over Asia, many of whom come to study at the city's globally recognized universities and colleges. When in Vancouver, do not miss a chance to visit one of the world's top city parks, Stanley Park, Vancouver Art Gallery, Kitsilano Beach or North Vancouver's Grouse Mountain and Capilano Suspension Bridge.
Vancouver Universities
Source: University Canada, Times Higher Education
For details on how to apply to schools in Canada as an international student, jump to this section.
Working in Vancouver
Vancouver has established itself as a tech hub attracting the attention and presence of tech heavy hitters like Microsoft, Sony Pictures Imageworks, Apple and Amazon alongside homegrown firms like Hootsuite and biotech investor favourite, Stemcell Technologies. Vancouver's highly skilled talent pool and number of educational institutions are often sited as key reasons for this burgeoning tech ecosystem. In addition to tech, Vancouver is also home base for global retail giants Lululemon and Aritzia.
For students, there are plenty of part-time and coop job opportunities (indeed, simplyhired) and a broad variety of career opportunities upon graduation.
Living in Vancouver
Whether you enjoy internationally acclaimed restaurants, hiking up a mountain, or SUP-ing at sunset, Vancouver can accommodate. Bordered by mountains and the Pacific Ocean, Vancouver is a nature-lover's dream with enough city energy to appeal to almost everyone else. This perfect lifestyle comes at a cost though; Vancouver housing is expensive. A one bedroom, unfurnished apartment will cost $1,693 on average.
Montreal
Montreal is a thriving, dynamic city that marries North American conveniences with the old world charm of Europe. Historic brick and limestone buildings line lively streets filled with restaurants and bars. The city's arts and culture scene is arguably Canada's most innovative and dynamic and it is the only truly bilingual city in Canada with residents effortlessly switching from English to French or vice versa. It is also home to newcomers from a myriad of countries, many from francophone places in Europe, Africa, and the Middle East. Be sure to visit Mount Royal Park in the city centre for bucolic scenery and perfect views of Montreal. The Notre Dame Basilica, Montreal Museum of Fine Arts, and the Biodôme Nature Centre are other must-sees.
Montreal Universities
Source: University Canada, Times Higher Education
For details on how to apply to schools in Canada as an international student, jump to this section.
Working in Montreal
Montreal is Canada's university capital with 11 academic institutions and 70 colleges providing a rich and diverse pool of talent – a key reason Montreal boasts a rich ecosystem for innovation and technology. Long a tech hub, Montreal is home to a concentration of firms focussed on AI, big data, and visual effects who recruit directly from the universities. Moreover, its strategic proximity to both North American and European markets and a favourable tax climate make it an attractive location for many international companies. For part time student employment be sure to look for opportunities on job boards like:
indeed
simplyhired
Living in Montreal
Montreal is Canada's most affordable big city with beautiful options ranging from modern high rises to historic single-family homes and row houses. If you'd like to live centrally, the average rent for a one-bedroom, unfurnished apartment on liv.rent is $1,338 – significantly more affordable than Toronto or Vancouver.
It is also well served by an expansive subway and bus system which is particularly affordable for university students; with valid student i.d., a monthly pass is only $53!
Ottawa
Ottawa is Canada's capital – a charming, mid-sized city featuring the grand architecture of our national parliament buildings, the park-lined Rideau canal which freezes over in the winter to ice skaters' delight, and numerous national galleries including the National Gallery of Canada, Canadian Museum of History and Canada's War Museum. It is a 2-3 hour train ride away from Toronto and Montreal for those seeking the excitement of a bigger city once in a while.
Ottawa Universities
Source: University Canada, Times Higher Education
For details on how to apply to schools in Canada as an international student, jump to this section.
Working in Ottawa
Ottawa has enjoyed a booming tech sector for decades. Today is no exception. For example, Wall Street darling and e-commerce powerhouse, Shopify, has grown exponentially in recent years and is headquartered in Ottawa. Known for their amazing culture and quality of employee, Shopify offers new graduates diverse career opportunities. In addition, tech firms like Adobe Corporation, Alcatel, Rewind and Welbi are also based in Ottawa and hire throughout the year. The Canadian Federal government is another reliable source for employment opportunities so checking Government of Canada job boards regularly is recommended. For part time work as a student, check university job boards as well as indeed, wowjobs and other job boards.
Living in Ottawa
Thankfully, Ottawa's downtown core is relatively small and walkable. For students, there are plenty of well-priced housing options located centrally near the university campuses.
Edmonton
Edmonton is the provincial capital of Alberta. Located in the glorious North Saskatchewan River valley, it is a culturally diverse, affordable mid-sized city, well-suited to international students. Visit the Royal Alberta Museum or the Art Gallery of Alberta for spectacular traditional and immersive exhibits or take in the majesty of the roaming plains bison at Elk Island National Park. And as one of Canada's northernmost cities, you may witness the glory of the Aurora Borealis during the winter months.
Edmonton Universities
Source: University Canada, Times Higher Education
For details on how to apply to schools in Canada as an international student, jump to this section.
Working in Edmonton
Edmonton has a healthy economy despite troubles in the oil and gas industry. The city and provincial governments posts regular opportunities as do big private sector companies like construction giant Stuart Olson Inc. or Suncor Energy. For part time and full time employment, check job boards like:
Alberta Job Centre
indeed
workopolis
Living in Edmonton
Located on the boundary between the prairies and the boreal forest, Edmonton features a beautiful and diverse landscape. The city is divided into a few shopping and entertainment centres such as South Edmonton Common, Whyte Avenue, West Edmonton Mall, and Jasper Avenue and residents rely a lot on cars but transit is reliable and affordable. Living in Edmonton is also affordable with unfurnished, one-bedroom rents averaging $1,000 – far below the other university cities discussed in this article.
Applying to Schools in Canada as an International Student
1. Pick the Right School
You must select a Designated Learning Institution (DLI). Immigration and Citizenship Canada (CIC) provides a list of schools that have been approved by a provincial government to host international students. Students can choose their DLIs based on price, reputation, available courses, acceptance rates, location, language requirements, the opportunity to work during your studies, and the possibility of applying for a Post Graduation Work Permit (PGWP) afterward.
The PGWP enables students to work in Canada after graduation and apply the knowledge & skills they've just acquired. There are a number of eligibility requirements that must be met but this is an opportunity worth pursuing.
2. Pass a Language Proficiency Test and Apply to Universities
Once you have chosen the DLI that meets your education needs, contact the institution directly (via email, contact form or phone) or through a student exchange agency and apply for the course/program you desire. Be aware of application deadlines.
** Typically, application deadlines for fall and summer semester enrolment range from mid-November of the previous year to mid-January of year of your desired start. Verify with your target universities.**
To complete your application, you will be required to provide previous certificates and diplomas, language proficiency test results, resume, cover letter, interviews, personal documents such as ID and passport, proof of funds or financial support, health insurance etc. depending on the institution.
3. Wait for your Letter of Acceptance (LOA)
Once accepted, the DLI provides an LOA. This is an official document required to apply for a Study Permit in Canada as outlined on the CIC website. Note that a study permit is NOT a visa. A visitor or student visa is also required.
4. Apply for a Study and Work Permit
If the college or university you are attending allows you to work as well as study, apply for both a study and work permits. Remember, not all Designated Learning Institutes offer international students the opportunity to work. In general, to be eligible you can:
Be enrolled in a co-op program, that allows you to work part-time while studying and full time during the co-op period.
Work off-campus as an international student if you are enrolled post-secondary academic, vocational or professional training program and you are in a program that leads to a degree, diploma or certificate and that is at least 6 months long.
The visa application is extensive and highly detailed. You must provide numerous documents including the Letter of Acceptance, your passport, employment information (in your country), letter of intent, financial statements, assets etc. Check the CIC website for all requirements.
Once approved, you will receive your permits in your country and can finally book your flight and pack your suitcases.
For Married or Common-law Applicants
If you are married and your partner wants to join you in Canada, there are a couple of options they can pursue if they want to work here while you study.
1) They can apply for a visa called an Open Work Permit which allows them to work full time provided spouse is enrolled in a DLI. However, not all institutions allow your partner to get an Open Work Permit so do your research. The application process is quite similar to the visa applications already discussed with financial evidence being particularly important.
2) IEC Work Holiday Visa – Under this International Experience Canada program, your spouse may be able to apply for a work holiday visa. Canada has agreements with over 30 countries and foreign territories to make it easier for 18-35 year olds to work and travel in Canada gaining invaluable international work and life experience!
Just keep in mind, this all takes time. It likely takes about 3 months to organize all of this but, to be on the safe side, start the process 6 months before you want to come to Canada!
Looking for a place to stay? If you're extra organized, make sure you take a look at accommodation in advance to find your perfect home. liv.rent has hundreds of apartments for rent near schools in Vancouver, which you can view and apply for online.
Study Permit Extensions
Be sure to apply for an extension to your permit at least 30 days before it expires making sure your passport doesn't expire at the same time. Your passport MUST be valid to qualify for an extension. If you apply in time, you will be legally permitted to stay in Canada under the same conditions as your current study permit until a decision is made on your extension request.
Study in Canada
Whichever city you choose to study in, you are assured an exciting, rewarding educational and life experience. Canada is the ideal destination for international students looking to expand their horizons, sharpen their English language skills and experience student life in a welcoming, safe, tolerant, multi-cultural country.
---

For more options to help you find student housing, try OCXEE.
OCXEE Ltd is a world leading marketplace offering services to international students who desire to complete their overseas education in a foreign country. From accommodation and forex to SIM cards and furniture rentals, we provide guidance and assistance to foreign students. Our only aim is to help students away from home in a foreign country and to make their stay hassle free. All they need to do is focus on their studies – we will take care of the rest! With our experienced and expert team, OCXEE is reputed, reliable, and the largest leading marketplace for providing comprehensive student services. With our global presence we are able to help international students study abroad at the University or College they wish without worrying about the stress and hassle of moving abroad.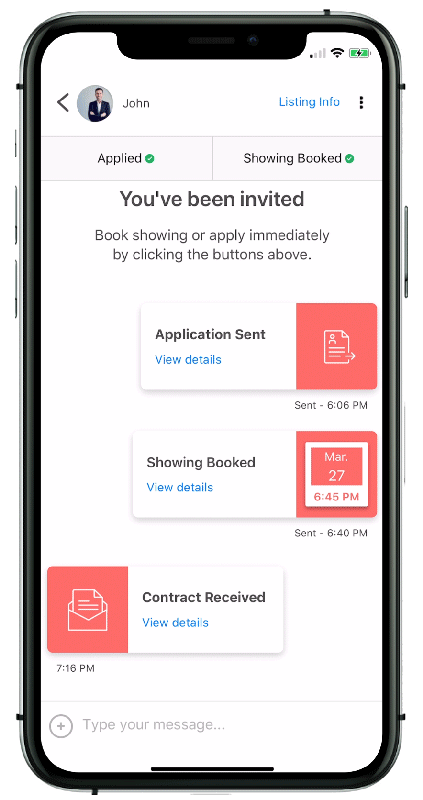 Rethink The Way You Rent
Not on liv.rent yet? Experience the ease of digital applications & contracts, verified tenants & landlords, virtual tours and more – all on one platform. Sign up for free or download the app.
Subscribe to receive the latest tenant & landlord tips and get notified about changes in the Canadian rental market.
>> Stay up-to-date on the average rent in Vancouver, Toronto and Montreal: Rent Reports.