During the COVID-19 pandemic, the way we conduct almost all aspects of our everyday life has changed. New protocols around socializing and sanitizing have re-shaped the way we work, shop, visit friends, and secure a rental. We reached out to a liv.rent tenant, Rosemarie Delos Santos to ask her a few questions about her rental experience during the pandemic.

Jump ahead to her experience:
Tell us a little about your family
We're a family of 4 from Dubai, originally from the Philippines. We received our Canadian Permanent Residency this year and we decided to make the big move. We're excited for the change of environment and look forward to starting our new life in this beautiful country! Thanks to liv.rent, we were able to easily find a place that we can call home.
Finding a Rental during COVID-19
Renting during COVID-19 can be a daunting task as COVID-related protocols around the residential renting process continue to evolve and change regularly. Hence, we asked Rosemarie to share her own experience navigating these ever-changing regulations and restrictions.
How did you start your search for a rental? Did it differ because of the pandemic?
Before I discovered liv.rent, I searched on platforms such as Craigslist, Padmapper, and Kijiji simultaneously. Regardless of the pandemic, this was how I would begin my search.
How did liv.rent compare to the other platforms you used?
The best thing about liv.rent is the Verified Listings; this is something I noticed during my first search and since then I've used liv.rent exclusively. It is also what sets liv.rent apart from the other platforms.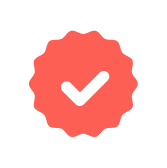 I appreciated the fact that each listing had a verified stamp and that the real estate agents, property managers and landlords were also verified. This way, you can view their profile and company, along with some background research, to ensure their legitimacy.
Because of this, I knew I could trust the listings on the liv.rent platform. This was especially important as my biggest concern was being "scammed" while searching for a place overseas and because I knew nothing about renting in Canada.
What are your favourite liv.rent features?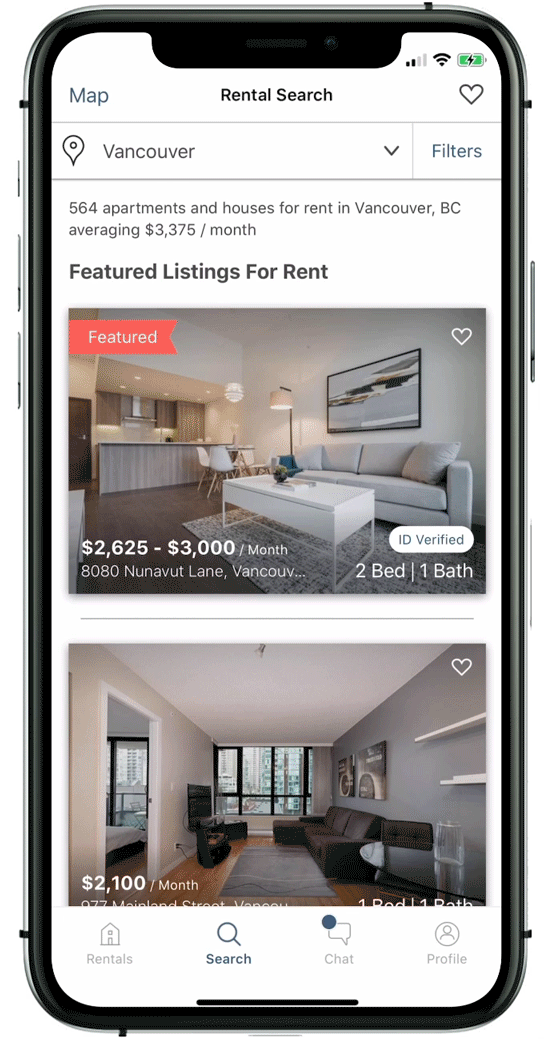 In addition to the Verified Listings, my three other favourite platform features are:
Search/Filters – allowed me to use different criteria and to browse through listings in both the list and map view
Video Tours – helped us narrow down our favourite listings
Live Chat – I appreciated being able to chat with liv.rent agents, who helped me keep track of all my inquiries
I also enjoyed liv.rent's blog. It covered topics such as renting during COVID, and the monthly rent reports which outlined different rental price levels in Metro Vancouver. These articles were extremely useful, so I started using liv.rent for their rental resources on top of finding a place to live.
Rental Communication during COVID-19
Keeping open and clear communications during these uncertain times is crucial. While landlords, property managers, and renters continue to limit physical interactions, many are turning to digital tools to carry on communication. Here are some tips and tools that Rosemarie shared with us to effectively communicate with landlords and property managers during COVID-19.
What was your main communication tool? Email? Text? Phone? Chat?
I relied heavily on the chat and email functions of liv.rent's app to communicate with landlords and property managers.
Which avenue of communication was most effective for you?
The chat feature was most effective for me because landlords were very responsive.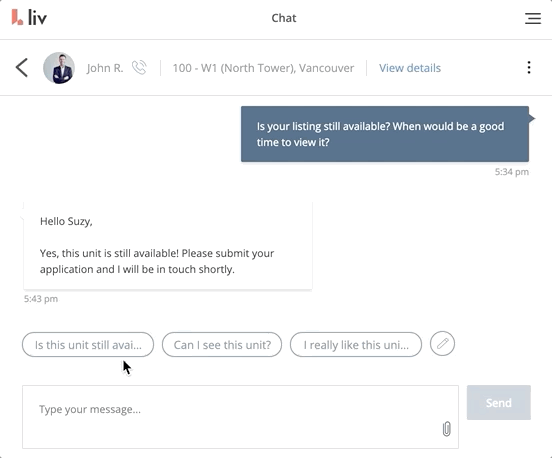 Viewing Rentals during COVID-19
The rules and regulations for in-person viewings differ across the world, leaving many landlords and property managers to limit to virtual showings. We asked Rosemarie to share some of her insights on viewing rentals during the pandemic.
How did you choose a property?
When looking for a place, I took into consideration the price, location and amenities/features. I liked that most of the listings on liv.rent were detailed and included a list of all the amenities for both the unit and building itself. The video tours included in certain listings also helped us to narrow down our favourite listings.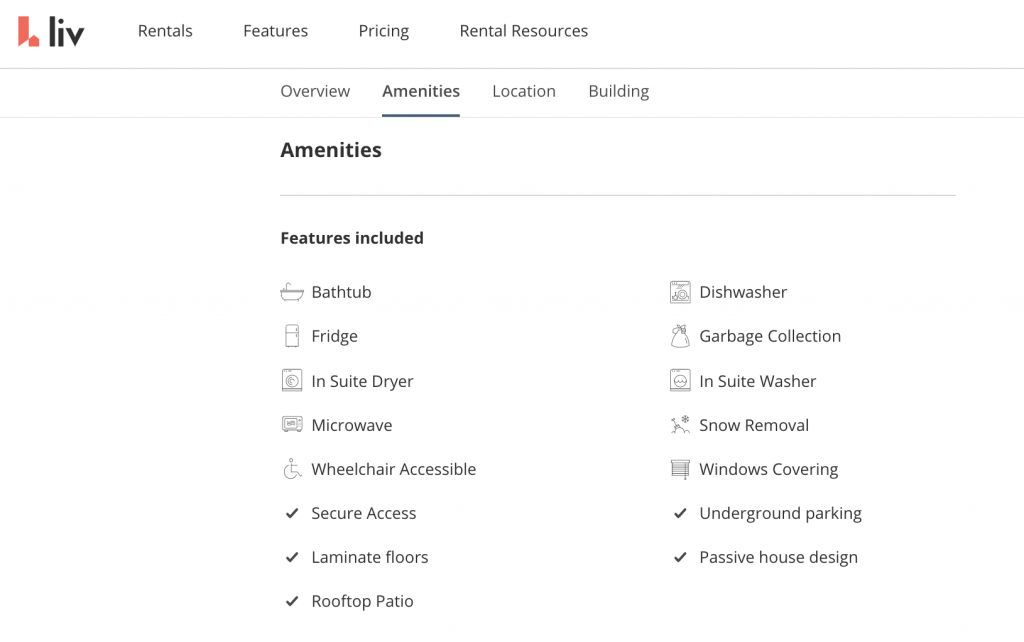 Did you arrange a viewing?
Yes, we arranged an in-depth virtual tour with the Real Estate Agent through video call.
Did you view any rentals in person? If so, how was that experience during the pandemic?
No, we didn't view the properties in person. We chose the rental based solely on chats with the realtor and his virtual tour of the rental.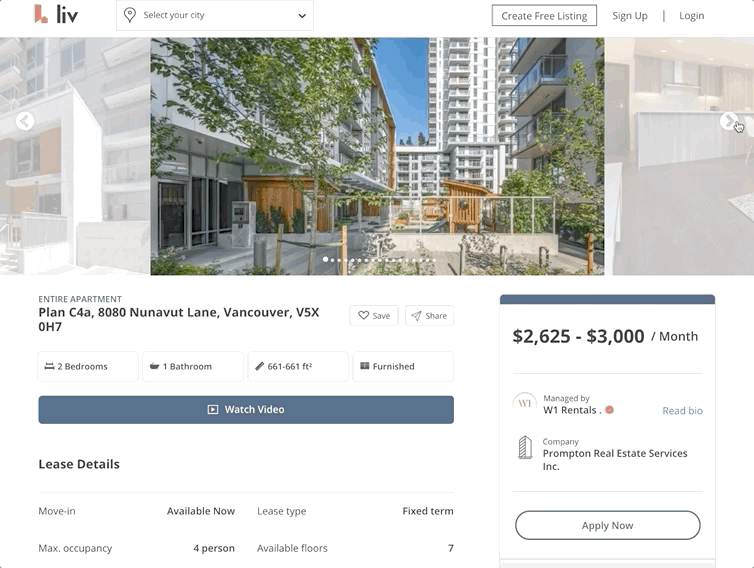 Applying for a Rental during COVID-19
When it comes to the application process, most rental and real estate regulations advise renters and landlords to consider digital applications to limit in-person meetings. Rosemarie explained her experience on applying for a rental during COVID-19.

How many rental applications did you have to complete and submit?
We completed and submitted 2 rental applications.
How did liv.rent simplify the application process for you?
We only had to fill out our renter profile once and used it to apply to multiple listings. Also, liv.rent made it easy with verified listings, helpful agents, and the simple and easy chat application which allowed for smooth communication.
liv.rent's blog provided us with lots of resources which was useful for first time renters. For example, the article BC Tenancy Act Explained outlined what should be included in a tenancy contract.
Signing Contracts during COVID-19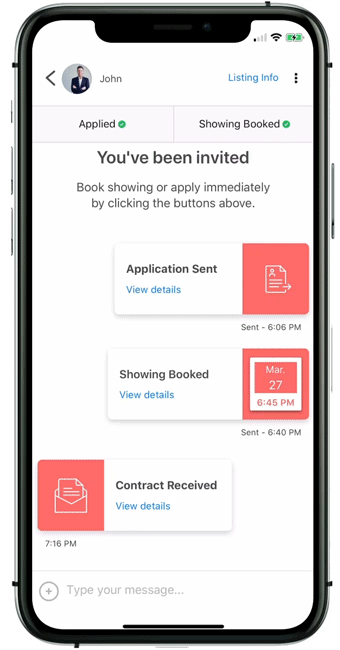 Last on the agenda of securing a rental is signing the Tenancy Agreement. Similar to the application process, many rental regulations advise Renters and Landlords to use digital methods.
Thankfully, with liv.rent you can simply sign and send a pre-loaded Tenancy Agreement directly through the platform. This helps to limit additional in-person meetings with Landlords and Property Managers.
Access all 6 pages of your BC Standard Residential Tenancy Agreement with pre-loaded information and customizable digital Addendums. It's all ready for you to review, sign, and send while abroad or maintaining a safe social distance. 
---
For more tips on moving during a pandemic, check out our article on Tips for Moving During COVID-19. And find more COVID-19 related resources here:
---
Not on liv.rent yet? Experience verified listings, digital applications and contracts, and more – all on one platform. Click here to sign up now or download the app to get the full digital rental experience
Follow us on Instagram and Facebook for monthly rental stats, feature updates, and other up-to-date rental info.