At a glance
Average monthly rent in Montreal has fallen by $31 this December, to $1,524 for an unfurnished, one-bedroom unit.
The average monthly rent for an unfurnished, one-bedroom unit in The Plateau-Mont-Royal fell -9.13% this month.
It costs $519 more to rent an unfurnished, one-bedroom unit in Downtown than in Hochelaga-Maisonneuve.
Looking for our full December 2022 Montreal Rent Report? Download your copy here to get all the latest insights, including a detailed breakdown by neighbourhood.
Montreal's rent prices have held relatively steady throughout the ups and downs of the latter half of 2022, hovering right around the $1,500 range. This December, average rental rates for an unfurnished, one-bedroom unit have declined by $31, bringing the monthly average to $1,524. Compared to Metro Vancouver and Toronto, which are finally seeing aggregate declines after months of steady increases, Montreal renters & landlords have enjoyed much greater consistency amid Canada's rising interest rates.
You can get the latest updates on the Montreal rental market straight to your inbox when you subscribe to keep on top of the trends.
This monthly rent report complete with liv.rent data and information collected from top listing sites shows the most accurate reflection of the true cost of rent in Montreal. Download and read the full report below to learn more.
Jump to the following Rent Report sections:
Average rent across Montreal
Let's start by taking a closer look at rental trends over the past six months for an unfurnished one-bedroom apartment in Montreal. This December, average prices have dropped by $31 from November's yearly high. This is consistent with what we're used to seeing during the slower winter renting months, and mirrors similar trends in both Metro Vancouver and Toronto.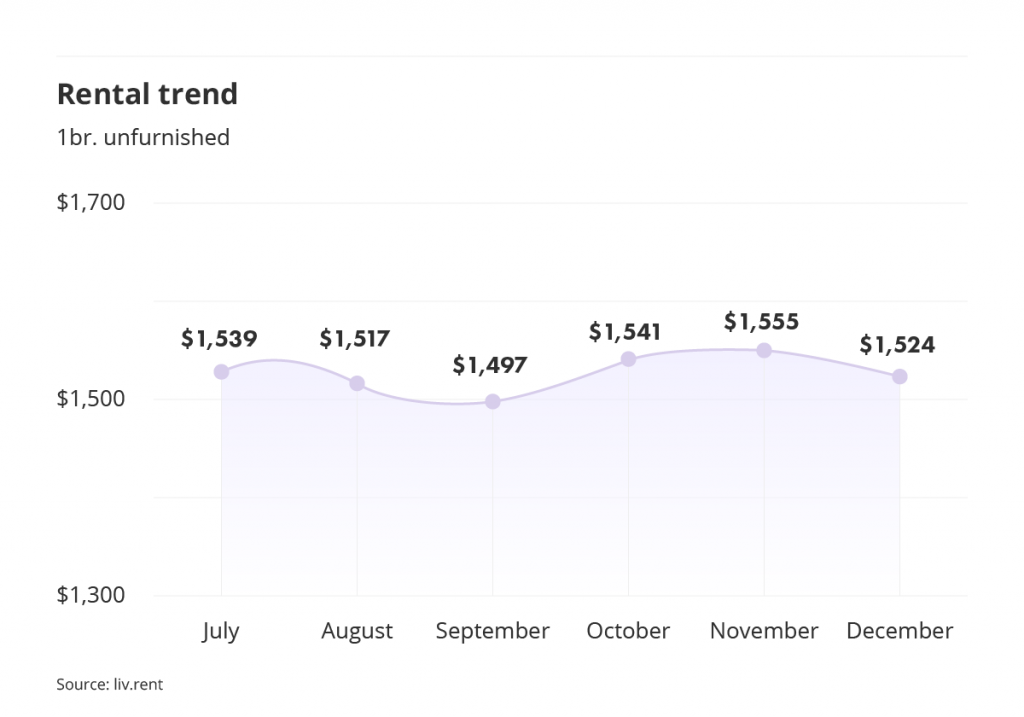 Is your rental priced competitively?
Find out with a free rent estimate. Our team of rental experts will calculate your unit's true value based on your listing details & current market trends.
Month-to-month rent change
Across Montreal's individual neighbourhoods, both furnished and unfurnished units saw some large changes in average rent prices this December.
For unfurnished units, Villeray-Parc-Extension (+13.16%) saw the largest month-to-month increase, followed by Ahuntsic-Cartierville (+7.43%) and Saint Henri (+6.41%). The most significant declines occurred in Saint-Laurent (-9.38%), The Plateau-Mont-Royal (-9.13%), and Hochelaga-Maisonneuve (-7.34%), while in Downtown, prices likewise fell by -7.19%.
Furnished units also saw some significant shifts this month. Most notably, prices in Côte-des-Neiges fell -20.09%, while in Villeray-Parc-Extension, prices also fell by -11.09%. Ahuntsic Cartierville saw the largest month-to-month price increase, at +8.31%.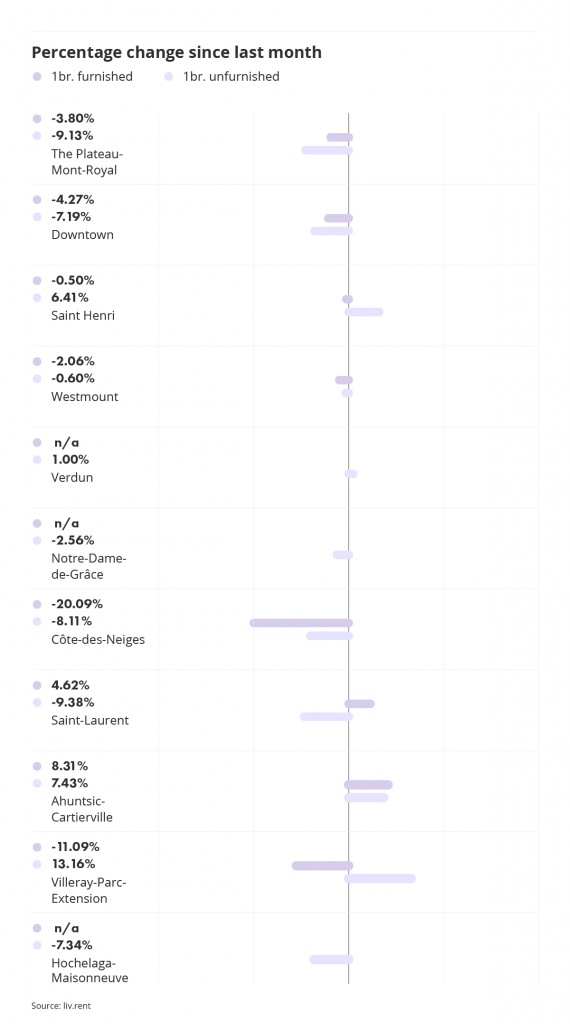 Montreal unfurnished vs. furnished rent averages
Furnished units were once again more expensive than unfurnished ones in Montreal this December. As of this month, furnished units now rent for an average of $69 more than unfurnished ones. This shows that landlords can still earn a slightly higher profit by renting out a furnished unit, and can also attract different renter demographics such as students and those looking for short-term rentals. For renters, you will still typically see some savings if you are able to bring your own furniture.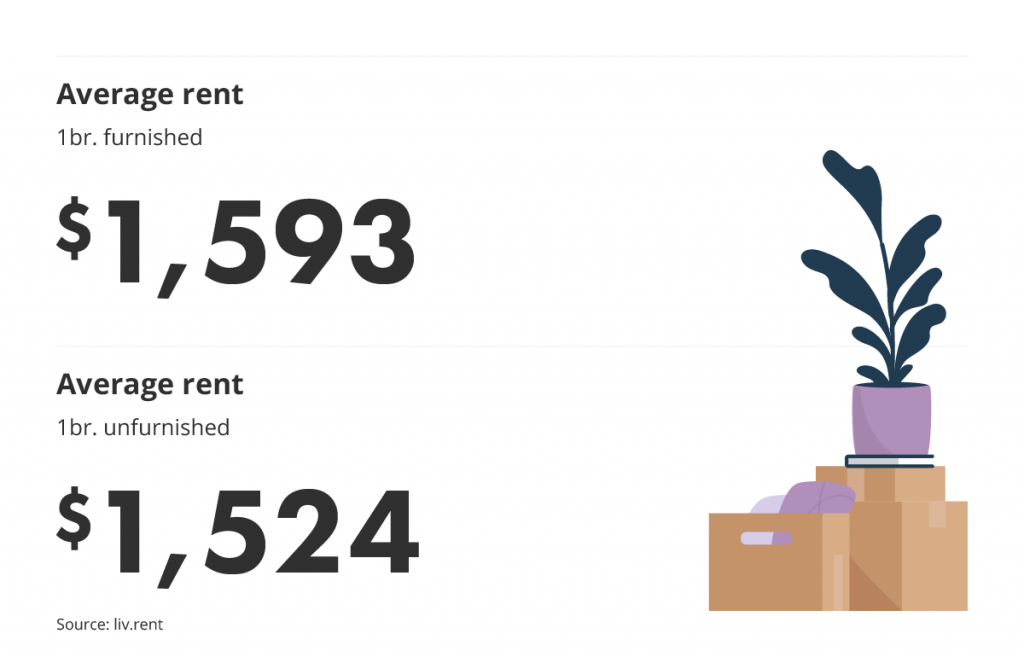 Neighbourhood breakdown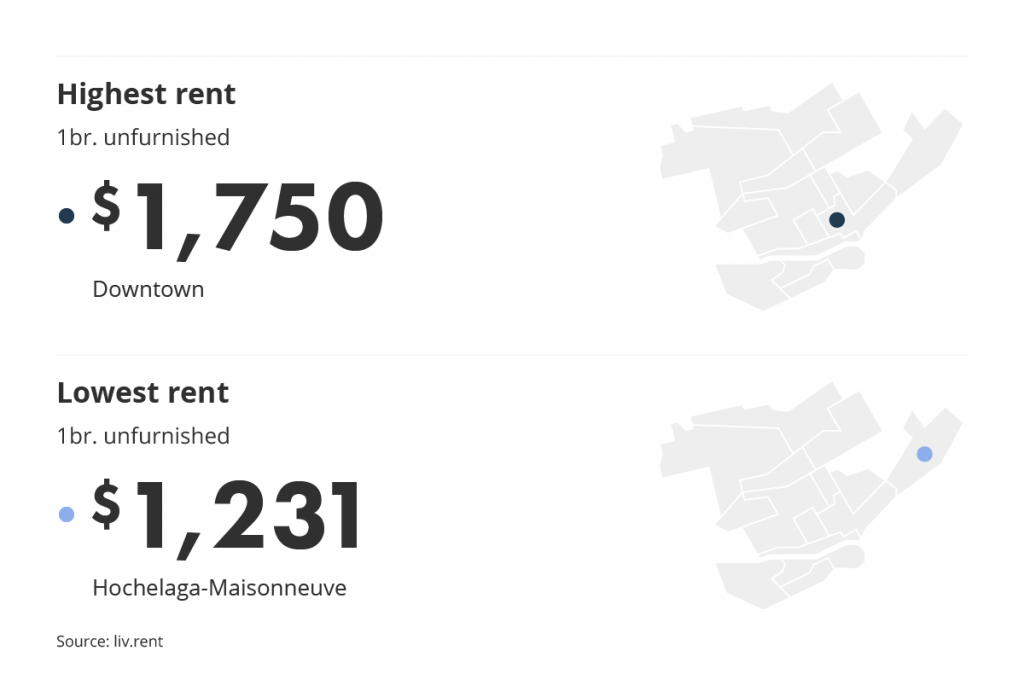 Montreal's most and least expensive neighbourhoods had very different average rent prices this month. This December, Hochelaga-Maisonneuve has become Montreal's least expensive neighbourhood to rent in at an average of $1,231 per month for an unfurnished, one-bedroom unit, while Downtown remains its most expensive at $1,750 — a $519 difference.
Let's take a closer look at the different listing types to see the differences in one, two, and three-bedroom rental rates across each area.
Downtown had the most expensive two- and three-bedroom furnished units this December.
Saint-Laurent had the cheapest one- and two-bedroom furnished units this month.
The most expensive unfurnished, three-bedroom units were found in Westmount this month.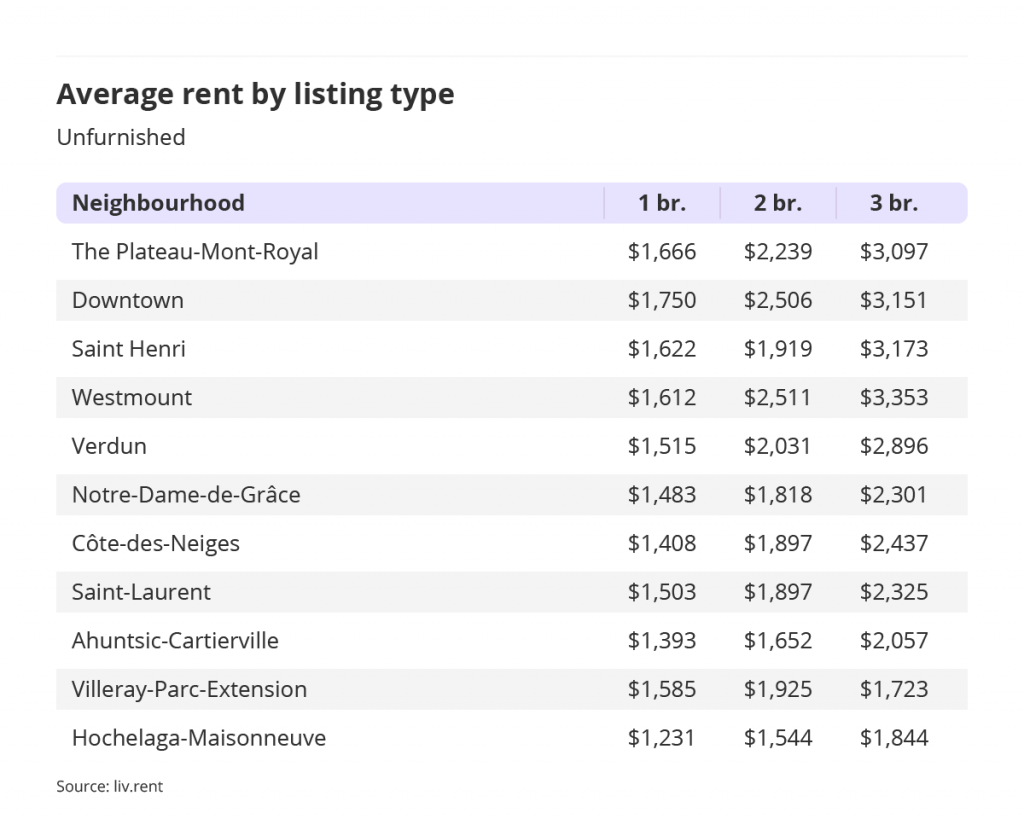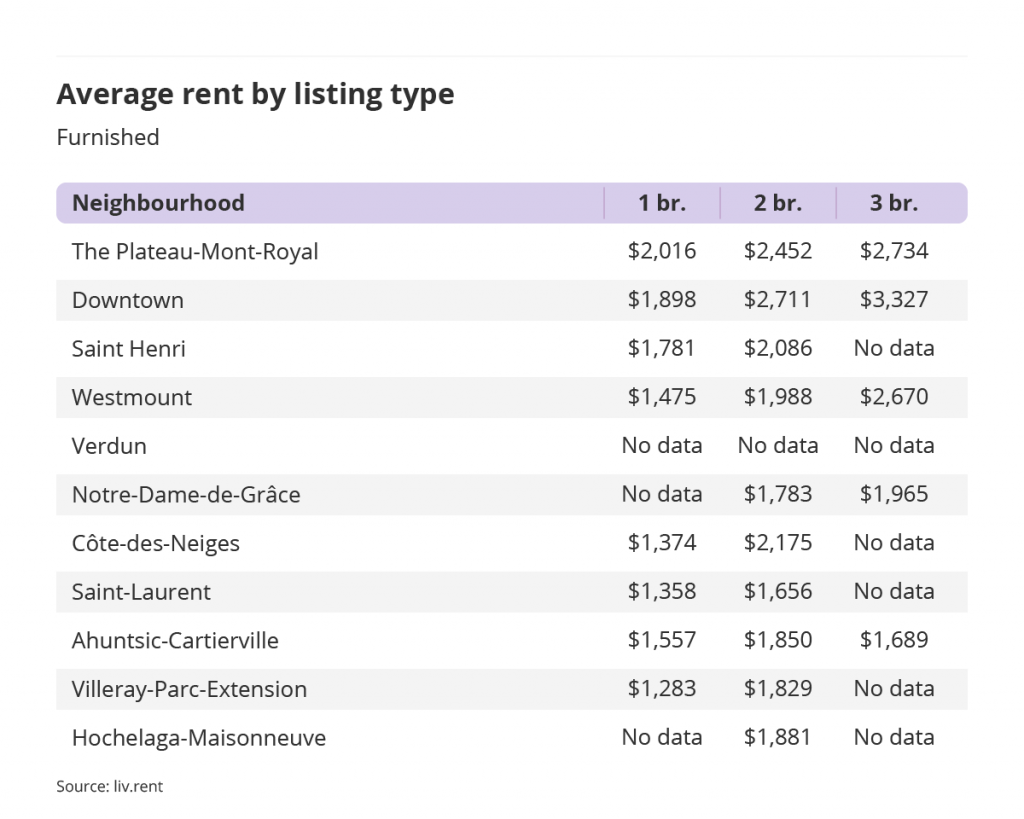 Is your rental priced competitively?
Find out with a free rent estimate. Our team of rental experts will calculate your unit's true value based on your listing details & current market trends.
---
Be sure to subscribe to our mailing list so you never miss an update on the Montreal rental market.

Downloadable Resources
Strike up a conversation at your next Zoom call and show off the latest rental averages with our custom virtual backgrounds.

Looking for the full report? Download it for free here.
Data collection methodology
Our monthly rent reports use data from our own liv.rent listings, as well as data our team manually collects from other popular listing sites. For our Vancouver and Toronto Rent Reports, we look at Craigslist, Kijiji, Zumper, PadMapper, and Realtor.ca – as well as our own listings. For Montreal, we use PadMapper, Centris, and DuProprio, looking at available basement suites, apartments, condos, townhouses, semi-detached houses, and single-detached houses for each area.
When collecting this data, we do exclude luxury properties listed at over $5,000, as well as rooms for rent and shared accommodation. Investing in manual data collection means that we only consider the current month's listing, since we can filter out duplicate listings and older ads that haven't been removed.
Another key difference between our data collection methods and some government agencies like the CMHC is that we only include current asking rent prices. Many official reports will include data for entire buildings in their reports, which tends to skew numbers lower since many units are already occupied, and may be rent-controlled or rented for significantly lower than the current rates.
As we are a Canadian rental platform founded and based in Vancouver, we want to ensure that we're providing a completely accurate depiction of the rental market in the cities we look at.
---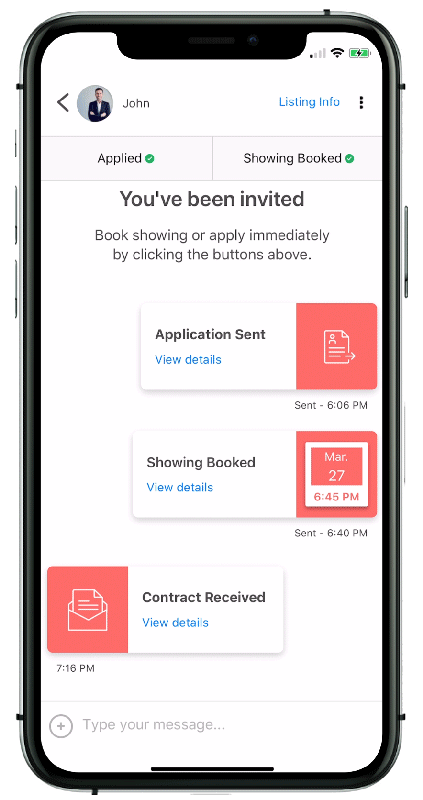 Rethink The Way You Rent
Not on liv.rent yet? Experience the ease of digital applications & contracts, verified tenants & landlords, virtual tours and more – all on one platform. Sign up for free or download the app.
Subscribe to receive these monthly updates on the Vancouver rental market. Discover last month's Rent Reports below:
November 2022 Metro Vancouver Rent Report
November 2022 Toronto Rent Report
November 2022 Calgary & Edmonton Rent Report
November 2022 Montreal Rent Report