Landlords, Rental Resources
[Updated October 26, 2022] Rising interest rates and rental properties: what landlords need to know
Inflation and the corresponding rise in interest rates are on nearly every Canadian's mind right now. Practically everywhere one looks, there's talk about the far-reaching consequences of these important financial indicators – but how will these seismic shifts affect landlords and real estate investors? Those who own rental properties will certainly feel the impact of Canada's rising interest rates, in a number of important ways. We're already seeing rent prices climb higher as landlords adapt to higher mortgage rates, house prices, and other factors – but this is only part of the story. Today, liv.rent will be walking you through exactly what an increase in interest rates means for Canadian landlords, in terms of the overnight rate, mortgage rates, home sale prices, and more.
Note: This post has been updated to address the October 26, 2022 announcement from the Bank of Canada.
Table of Contents
Do you want to get your listing rented out faster?
From posting and advertising to screening and signing a contract, find out how you can get your listing rented out faster – in as little as 7 days.
What is inflation?
Inflation is a hot topic at the moment, but what does the word actually refer to, and what are its tangible effects? In the most basic terms, inflation refers to the gradual rise in the price of goods and services over time – or more specifically, the decrease in purchasing power of a currency. This is typically seen as an aggregate measure of the general cost of living, which results in a slowdown of economic growth since individuals have less money to spend on non-essential goods.
At present, Canada's inflation rate stands at 6.9% for September 2022, compared to 7.6% in July. For context, The Bank of Canada strives to maintain a 2% inflation rate each year as part of its mandate. This sharp increase has led to, and is the result of, a number of factors. For one, gas prices are up as much as 48% in the past year, with grocery bills increasing by 9.7%. In terms of real estate, inflation also has some bearing, leading to generally higher housing prices across the board, although it isn't the only factor driving Canada's currently sky-high housing prices.
What do interest rates represent?
The majority of Canadians are already familiar with interest rates in their daily lives, but it's important to clarify for the purposes of this article. Broadly speaking, interest rates are the amount that a lender charges a borrower over time, generally expressed as a percentage of the principle loan. On a federal scale, there are two primary interest rates that individuals, and homeowners in particular, should be concerned with: the overnight rate, and the prime rate. The former is set by The Bank of Canada itself, while individual banks determine their own prime rate. Here's a brief explanation of each:
Overnight rate
The overnight rate is set by a country's central bank and is an indicator of the rate each individual bank will set, since they'll need to cover this rate while still earning a profit overall. When The Bank of Canada raises the overnight rate, it becomes more expensive for banks to borrow money and those costs get passed onto borrowers through higher prime rates.
Prime rate
The prime rate represents the base interest rate that a bank will lend money for in order to cover the overnight rate, as well as account for its own operating costs. This does not mean that this rate is the actual rate that customers will be offered since individual clients can receive discounts based on a variety of factors.
How interest rates relate to inflation
Interest rates are fundamentally tied to inflation since the former is one of the main methods used by countries' central banks to control the economy. Higher interest rates can be seen as encouraging saving while discouraging borrowing and spending, while lower interest rates are more amenable to higher levels of spending. In response to high interest rates, businesses will typically increase the price of their products more slowly, or even lower them to encourage more spending. Similar effects can be seen in the real estate market. As would be expected, high interest rates make qualifying for mortgages harder, thereby lowering demand which gradually causes home prices to fall accordingly.
It makes sense then that during periods of high inflation, central banks would want to raise interest rates in order to lower prices over time. This is essentially what we're collectively witnessing now – albeit on a larger scale than we've seen in recent memory. Still, it's important to keep in mind that these changes are always temporary as markets tend to stabilize in due time.
Interest rates and rental properties: what landlords need to know
As interest rates rise, Canadian landlords will likely feel the impact in a variety of ways. Rent prices are expected to continue rising as landlords need to charge more in order to break even on their investment, which may actually result in more profits for those who have either paid off their rental properties in full, or have fixed-rate mortgages at a lower rate. Another unexpected consequence of higher federal interest rates is that there will be an increased demand for rentals in many markets, since fewer potential homebuyers will be able to afford the higher stress tests and monthly mortgage payments.
To give landlords a better sense of what these interest rate hikes will mean, let's look at three areas where many landlords will notice changes: mortgage rates, credit card interest rates, and savings accounts.
Mortgage rates
To properly explain how mortgage rates relate to inflation and rising interest rates, it's first important to differentiate between fixed-rate and variable-rate mortgages. If you're a landlord, you'll likely already be familiar with these two terms and how they differ. Just in case though, let's quickly look at the differences in each and how each will be affected by recent events.
Fixed-rate mortgages
Fixed-rate mortgages are a type of mortgage that charges a set interest rate throughout the lifetime of the loan. For those who already own property with a fixed-rate mortgage, good news – you won't be seeing any difference in your mortgage payments, regardless of how much interest rates increase in the coming months. In fact, this is one of the main reasons why homeowners opt for fixed-rate mortgages, since they offer far more certainty during periods of higher inflation.
On the other hand, if you're looking to purchase a property in the near future, be aware that it becomes much harder to qualify for fixed-rate mortgages in particular when interest rates are high. This is because payments will be higher if you're mortgaging a new home during these periods, so stress tests (also known as qualification rate) will be more difficult. Currently, The Bank of Canada's qualification rate is set at 5.25%, although most homebuyers will secure a rate of 3.25% or above, which means that they'll be stress-tested at their rate plus 2%.
Variable-rate mortgages
Variable-rate mortgages are where landlords and homeowners are likely to experience higher monthly payments in the coming months and years. Since by definition the interest rate isn't fixed, variable-rate mortgages are liable to rise during periods of inflation when prime interest rates increase.
Credit card interest rates
For landlords who use credit cards to finance day-to-day expenses for their rental properties, be prepared to see higher monthly bills as federal interest rates continue to rise. Since merchants such as credit card companies will also experience higher interest rates as banks adjust to inflation, this will be passed on to individual customers as well to accommodate the increase.
Savings accounts
It isn't all bad news, though – one byproduct of higher federal interest rates is a corresponding rise in interest rates for saving accounts. This means that it's a good time to stash money in savings accounts as banks hike rates, since your money will earn more interest on its own over time. Still, if inflation continues at its current level, this money still won't go as far over time.
What's next for Canada's interest rates?
It's difficult to predict exactly where Canada's interest rates will land by the end of the year, but it's safe to say that they will continue to go up. On July 13, the Bank of Canada increased its target for the overnight rate by 100 basis points, or 1.00%, exceeding the expectations of many who predicted a 75 base point hike. A further 75-point increase was made on September 7, which amounts to another 0.75% added to the target overnight rate.
Again on October 26, the Bank of Canada added another 50 basis points to their target overnight rate – meaning that at present, Canada's target overnight rate stands at 3.75%, with one more rate hike expected before year's end. It remains to be seen how high rates will go before the end of the year and into next – though the Bank of Canada has already warned that higher interest rates are likely on the way to help curb inflation.
As we've mentioned though, this certainly isn't all bad news for landlords. For those who already own a rental property, expect to see higher demand and higher average rent prices as interest rates rise. The decline in new homebuyers, combined with a variety of other factors such as busy renting season, relaxing travel and immigration restrictions and more will likely spur significant growth in the country's main rental markets. Particularly for those with existing fixed-rate mortgages, your property is likely to earn you more profit than ever in the coming year. Those looking to buy a home, on the other hand, might have trouble breaking into the market with stress tests more difficult than ever.
How liv.rent helps landlords
In times of economic uncertainty, it's more important than ever for landlords to rent their units quickly and safely in order to avoid vacancies and costly tenant-related issues. Using liv.rent, landlords can rent their unit in as little as 7 days from listing to signing, with digital solutions for every step of the rental process. Finding qualified tenants is a breeze with marketing and rental management features like listing sharing to Craigslist, Kijiji, and Facebook Marketplace, and tenant screening with the Trust Score – powered by Equifax® credit reports. With this all-in-one rental platform, landlords and property managers can fill vacancies faster with verified tenants.
Resources for landlords
Here are some additional resources for landlords and investors looking to better understand the recent rise in interest rates and the resulting effects. For more tips and advice on how to rent out your property safely and quickly, be sure to check out liv.rent's blog.
For landlords whose mortgage payments have or will be affected by rising interest rates, it's important to price your unit correctly in order to keep your rental property profitable. If you're considering increasing the rent, be aware that each province has a maximum allowable rent increase. For 2023, Ontario has set this limit at 2.5%, while B.C. has outlined a 2% maximum rent increase guideline.
Here are some additional resources related to rent prices and increases:
---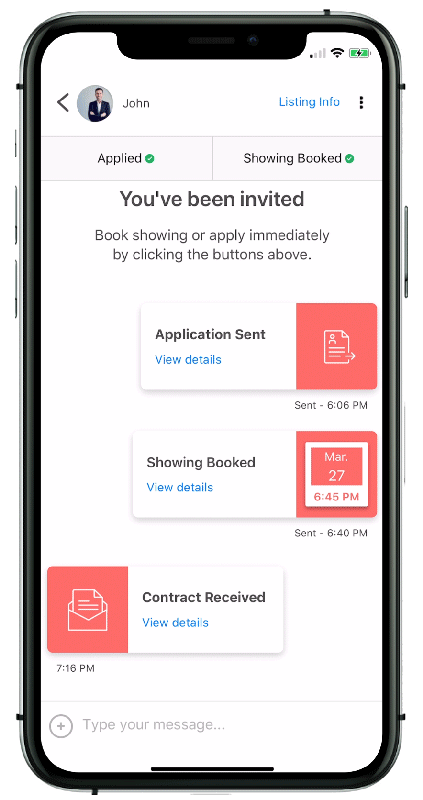 Rethink The Way You Rent
Not on liv.rent yet? Experience the ease of digital applications & contracts, verified tenants & landlords, virtual tours and more – all on one platform. Sign up for free or download the app.
Subscribe to receive the latest tenant & landlord tips and get notified about changes in the Canadian rental market.
>> Stay up-to-date on the average rent in Vancouver, Toronto and Montreal: Rent Reports