The University of Waterloo welcomes over 40,000 students each year, almost all of whom will live off-campus at some point during their studies. As such, the city of Waterloo and nearby Kitchener have developed a reputation as being student towns – with plenty of rental housing for those attending UW and the many other post-secondary schools in the area. With so many options out there, it can be hard for University of Waterloo students to choose where to start their off-campus housing search. To aid in your rental housing hunt, liv.rent has done the research for you and compiled it in this guide, alongside some tips and resources for finding your perfect home.
Table of Contents
Rent your perfect home with liv.rent
Search houses, rooms, condos and apartments for rent. Chat instantly with verified landlords. Apply to multiple listings. Save your chat history & signed documents all on one platform.
University of Waterloo off-campus housing overview
Types of accomodation
The Waterloo Region of Ontario includes Waterloo and Kitchener, which are often referred to as the 'Twin Cities', as well as Cambridge and a few smaller townships. For the purpose of this post, we'll be focusing on Waterloo itself and nearby Kitchener, since these cities are in close proximity to the University of Waterloo campus. Here are some quick links for different unit types in the Kitchener-Waterloo area to help you start your search:
Looking for a place to share
If you're looking for a room in a shared space that's perfect for students, then your first place to look should be liv.rent's listings. You can use the map tool to find a place that's close to campus and use the search filter "Room" under "Housing Type" to look at all the available places in the area.
Looking for a roommate
Students living off-campus at the University of Waterloo who are looking for roommates can post their available rooms for rent on liv.rent for free. Plus, the 100% digital platform means that you can connect with a roommate entirely online, even before you arrive to Waterloo. The University of Waterloo has their own guide for finding and living with roommates, as well as some resources for students – you can find that here.
Average rent in Waterloo, Ontario
Here's a quick overview of rent prices near the University of Waterloo, looking at one-, two-, and three-bedroom units that are both unfurnished and furnished. Note that these numbers are taken from our latest data for Kitchener, not Waterloo, but their close proximity to one another means that rent prices will be very similar to what students will see in Waterloo. For the latest numbers and data for other Ontario cities and municipalities, be sure to check out our latest rent report.
| | | |
| --- | --- | --- |
| | Unfurnished | Furnished |
| 1 Bedroom | $1,697 | $1,946 |
| 2 Bedrooms | $2,079 | $2,249 |
| 3 Bedrooms | $2,559 | $2,916 |
Transit in Waterloo
The University of Waterloo is right in the middle of the city of Waterloo, and is also close to the city's border with Kitchener – which make it easily accessible from all parts of the region. Referred to as the Grand River Transit (GRT) system connects Waterloo with Cambridge and Kitchener, and consists of a variety of bus routes, as well as the ION light rail line between Kitchener and Waterloo. The ION light rail has 19 stops, and each connects to a GRT bus route, which makes it incredibly easy to get to campus from practically anywhere along the line. The bus routes that University of Waterloo students will typically use the most are the #13, #19, #29, and #202. For more information on Waterloo's local transit system, you can check out this resource from UW here.
Tips for saving on rent in Waterloo
While Waterloo and Kitchener's average rent prices are much more budget-friendly than larger cities like Toronto, it never hurts to know how to save a bit of money on your monthly rent. Here are a few quick tips and guides for making your rent cheaper and getting the most out of your annual tax return as a renter.
Tip #1: Negotiate your rent – Knowing when and how to negotiate your rent is a great way to help save yourself some cash each month. Be aware of the time of year and keep track of the average rental rates in your area.
Tip #2: Look for places with rental incentives – Rental incentives are a great way to get more for your monthly rent. Especially if you're renting during the off-season, landlords may be willing to offer things like included parking, a free month's rent, or other incentives to help you save on expenses.
Tip #3: Boost your tax return – There are a number of benefits, deductions, and helpful tips renters can take advantage of to get a bigger tax refund. Don't forget to include these on your annual return!
Best neighbourhoods for rent near the University of Waterloo
There are plenty of great neighbourhoods offering excellent student housing near the University of Waterloo, each offering its own unique appeal depending on what you're looking for. Here, we'll be breaking down some of the most popular areas for UW students who are looking for affordable, convenient properties for rent in Waterloo and nearby cities.
Westmount
Westmount is an exceedingly popular neighbourhood amongst students, professionals, and families of all ages for its proximity to both Waterloo and Kitchener. Located on Waterloo's west end, Westmount is a prestigious community with a mix of smaller war-time bungalows, and larger estates befitting the area's prestige.
Types of accommodation in Westmount
Students will mainly find rooms for rent in this elite neighbourhood, although there are typically some whole homes for rent as well.
Average monthly rent in Westmount
Studio apartment – N/A
One-bedroom unit – $1,545
Two-bedroom unit – $1,788
Three-bedroom unit – N/A
Source: Zumper
Transportation in Westmount
Estimated commute to campus: 15-25 minutes
Yet another perk of living in Westmount is its proximity to campus, as well as to a variety of shopping, restaurants, and amenities. The 5 bus will be your best means of getting to campus and can get students there in about 15-20 minutes with minimal walking. Speaking of, walking to campus only takes about 30-40 minutes, and driving is a mere 5 minutes.
Westmount amenities
Many are drawn to Westmount for its unique mix of amenities for all ages. The area is famous for its exclusive Golf & Country Club, but there's plenty for students too, from a variety of grocery stores and markets, nearby Victoria Park, Victoria Hills Community Centre, and even a hospital should you ever need it.
University Downs
Every large Canadian post-secondary school has its main student neighbourhood, and University Downs is the closest Waterloo gets. Not just for students though, this diverse community is popular amongst young families and adult students attending school. There's always plenty going on in the bustling neighbourhood, and renters should expect to find a vibrant and welcoming community.
Types of accommodation in University Downs
There's a bit of everything on offer in University Downs, but the majority of rental housing is geared towards the many students who call the neighbourhood home. Older bungalows and semi-detached homes, as well as larger apartment buildings and single-family homes are all prevalent within University Downs.
Average rent in University Downs
Studio apartment – N/A
One-bedroom unit – $1,706
Two-bedroom unit – $2,174
Three-bedroom unit – N/A
Source: Zumper
Transportation in University Downs
Estimated commute to campus: 25-35 minutes
Though it has "University" in its name, University Downs is actually further from campus than one might suspect. Still, there are plenty of bus routes to the University of Waterloo, like the 29 and 202, and it's only about a 10-minute drive for those with a car.
University Downs Amenities
For mature students with families, University Downs is well-recognized across town for its schools. The area also has a tight-knit community feel with organized events like the 'Party in the Park' each summer, as well as a community ice rink and lots of trails close by.
Sunnydale
Another of Waterloo's most popular neighbourhoods amongst students, Sunnydale's close proximity to campus has made it a hotbed for student rentals. Though it once held a less than perfect reputation, the area has seen renewed development interest in more recent times with plenty of new housing developments in the area.
Types of accommodation in Sunnydale
The majority of rental housing in Sunnydale are newer townhomes that have been built in the last 10-15 years, but there are also a lot of war-time single-family homes and semi-detached homes in the neighbourhood as well.
Average rent in Sunnydale
Studio apartment – $1,278
One-bedroom unit – $1,773
Two-bedroom unit – $1,800
Three-bedroom unit – $2,135
Source: Zumper
Transportation in Sunnydale
Estimated commute to campus: 5-20 minutes
One of Sunnydale's main selling points is how easy it is for renters to get to campus from the neighbourhood. Driving, it's only a brisk 2-3 minutes to the University of Waterloo, and the 9 bus can get students to campus in about 20 minutes.
Sunnydale amenities
Sunnydale has its own community centre in the heart of the neighbourhood, and Sugarbush Park is near the area as well. The diverse neighbourhood is also known amongst students for being home to Onkar Food & Spices – a popular destination offering Indian food at student-friendly prices.
Eastbridge
On the northeast corner of Waterloo is Eastbridge, a quaint, family-friendly neighbourhood that has lots to offer students as well. It may look like one of the furthest neighbourhoods from the University of Waterloo on this list, but you'd never know it thanks to the area's excellent transit both around and out of the city. For students looking for housing outside of Waterloo-Kitchener's more urban areas without sacrificing convenience, Eastbridge may be the perfect option.
Types of accommodation in Eastbridge
Newly-built homes and smaller condo buildings constructed since 2000 are most common within the lively Eastbridge neighbourhood, though the area does have a bit of everything.
Average rent in Eastbridge
Studio apartment – $1,278
One-bedroom unit – $1,773
Two-bedroom unit – $1,800
Three-bedroom unit – $2,135
Source: Zumper
Transportation in Eastbridge
Estimated commute to campus: 10-15 minutes
One of Eastbridge's most desirable qualities, particularly amongst students, is its excellent public transit. University of Waterloo students can reach campus in just 15 minutes via the 31 bus, while driving takes about 10 minutes.
Eastbridge amenities
In spite of its quaint atmosphere and quiet streets, there's lots for students to do in Eastbridge as well. Conestoga Mall is easily accessible with all sorts of shopping, as well as RIM Park – a newer facility with multiple skating rinks, soccer fields, and basketball courts in one convenient location.
Downtown Kitchener
University of Waterloo students also have the luxury of living in the significantly larger city of Kitchener, since it's so close to Waterloo. Downtown Kitchener is an excellent option for those seeking a more urban locale to call home during their studies. The bustling downtown core is a foodie's paradise, with plenty of new restaurants in addition to its thriving arts & culture scene and abundant shopping.
Types of accommodation in Downtown Kitchener
Since it's much more densely populated than many of the neighbourhoods listed here, Downtown Kitchener is mostly filled with apartment and condo buildings, though there are some older detached homes just outside the downtown core.
Average rent in Downtown Kitchener
Studio apartment – $1,627
One-bedroom unit – $1,650
Two-bedroom unit – $1,920
Three-bedroom unit – $2,315
Source: Zumper
Transportation in Downtown Kitchener
Estimated commute to campus: 20-30 minutes
Downtown Kitchener is surprisingly accessible from the University of Waterloo. The neighbourhood is only about a 10-15 minute drive, and the 301 train takes you directly to campus in about 25-30 minutes.
Downtown Kitchener amenities
Restaurants, nightlife, plentiful shopping – Downtown Kitchener has all the hallmarks of a thriving urban centre. There are plenty of seasonal events, and residents can easily access the surrounding areas of Kitchener as well as Waterloo thanks to excellent transit throughout the area.
Parkside
An exciting new residential community in Waterloo, the burgeoning Parkside neighbourhood is located just west of the University of Waterloo and offers easy access to campus and a safe, welcoming community. Parkside is less a clearly defined neighbourhood than an assortment of newer mid-rise and high-rise condo communities centred along Parkside Drive, but nonetheless, the area is emerging as a prime destination for the many students that call Waterloo home.
Types of accommodation in Parkside
The Parkside community mainly consists of mid- and high-rise condo buildings along Waterloo's Parkside Drive. Students can find a variety of one-, two- and three-bedroom apartments and walk-ups with new development activity beginning as well.
Average rent in Parkside
Studio apartment – $1,278
One-bedroom unit – $1,773
Two-bedroom unit – $1,800
Three-bedroom unit – $2,135
Source: Zumper
Transportation in Parkside
Estimated commute to campus: 10-20 minutes
Parkside's premier location has made it popular among students and working professionals for its proximity to the rest of Waterloo and Kitchener. Getting to the University of Waterloo campus only takes 3-5 minutes by car, 30-40 minutes walking, or 15-20 minutes by way of the 9 bus.
Parkside amenities
In addition to its convenient location, Parkside is a nature lover's dream with the Waterloop Trail nearby, as well as the Albert McCormick Community Centre and Sugarbush Park within walking distance of the neighbourhood.
Tips on how to find & secure off-campus rental housing
How to avoid rental scams
No matter where you're looking for housing, rental scams are an unfortunate reality – particularly in areas with lots of students and renters searching from abroad. Thankfully, there are some easy ways to protect yourself when renting online. Know your rights as a renter and use a trusted rental platform. Here are some of the most common scams to look out for:
Scam #1 Rent is too low
If the rental rate seems shockingly below the rental average for the city, it could be a fake listing.
Scam #2 Urgent cash demand
Renters don't have to pay for anything until a lease is signed. So, if someone's pressuring you to send cash now, don't do it.
Scam #3 Too much info
Until you're 100% ready to move forward with a lease, you're not obligated to share your bank account or SIN number.
Scam #4 Not enough details
While some smaller landlords may withhold unit numbers for privacy, you should know the exact address of the unit you're looking at. without that info, it could be a scam.
Pro tip: rent from ID-verified landlords on liv.rent to avoid scams.
Be smart with your rental search
Tip #1 Know your needs
Make a list of your priorities: pricing, location, amenities, lease duration, pet policy, and so on. Use liv.rent filters to narrow your search.
Tip #2 Do your research
Find out the average rent in your target area. It'll arm you with the necessary info to negotiate terms & rates.
Tip #3 Google the property
See if there are any complaints online regarding building management, maintenance, noise, neighbourhood, etc.
Tip #4 Video tours first
If possible, view video tours first. Then, narrow down your selection and book viewings only for places you're seriously considering.
Tips to improve your search
Tip #1 Don't be afraid to check
Have the landlord demonstrate that all appliances are working – run faucets, check thermostats, flush toilets, turn on stoves, etc. Also, check cellphone reception.
Tip #2 View in daylight
Viewing a home in daylight will give you a better sense of the living space.
Tip #3 Prepare questions
And ask the hard questions (e.g. how much interest have you had for this unit) to uncover info not in the listing.
Stand out when you apply for rentals
Completing your liv.rent profile, or renter's resume, is the easiest way to stand out. You can also go the extra mile and pre-submit your application before your viewing if you're pretty sure you want to rent the unit. By introducing yourself upfront, it shows that you're serious about the unit – leaving a strong impression on your landlord.
Pro tip: on liv.rent, we use Trust Score to rate renters trustworthiness and credibility — it's free for students to get theirs with their profile!
Another way to stand out is by using your renter's story in your renter's resume to give landlords more information about your credit score. As students may not have strong credit histories yet, use this space to provide more context to a landlord to help them trust you.
How to secure a rental before arriving in Canada
It's easy for University of Waterloo students who aren't yet in the Waterloo-Kitchener area, or even in the country yet to rent an off-campus apartment safely and securely.
Once you have filled out your liv.rent profile completely, you can use it to apply to listings on our platform.
In your profile, you can select whether you are a first-time renter and whether or not you're renting from outside Canada. That way, a landlord can accurately assess your profile and help you secure a rental without having references in Canada.
Pro tip: watch our friend Tobi Adekeye's YouTube video that explains exactly how to use liv.rent to easily secure your Canadian home from abroad.
Student resources
Look no further than liv.rent for all your Ontario rental resources. Especially if you're an international student, moving to Ontario from out-of-province, or just new in town — it's important to know the ins and outs of renting in Ontario in order to protect yourself from scams and get a fair deal.
Check out our guides on everything from renting and leases to tenants' rights and relationships with landlords.
---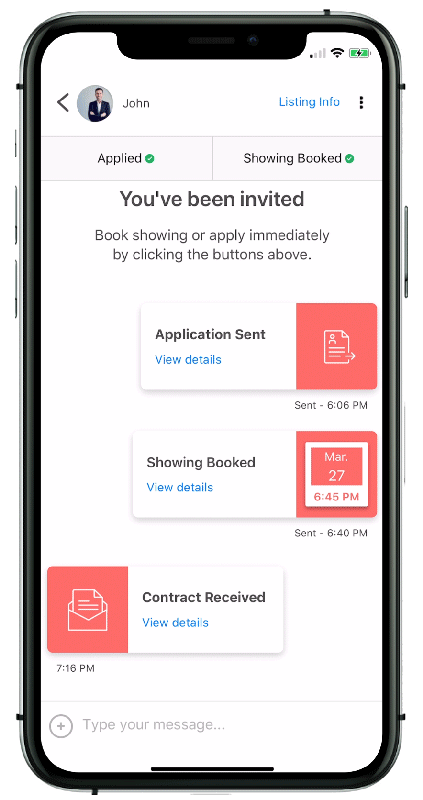 Rethink The Way You Rent
Not on liv.rent yet? Experience the ease of digital applications & contracts, verified tenants & landlords, virtual tours and more – all on one platform. Sign up for free or download the app.
Subscribe to receive the latest tenant & landlord tips and get notified about changes in the Canadian rental market.
>> Stay up-to-date on the average rent in Vancouver, Toronto and Montreal: Rent Reports