Owning a rental property can be seriously hard work for those already on a busy schedule. For liv.rent's founder, Olivia Lam, this was precisely why she sought to revolutionize the Canadian rental industry with an all-in-one solution for busy landlords. From listing to signing, liv.rent allows landlords & property managers to eliminate or expedite time-consuming processes such as tenant screening and leases. This post will show you exactly how Olivia uses the liv.rent platform to streamline her rental process and save precious time in her busy schedule by pre-screening applicants and taking advantage of the Trust Score – liv.rent's comprehensive tenant screening & credit check tool.
Landlords & Property Managers
Advertise your rental for free on liv.rent – an all-in-one rental platform.
Maximize Exposure: Multiplatform syndication to Craigslist, Kijiji, Zumper, Facebook Rental Groups & more.
Generate Quality Leads: Chat instantly with ID verified renters & search from a list of suggested tenants.
Screen Tenants Smarter: Easily assess a renter's reliability & trustworthiness with Trust Score – the new intelligent rating system.
The numbers

Background
The landlord
"As an all-in-one rental platform, liv.rent was really designed to save both landlords and tenants time & stress, while simultaneously keeping them safe."

Olivia Lam, Founder of liv.rent
Number of listings managed: 5
Rental platforms used previously: Facebook Marketplace, Craigslist, VanSky, VanPeople, Little Red Book
Management software used currently: liv.rent
Primary concerns: Efficiency, protecting the property, finding a suitable match
Olivia maintains 5 rental properties across Metro Vancouver, which can quickly become a time-consuming addition to an already busy schedule. For her, the rental process is all about minimizing stress while ensuring that her unit is filled with qualified tenants who won't cause problems later on.
Prior to founding liv.rent, Olivia had been manually posting her listings on a variety of popular listing platforms, as well as local rental groups.
As with many landlords, she became frustrated with the time-consuming nature of the rental process – especially given the number of applicants she had for each of her five properties. Aware of the pressing danger of rental scams, Olivia was cautious to carefully screen each renter that applied to avoid missed payments and costly damage to her rental properties, while also making ongoing management of the units easier by ensuring vacancies were filled with tenants she could trust.
Challenge #1: Streamlining the application & pre-screening process
"Some days I'd receive 30-40, even upwards of 60 applications for a single unit. Being able to access all of these applications in one place was a huge time-saver."

Olivia Lam, Founder of liv.rent
One of Olivia's biggest frustrations with the rental process prior to founding liv.rent was having her email inbox clogged with rental applications. With multiple businesses to run and a jam-packed calendar, she felt like she couldn't give each application the attention it deserved since there were simply so many to keep track of.
Solution: Centralizing leads on liv.rent
After consulting the latest rental data to get a sense of the market, Olivia began her rental process in earnest by creating a liv.rent listing and sharing it to a variety of other platforms in order to reach more qualified renters. For Olivia, the more prospective tenants she could reach, the better.
Directly through liv.rent, Olivia was able to share her listing to Craigslist, Facebook Marketplace, and Kijiji with built-in marketing tools. Through this feature, she was able to easily transpose the entire listing including photos, already pre-formatted for other sites.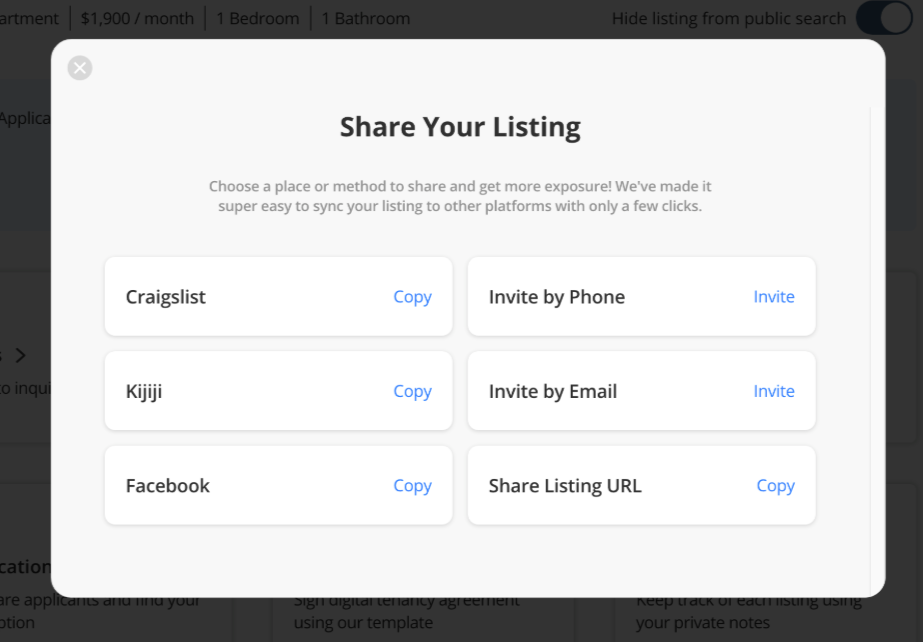 Since Olivia has had great experiences renting to international renters in the past, she also manually shared her postings to other platforms such as VanSky, VanPeople, and Little Red Book. With the help of the Trust Score, liv.rent's tenant screening tool, she was able to look beyond credit information and accurately evaluate & consider other groups of renters whose applications may be overlooked by many landlords.
Each of these shared listings contained a link to the original listing on liv.rent, plus instructions for how to apply. As other landlords have done, Olivia used this opportunity as a "pre-screening" step to get a sense of how well applicants could follow directions and whether or not they were interested enough to make the effort.
Challenge #2: Getting applicants to complete their Trust Score
Once they had signed up for liv.rent, Olivia also asked applicants to get a Trust Score through the platform to aid in her decision-making.
While most applicants were more than happy to complete their liv.rent profile and get a Trust Score rating, some renters were understandably wary to enter that much personal information online. Some had concerns about how their data would be used, why it was necessary to provide it, and what measures were in place to protect it.
Solution: Emphasizing transparency & security
"Being a landlord is a lot different today than when I first started renting out property. Due to increases in scams and reports of troublesome tenants, I have to be more cautious than ever now – which is why most landlords ask for so much documentation."

Olivia Lam, Founder of liv.rent
For Olivia, getting a complete picture of applicants is a necessity. To reduce turnover and create successful, lasting landlord-tenant relationships, it's extremely important for Olivia to cultivate trust & transparency from the get-go.
Trust is a two-way street though, which is why Olivia made sure to point out to hesitant applicants that she had already been verified through liv.rent's multi-layered process. She also highlighted the industry-leading data security procedures that protect all liv.rent users' information – including important documents uploaded for verification purposes.
When prospective tenants expressed reluctance at providing things like their driver's license and credit history, Olivia explained that all user information, including everything that is submitted to generate a Trust Score report, is stored securely in the cloud and protected by military-grade encryption protocols. For those who required further explanation, she made sure to link them to liv.rent's Privacy Policy to quell any lingering doubts.
By this point, nearly every renter felt confident providing the required information and Olivia was able to proceed with her tenant screening process using the Trust Score.
Challenge #3: Making a final decision
"Deciding which renter(s) to choose during the end stages is always very difficult for me. I typically favourite applications that stand out so that our conversations are easily accessible, but in most cases, there are multiple applicants who I think would make great tenants"

Olivia Lam, Founder of liv.rent
Since some of Olivia's rental properties are on the higher end in terms of rent price, her primary concern was finding tenants who could reasonably afford to pay rent on time with no foreseeable problems.
Even with the current market conditions, there was no shortage of applicants whose financial situation seemed suited to the listing they were applying for, so Olivia had to rely on the Trust Score to provide more insight into each applicant's rental history and overall patterns as a tenant, and more importantly as an individual.
Solution: Going beyond finances with the Trust Score
Using her most recent listing as an example, Olivia had narrowed the field to three sets of candidates: a young couple, a graduate student moving from abroad, and a single professional. All of these applicants had complete profiles on liv.rent and plenty of supporting documents that clearly showcased their rental history. Even though the international student didn't yet have a credit history in Canada, they were able to provide proof of funds that adequately proved their ability to make rent payments.
Faced with three excellent options for future tenants, Olivia had to look more in-depth at each of their Trust Score reports to find the perfect fit for the property in question.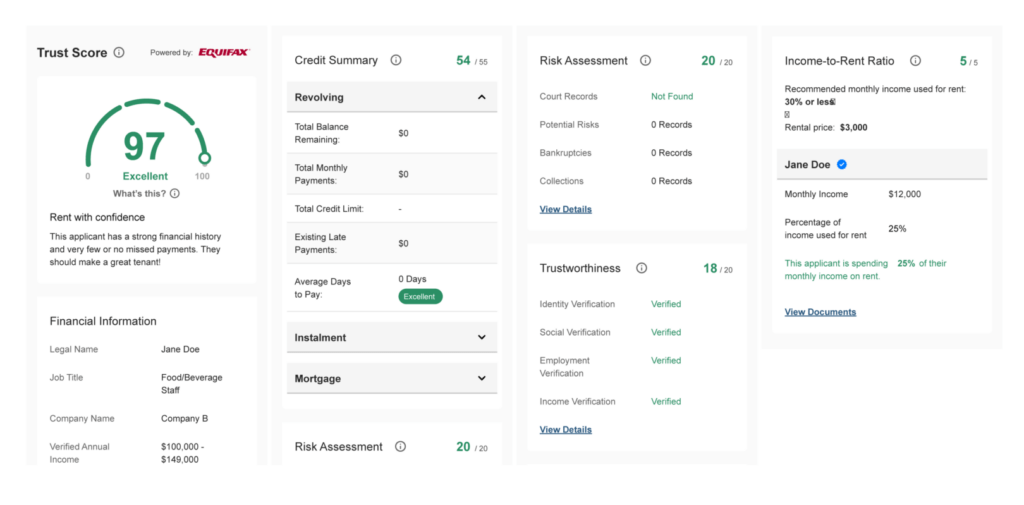 Beyond vital information like applicants' Credit Summary, Risk Assessment, and Income-to-rent Ratio, Olivia paid particular attention to each renter's Trustworthiness score, making sure to view the documents they had submitted as an added layer of protection.
Ultimately, while the Trust Score played an integral role in creating a "shortlist" of qualified applicants, the final decision came down to who was the best match for this particular property, since each applicant was equally well-suited financially.
After speaking to each of the prospective tenants in-person at scheduled showings as well as online through liv.rent's Instant Chat, Olivia decided to proceed with the young professional, who had an excellent financial history and seemed like the best fit for the building and neighbourhood.
In brief
With 5 rental properties and a significant investment on the line, the importance of an efficient and all-encompassing tenant screening process was magnified in this case.
Here's a quick summary of the steps Olivia followed to ensure she was connecting with qualified renters at every step of the rental process:
Sharing to multiple platforms: Using both built-in sharing features as well as reaching an additional audience through manual sharing, Olivia was able to ensure that her listing was put in front of more renters. Expecting a high volume of applications, she also took steps to streamline the process from the outset by directing all interested renters to liv.rent – where she could see all their information in one place, communicate directly, and also favourite applications to ensure they don't get lost throughout the lengthy rental process.
Prioritizing mutual trust at every stage: In this digital age, landlords necessarily require a lot of information about tenants in order to make informed and accurate screening decisions. However, Olivia was also keenly aware that tenants are particularly concerned about rental scams and took measures to promote two-way transparency right from posting her listing. By verifying her profile and listings and reassuring renters about the safety of their information, she was able to do her due diligence while also ensuring applicants knew they were in a safe situation.
Looking beyond traditional credit checks – For nearly every landlord, finding tenants who are able to pay rent in full and on time is usually priority #1. When there are multiple applicants who all meet your financial criteria though, landlords & property managers need additional information to reference in order to make a final decision. In Olivia's case, her choice often comes down to a number of equally suitable renters, in which case she looks at additional information like their Detailed Risk Assessment and Trustworthiness in order to get a complete understanding of who she'll be renting to.
Takeaways from this case
Olivia's rental process showcases how landlords can make well-informed tenant screening decisions and save time without compromising renter safety in the process.
Here are some key takeaways from this case study:
All-in-one solutions make managing multiple properties possible — From beginning to end, Olivia was able to use the liv.rent platform as her one-stop hub for all relevant communications, applications, showings, and even contracts & rent payments.
Doing your due diligence makes for stress-free tenancies — For landlords & property managers renting out multiple units, ensuring each vacancy is filled promptly with trustworthy tenants is paramount. Though it may require additional effort upfront, the countless hours saved from dealing with troublesome occupants is well worth it.
Trust is a two-way street — While landlords need to ask for a lot of information throughout the application process, it's important to remember that today's renters are hyper-aware of rental scams. Taking the time to verify your profile and listings is an excellent first step towards building a relationship of trust & transparency.
---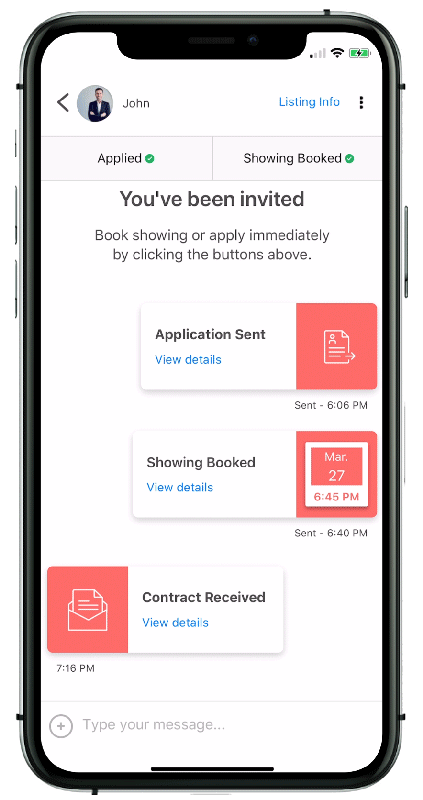 Rethink The Way You Rent
Not on liv.rent yet? Experience the ease of digital applications & contracts, verified tenants & landlords, virtual tours and more – all on one platform. Sign up for free or download the app.
Subscribe to receive monthly updates on Canada's major rental markets. Discover last month's Rent Reports below:
Vancouver Rent Report
Toronto Rent Report
Montreal Rent Report
Calgary and Edmonton Rent Report