Welcome to our "Landlord Success Story" series, where we'll be highlighting landlords who have used liv.rent to list, manage, and ultimately rent out their suites. Today we'll be hearing from our marketing manager, Matisse Yiu, on how she was able to find qualified tenants faster using the wide variety of features built right into the liv.rent platform.
Hi everybody! My name is Matisse and I work here at liv.rent as the Marketing Manager. I personally rent out three properties and I use liv.rent to manage them and find my tenants.
Recently, I successfully rented out a 3 bed, 3 bath listing in Vancouver in less than 10 days from listing to the contract being signed. In this time, I received more than 90 inquiries and 50 applications for my apartment.
Here, I'll be going through exactly what I did and how you can use the features available within liv.rent to simplify the tenant search and screening process and rent out your apartment fast.
Table of Contents
Do you want to get your listing rented out faster?
From posting and advertising to screening and signing a contract, find out how you can get your listing rented out faster – in as little as 7 days.
How can I find a tenant faster?
Like most landlords, I'm extremely busy and always looking for ways to do more on the go. My favourite thing about liv.rent is that I'm able to do everything on my phone and cut out a lot of the time that's usually wasted during the rental process. This allows me to find qualified renters faster, with less time and energy spent on my end.
To break it down, my flow essentially consisted of four simple steps:
Share your listing to multiple sites to reach more tenants
Use liv.rent as my rental hub
Screen candidates using liv.rent
Send video tours and book time slots
Here, I'll be going over what each of those steps looks like and how to rent out an apartment fast using liv.rent.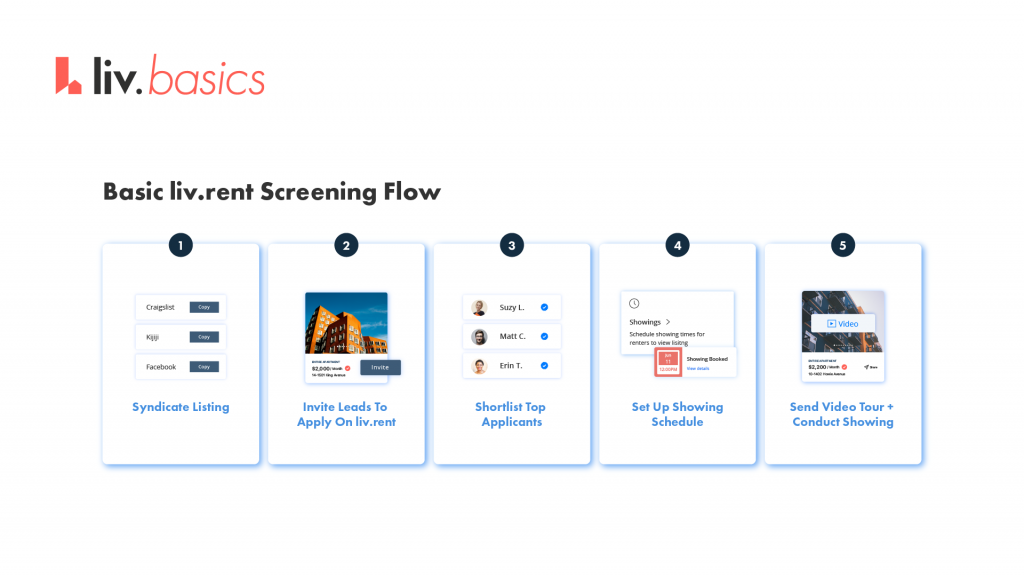 In order to reach more qualified tenants, it's important to cast a wide net. Thankfully, liv.rent makes it easy to advertise your listing on multiple sites so that you can reach as many interested renters as possible.
This was relatively easy for me as I'm part of a lot of different Facebook Groups, but it also led to a barrage of messages from tenants. I received 150+ inquiries in total, which was great for getting leads, but I needed a way to filter out the candidates who were really interested.
If you've used Facebook Marketplace in the past, you know that about 95% of the messages you receive are the standard "Hi, is this still available?" I really didn't have time to go through and reply to every single message, so instead I directed all interested applicants to my liv.rent listing and communicated there.
This is essentially your first screening step as it eliminates the candidates who aren't totally committed, while also organizing all your communications into one convenient location.
Landlords & Property Managers
Advertise your rental for free on liv.rent – an all-in-one rental platform.
Maximize Exposure: Multiplatform syndication to Craigslist, Kijiji, Zumper, Facebook Rental Groups & more.
Generate Quality Leads: Chat instantly with ID verified renters & search from a list of suggested tenants.
Screen Tenants Smarter: Easily assess a renter's reliability & trustworthiness with Trust Score – the new intelligent rating system.
Use liv.rent as your rental hub
Once my listing was up and running, I started receiving messages on Facebook Messenger pretty much instantaneously. Whenever this happened, I would direct the candidate to message me and apply on liv.rent. This is important because I don't want to continue any communication on Facebook – it's just a better way for me to organize my chats and keep all the communication and documents in one place.
If you take any one thing away from this article, this might be the most important point, which I felt really helped me be more efficient in my search:
No matter where you post or advertise your listing to, you want to direct all your leads back to liv.rent (I call it my rental hub) and tell them to apply there.
From there, as I mentioned earlier, I did receive over 50+ applications which was quite overwhelming. So, what I ended up doing was going through each application and short-listing or favouriting my top applicants.
Screen tenants and create a short-list using liv.rent
Once I have a good number of applicants on liv.rent, my next task is filtering out any renters who don't seem 100% interested in moving forward with my listing, and also any renters that don't fit my requirements. Basically, I'm looking for someone who will take care of my unit, be reasonably quiet and respectful of noise levels, and of course is able to pay their rent on time.
With this in mind, I created a tenant screening flow using liv.rent to help me save time and streamline my entire rental process. I work full-time and I really didn't want to waste my energy on anyone who either wasn't qualified or wasn't seriously interested in renting my unit.
I received mostly student inquiries, a good range of undergrads, grads, and PhDs, along with some families. Normally the Trust Score is the first thing that I check when looking for new tenants. Students, particularly international students who apply, may not have a credit history in Canada. In this case, I would defer to their submitted statements to see if they are employed, if they have an income, or are otherwise able to pay for rent. I also made sure to call the references listed on their application to get a better sense of who they are as a renter.
By doing this I was able to focus on the candidates that would meet my requirements as a landlord and create a short-list of potential tenants I could work from.
Send video tours and book showing time slots
After I narrowed down my top applicants to about 15, I sent the remaining candidates a link to my video tour using liv.rent and asked them to book a showing if they were still interested in the apartment. I created some options for time slots for my listing and let them know that they can go ahead and book one that was still open.
When all was said and done, I ended up with about 10 tenants who booked a viewing – my pool of high-intent renters who I knew were seriously interested and fit all my requirements.
I was able to rent out this listing just at about 10 days – I could have rented it out faster if I wanted to, but I chose to do my due diligence and go through more applicants to ensure I was totally satisfied with who I chose to rent to.
I rented my suite out to 3 international students and I was able to use the built-in contract and pre-vetted addendums to quickly and easily get all the paperwork in order.
My tips for renting out an apartment
To summarize, let's recap a few of the most important tips and features that helped me streamline the rental process using liv.rent and ultimately rent my apartment faster:
List on multiple sites using built-in sharing features
Direct all of your communications to your rental hub on liv.rent
Use liv.rent features to screen and short-list potential tenants
Send video tours and conduct showings
Create contracts and addendums using liv.rent
Gain comprehensive insights about your listings with the new liv.rent Landlord listing Dashboard. Sign in to unlock live insights – find out the average rent for a comparable property, number of views your listing received and more!
Get started on liv.rent today with a free account. List your rental property, get renters to apply, set up your showings, and sign a lease – all in one easy-to-use platform.
---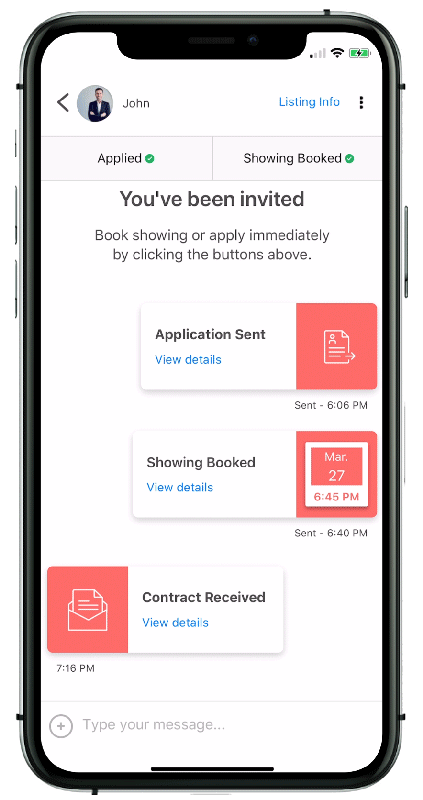 Rethink The Way You Rent
Not on liv.rent yet? Experience the ease of digital applications & contracts, verified tenants & landlords, virtual tours and more – all on one platform. Sign up for free or download the app.
Subscribe to receive the latest tenant & landlord tips and get notified about changes in the Canadian rental market.
>> Stay up-to-date on the average rent in Vancouver, Toronto and Montreal: Rent Reports.