There's a reason why psychics and astrologers still have a job — everyone wants to know what the future holds. While we don't have a crystal ball, we do have unique insights into Canadian real estate investment trends for 2021 that will help future, budding, or current investors to thrive.
Table of Contents
Want to become a better investor?
Learn how to hack the biggest trends in real estate investment right now.
Meet our in-house expert Melany Roa. Her experiences at liv.rent helping landlords and tenants have given her exclusive insights into the unique relationship on both sides of the rental coin.
She was joined by Bradley Watson, who's a Strategic JV Specialist & Broker at Watson Estates. He also is the host of Toronto's #1 Real Estate podcast and we were so pleased to have him join us and share his take on the trends we're seeing for 2021.
Video transcription
This article is a partial transcription from our liv.talk live webinar: 2021 Top Real Estate Investment. Watch the video and download the guide now to hear all of our insights investors and would-be investors need to know.

Real estate 101: an introduction
Thinking long-term
​An important part about being an investor is learning to look beyond the daily, weekly, or even monthly dips. It's going to serve you better, in the long run, to adopt a long-term thinking mindset and ultimately help you to maxmize your rental investment.
We saw so many landlords and property manager clients take full advantage of liv.rent in the last year​, especially with the COVID-19 situation pushing everything digital​. Our entire platform supports investors looking to scale.
Scaling means that setting yourself up for success now will pay off greatly, later. One thing you're going to want to look at is scalability.
The current landscape for Canadian investors
But what's the situation like on the ground right now? What environment are investors in Canada finding themselves in and how can they navigate it?
Bradley Watson and Melany Roa covered that in our webinar, including:
A quick overview of the Canadian economy in 2021
What the current interest and mortgage rates mean for investors
The effect of immigration on the market
Why concentrating on hard assets is key
How Does WFH affect the real estate market?
Many renters and landlords have found themselves having to deal with the rental process in a new COVID-19 reality that involves staying home and social distancing to varying degrees.
The Work From Home (WFH) movement and lifestyle has led to some big changes in the market and it's also changed the way that landlords and property managers work.​
Contactless real estate
At a time when it's advisable to limit your contact with others as much as possible, it's important to make use of digital tools.
When it comes to renting, here on liv.rent we've had the tenant screening process online since we launched in 2018. From our free Trust Score​ rating system that helps landlords screen tenants to our authentication process, you can use our platform to do all of these processes safely and socially distanced.
Screening tenants is important to:
Protect your investment
Avoid future conflicts and legal troubles​
Get you a high-quality and respectful tenant
Ensure your tenant can pay rent consistently and on time
For renters, liv.rent makes the screening process unfold really easily. Your typical screening process involves authenticating a renter's identity, financial information, and references. Renters can get a Trust Score and get verified for free, so landlords and renters don't have to spend time exchanging documents and making copies of records.​
Bradley Watson and Melany Roa will talk more about rentals and real estate investment social distancing, plus the WFH trend in our webinar, including:
How investors can leverage what they know about WFH
How to leverage WFH by choosing a suitable property type and location​
​How the attractiveness of neighbourhoods have changed
How they can contactlessly automate the rental process to support social distancing
How can technology help real estate investors?
To grow, investors have to start innovating. The technology exists right now that can streamline processes and put more money in your portfolio, but are you using the right tech or getting caught up on which app to download?
Virtual assistants for real estate investors
Investors can hire real-life virtual assistants to help them use their time more efficiently and to do the smaller, perhaps more tedious tasks for them, leaving them free to continue investing.
Our host, Bradley Watson, knows very well the benefits of delegating to a virtual assistant. Not to detract from the real-life virtual assistants but rather, to delegate, even more, we can make investors' and assistants' lives easier with liv.rent, especially to organize files and to organize and automate correspondences.
Tools for communication
Both tenants and landlords could all do with less paperwork, fewer emails and texts​. Tenants don't always want to text their landlord to get in touch with them and landlords who take texts and calls from tenants aren't likely to have a good work and life balance.
On liv.rent we've got a way to keep things all in one channel, one place, and you can send and sign documents through our platform online or in our app​.
No need to print off documents, drive over to meet them, and hand them over​
No need to hassle your tenant or landlord by making them run to staples to print off email attachments​
Going paperless is safer for the environment and for us in COVID-19 times​
Virtual tours
One of the realities of a socially distanced world is that it's much harder and sometimes impossible to schedule viewings in-person.
We've seen rapid adoption of video and virtual tours​and they have been proven to drive engagement through the roof.
Digital rent payment
Unless your favourite hobby in the whole wide world is going to the bank to deposit cheques, it's time to join us in the modern world​.
On liv.rent, tenants can pay their rent online and they can even be notified when it's time to pay rent, reducing the instances you have of late payments or even non-payment​.
liv.rent's features including online rent payment are basically like having your own personal assistant​. How can you use digital tools to scale your investments?
---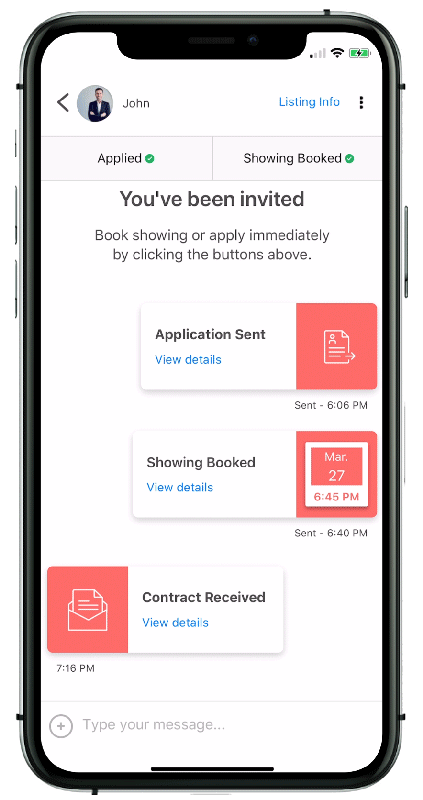 Rethink The Way You Rent
Not on liv.rent yet? Experience the ease of digital applications & contracts, verified tenants & landlords, virtual tours and more – all on one platform. Sign up for free or download the app.
Subscribe to receive the latest tenant & landlord tips and get notified about changes in the Canadian rental market.
>> Stay up-to-date on the average rent in Vancouver, Toronto and Montreal: Rent Reports.