Vancouver Rental Market 2020
2019 saw Metro Vancouver's homeownership market slow down significantly for the first time in years with accompanying decreases in property values. This slow down was not reflected in the rental market which saw vacancy rates of 1% and some of the highest rental rates in the country.
Despite these discouraging figures, strong construction activity and newly built rental housing (thanks to incentives for builders) offer some hope to renters. This should slow down rental increases and make it easier for Vancouverites to secure adequate housing. In addition, provincial and federal tax changes discouraging empty units have encouraged many investors to make their purchased condos available for long term rental adding significantly to the supply.
Average Rent in Vancouver
Greater Vancouver's average monthly rent for an unfurnished, 1 bedroom hovers around the $1,800 mark, in February, it was $1,767. However, this is an average and the same property in downtown Vancouver costs $1,967 in contrast to a comparable unit in Surrey at $1,511.
What $1,800 in rent gets you in Metro Vancouver: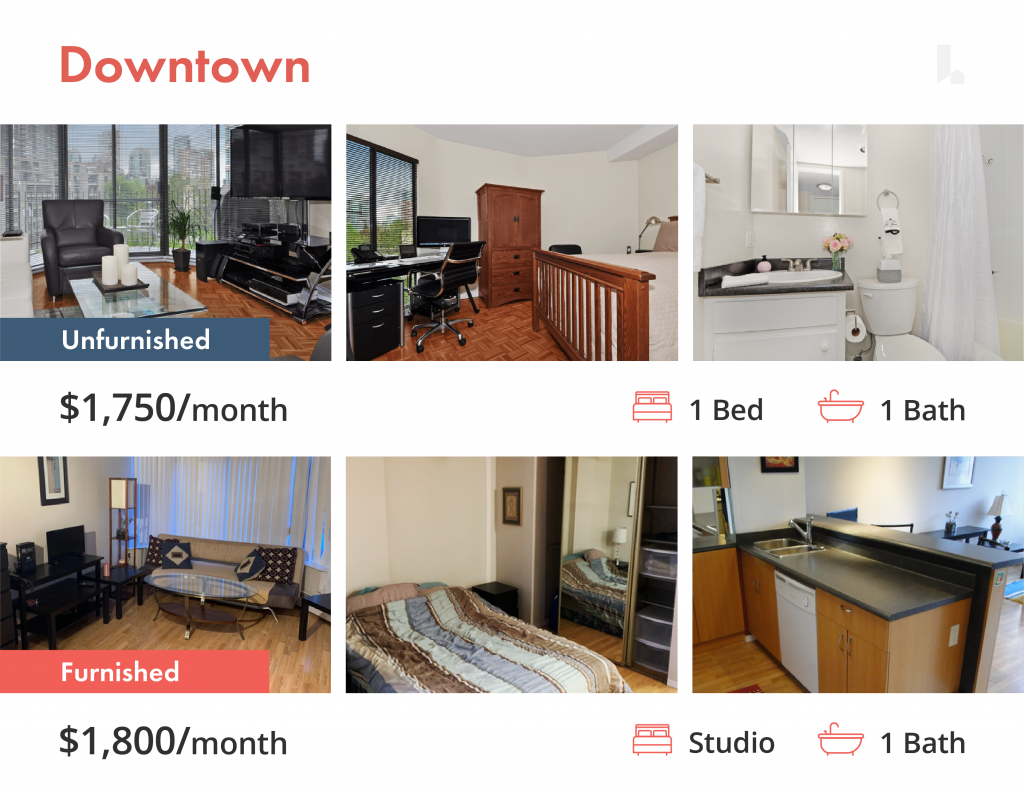 Downtown Vancouver continues to attract people in droves thanks to its vibrant economy, restaurant and nightlife scene as well as its proximity to parks, theatres, and beaches. There is no doubt that living in the city has its perks, however, you will pay for them dearly. Downtown Vancouver has some of the highest rents in the country.
For a complete list of Vancouver rentals, click here.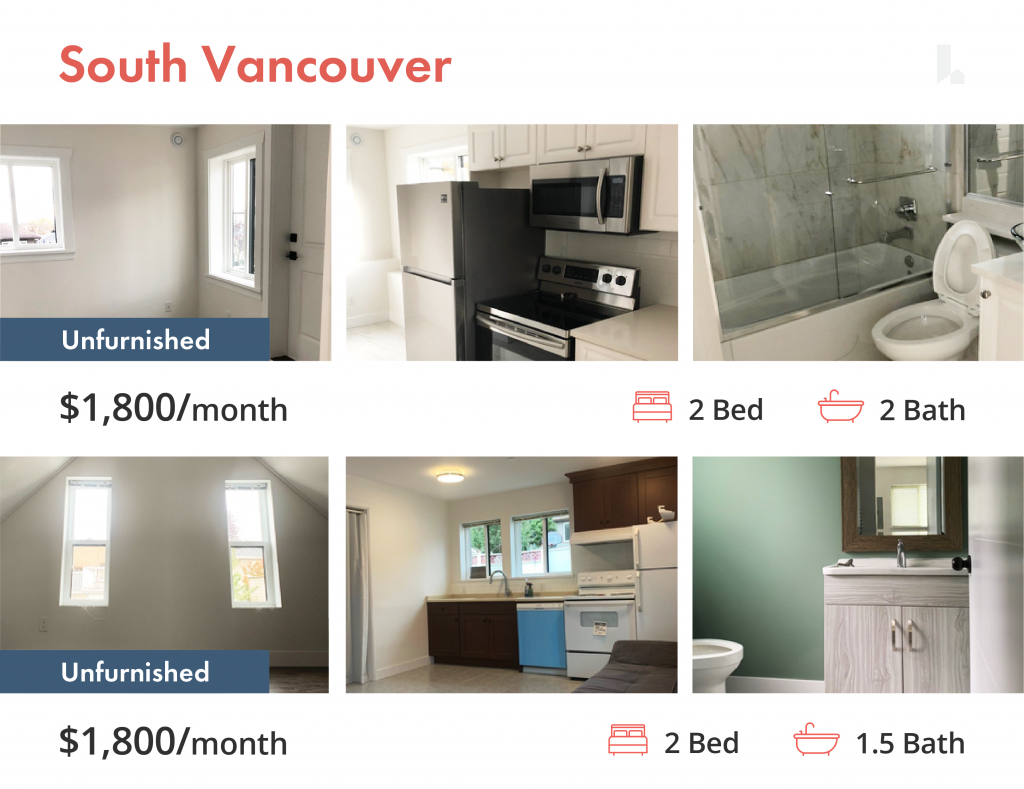 Easily accessed on the Canada Line (Langara & 49th and Marine Drive Stations) as well as Translink bus routes, South Vancouver is an attractive, more affordable alternative to downtown living. Your money will go further, buying you more space and typically newer options. For the price of a downtown 1 bedroom or studio apartment, you can find a number of two-bedroom rental units in this area.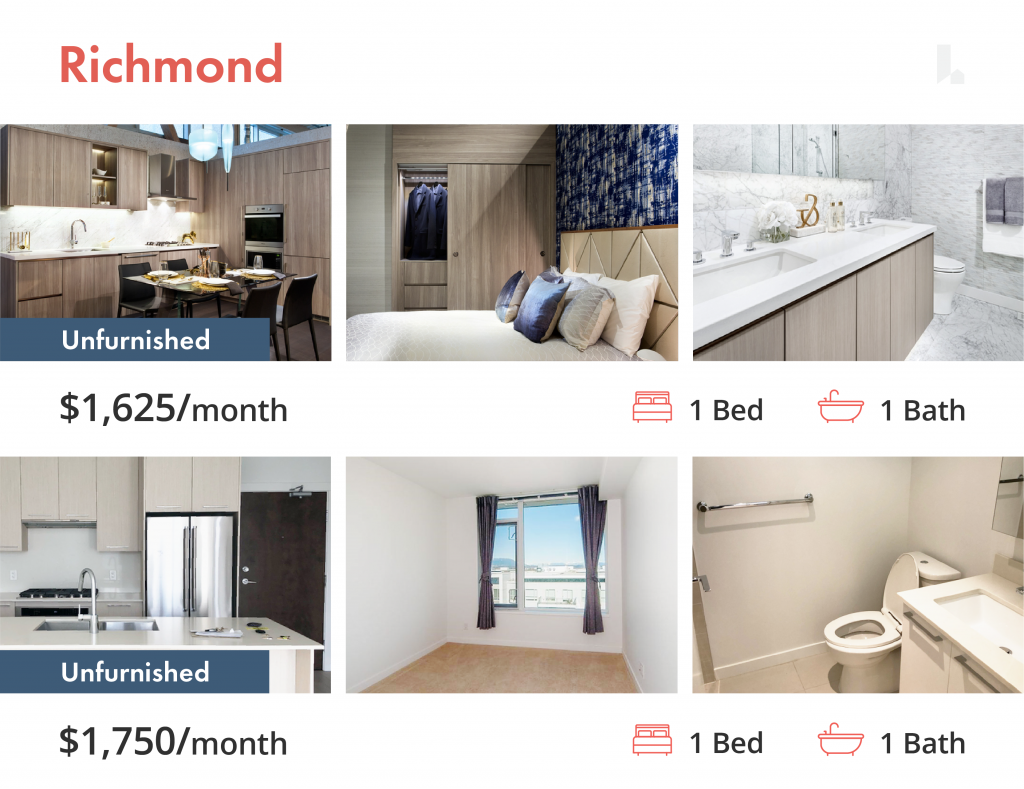 Further south on the Canada Line lies the bustling, fast-growing suburb of Richmond. Multi-cultural, home to many company head offices and Vancouver International Airport, Richmond is a suburb worth considering in your search for a Metro Vancouver rental.
For current apartments for rent in Richmond, click here.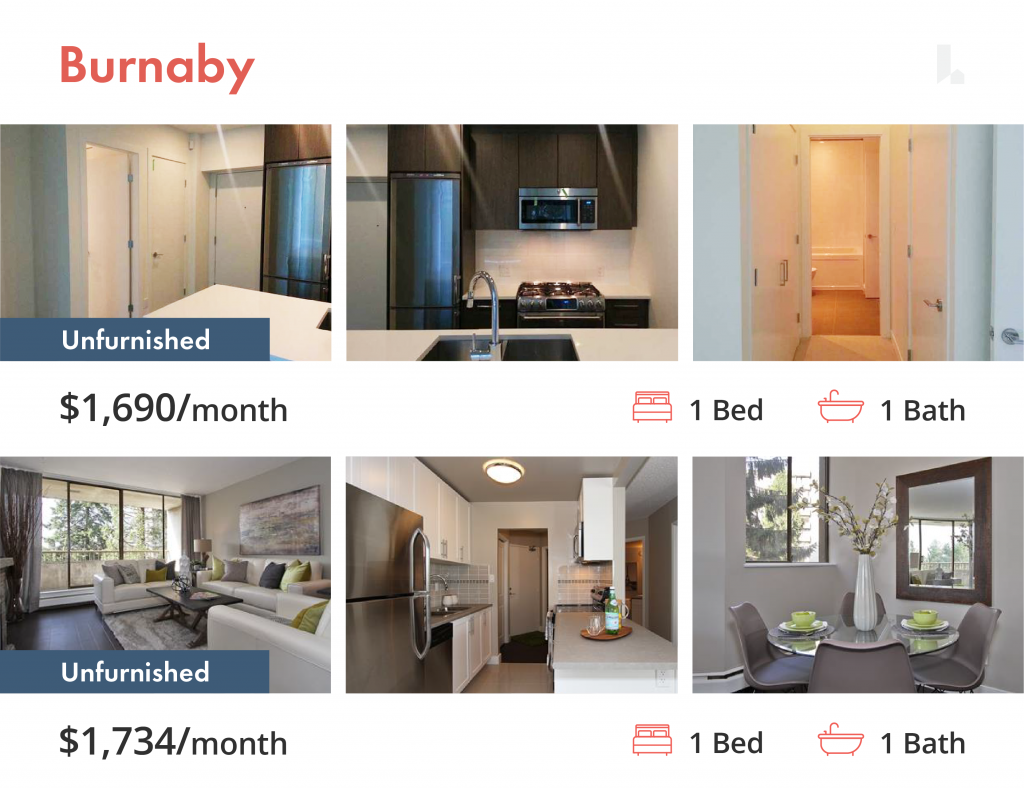 Burnaby lies just east of Vancouver and is well serviced by Translink bus lines and the Skytrain. Home to countless parks, community centres and Simon Fraser University, Burnaby may offer you everything you need and save you money.
For the complete list of Burnaby rentals, check out our Burnaby listing page here.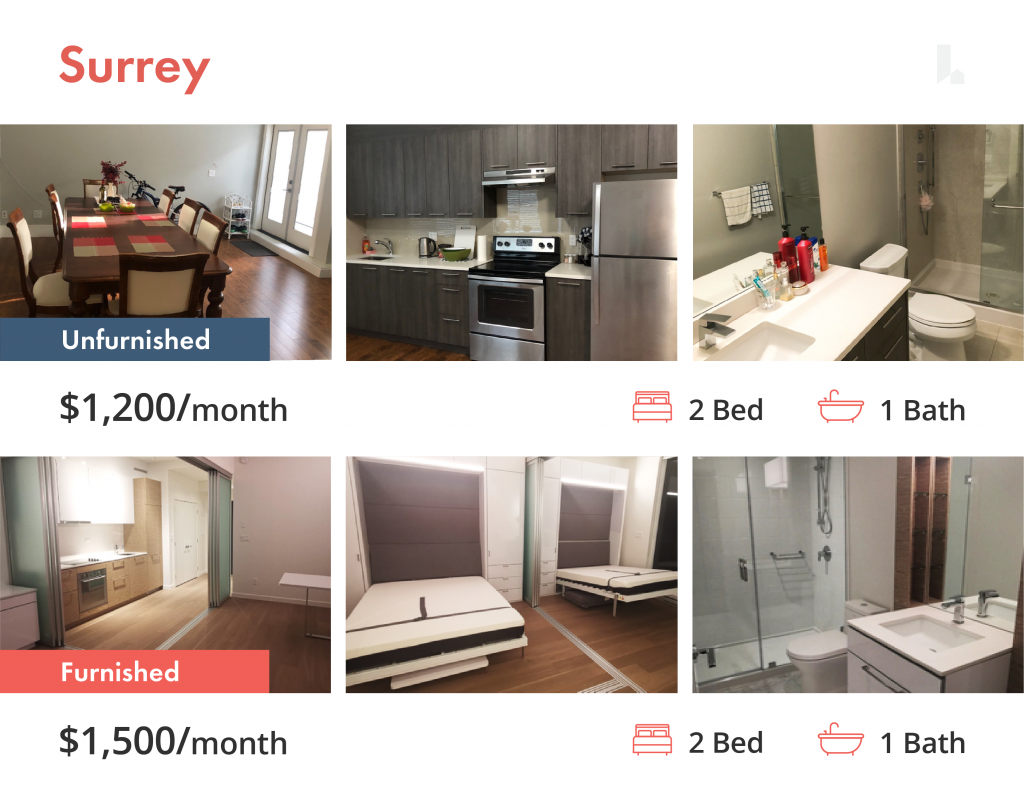 Surrey is Metro Vancouver's fastest-growing city and offers a variety of rental options at affordable prices. Your dollar will go furthest here as Surrey consistently boasts the lowest rents in the region.
For more Surrey listings, click here.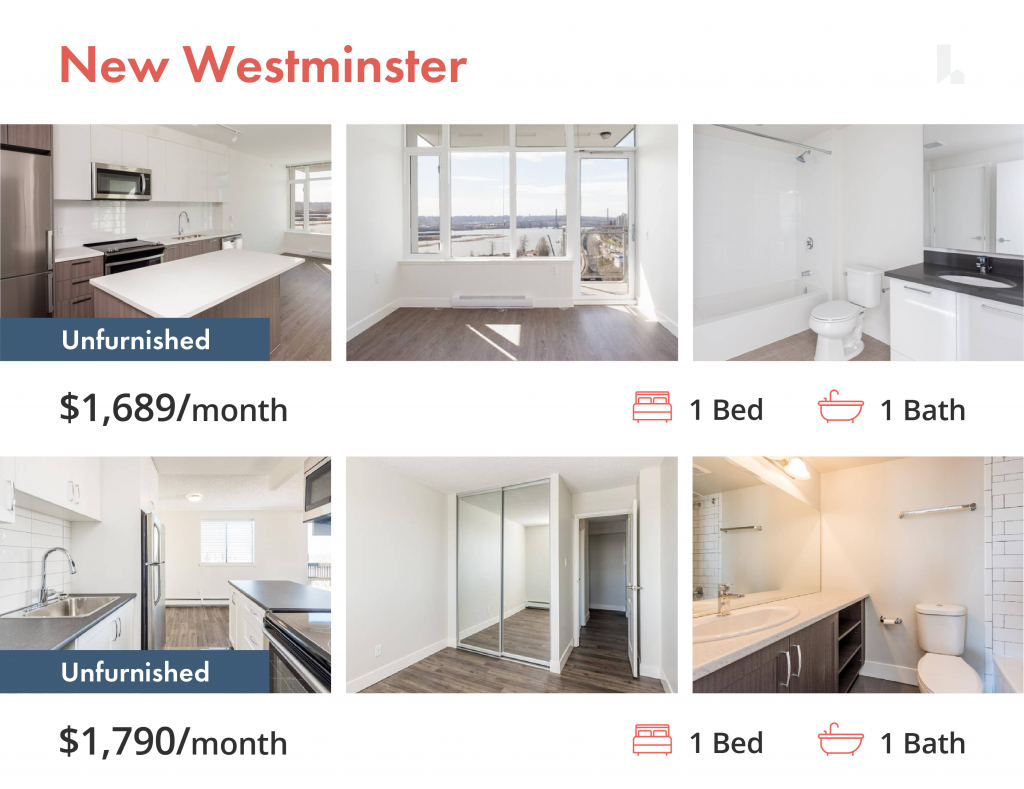 Historic New Westminster is a 30 minute Skytrain ride from downtown Vancouver and home to a revitalized downtown core that features a variety of new rental options for home seekers. Located on the banks of the Fraser River, New Westminster rental rates are considerably lower than those in nearer suburbs but easy access downtown makes it an attractive location.
For a complete listing of available rentals in New Westminster, click here.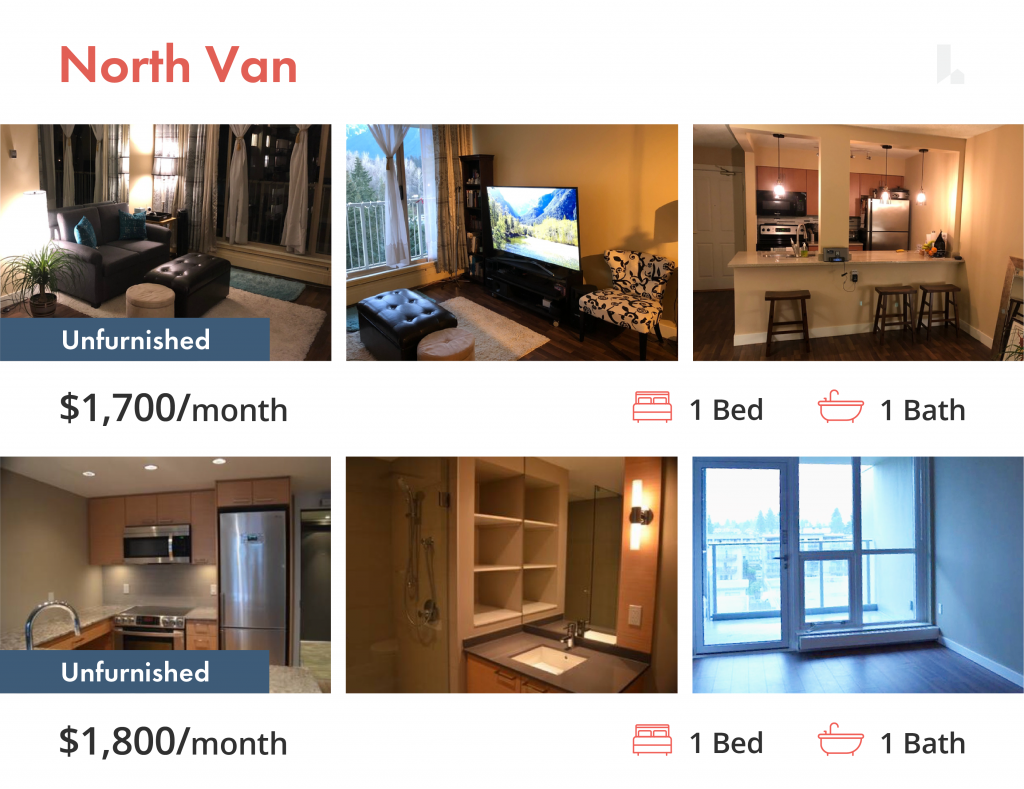 North Vancouver is the perfect suburb for the outdoor enthusiast. Close to the North Shore mountains, you will have access to world-class skiing, hiking and mountain biking. Some of the best schools are on the North Shore so it is a great place to raise a family as well.
For more detailed information on living in North Vancouver, check out our Neighbourhood Guide: North Vancouver.
For a complete list of North Vancouver listings, click here.
Renting In Metro Vancouver
So, if you are flexible and willing to live further from the downtown core, there is no question your $1800 will go further. You will gain a little extra elbow room, slightly better amenities and/or more contemporary finishes by moving further afield. You just need to ask yourself some tough questions about what is most important to you when seeking a rental home!
To help you decide which part of Metro Vancouver to make your home, check out our post – Choosing the Right City for You.
---
Not on liv.rent yet? Experience verified listings, digital applications and contracts, and more – all on one platform. Click here to sign up now or download the app to get the full search by map experience.
Follow us on Instagram and Facebook for monthly rental stats, feature updates and other up-to-date rental info.