There are a number of reasons why renters may seek short-term housing. Greater flexibility, less commitment, or sometimes simply because their work or school situation requires it. Month-to-month leases are perhaps the most common type of short-term lease, and there are usually quite a few options for renters seeking this kind of arrangement – particularly in a major city like Toronto. Still, especially for newcomers to the city, it can be hard to figure out which areas you should look in, what rental platforms you should use for your search, and how to ensure you're staying safe while browsing rentals. To help simplify your search for month-to-month rentals in Toronto, liv.rent has compiled this handy guide with our tips, strategies, and top picks for month-to-month listings.
Table of Contents
liv.rent – Renters Can Now Create Alerts
Don't see what you're looking for? Set up an alert and get notified about listings that meet your criteria (location, price, housing type, bedrooms, pet policy, and more).
Note: If you're not a liv.rent user, sign up first. Then apply your filters and click the "Create Alert" button on the upper right hand corner to set up your alert.
What is considered a short-term rental in Toronto?
What exactly constitutes a short-term rental in Toronto? As in other Canadian cities, there's a notable difference between short-term rentals and vacation rentals. While vacation rentals are typically seen as being less than one month in duration, short-term rentals typically range from 1-6 months, with the most common being month-to-month leases – which we'll be focusing on in this post.
These types of rentals are often desirable as they offer renters greater flexibility. They can also be necessary for temporary or contract-based workers moving cities, since they might not want or need to find housing for an entire year. Short-term leases and month-to-month rental leases are also particularly popular among post-secondary students, since they can simply rent a unit for a semester or two rather than needing to sign on for an entire calendar year. You might also hear short-term rentals in Toronto referred to as monthly rentals or month-to-month rentals, but these both differ from weekly rentals in Toronto, which would generally be considered vacation rentals.
How to find month-to-month rentals in Toronto
Listings on liv.rent clearly state both the "Lease type" and "Minimum lease" within the posting, making it easy for renters to quickly identify which units will be suitable for their needs. This information is readily available right at the top of each listing, under the "Lease Details" section.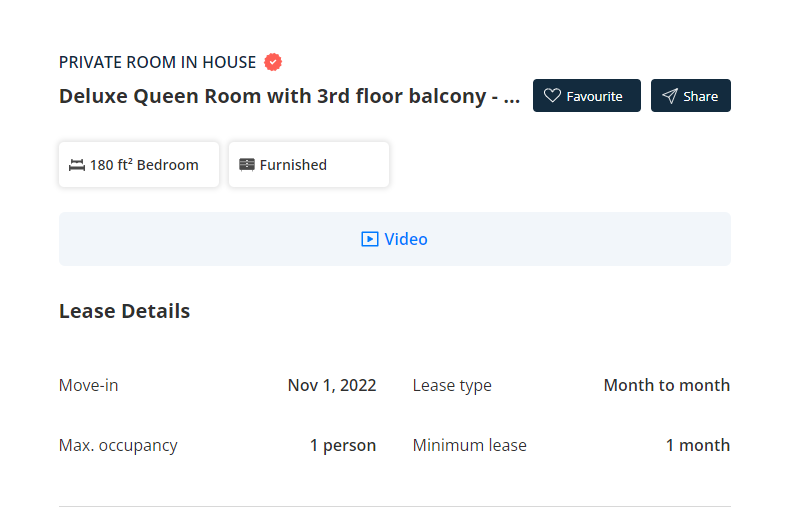 Look for listings that have a minimum lease of less than a year, as outlined in the example above. Once you find a listing you're interested in, you can sign up to apply or just reach out and send an instant inquiry to the landlord. You don't need to have an account to ask questions, but it's a good idea to start so you can keep all your correspondence saved in your chat history.
It's much easier than back-and-forth email correspondence or phone calls. Plus, you don't have to finish filling out your profile entirely until you're ready to apply. And, once your profile is complete, you can use it to apply to multiple units, saving time and energy.
Month-to-month rentals in Toronto
Now that we've covered what exactly short-term and month-to-month rentals are and how you can find them on liv.rent, let's dive into some specific strategies for finding the perfect place. Renters essentially have three options when searching for a place to rent. If you're already somewhat familiar with the area you're looking in, you can search by location – for example, if you know you want to be in Downtown Toronto, you can simply hone in on this area using a map search.
Otherwise, you can search by your individual requirements and lifestyle needs. For example, if you don't plan on bringing your own furniture, you can search for furnished units in order to narrow down your results. If you've come to expect a certain level of luxury from your living section, you can also filter your search by price, number of bedrooms, or minimum square footage as well. Finally, if you're moving for work reasons, you can try searching by your career type to try and find hotspots among your fellow professionals or near your workplace.
We'll be breaking each of these three strategies down with some suggestions based on what renters typically look for.
Month-to-month rentals in Toronto by location
Month-to-month rentals in Downtown Toronto
Month-to-month rentals in Scarborough
Month-to-month rentals in other areas of the GTA
Month-to-month rentals by type
Monthly furnished rentals in Toronto
If you're just in town for a short time, it's sometimes not worth it to bring your own furniture. Alternatively, if you're moving from abroad and just looking to get settled without spending a fortune on new furnishings, furnished rentals are a great way to bridge that gap while you purchase stuff of your own.
Executive monthly rentals
For those in town on business, or who are simply seeking a higher standard of living for their short-term stay, these rentals offer plenty of space and luxury amenities.
Month-to-month rentals by occupation
Rentals for healthcare workers
There are many hospitals throughout the Greater Toronto Area, but for the purposes of this article we'll be focusing on just three:
Here are some month-to-month rentals near each of the above hospitals:
Rentals for film industry workers
Toronto and Ontario as a whole both consistently rank among the the most-filmed destinations in the world, which have obviously made the GTA a major hub for film industry workers. Since shoot locations tend to move around and are often located in other parts of the province, those working in film can really pick where they'd like to live and figure out a transit plan from there. We've primarily focused on areas outside of Downtown Toronto that offer better value and flexible lease terms.
Rentals for tech industry workers
Many of the world's largest tech corporations have major headquarters in Toronto: Alphabet, Oracle, Wealthsimple, Shopify, and more occupy offices in the city's Downtown Core, centered primarily around the Fashion District. As such, the majority of tech industry workers can be found in the areas immediately surrounding city centre, although many also prefer Mississauga for the easy commute and slightly cheaper rent prices.
FAQ: Month-to-month rentals Toronto
How much is the average monthly rent in Toronto?
As of September 2022, the average monthly rent in the Greater Toronto Area was $2,010 for an unfurnished, one-bedroom unit. This number increases significantly if we look just at Downtown Toronto, where the average rent was $2,375 for the same type of unit.
You can find the latest rental averages and trends in liv.rent's monthly GTA Rent Reports.
Is rent in Toronto paid monthly?
Even if you do choose to sign a year-long lease agreement, rent in Toronto is typically paid on a monthly basis. For month-to-month contracts, monthly payments are also the norm – although you may also see daily, weekly, or bi-weekly payments as well. Whatever the payment terms, your landlord will specify this information in the lease.
Are month-to-month leases legal in Ontario?
Yes! Landlords and tenants in Ontario are very much within their rights to lease a unit on a monthly basis. The Residential Tenancies Act still applies, although there are specific rules regarding things like ending the tenancy.
How does a month-to-month lease work in Ontario?
Month-to-month leases function in largely the same way as the standard fixed-term lease, though there are some specifics related to when notice is given for moving out (30 days' notice for month-to-month tenancies).
You can learn more about the Ontario Standard Lease Agreement in this handy guide from liv.rent.
---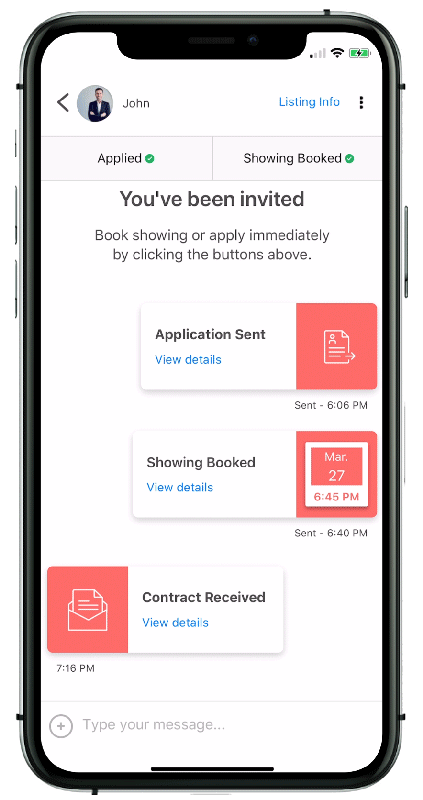 Rethink The Way You Rent
Not on liv.rent yet? Experience the ease of digital applications & contracts, verified tenants & landlords, virtual tours and more – all on one platform. Sign up for free or download the app.
Subscribe to receive the latest tenant & landlord tips and get notified about changes in the Canadian rental market.
>> Stay up-to-date on the average rent in Vancouver, Toronto and Montreal: Rent Reports