Rental Trends in March 2021
As March begins, we're taking an up-to-date look at the real cost of rent in Metro Vancouver in 2021 based on data from our own liv.rent platform and other listings websites.
This month marks a solemn anniversary as it's been about a year since the COVID-19 pandemic changed our everyday lives here in Canada and beyond. But, this month has some bright spots — spring is here, and as we emerge from winter, we're poking our heads out to see what it's like out there in the rental market.
Our rent reports identify and share key market data and trends to help inform and support our community of tenants and landlords. Staying on top of the trends and having an accurate account of average rent helps tenants to navigate the rental landscape. It also helps landlords to price their units according to the market.
You can get the latest updates on the Vancouver rental market straight to your inbox when you subscribe to keep on top of the trends while we continue to see the effects of COVID-19 on the rental industry.
Let's dive into our rent report for Metro Vancouver in March 2021:
Jump to the following March Vancouver Rent Report sections:
Average rent across Metro Vancouver
Taking a look at the average rent of an unfurnished one-bedroom apartment over a six-month span between October and March — you can see that the overall change has been fairly small. However, after being in decline for three months, rent has started to go up again this March.

Month-to-month rent change
Across the board, rent is generally trending upwards with a few exceptions.
The furnished market, which typically caters to shorter-term tenants like travellers or students, seems to be making a resurgence. This month, the cost of furnished units in Surrey and Coquitlam skyrocketed to +10.6% and +12.5% respectively.

When it comes to unfurnished rentals, rent in covetable neighbourhoods like Downtown (+2.35) and North Vancouver (+3.32%) are trending upwards. In other areas, the upward trend is even stronger like in Burnaby (+4.54%) and West Vancouver (+5.08.)
The biggest dip in prices is for furnished rentals in Richmond (-4.01%) and unfurnished rentals in New West (-3.89%.)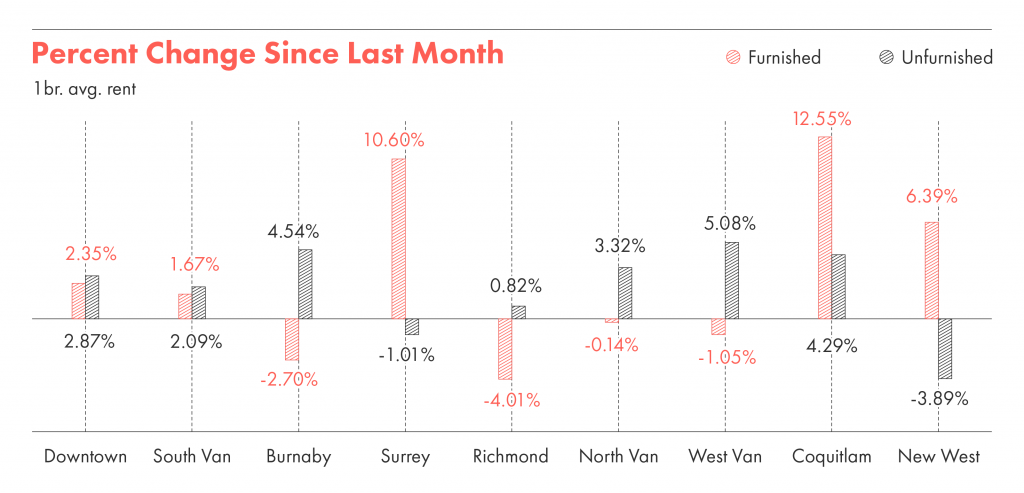 Income-to-rent ratio
We're looking back at Q4 in 2020 to take a look at what the income-to-rent ratio was like for renters in Vancouver. For all contracts with start dates from October 2020 to December 2020, the ratio was 40% — meaning that, on average, renters were spending 40% of their income towards the cost of rent. That figure is slightly over what's considered the industry standard.
liv.rent's expert Business Development Lead Paula Azevedo says that while an ideal scenario is for renters to pay no more than 30% of their income towards rent, that figure goes up higher if you live in a major city, especially ones like Vancouver or Toronto.



Rent per square foot
This metric of rent per square foot helps show the value for your money in each region. Of course, it doesn't take into consideration all the other variables that go into the cost of living like amenities and transit accessibility.
Still, it's a good snapshot of where you could look for a home if space is a chief concern.
Overall, the average rent per square foot across Metro Vancouver was $2.48 per square foot. For those who want more room to roam, Surrey or even West Van will be your best bet. Unsurprisingly, you'll feel the pinch the most in Downtown and South Vancouver.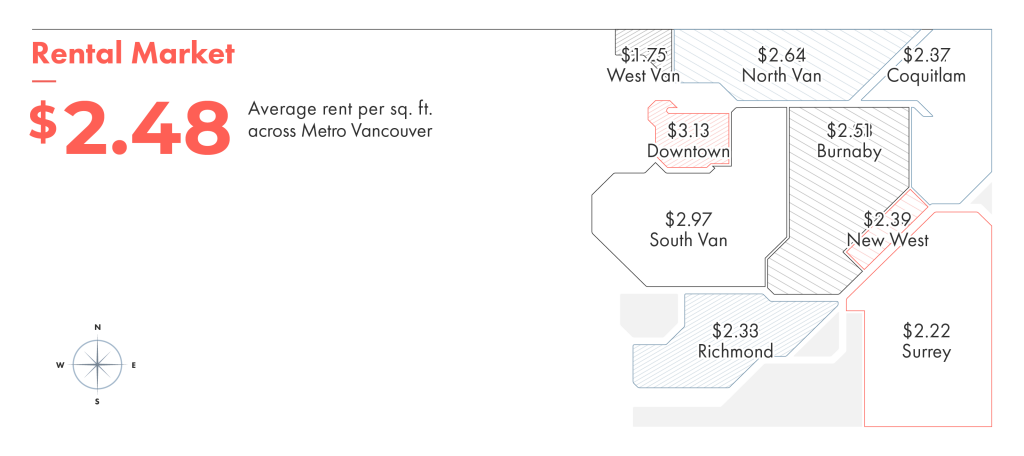 Renter demographics
The majority of renters on the liv.rent platform fall in the 25-34-year-old category, with over a quarter of renters also being under the age of 25.
We also continue to see renters over the ages of 45 and 55 take advantage of our full suite of features that help keep them safe during the rental process like verified listings and landlords.

liv.rent – Canada's trusted house & apartment rental website
Search apartments, condos, and homes for rent.
Verified Landlords: Rent from a trusted landlord. Look for the "ID Verified" tag to identify which landlords have been pre-screened.
Quality Rentals: Browse listings that have been checked by our team. Verified by official documents or by mail.
One-Click Applications: Fill out your Renter Resume once and apply to multiple listings in just a few clicks.


Pet-friendly rentals
liv.rent is proud to host more pet-friendly listings than any other platform. More than a third (38%) of our listings are open to welcoming renters and their household pets. On other platforms, you'll find slightly less pet-friendly with 30% of options allowing pets.

Average unfurnished vs. furnished rates
Overall, you can save on rent by bringing your own furniture. The average rent in Metro Vancouver for an unfurnished one-bedroom apartment in March was almost $1,700 and for a furnished unit, it was just over $200 more.

Neighbourhood breakdown
Metro Vancouver is varied. We broke down the average rent in each neighbourhood to give you the clearest, most accurate look at the cost of rent by comparing one, two, and three-bedroom rates for both furnished and unfurnished units.
Living in Surrey continues to offer the best deal on rent where a one-bedroom apartment averages $1,280 per month. Prices in Downtown Vancouver went up slightly, from $1,930 to $1,985 per month compared to February.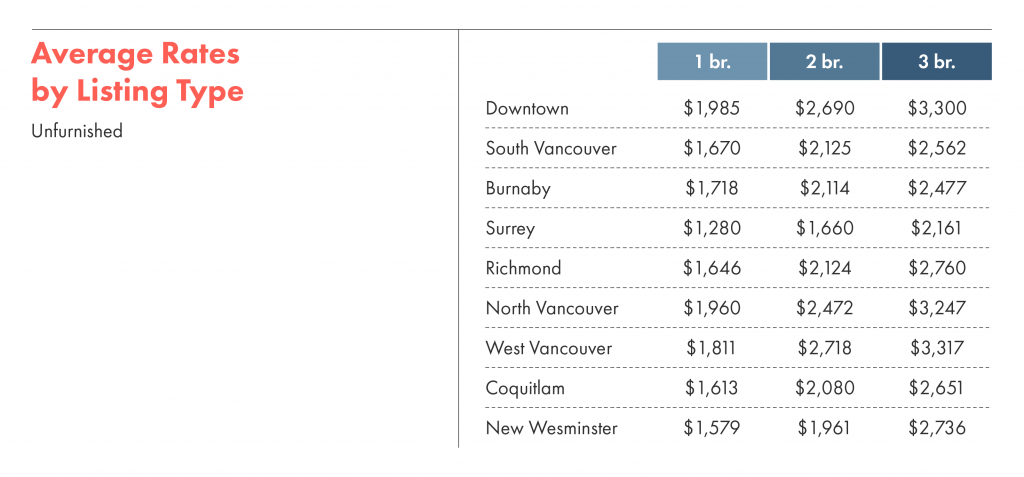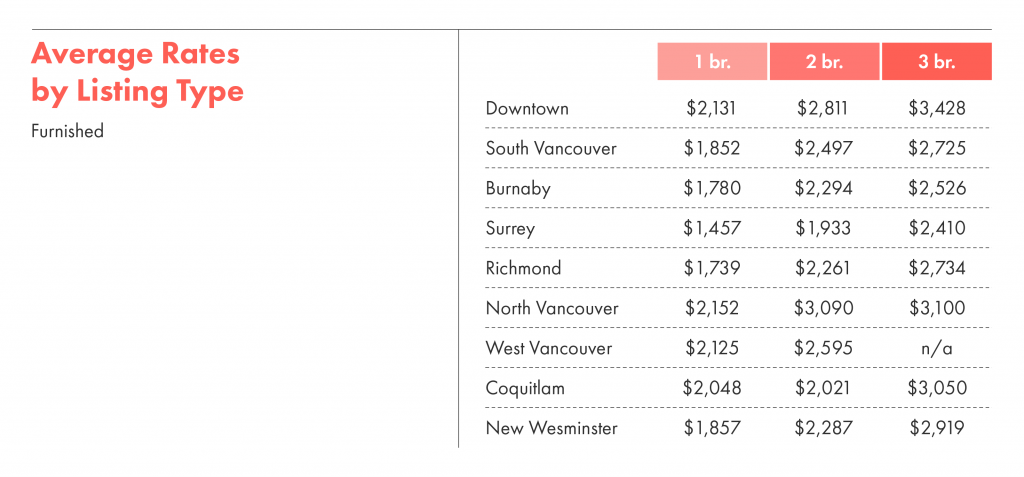 Gain comprehensive insights about your listings with the new liv.rent Landlord listing Dashboard. Sign in to unlock live insights – find out the average rent for a comparable property, number of views your listing received and more!
Most expensive cities in Canada
Vancouver has officially overtaken Toronto as the most expensive city in Canada. In March, the average cost for an unfurnished one-bedroom apartment in Toronto is $1,679.
However, in Vancouver, it's $1,696. If you're looking to save on rent in the city, then a place like Montreal is a better bet than T.O. or the West Coast.

liv.rent – Search apartments & houses for rent in Toronto
Search houses, rooms, condos and apartments for rent in Toronto. Chat instantly with verified landlords. Apply to multiple listings. Save your chat history & signed documents all in one platform.
---
Downloadable resources
Impress at your next video conference by repping the latest rental averages and trends with our custom virtual backgrounds.
Looking for the full report? Download it for free below.
---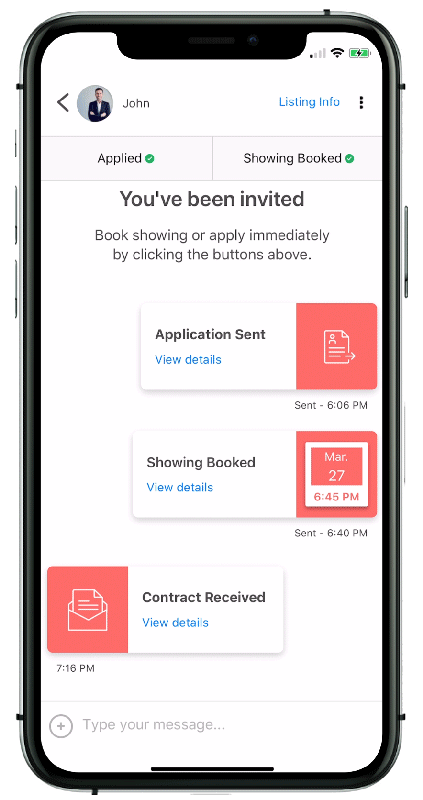 Rethink The Way You Rent
Not on liv.rent yet? Experience the ease of digital applications & contracts, verified tenants & landlords, virtual tours and more – all on one platform. Sign up for free or download the app.
Subscribe to receive these monthly updates on the Vancouver rental market. Discover last month's Rent Reports below:
February 2021 Vancouver Rent Report
February 2021 Toronto Rent Report
February 2021 Montreal Rent Report
---
COVID-19 resources
For information regarding Coronavirus (COVID-19) and landlords and tenants, refer to our comprehensive resource posts. They include information on the various federal and provincial assistance initiatives available to help support landlords (small business relief) and tenants (rent relief):