Presale homes can be an excellent way to enter the Canadian real estate market, offering a potentially lucrative investment opportunity for those willing to take a bit of a risk. If you've been considering investing in presale condos, it's important to fully understand the various benefits and downsides of this exciting type of real estate investment. To aid in your decision-making, liv.rent has compiled this guide to the pros and cons of investing in presale condos, particularly in competitive housing markets like Vancouver and Toronto.
Find the right renters faster with the Trust Score
Unlock an easier, more effective way to screen renters. The Trust Score from liv.rent combines credit information from Equifax®️, income & employment verification, court records, and more into one easy-to-understand score. Click here to view an example of the Trust Score.
What is a presale?
Presale condos are the most common form of presale housing, giving homebuyers a chance to purchase property that is not yet completed and ready for move-in. Depending on the specific project, homebuyers may be able to buy before construction starts, during construction, or when construction has just been completed – depending on the goals of the developer. Often, this can mean purchasing a unit based on floor plans or preliminary models, so presale investors need to be able to visualize the finished unit and whether it will be right for their needs.
Typically, presale homes are sold at a lower price than their market value would be upon completion, making them an attractive option for investors seeking potential appreciation, as well as first-time homebuyers who wish to enter the market at a lower price point. Buyers secure their investment by putting down a deposit, and as the construction progresses, the value of the property can increase, potentially resulting in a profitable return on investment when the construction is finalized and the property is move-in ready.
Why invest in presale condos?
Purchasing presale condos offers several advantages that make it an attractive opportunity for buyers as opposed to a traditional home purchase. Firstly, presale homes often come at a lower price point than completed properties in the same area, making them more affordable for individuals looking to enter the real estate market. Presale buyers also have the advantage of potential appreciation – as the property is constructed and the market value increases, the value of their investment can rise significantly.
Another reason some homebuyers opt for presale condos is the opportunity for customization. Presale homes allow buyers more freedom to personalize their living space before it's completed by choosing specific finishes and fixtures or even having input in the layout in some cases.
Most importantly for many, purchasing a presale home can be an excellent investment. Through presale condos, buyers can secure a property in a high-demand area before it's even built, ensuring they have a foothold in a desirable location when the real estate market is competitive. Presale condos in Vancouver and surrounding areas like Burnaby, Richmond, and Coquitlam are very popular for this reason.
Finally, to help mitigate the risk of buying an unfinished property, presale homes often come with developer warranties and the assurance of modern, energy-efficient features, providing buyers with peace of mind regarding the quality and longevity of their investment.
Pros of buying presale condos
We've already explained why someone might want to purchase a presale home, but let's now look at the more practical upsides to this type of investment. Here are some of the positives of purchasing presale:
More selection — Buying uncompleted homes gives you access to more potential developments, often with preferred pricing and other incentives.
Customizability — Depending on how close to completion the unit is, homebuyers will likely be able to customize various finishes such as flooring, lighting, and even paint colours.
Delayed mortgage payments — Those buying presale won't need to start making mortgage payments until the project is completed, giving them more time to save for a down payment and closing costs.
Equity building — Often, especially for presale condos in Vancouver, housing prices will increase over the construction period which means there's a potential to see profit before the home is even completed.
Warranty protection — All presale homes in B.C. come with a standard 2-5-10 warranty to help reduce costs and potential risks for the new homeowner.
Seven days to reconsider — Homebuyers have seven days to review the accepted contract before it becomes final and binding, giving them ample time to consider every aspect of their purchase.
Higher rent prices — New homes tend to rent for substantially more than older ones, especially if they're located in in-demand areas. Presale gives investors another way to own property in these areas and earn more income from renting if they plan to go that route.
Cons of buying presale condos
Of course, like any investment, presale condos aren't without their downsides and risks. To help prospective homebuyers and investors better understand what their purchase entails, let's look at the potential negatives of buying presale condos.
Market fluctuation — Though presale homes can be a hugely profitable venture if housing market prices rise, there's also a chance that the market takes a downturn and your home's value falls before it's completed. This is more an issue for investors looking to flip the property, as historically home prices will continue to increase in the long term.
Profits aren't certain — Similarly, there's no guarantee that the price of your new home will increase between the time of presale purchase and completion.
Getting mortgage approval — Although you can secure pre-approval when purchasing a presale, you'll need to wait until the project is completed before you can finalize financing.
Not purchasing a finished product — For some, it can be hard to purchase an unfinished property as it's hard to visualize what it will look like based on floorplans. However, the flip side of this is that purchasers have more control over what the unit will look like in terms of finishes.
Renting out a presale home
One way investors can increase their chances of profiting off a presale home is by renting it out once the project is completed. Presale homes are a fantastic way to purchase a second property due to potentially lower initial costs, and renting it out later on can help to cover mortgage payments and offset the initial costs.
Renting doesn't have to be stressful either, and can be an easy and effective way to earn a second income – if you have the right tools. To help landlords avoid risk and maximize their profits, liv.rent offers a streamlined, all-in-one experience with support for every step of the rental process – from listing to signing.
This Vancouver-based rental platform also helps reduce the risk of unreliable tenants with its comprehensive Trust Score tenant screening tool. Through a detailed report, landlords can take the guesswork out of renting with Equifax® credit information, identity & income verification, a detailed risk assessment, and much more.
FAQ: Investing in presale homes
How much do you have to put down on a presale in BC?
Generally, homebuyers will be required to put down a deposit of 5-10% of the purchase price to secure their presale. This can increase to 20-25% depending on the project.
Is it good to buy presale?
Depending on your goals and risk tolerance, investing in presale real estate can be a hugely lucrative venture.
If you're on the fence, this guide should hopefully help you weigh the pros and cons of buying presale as opposed to traditional real estate.
How do presales work in BC?
As we've explained here, presale homes are sold on the market by developers before the project is completed. Investors pay a deposit to secure a finished home, but enjoy benefits such as potential market appreciation and delayed payments.
What is the average price of a condo in Vancouver?
The average price of a condo or apartment in Vancouver varies greatly depending on market conditions, location, and many other factors.
If you want to get a sense of the latest rent prices in Vancouver, you can always take a look at our latest Metro Vancouver Rent Report.
Is a presale condo cheaper?
Depending on the state of the housing market, the purchase price of presale homes can actually be higher than existing units. This is because developers typically sell presale units for their assumed future market value, which is typically expected to be higher.
With that said, the housing market often outpaces these predictions – meaning that investors can still see a profit before the project is completed.
Can you walk away from a presale?
Once you have signed a purchase and sale agreement, you have seven days to deliver a written rescission notice to the developer.
If you meet these requirements, you'll have your full deposit returned and can walk away from the deal. After this date, the purchase agreement is considered binding and it becomes much harder to back out of the deal.
---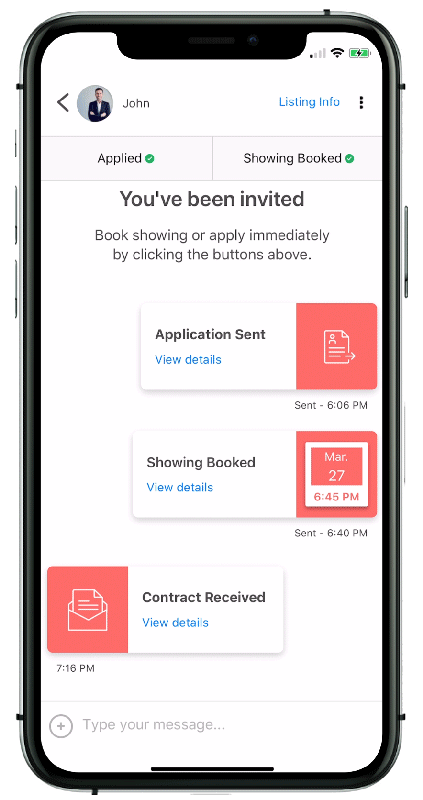 Rethink The Way You Rent
Not on liv.rent yet? Experience the ease of digital applications & contracts, verified tenants & landlords, virtual tours and more – all on one platform. Sign up for free or download the app.
Subscribe to receive the latest tenant & landlord tips and get notified about changes in the Canadian rental market.
>> Stay up-to-date on the average rent in Vancouver, Toronto and Montreal: Rent Reports.