For many investors and homeowners, renting out part or all of their homes is an excellent way to generate passive income while helping cover expenses. Is renting out your house with a mortgage allowed though? What rules should would-be landlords be aware of? In our latest Landlord guide, liv.rent will walk you through all the steps you'll need to take prior to renting out your house with a mortgage – from getting the right type of mortgage, to ensuring you're maximizing your property's profits.
Table of Contents
Download This Ultimate Landlord Guide
If you're a first time landlord, this is the guide you'll need to get started on finding and securing good tenants — summarizing the steps you need to take from marketing your property and screening tenants to drafting lease agreements.
Can I rent my house if I have a mortgage in Canada?
If you're considering renting out a house with a mortgage, you're probably in one of two situations: either you're looking to rent out a room in your primary residence, or you're planning on purchasing a second property with the sole purpose of renting it out. In the eyes of lenders, these are very different cases, as the former is deemed an Owner-occupied mortgage, while the latter is a Non-owner occupied mortgage, which may be subject to the same rules and higher rates of a commercial mortgage.
Owner-occupied mortgage
Some lenders include conditions within the mortgage agreement that state that the property must be owner-occupied, meaning that the homeowner must reside on the property at all times. This is typically seen as a measure to prevent borrowers from defaulting on their loans, since they'll still be present on the property. If you're interested in renting out your entire property and living elsewhere, you'll likely need to talk to your lenders about attaining a new mortgage.
Homeowners with an owner-occupied mortgage will generally face no issues in renting out part of their property, such as a basement, laneway house, or room. Nevertheless, it's always best to notify your lenders in advance of any changes in occupancy, or at least consult your mortgage terms to ensure you're not breaking any rules.
Non-owner-occupied mortgage
For prospective landlords interested in renting out an entire property while living elsewhere, you'll need to make sure you have a non-owner-occupied mortgage. Since these are considered to be investment properties rather than primary residences, lenders may have stricter requirements for potential homeowners.
Non-owner-occupied properties are generally subject to the same restrictions as commercial mortgages, meaning that lenders may require a larger down payment, in order to secure their loan. For landlords looking to grow their portfolio, ensuring that your rental property's mortgage allows for the unit to be non-owner-occupied is key.
Can I rent out my property without telling my mortgage lender?
Renting out your house without telling your mortgage lenders could jeopardize the agreement, leading to penalties in the form of costs and fees. If you find that the terms of your mortgage no longer meet your needs, homeowners are able to break or renegotiate their mortgage contract before the end of the term. This is typically done because another lender is offering a lower rate, but also applies to property owners looking to rent out their units.
For those looking to rent out part of their home under an owner-occupied lease, you're likely in the clear – although it's still smart to talk things over with your lender first, as they may require you to purchase additional insurance. While it's a good idea to confirm with your lender that you're using the property for this purpose, it isn't strictly necessary.
On the other hand, if you already have a mortgage in place and are planning on renting out the property, you'll first need to contact your lenders to make sure you're within your rights to do so. Lying to your lenders or failing to disclose that you're renting a property when you're on an owner-occupied mortgage contract could constitute occupancy or mortgage fraud, so it's best to be sure before you convert your home into a rental property.
How to rent out your home when you still owe a mortgage
So long as you adhere to the rules above and are upfront with your lenders, renting out your house with a mortgage is no more complicated than any other rental arrangement. In fact, the majority of landlords currently have a mortgage, using their rental income as a way to offset their monthly payments and other expenses.
For starters, you'll need to evaluate how much rental income you'll need to cover your monthly mortgage payments and ideally make a profit on your property. Entering information like your down payment amount and mortgage terms, as well as income & expenditures into a rental profit calculator is a great way to figure out what to charge for rent, but there are other factors to take into account as well.
When listing your home for rent, you'll need to take into account your property's location, unit type, features, and other factors when deciding how much to charge for rent and who you'll market to. Have a look at rent reports for your area as well to get a sense of average prices for similar units.
Is your rental priced competitively?
Find out with a free rent estimate. Our team of rental experts will calculate your unit's true value based on your listing details & current market trends.
Owning a rental property is a fantastic investment for those willing to put in the work. From screening tenants to staying up-to-date on rental laws, there's a lot more to being a landlord than meets the eye. For landlords looking for an easier way to rent, there's liv.rent – Canada's go-to all-in-one rental platform and landlord productivity tool. From posting & sharing listings to signing contracts and receiving rent payments, liv.rent lets you do everything in one convenient, easy-to-use platform.
FAQ: Renting out your house with a mortgage
Do lenders check owner occupancy in Canada?
It's not uncommon for lenders to perform periodic audits to ensure that homeowners aren't using the property for purposes other than what was specified in the mortgage.
This means that if you entered into a mortgage contract under the pretense that you'd be occupying the property and were later found to be renting it, you may be at risk of committing occupancy fraud.
Can you rent out your primary residence in Canada?
You can rent out part of your primary residence such as a room or basement, generally without any consequences to your mortgage.
Since you'll need to reside in your primary residence for at least part of the year, you'll only be able to rent out the entire property for a certain portion of the year, assuming your mortgage allows for it.
Do you have to claim rental income if you live in the house in Canada?
Yes, any money received in exchange for space within your house is considered rental income and must be claimed on your annual tax return.
How long do you have to live in a house before you can rent it out in Canada?
Some lenders require homeowners to live in the house for 12 months before renting it out. Always consult your lender before converting your residence to a rental property.
Can you rent out your first home in Canada?
So long as you're either only renting out part of your house or have a non-owner-occupied mortgage contract in place, homeowners are well within their rights to rent out their first home.
A common strategy for landlords is to purchase a second home to become their primary residence, renting out their first home as a passive income stream.
Do I pay tax on rental income if I have a mortgage?
Yes. Any income you earn from your rental property is taxable, however you can offset this amount with things like interest on your mortgage payment, expenses, and so on.
Do I need to change my mortgage to rent?
If you're on an owner-occupied mortgage contract and you wish to rent out your home, you'll likely need to renegotiate your mortgage terms with your lender.
Homeowners with an owner-occupied mortgage can still rent out part of their home, though they should consult their lenders first.
Can I Airbnb my house if I have a mortgage?
Many lenders won't look favourably on short-term vacation rentals if you don't reside on the property. Securing a non-owner-occupied mortgage for vacation rentals could mean a larger down payment, but always be upfront about your intended use of the property you're purchasing.
First-time landlord resources & checklists
If you're considering renting out your property for the first time, it's best to come prepared. Being a landlord is an excellent way to generate a second stream of income, but doesn't come without its fair share of challenges.
We've compiled a list of resources for those considering renting out their home, as well as checklists for helping you navigate your first rental arrangement with ease.
Resources & guides
Checklists for first-time landlords
---
Looking for an easy way to find tenants fast and maximize your profits from your rental property? See how liv.rent's rental management & marketing features can help.
---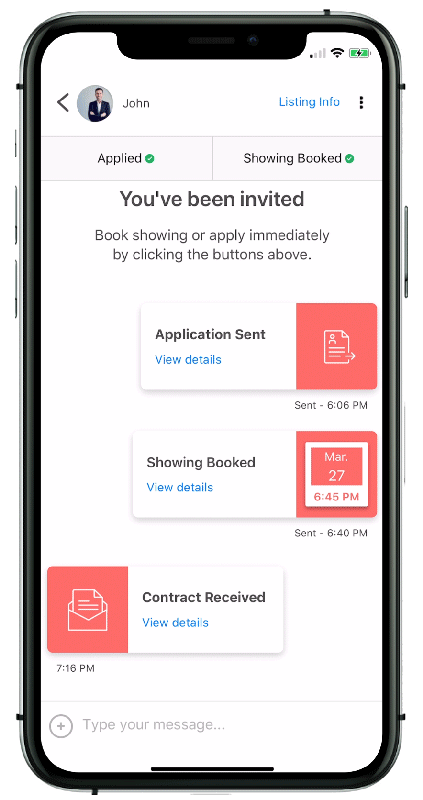 Rethink The Way You Rent
Not on liv.rent yet? Experience the ease of digital applications & contracts, verified tenants & landlords, virtual tours and more – all on one platform. Sign up for free or download the app.
Subscribe to receive the latest tenant & landlord tips and get notified about changes in the Canadian rental market.
>> Stay up-to-date on the average rent in Vancouver, Toronto and Montreal: Rent Reports.