Renting out your property for the first time can be a daunting task. From preparing the unit to listing and advertising, to finally signing the lease, there are a lot of moving parts in the rental process and a lot that can go wrong along the way. for first-time landlords, the last thing you want is for your passive income stream to suddenly become a full-time job, so we've provided these easy-to-follow checklists to get you started while setting you up for a worry-free rental process. We have a first time landlord checklist for everything from preparing your property to rent to signing a lease agreement, so use the table of contents below to navigate to whichever list you need.
Table of Contents
Download This Ultimate Landlord Guide
If you're a first time landlord, this is the guide you'll need to get started on finding and securing good tenants — summarizing the steps you need to take from marketing your property and screening tenants to drafting lease agreements.
Landlord checklist 1) Preparing the rental property
What does a landlord need to do before renting? Before you rent out your property for the first time, follow this simple 'becoming a landlord checklist' to make sure your unit is ready for tenants and you have everything in order.
☑️ Insurance for landlords
You will want to buy Landlord's Insurance to protect you and your property.
A rental property policy will have many coverages so ensure you choose the ones pertinent to your situation.
Also consider Rental Income Insurance to cover yourself in the event of property damage (i.e. major structural upgrade required) that forces tenants out for a long period. This will cover your lost revenue for up to one year, at market value.
☑️ Check that everything is working
Ensure all appliances are in good working order and all electrical outlets are functional.
Make sure the doors and windows open well and don't need sanding.
Once a tenant moves in, organizing repairs becomes more of a hassle, coordinating times, labour etc.
It's best to have everything working properly from the get-go.
☑️ Have the unit professionally cleaned
Have the unit professionally cleaned and consider adding a fresh coat of paint before taking pictures or showing.
Newly painted walls always appeal to tenants, making spaces feel bright and clean.
☑️ Make sure safety measures are in place
Before you even start showing the suite, make sure there is a functional smoke alarm with new batteries, and double-check for anything that may cause health concerns such as lead paint, asbestos, and mold. These will need to be disclosed in a lease addendum if present.
It's also a good idea to change the locks before a tenant moves in, even if you're the only one who has access to the suite. Giving a tenant a fresh pair of keys ensures their peace of mind.
Landlord checklist 2) Advertising the rental property
A large part of renting out properties faster is in how you advertise your listing. Including attractive photos and describing the property accurately and in a way that appeals to renters is key for securing a quality tenant without having to look too hard. Thankfully, liv.rent makes it easy to reach a large audience of trusted renters by allowing landlords to quickly upload photos, describe their listing, and then share it to multiple platforms with just a few clicks. Here's a quick checklist you can follow to be sure you're advertising is up to the task:
☑️ Provide essential information
First thing's first: you want to be sure you're giving renters a good sense of what exactly it is that you're renting out.
Your listing should include key details such as:

Number of bedrooms/bathrooms
Furnished or unfurnished
Pet policy
Whether or not utilities are included
Location
Move-in date
Lease type (month-to-month, fixed term)
☑️ Take quality photos
Be sure to clean and de-clutter the unit so that as few items as possible are showing. This helps the unit look more spacious and gives renters a better sense of what's on offer.
Natural light is your friend. Ideally, take photos on a bright, sunny day so that the unit appears bright and welcoming.
Align and center your photos to ensure there's equal space between vertical and horizontal lines
☑️ Highlight specific features
Be sure to include some of the unique selling points of your listing as well. It's not enough to just give the bare minimum if you want to attract plenty of interested renters.
The following are some examples of things that renters may find attractive in a listing:

Parking
Access to transit, campuses, etc.
Amenities in the building or nearby
New building
☑️ List your unit on liv.rent
After you've taken some quality photos of your listing, upload them to a listing on liv.rent to start getting inquiries and applications.
Use your liv.rent listing page as a rental hub to syndicate it to places like Facebook Marketplace and Craigslist easily.
Then, ask tenants to apply via liv.rent to start streamlining your tenant screening process.
Landlord checklist 3) Screening tenants
To be sure you've found the right tenant, it's important to equip yourself with a robust tenant screening process. This checklist will get you started with some of the essential steps to screening tenants, but you can also use liv.rent to make your screening process even simpler.
☑️ Ask plenty of questions
Take any opportunity you get to try and learn a bit more about your prospective tenants. Ensuring they're a good fit is vital to a successful tenancy.
Ask questions like:

Why are you moving?
How many other places have you viewed?
How do you get along with your current neighbours?

For a complete list of questions to ask tenants at every stage of the screening process, be sure to check out our comprehensive list.
☑️ Make use of video tours
Video tours help both you and any prospective tenants by giving them a sense of the property before they apply or view it in person.
If you're using liv.rent, it's easy to upload a video tour of your unit that applicants can see upfront. This saves you time from showing the unit to renters who won't be interested.
☑️ Have renters apply before booking a showing
To save yourself time, only book showings for renters who are interested enough to apply beforehand.
This allows you to filter out renters first, before having to do so at showings anyway.
☑️ Check references
Always call your tenants' references. Even if they've never rented before, personal references or employers can still provide a good sense of who the renter is.
For a complete list of questions you can ask references, be sure to check out our list here.
Download This Ultimate Landlord Guide
If you're a first time landlord, this is the guide you'll need to get started on finding and securing good tenants — summarizing the steps you need to take from marketing your property and screening tenants to drafting lease agreements.
Landlord checklist 4) Signing the lease agreement
☑️ Create a lease agreement
Once you've selected a tenant, draft a lease agreement for the both of you to review and sign. This is a binding legal document so be sure to take your time.
Landlords need to provide a printed copy of the leaseto the tenant within 21 days of entering into the agreement.
This is a binding legal document that should be drafted and read carefully.
Make sure you've set clear expectations for fees, penalties and restrictions including pets, breaking the lease, maximum occupants and subletting.
To ensure the lease terms you've outlined are within your rights and obligations as a landlord, refer to your local residential tenancy rules.
The lease may specify the ways in which rent can be paid – cash, cheque, e-transfer etc. You can request post-dated cheques for the duration of the lease term but if the lease is broken, the remaining cheques must be returned to the tenant.
Note: If you collect a security deposit, this establishes a tenancy, even if there is no written tenancy agreement and if the tenant never moves in.
Learn more:
☑️ Include any necessary addendums
Sometimes there are conditions you'd like to specify beyond what's in the original lease agreement. When this happens, landlords include addendums to outline additional rules or guidelines to follow regarding a specific subject
Some common addendums landlords may want to use include:

Pet addendums
Renovation addendums
Smoking addendums

If you're looking for an easier way to create and issue lease addendums, liv.rent provides landlords with a number of common standard addendums, as well as customizable options you can edit and include. For more information, read our article on addendums here.
☑️ Collect a security deposit
You'll also want to collect any deposits at the time of signing a lease agreement. Make sure that any deposits you collect are allowed under your local tenancy laws, as these can vary by province.
For information on when you should keep deposits and when they need to be returned, read our post on the subject here.
☑️ Make utility obligations clear
Even if it's outlined right in the lease, be sure to discuss who will be paying for what utilities, and how these will be calculated (metered vs. un-metered).
Remind the tenant to begin booking appointments with utility companies and cable/internet providers prior to their move-in date.
☑️ Encourage Insurance
Encourage your tenants to get tenant insurance.
Not only does it protect the renter's personal property but also includes personal liability coverage.
This is not mandatory but highly recommended. Alternatively, you could also make getting insurance a condition of lease signing.
☑️ Collect deposits
Collect post-dated rent cheques and half a month's rent (maximum) as a security deposit and/or half a month's rent (maximum) pet damage deposit.
You can use the liv.rent app to collect rental payments and tenants can pay by UnionPay, bitcoin, and credit card.
Download This Ultimate Landlord Guide
If you're a first time landlord, this is the guide you'll need to get started on finding and securing good tenants — summarizing the steps you need to take from marketing your property and screening tenants to drafting lease agreements.
Landlord checklist 5) Move-in inspection
☑️ Conduct a thorough walk-through
To ensure that there are no last-minute problems and for both of you to get a sense of the condition, be sure to arrange a walk-through of the unit.
This can happen on move-in day or at another pre-arranged time prior to the beginning of tenancy.
Review the condition of all the appliances and entire space and record the state of your place in a Condition Inspection Report.
☑️ Confirm communication
Collect emergency contact information for the tenant.
Let them know your preferred method of communication.
On liv.rent, all correspondence between tenants and landlords is in one place, the chat timeline.
Even applications and leases are saved here.
Having everything streamlined in one place is great in case of future disputes, but it also promotes better work-life balance because you're not scattered across calls, texts, and emails.
What to know before becoming a landlord
Purchasing an investment property and becoming a landlord is a huge decision that should not be taken lightly. Although people often view renting as a hands-off passive income stream, there's actually quite a bit that landlords need to know and do in order to be successful.
First, be prepared to do your research. As with any investment, it's important to be familiar with what you're buying – including the neighbourhood your property is located in, average rent nearby, and factors that may affect rent prices.
Landlords also have to be marketing experts in order to get their property rented quickly and reduce costly vacancies. Knowing what information to include, how to take attractive photos, and even taking advantage of new technologies like 3D video tours are all great ways to make your listing stand out and find quality tenants quickly and easily.
The other key thing to be aware of is tenant screening and the need to find quality tenants who will treat your property with respect. Credit checks and references from past landlords are great ways to filter out applicants, but new metrics like liv.rent's Trust Score provide a better way to see tenants' complete rental history. In addition to credit reports from Equifax®, this complete score allows you to see other important information like income-to-rent ratio, court records, and whether the applicant verified their identity and social media. The latter is particularly important as reports of rental scams rise across the country, as 'professional tenants' are a huge risk to landlords.
The best way to ensure a safe, profitable rental venture is to use an all-in-one rental platform like liv.rent. More than just a listing platform, this Vancouver-based rental app helps you boost productivity with solutions for marketing, screening, digital contracts & rent payments, and more. You can learn more about liv.rent's pricing plans for landlords here.
What does a landlord need to do before renting?
Prior to renting out your unit, be sure to prepare your unit so that everything's ready to go for your future tenants, as well as to protect yourself. Purchasing landlord's insurance is always a good idea, and you can also opt for rental income insurance in case of damage to the unit or lengthy and unplanned vacancies.
This is also your chance to clean the unit and ensure that everything is up to code. Particularly if this is your first time renting out the unit, be sure to check the batteries on smoke alarms, make sure every plug works, and appliances are functioning as normal. Performing repairs and making improvements such as new flooring or a new coat of paint are great ways to get your rental unit in tip-top shape for your new tenants.
For a complete list of what landlords need to do before renting out their unit, you can consult our Landlord Checklist 1) Preparing your unit.
FAQ: First-time landlord checklist
---
Use liv.rent to handle listing and marketing your unit, tenant screening, credit checks, lease agreements, and even rental payments both online and on the go in our app.
Landlords and property managers can book a free 30-minute discovery demo with Paula Azevedo, liv.rent's Business Development Manager.
This is a good way to learn about the platform and how you can use it to your advantage. Together, we'll explore your profile and talk about your unique needs to show you how our solutions can help you streamline your rental process.
---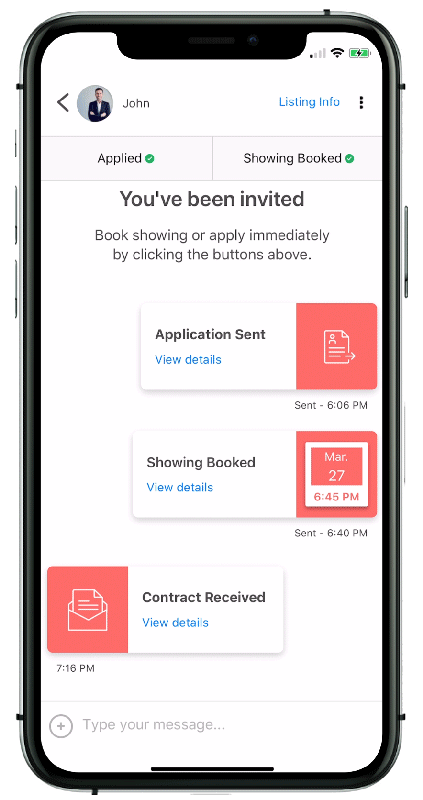 Rethink The Way You Rent
Not on liv.rent yet? Experience the ease of digital applications & contracts, verified tenants & landlords, virtual tours and more – all on one platform. Sign up for free or download the app.
Subscribe to receive the latest tenant & landlord tips and get notified about changes in the Canadian rental market.
>> Stay up-to-date on the average rent in Vancouver, Toronto and Montreal: Rent Reports.