Today's landlords have benefitted greatly from the rapid development of new technologies, with everything from listing to digital contracts helping to automate the rental process. The multitude of new software and apps designed to help landlords and other busy professionals has made it easier and faster than ever to manage your day-to-day operations. Of course, there is such a thing as too much choice though. With hundreds, even thousands of worthy apps to choose from, which ones add real value to your workflow? In this post, we'll be looking at 28 of the best apps for landlords for aiding in productivity, advertising, tenant screening, and more — and a few apps that can do it all, like liv.rent.
Read on for our complete list of apps every landlord should have, or use the table of contents below to navigate to a specific section.
Do you want to get your listing rented out faster?
From posting and advertising to screening and signing a contract, find out how you can get your listing rented out faster – in as little as 7 days.
What are the best apps for landlords?
Renting out property has developed a reputation for being a tiresome, neverending job thanks to potentially troublesome tenants, constant upkeep, and making sure you're getting paid on time. Thankfully, this has changed over time as more and more technologies evolve to free up landlords' valuable time. The reality is that with the right tools, Canadian landlords can save themselves a ton of time and effort by automating essential duties like marketing, tenant screening, and contract signing.
Even better, all of these things can even be done while landlords are on the go as smartphones grow more sophisticated and mobile apps gain popularity. In fact, there are even some apps that do it all, in one place — which brings us to our first section. Read on for the best all-in-one landlord apps available in Canada.
All-in-one landlord apps
Today's busy landlords need one app that does it all. Listing, marketing, screening tenants, signing lease agreements, and rent payments: these apps can support landlords through every step of the rental journey, albeit to varying degrees. Only one rental app truly lets landlords do everything, even while they're on the go — and that's liv.rent. Here's the top five options for all-in-one rental apps and what each offers.
1. liv.rent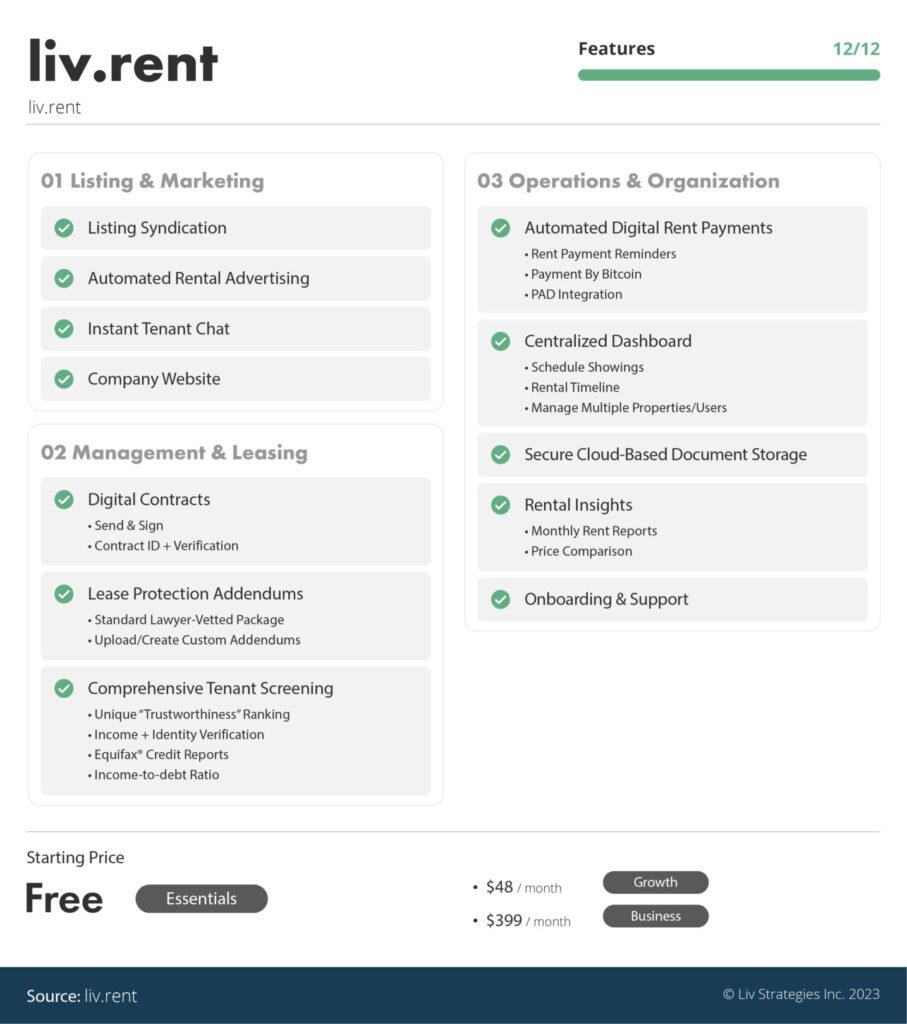 Unsurprisingly, our first pick on this list is liv.rent. In addition to being Canada's safest rental platform with features like listing verification and the Trust Score, liv.rent allows landlords to post & share listings, screen tenants, sign digital contracts, and perform other rental management duties from anywhere with a handy mobile app. This all-in-one landlord productivity tool has just about everything landlords and property managers could ask for, and best of all — it offers a free Essentials plan for landlords. With a full 12 out of 12 features, liv.rent is truly the full package.
For landlords looking to further streamline their rental process and gain access to the same tools used by professional property managers, liv.rent's new Growth plan is here to make renting even easier. The Growth plan is effectively an all-in-one property management software package, with all the tools you'll need to digitize and streamline your rental process from start to finish. For just $48/month, this comprehensive plan includes:
Unlimited lease protection addendums
2 Trust Score reports with credit check per month
Automated rental advertising (2 per month)
Shared management tools for up to 3 users
…plus everything in our Essentials plan.
Unlock The Trust Score Tool
Save time and remove the manual labour of tenant screening with the Trust Score from liv.rent. This comprehensive tool helps you evaluate a renter's reliability & credibility with flexible pricing options for every landlord. Click here to view an example of the Trust Score.
2. Buildium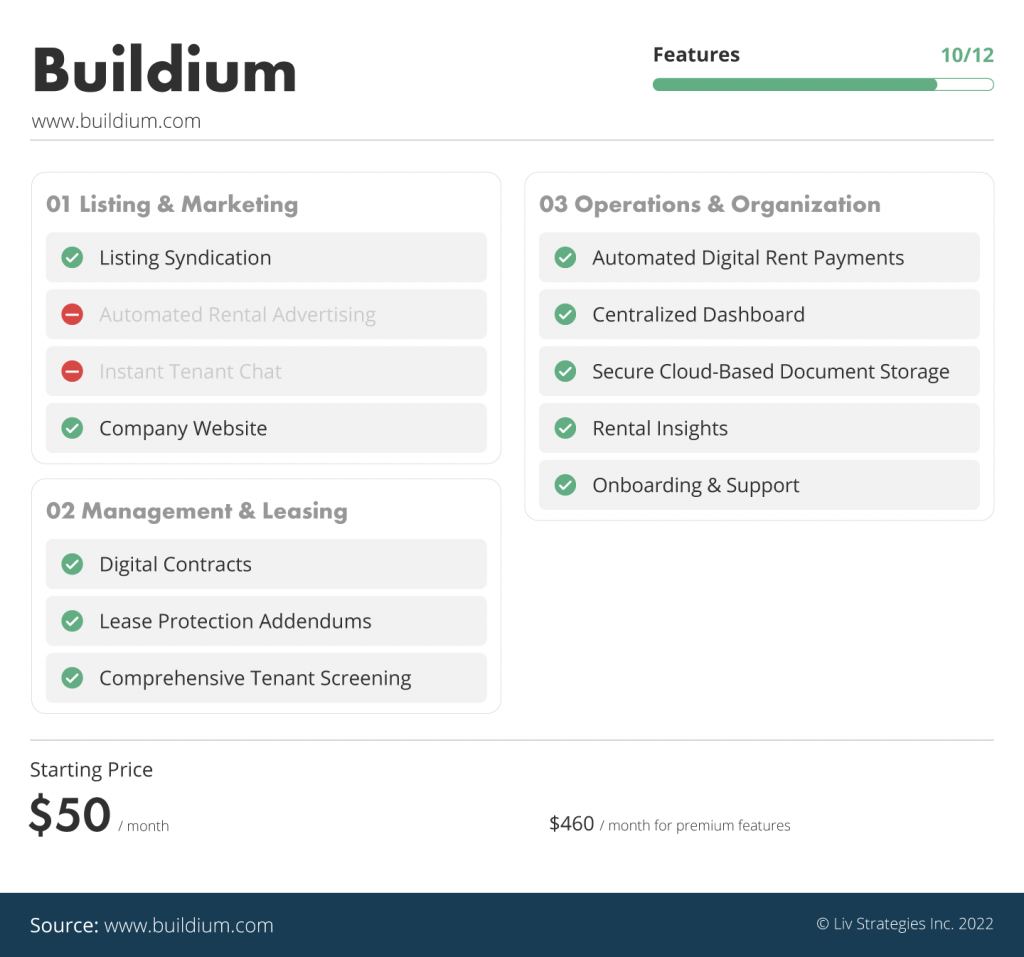 Buildium is another rental management software that's available in Canada and offers landlords quite a few useful tools. Designed for property managers, this app is quite capable at handling day-to-day rental operations, but lacks some features that individual landlords might need, like instant chat and efficient, automated advertising.
3. Yardi Breeze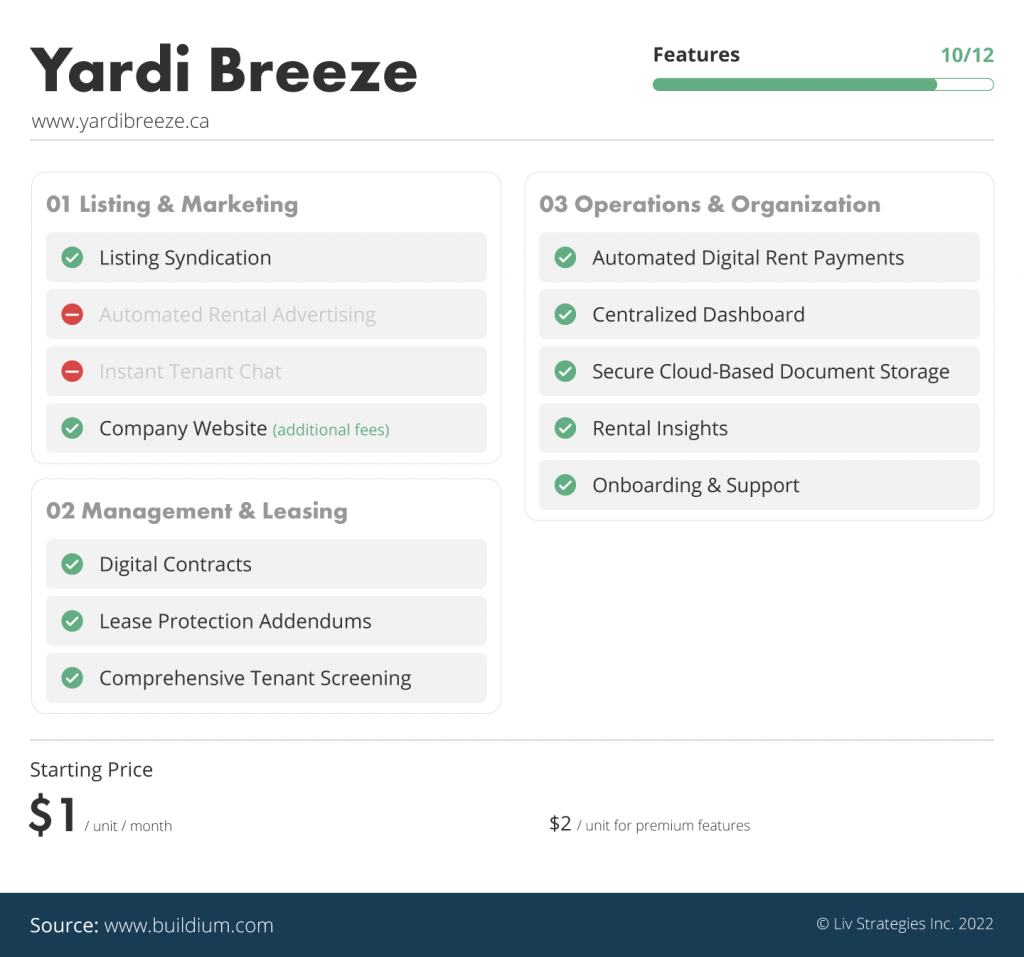 Another complete property management solution, Yardi Breeze is a Canadian platform with an assortment of solutions for busy landlords and property managers. Like Buildium though, Yardi Breeze lacks some features that individual landlords in particular will find useful. The per unit pricing structure may endear some landlords though, despite the platform lacking instant chat and automated advertising.
4. Total Management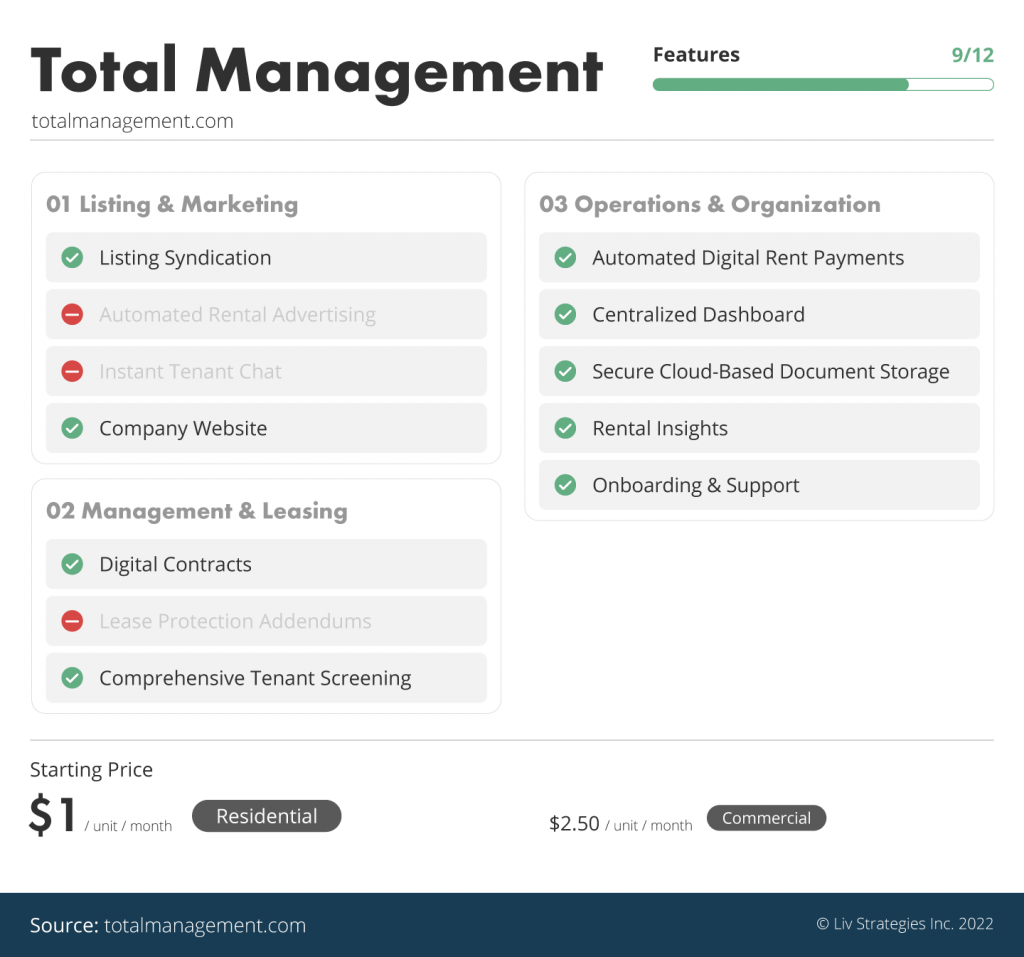 Total Management is a web-based rental management service that bills itself as "the easiest property management software on the market". Its simple interface and ease of use make it a good choice for beginning landlords or those who aren't so tech-savvy, but it is missing a few key features — most notably the ability to add and customize lease addendums.
5. AppFolio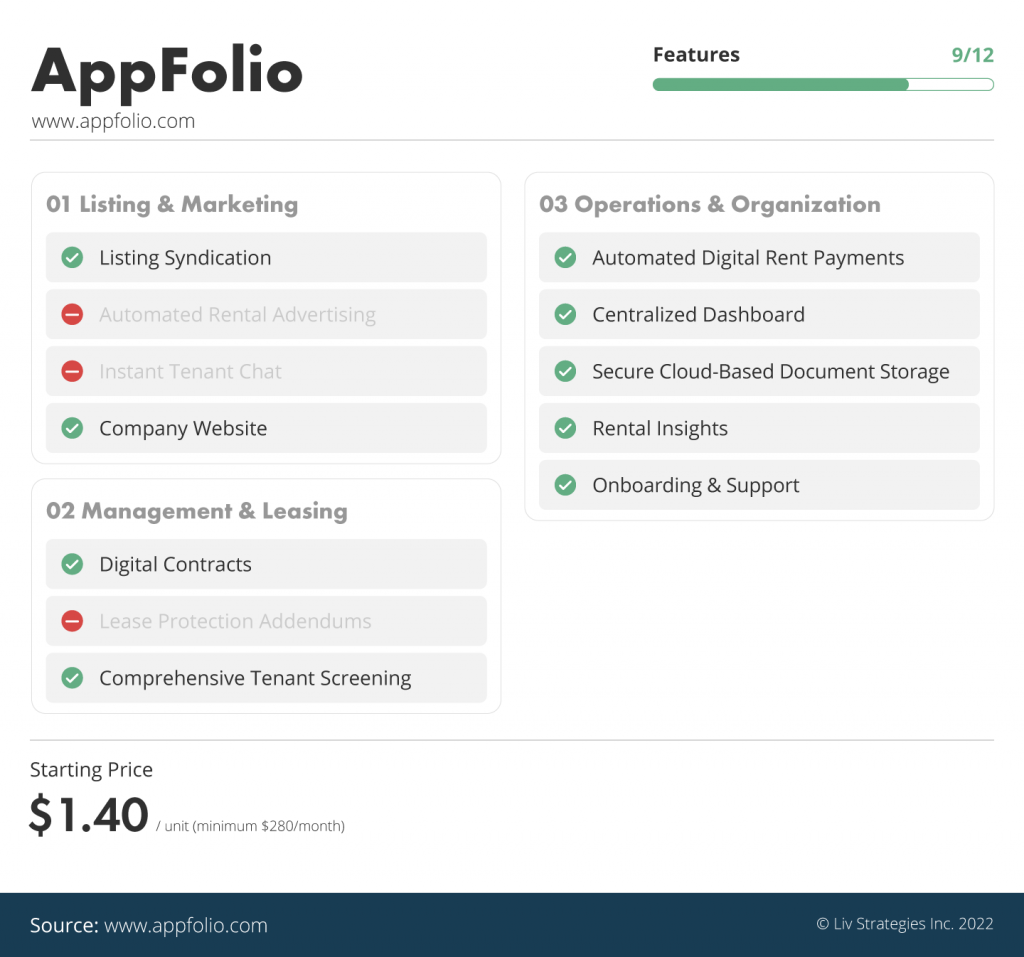 AppFolio is another popular option that also has 9 of the 12 features we're ranking for here. Again, the platform is missing an easy, instant way to communicate with tenants, as well as lacking lease addendums and automated rental advertising. However, AppFolio does feature an intuitive, easy-to-use layout and contains some of the most important features landlords look for in their rental management apps, with a per unit pricing structure.
Landlord apps for productivity
Productivity apps are often associated with large-scale businesses trying to organize team members' day-to-day tasks, but landlords can benefit greatly from them as well. With the seemingly endless to-do lists most landlords face on a daily basis, it can seem impossible to stay organized and accomplish everything on-time. Being able to visualize your tasks and collaborate with property managers, maintenance people and others on your team is key for stress-free renting, and these apps can help.
Of course, liv.rent is also a landlord productivity tool as well, with features like user management, income expense statements, rent payment reminders, and more — in addition to many of the features highlighted here. You can learn more about everything liv.rent offers landlords here.
1. Asana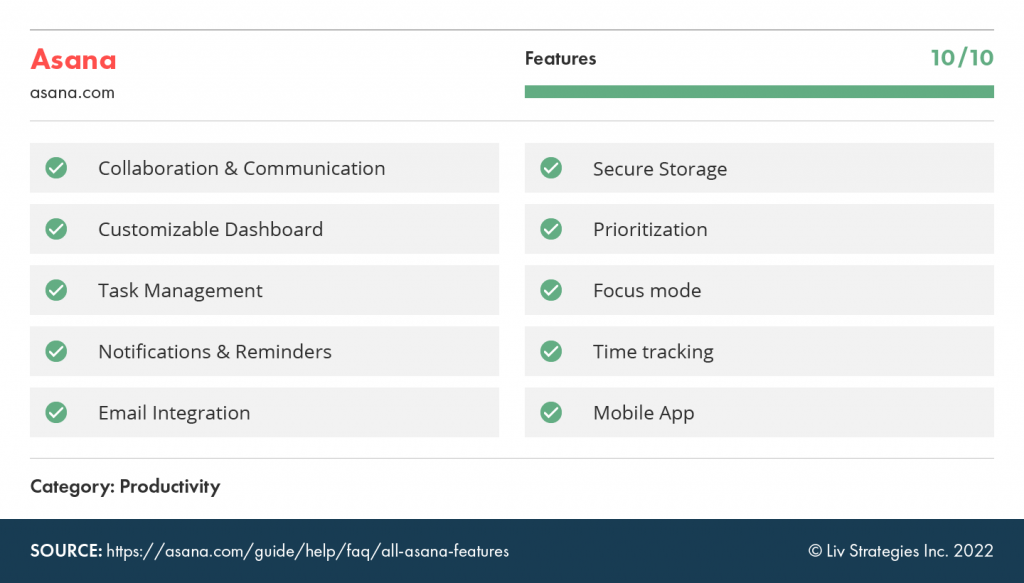 Asana is a favourite of many workplaces across a variety of diverse industries, and for good reason. Though it's designed more for enterprise than individual users, this productivity tool has a ton of functionality that can help landlords get and stay organized, like a customizable dashboard for visualizing the workday, prioritization tools, time tracking, and even a focus mode for when you really need to get something done.
2. Hive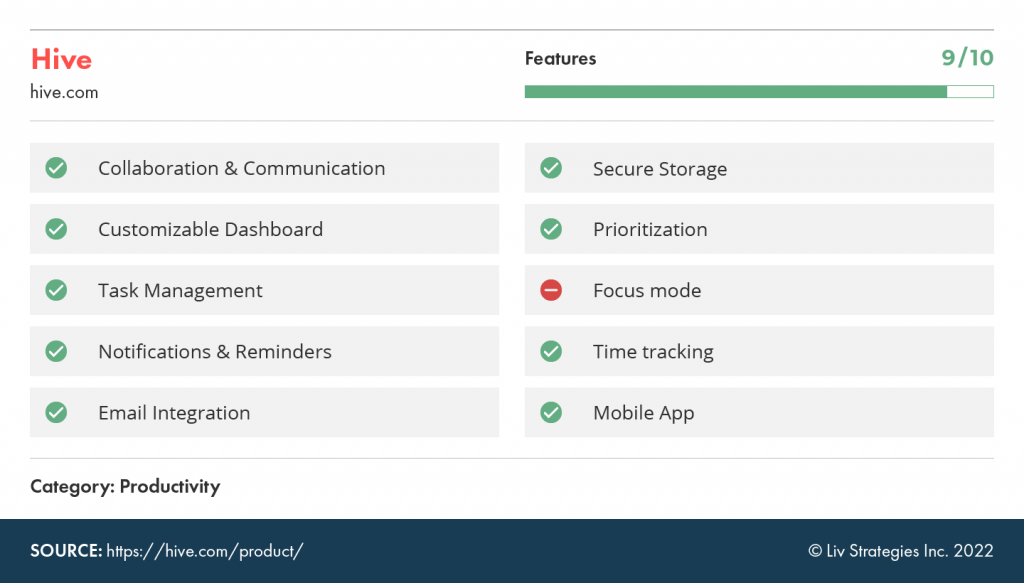 Hive offers a similarly broad assortment of productivity features designed to simplify landlords' busy days and make managing rentals easy and efficient. With 9 out of the 10 features we're examining present here, Hive is another great option for organizing your day. The only feature it lacks is a dedicated focus mode, which probably won't be a dealbreaker for many.
3. Todoist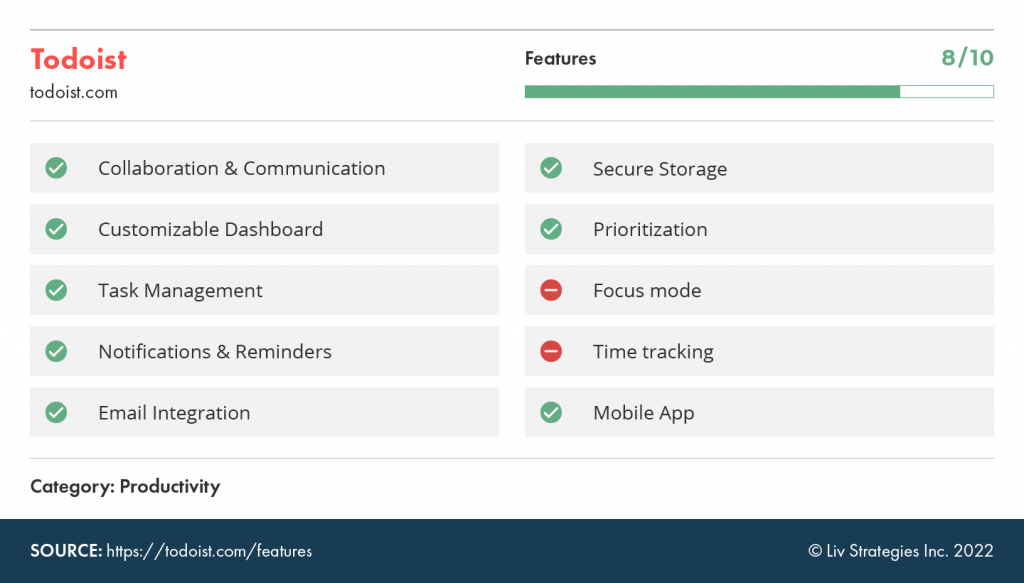 Todoist is an excellent choice for individuals, particularly landlords since its simple interface and broad functionality lend themselves well to renting. Easy categorization tools allow landlords to input their personal tasks, work goals, and rental activity to keep track of every facet of day-to-day life. The only things Todoist lacks are a focus mode and time tracking, which shouldn't be a huge loss for individual landlords.
4. Calendly
Especially for busy landlords managing multiple listings in addition to personal and work-related commitments, Calendly can come in handy to keep track of appointments and obligations. A hub for scheduling and keeping track of important meetings, landlords are able to easily build and visualize their days and weeks, while ensuring they never miss an inspection, key hand-off, or open house.
5. Evernote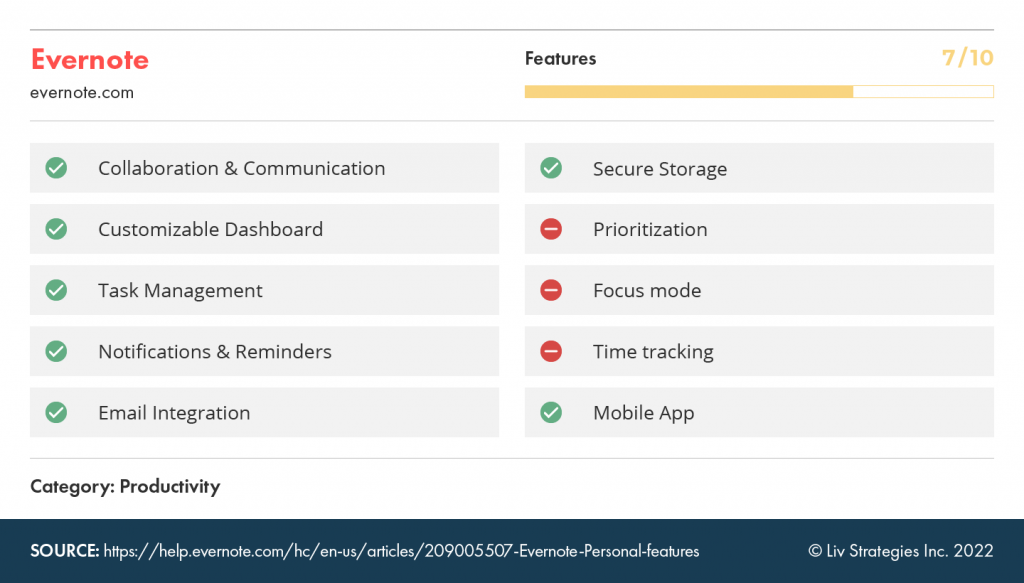 Evernote takes note-taking to the next level with scheduling, task management, and more. For landlords looking to remember important things like renter information and rent payment deadlines, this convenient software is an excellent tool.
liv.rent pro-tip: Landlords can make private notes within their listings to remember key details about tenants, their applications, and other relevant information.
Landlord apps for listing & advertising
Of course, every landlord needs a place to list their units in order to capture leads and get their property rented as fast as possible. A large audience of renters is great, but with rental scams and professional tenants at an all-time high across the country, the quality of renters a platform attracts is far more important. Competition for units is steeper than ever, with landlords often receiving hundreds of applications in one day, so a landlord tool that helps easily filter applications, like liv.rent's Trust Score is another helpful feature of a good listing platform.
The other key concerns landlords should have when choosing where to post their listings are the ease with which they can share their listings, and the marketing options available to them. While one platform is great, having the ability to post your listing on one platform and share it to other sites makes landlords' lives much easier and ensures you'll have a large pool of renters to choose from.
1. Zumper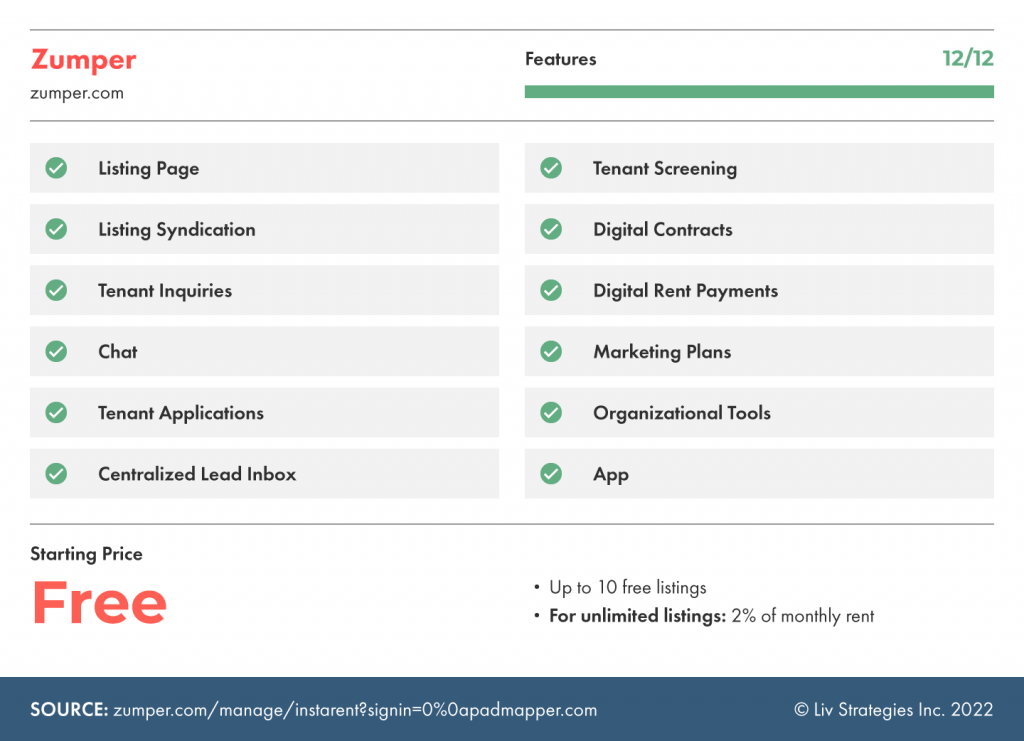 Zumper is among Canada's better-known listing platforms, with a variety of key features that can help speed up the application process. This popular site does have tenant screening and other tools like digital contracts and rent payments, but lacks some of the more in-depth rental management and productivity features of all-in-one tools like liv.rent.
2. Zillow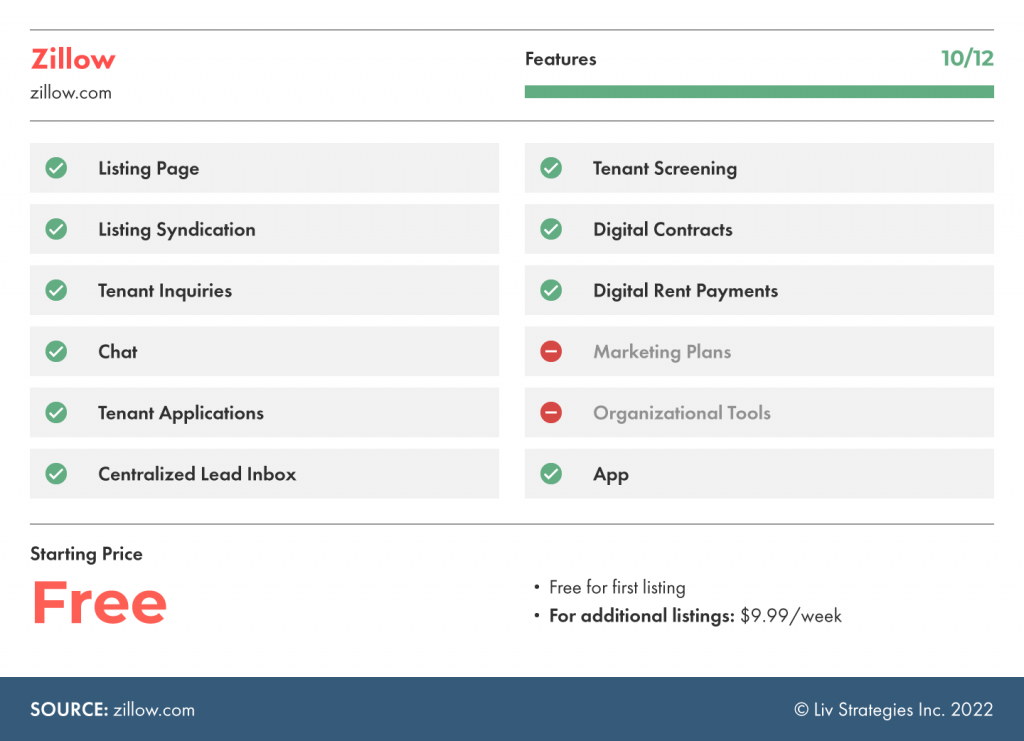 Zillow is best known as a real estate marketplace, but it does have support for rental units as well. Like other platforms on this list, Zillow has handy templates for creating appealing listings, including convenient neighbourhood map for all listings. Zillow has a number of convenient features for managing rentals as well, including rent payments and digital contracts, though again, it's missing key marketing and organizational tools.
3. Kijiji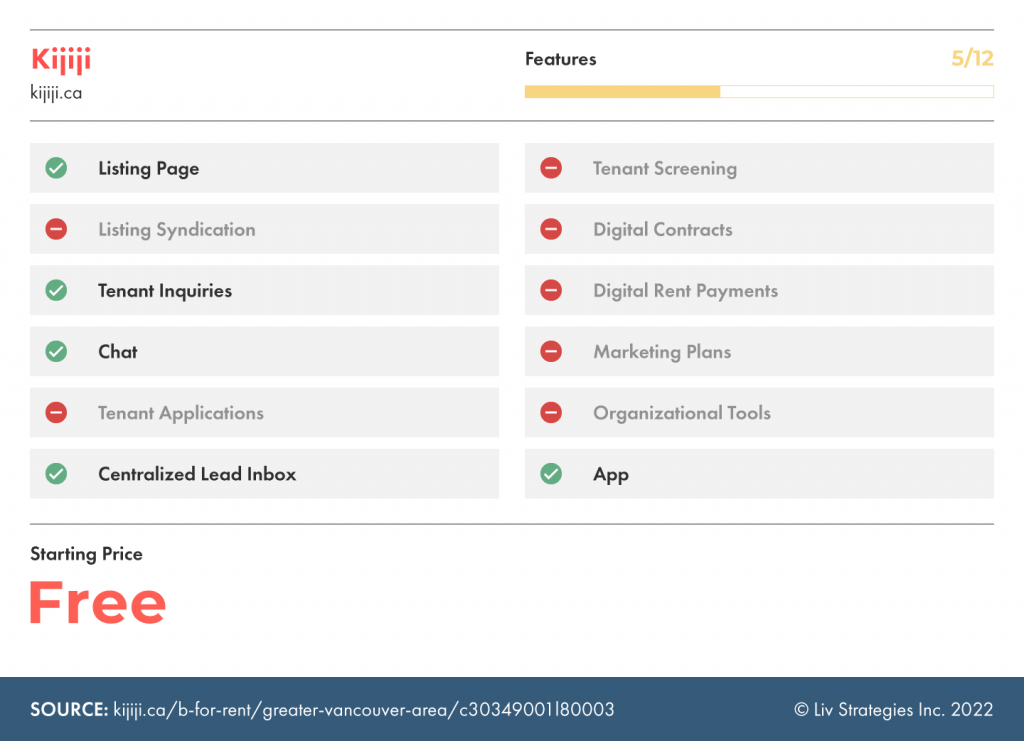 Kijiji is a popular marketplace site for buying and selling just about everything, from cars, to furniture, and whatever else you can imagine — and of course, it's also used to post and rent property too. While it does do the minimum that's required of it, Kijiji lacks more specialized features like rental applications, tenant screening, support for digital payments, and lease agreements.
4. Rentals.ca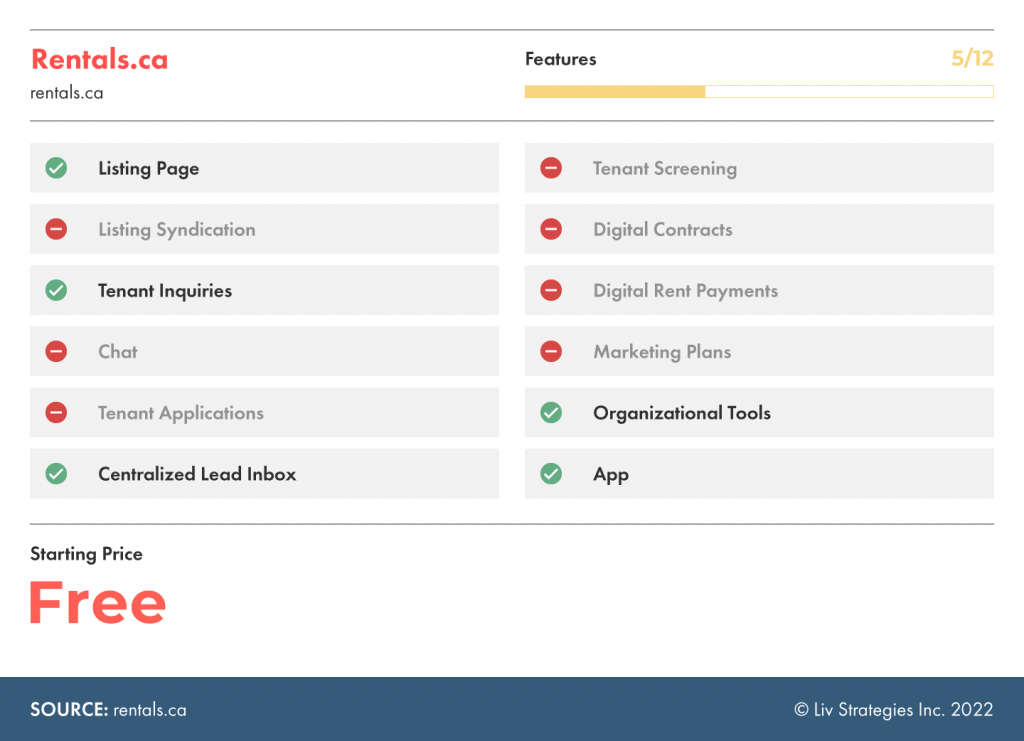 Rentals.ca, as its name suggests, is another popular app for landlords to post and rent apartments, houses and condos. It offers a user-friendly layout and basic functionality like inquiries, listing pages, and some organizational tools — though it lacks any sort of rental management features. Despite this, Rentals.ca does allow landlords to post for free, and the site offers lots of ways to customize your listing and make it stand out, including a photo gallery and neighbourhood score.
5. Craigslist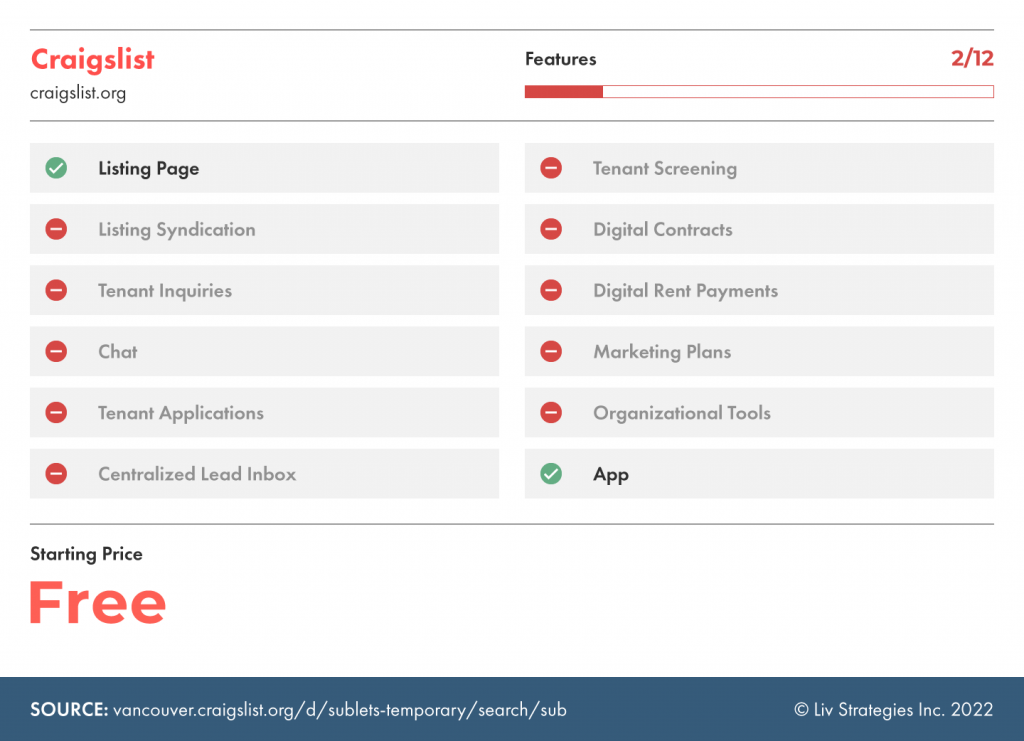 Another popular marketplace site, Craigslist is still many landlords' first stop when they need to post rental listings due to its pared-down appeal and ease of use. Though it may come out on top in terms of the number of listings available, the site lacks many of the security features landlords should look for in a rental platform, not to mention any sort of capability besides basic listing.
Landlord apps for tenant screening
Tenant screening is an integral part of the rental process, and has the potential to make or break a tenancy based on how diligent you were in filtering out applicants. Troublesome tenants can cause a number of problems to your unit, neighbours, and of course you, yourself, so the best way to eliminate this risk is to screen tenants thoroughly in advance.
The traditional way of doing this is by performing a credit check using one of Canada's two major credit bureaus, but there also exist a number of tenant screening apps to help simplify this task and make the results easier to understand. Here's a quick breakdown of some of the top tenant screening software for landlords.
1. SingleKey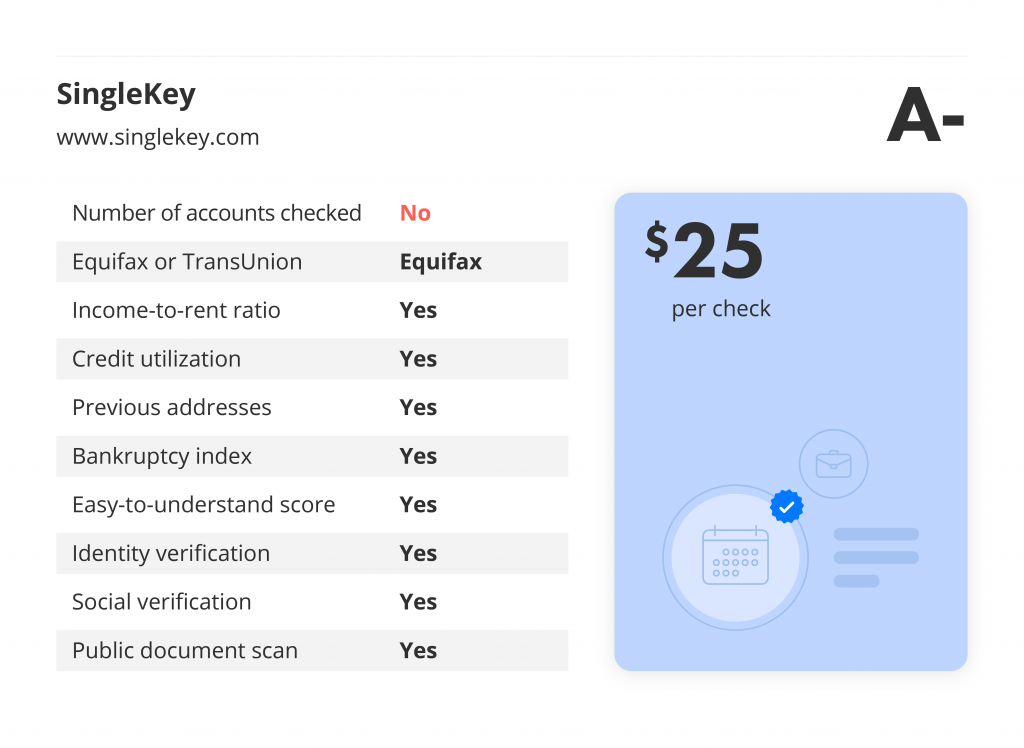 SingleKey offers a simple platform that provides detailed reports using Equifax screening. Where SingleKey sets itself apart is in its speed. The site advertises a less than five-minute processing time for checks, which allows landlords to get the answers they're looking for faster. However, this speed can't compete with the instant response given by liv.rent through the Trust Score feature, which allows landlords to instantly view necessary renter information the moment they apply to a listing.
In terms of information, SingleKey offers a comprehensive look into tenants' financial history, combining an overall Tenant Score with a broken down series of metrics that display the most pertinent information for landlords. The platform gives users the ability to pay-as-you-go rather than locking landlords into membership plans, at a rate of $25 per report.
2. Naborly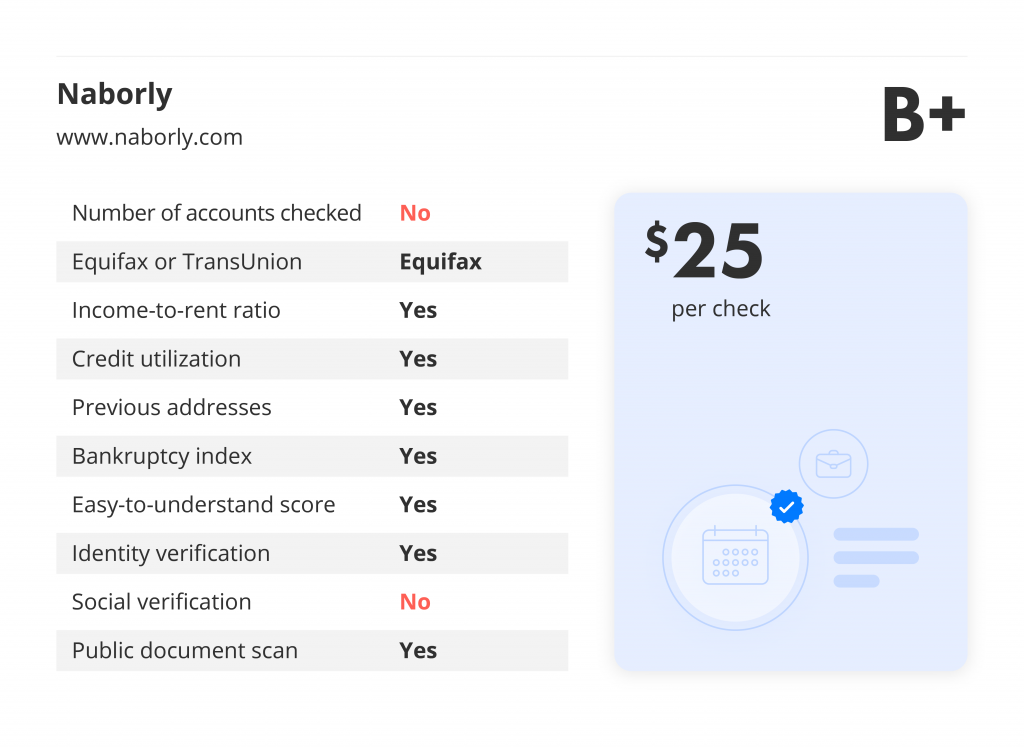 Naborly is another popular option for screening tenants that also relies on Equifax for the bulk of its information. Similar to liv.rent, Naborly provides landlords with a single score that factors in data like employment history, court records, and credit information. Naborly also makes it easy to get approval for these checks with a built-in application process.
Some landlords may also prefer the flexibility Naborly offers, as there is a flat rate of $25 per check with no additional membership or subscription fees. It's worth noting though that Naborly is intended to be used solely for tenant screening, and doesn't offer the additional functionality provided by all-in-one rental platforms like liv.rent. Still, it's a suitable option for those looking for a straightforward way to obtain important background information on prospective tenants.
3. RentCheck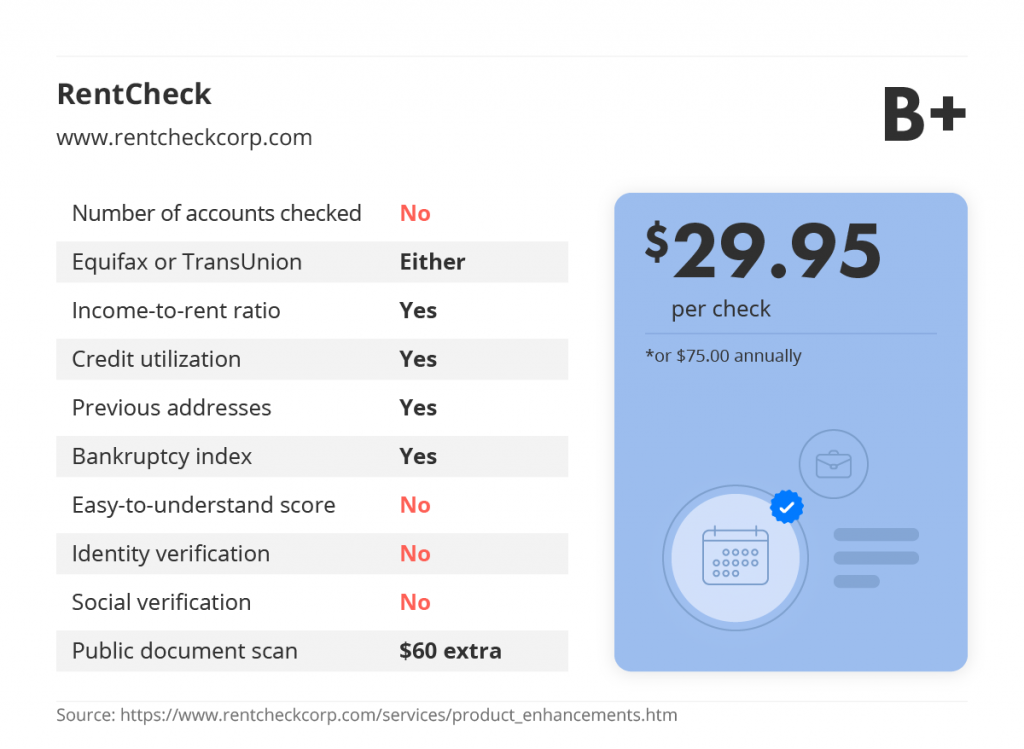 RentCheck is one of Canada's first tenant screening services, and offers a fairly standard credit report, with the option to gather even more in-depth information for an additional cost. RentCheck's reports offer landlords the ability to choose between Canada's two major credit bureaus, with information like credit utilization, income-to-rent ratio, bankruptcy index, and more. The price is similar to what landlords would expect to pay for a report directly from a credit bureau, and there is also the option to purchase an annual plan for landlords who need to screen tenants more frequently.
4. TVS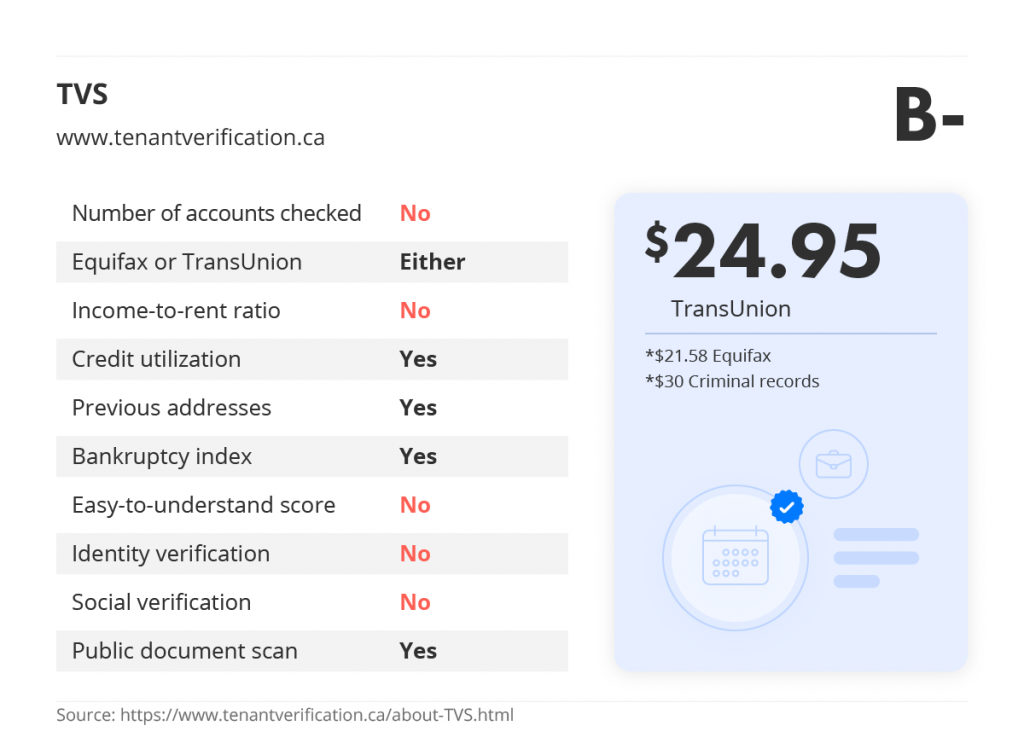 TVS is a Canadian tenant screening service that provides basic information on applicants to landlords using reports from either of Canada's two credit bureaus. Prices vary based on which of the two is opted for, and criminal records are extra. Still, TVS gives a good idea of tenants' suitability with information like credit utilization, bankruptcy index, and previous addresses.
Landlord apps for contracts & document storage
Lease agreements are one of the most important parts of the rental process, codifying the tenancy and outlining rules to govern the rental period. For many landlords today, paper leases are a thing of the past, as digital contracts offer a more convenient way to send, sign & store leases on the go. The key features here are digital signing and secure storage, both of which help simplify landlords' business and offer peace of mind knowing that their vital information is protected.
1. DocuSign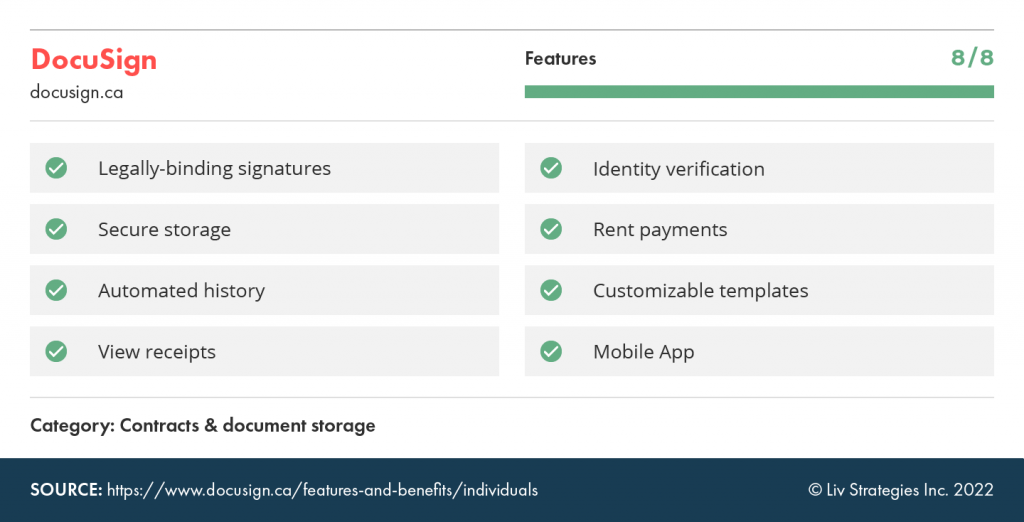 DocuSign is Canada's #1 choice for digital signatures and cloud-based document security, thanks to a full 8 out of 8 features and a handy mobile app. This helpful landlord app ensures that your lease agreements are legally binding, and that you can easily create and keep track of your agreements with features like view receipts, an automated contract history, identity verification, and convenient customizable templates. For landlords, this platform even supports payments so you can arrange to receive rent right through the app.
2. Dropbox (and HelloSign)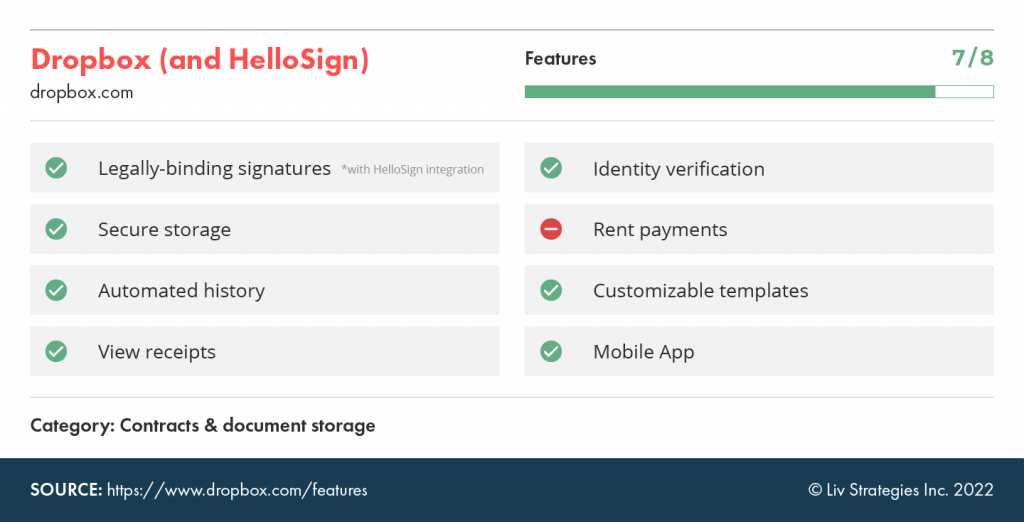 Dropbox has long been a major player in secure, cloud-based document storage, but with the addition of HelloSign, a digital contract solution from the same company, landlords can get even more out of the platform. Now, you can create, send, sign and store your contracts and agreements within one platform, with a nearly complete suite of features to support your needs. This one-two punch is still missing support for rent payments though, so landlords will need to look elsewhere for that feature.
3. PandaDoc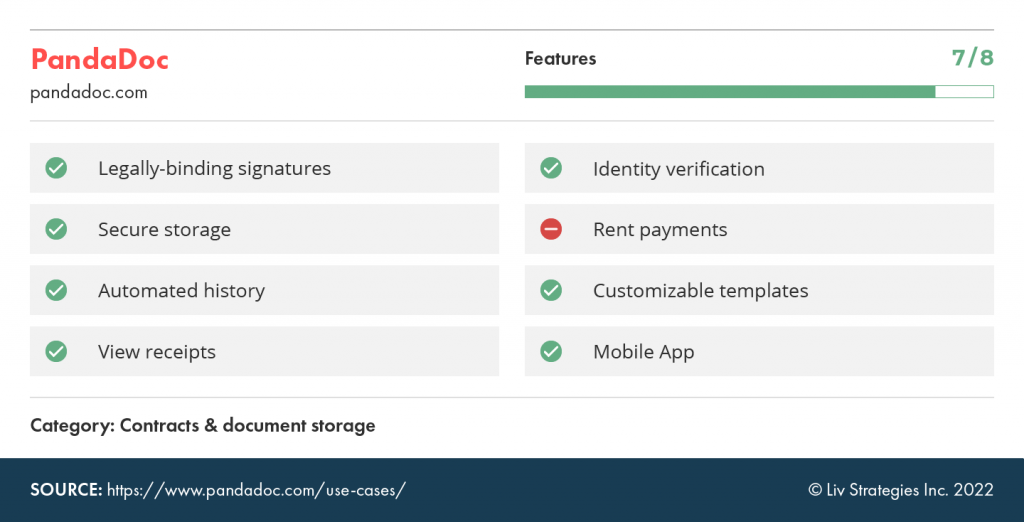 Offering a similar array of features, PandaDoc is another option for landlords & property managers looking to create and sign documents on the go. The app still supports eSignatures with secure storage, customizable templates, and identity verification for added protection, but again — it's limited to document signing, and lacks support for rent payments and other rental management functions.
Other helpful apps for landlords
These apps perform other functions landlords might find useful, and can go a long way to automating simple but time-consuming parts of your rental management operation.
RentZend
Whether you're looking to purchase a property or are listing your unit for rent for the first time, it's a good idea to figure out what you'll need to charge for rent in order to break even and ideally make a profit — especially in the current climate with rising interest rates leading to larger mortgage payments for many homeowners. RentZend is a good option that includes a variety of factors, looking at tax records and estimated rent to give landlords a better picture of how their investment will perform over time.
Pro-tip: For a personalized estimate of how much your property rents for, liv.rent's rental experts will examine your listing details, neighbourhood and market trends to give you an accurate sense of what to charge. Click below to start your free estimate.
Is your rental priced competitively?
Find out with a free rent estimate. Our team of rental experts will calculate your unit's true value based on your listing details & current market trends.
TaskRabbit
Every landlord needs a handyman for the miscellaneous repairs that will inevitably arise for any rental property. If you don't already have someone available, TaskRabbit is a popular place for landlords, renters, and practically everyone else to find people to help clean, move, repair, and just about anything else you can think of. You can search the platform for workers who are able to assist, and both booking and payments are conveniently processed through the app.
Zolo
Zolo is a popular real estate marketplace with listings across Canada and a variety of other insights. If you're looking to purchase a property, whether it's your first or fifth, Zolo is a great place to start your search and get a sense of where prices stand in the neighbourhoods you're looking in.
Walk Score
Getting to know your neighbourhood is always a good idea before you go to rent out your property. Walkable amenities and transportation options are a big part of what attracts renters, so being able to speak to these things in your listing description can help attract renters. Enter Walk Score — an app designed to rank your property's location based on how accessible it is by foot, looking at a unique walkability index to give renters a sense of what to expect from their new home.
Pro-tip: All liv.rent listings contain a handy map of the neighbourhood, including walkability to nearby transit options.
CMHC Mortgage Calculators
Mortgage rates are on every landlord's mind right now as the Bank of Canada's interest rates increase. If you're concerned about what your variable-rate mortgage payments will look like, or if you're thinking about purchasing another property, CMHC's mortgage calculator app can help add some certainty to your payment rates, frequency and more.
How liv.rent helps landlords
liv.rent combines features from all of the different landlord app categories featured here, giving landlords and property managers a complete solution to your rental needs. This all-in-one platform helps you see more profits by giving you the tools to digitalize and automate your workflow from start to finish. liv.rent features intelligent productivity and management solutions for every step of the process, like the Trust Score – a comprehensive tenant screening metric that provides complete information, including Equifax® credit reports and income & identity verification for faster, more effective screening.
A productivity tool as well, liv.rent gives landlords the ability to save time and perform key rental functions on-the-go with a mobile app, including a full suite of marketing features like multi-platform listing syndication and insights into your listing's price and performance. All this, in addition to all the features you'd expect from a rental management and listing platform, like automated rent collection, secure cloud-based document storage, digital contracts & addendums, and so much more.
If you're ready to automate your rental process and make the switch to an easier, all-in-one rental management app solution – explore liv.rent's affordable pricing plans for landlords and property managers here.
---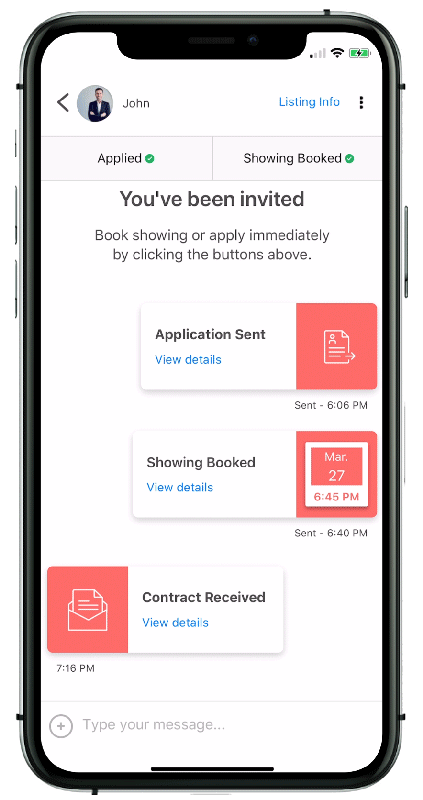 Rethink The Way You Rent
Not on liv.rent yet? Experience the ease of digital applications & contracts, verified tenants & landlords, virtual tours and more – all on one platform. Sign up for free or download the app.
Subscribe to receive the latest tenant & landlord tips and get notified about changes in the Canadian rental market.
>> Stay up-to-date on the average rent in Vancouver, Toronto and Montreal: Rent Reports.