Awareness surrounding data privacy has made leaps and bounds in recent years, but it often feels as though the rental industry has been left behind. It's easier than ever to post and find listings online, and even carry out other key aspects of the rental process like signing a lease and paying rent, but with all this convenience comes a lot of risk for both renters and landlords. In order to protect yourself from both costly rental scams and data breaches, it's incredibly important to choose secure rental platforms that take steps to safeguard users' precious information through encryption and proactive measures to ensure both profiles and listings are carefully vetted. This post from liv.rent, Canada's safest rental platform and all-in-one solution for landlords, will break down the security features of some of the country's most popular rental platforms to help keep you informed about how your data is being used.
Why does security matter while renting?
Every digital transaction requires a certain amount of caution from users, since data breaches and stolen information are an increasingly common sight in this digital age.
When it comes to renting, the stakes are even higher due to the sheer amount of information that's exchanged at various points of the rental process. Filling out an application often requires renters to provide information like their credit score, address, paystubs and employment information, and previous addresses. While this may be a necessary part of securing a rental property, there's a lot of trust involved in sharing this freely online.
As such, it's important to carefully choose where and how you'll disclose your information in order to prevent breaches of privacy, not to mention avoid rental scams where scammers use fake profiles and listings to steal money or information. For landlords too, it's important to have control over how much of your rental property's details are shared with renters, while protecting your own sensitive information as well.
Ultimately, prioritizing safety and security when choosing a rental platform offers peace of mind, enhances the overall rental experience, and protects one's interests in an increasingly digital landscape.
What makes a rental platform secure?
There are a few key things landlords and renters should look for when choosing where to post and find listings. Here's our breakdown of the most important features users should seek out in secure rental platforms:
Data Encryption: Rental platforms should employ standard encryption protocols, such as SSL (Secure Sockets Layer) or TLS (Transport Layer Security), to protect sensitive data transmitted between users and the platform. Encryption ensures that personal and financial information transmitted through the platform remains confidential and inaccessible to unauthorized parties. For peace of mind, liv.rent uses military-grade encryption to safeguard user data.
Verified Listings and Users: Though it's still fairly uncommon in the rental industry, verification processes are an excellent way to ensure you're dealing with real people and real listings. Typically done by analyzing identification documents, business licenses, and land title documents, verification saves you the legwork in determining whether you're dealing with fraud or not.
Fraud Detection and Prevention: The platform should have robust fraud detection systems that actively monitor and identify suspicious activities, such as fake/duplicate listings or repeated scam attempts.
Secure Communication: Look for platforms that offer secure messaging systems, allowing renters and landlords to communicate within the platform without revealing personal contact information until they are comfortable doing so. This protects privacy and reduces the risk of unsolicited communication or potential misuse of contact details.
A Clear Privacy Policy: A reputable rental platform should have clear and transparent privacy policies that outline how user data is collected, stored, and shared. Look for platforms that prioritize user privacy and provide options for controlling the visibility of personal information.
Secure Payments and Contracts: If the platform facilitates rent payments, it should offer secure payment gateways to protect financial transactions.
Customer Support and Reporting Features: It is crucial to choose a platform that provides responsive customer support and clear channels for reporting any suspicious or fraudulent activities. This allows users to seek assistance promptly and contributes to maintaining a secure and reliable rental environment.
The most secure rental platforms in Canada
1. liv.rent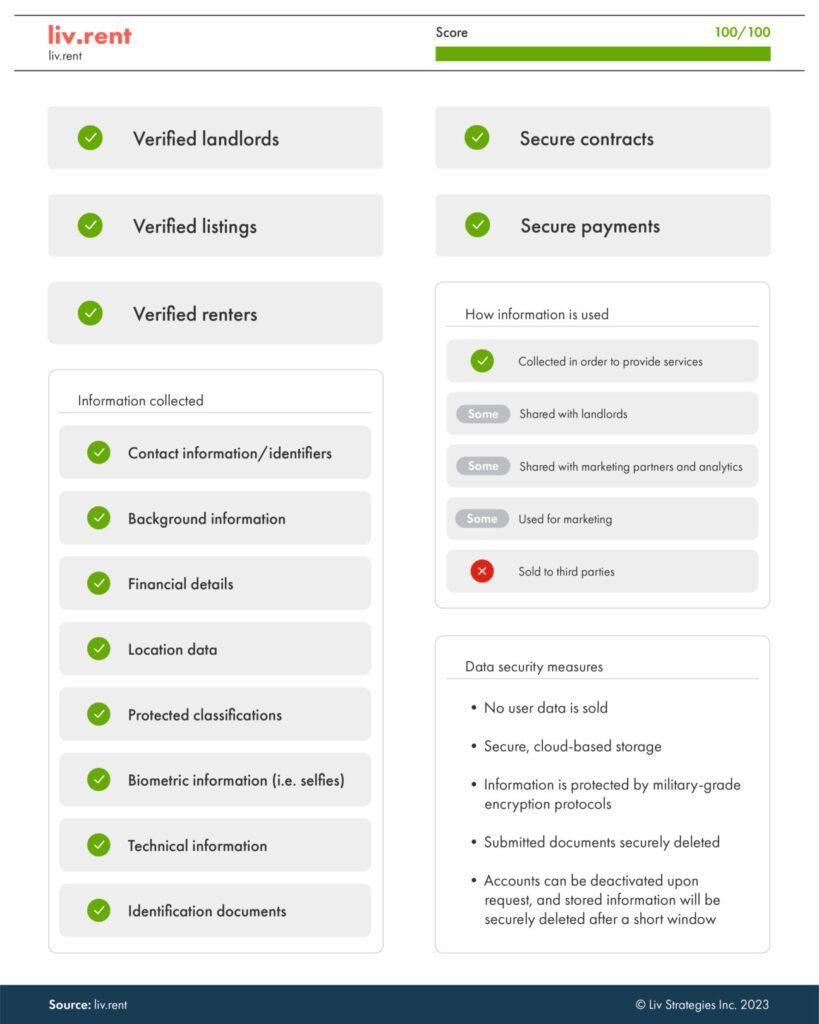 It should come as no surprise that Canada's safest rental platform is also its most secure. With verified landlords, renters, and listings, the risk of encountering rental scams is greatly reduced thanks to strict processes that involve manually checking user-submitted identification and land title documents. To protect our users' privacy, photos of sensitive documents, as well as your credit score once fetched from Equifax® and used to qualify your Trust Score
liv.rent is also committed to never selling user data, unlike many other websites. We use your information to enhance your experience on the liv.rent platform, and in some cases, to inform our marketing and analytics. Your information is only shared with third parties where specified in our privacy policy.
Security is built into every step of the rental process at liv.rent, with military-grade encryption protecting information transmitted through the platform, including our built-in instant chat. You can read more about liv.rent's commitment to information security in the article below.
2. RentCafe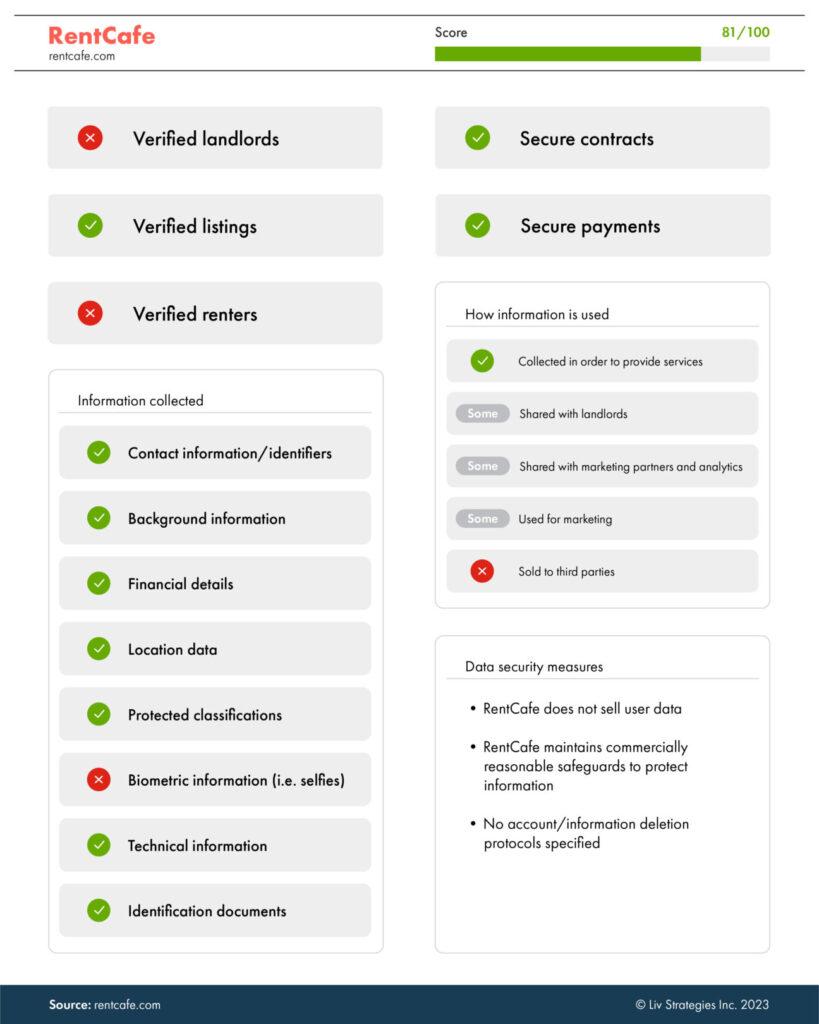 RentCafe takes a number of important steps to safeguard users on their platform and has clear policies in place for how they collect & use data. Though they do request a number of pieces of information for applications, such as basic financial details and a valid driver's license number or another piece of identification, their privacy policy is transparent in where this information goes. RentCafe does however lose points for being vague in their statement of using "commercially reasonable safeguards" for protecting user information, and their account/information deletion policies are also vague. Another important factor is that they also state that they don't sell user data, which should be hugely consequential for renters and landlords alike.
3. Craigslist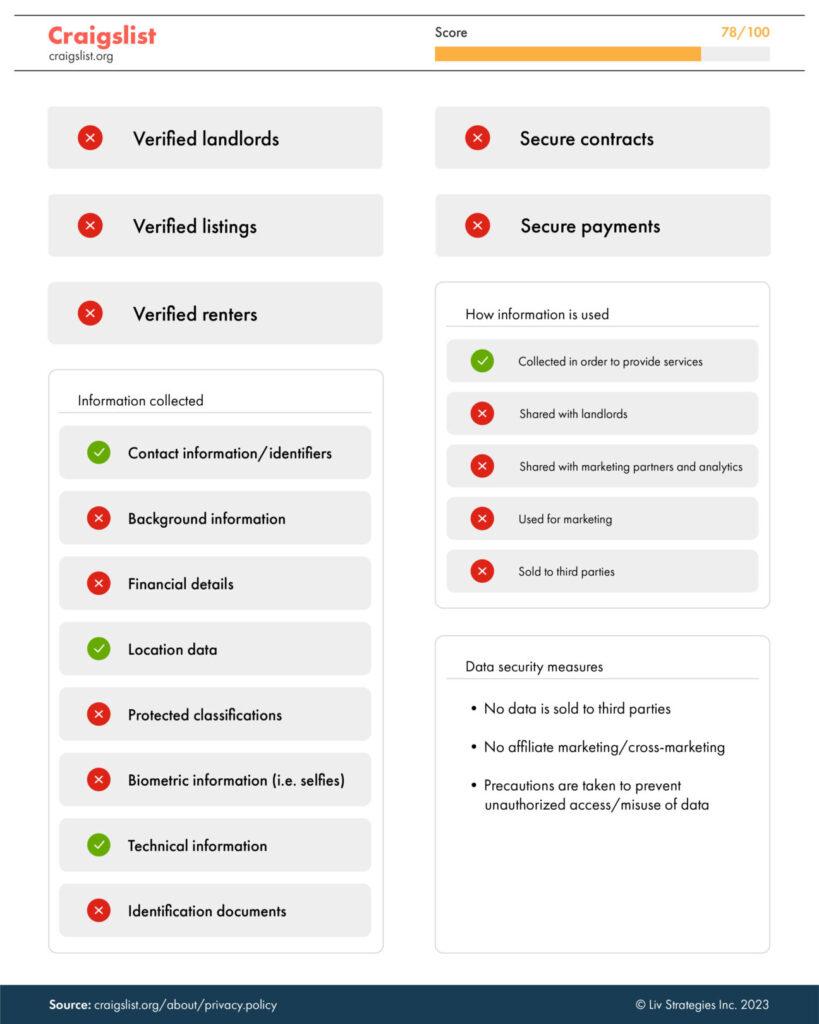 Though their services are fairly bare-bones when it comes to renting, Craigslist is commendable in their commitment to collecting minimal data and using it only where necessary – not to mention taking steps to limit marketing on their website.
Despite this, we'd still caution renters against using Craigslist to apply for rental housing as though the platform itself may be secure, the majority of communication is handled by email or phone, where rental scams can run rampant without proper security measures in place. Since Craigslist doesn't take any concrete steps to verify users or listings, this popular marketplace site poses a risk for scams for renters who aren't on their guard.
4. Kijiji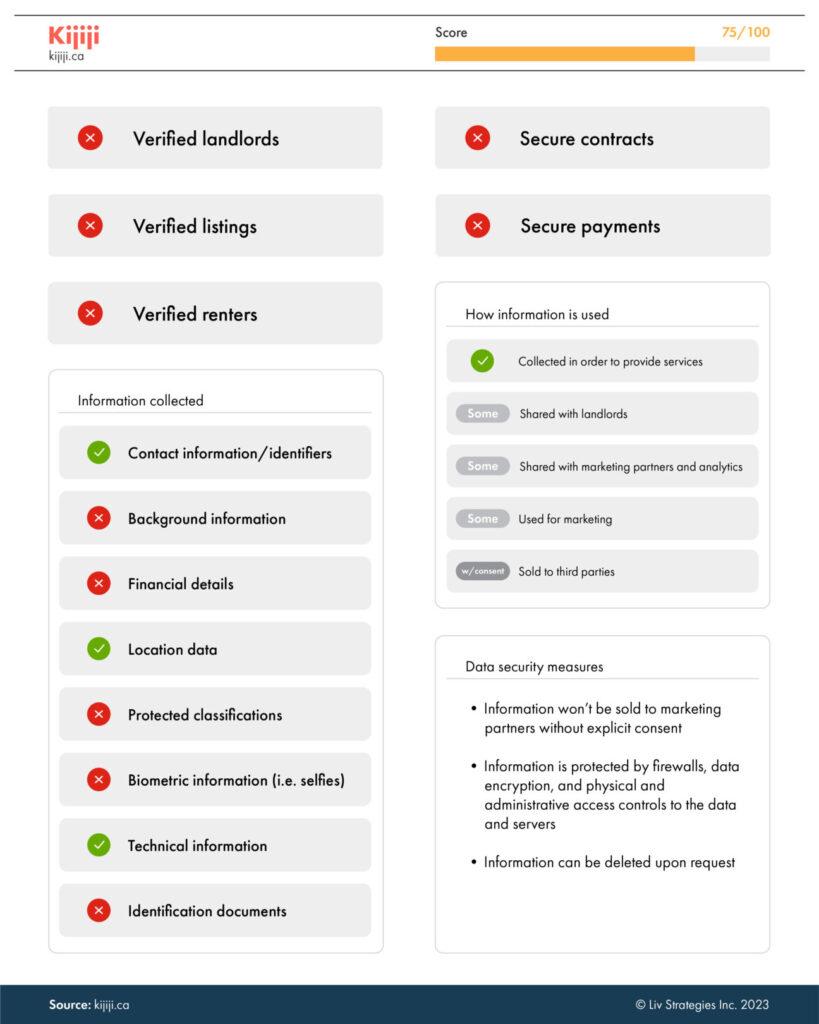 Similar to Craigslist, Kijiji is an extremely popular marketplace site which, on the surface, takes good steps towards protecting users on its platform. Renters and landlords can rest assured that sensitive details they enter on the platform won't be sold to marketing partners without their explicit consent, and anything that is stored on the platform is well-protected by a combination of firewalls, data encryption, and access controls to the physical servers.
Also like other marketplace platforms, the primary risk doesn't occur within the platform itself, but rather in communications that happen elsewhere. There are no controls in place for interactions that take place over email or phone, so both renters and landlords are encouraged to exercise caution when dealing with users they meet on the platform, especially when it comes to the rental process due to the scope of information that is typically exchanged.
5. PadMapper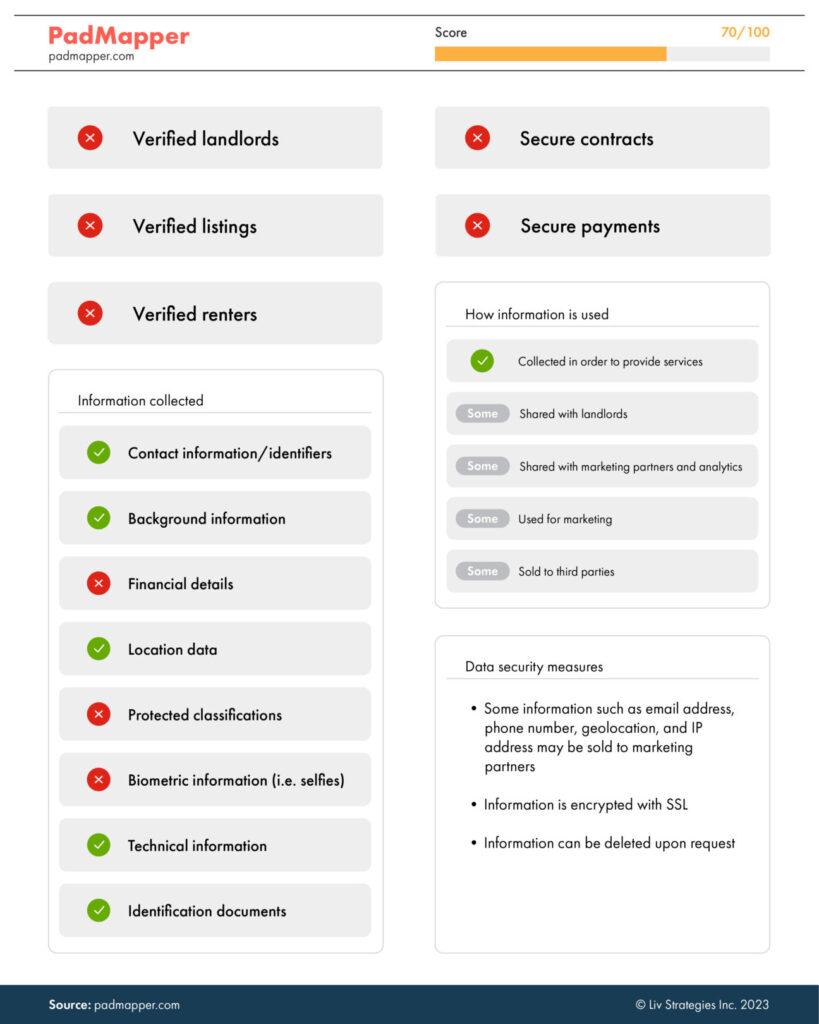 PadMapper is a convenient option for renters to browse using a convenient built-in map, and for the most part, has taken good steps towards safeguarding users' information. Though some personal information may be sold, the platform is very transparent about this and allows users to opt-out if they see fit. There are also fraud detection systems built into the website to deter fraudulent listings and the amount of information collected is minimal.
6. Zumper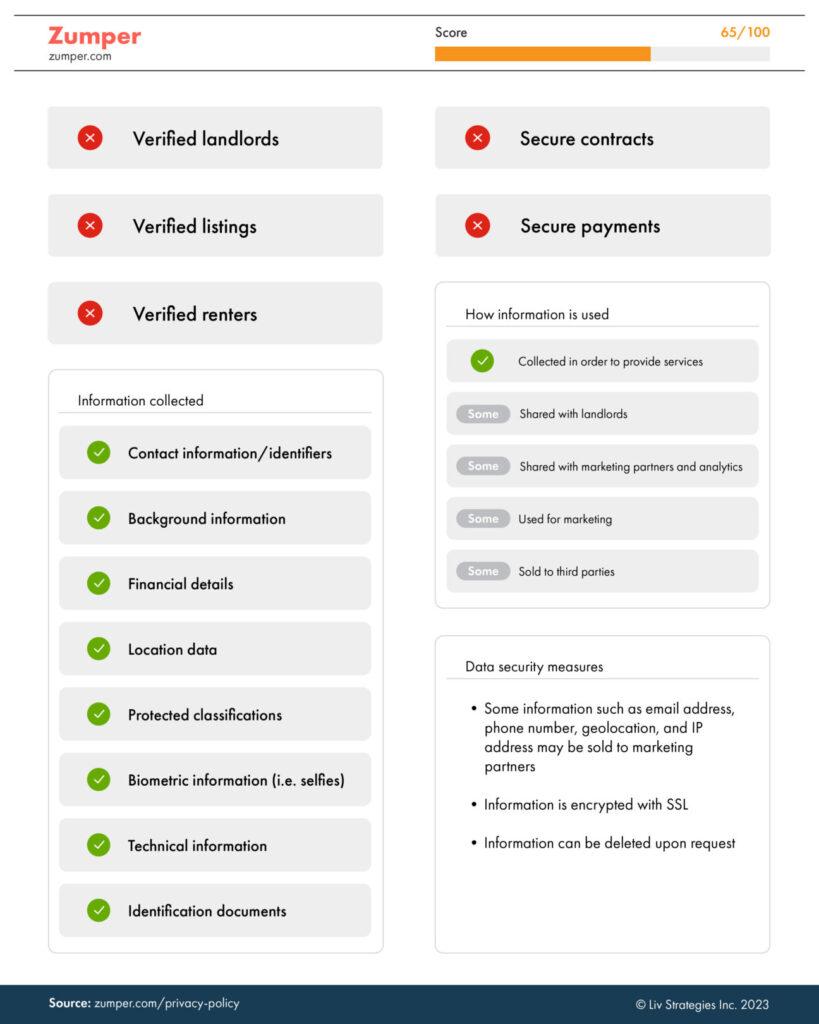 Zumper is a popular option for Canadian landlords & renters due to its assortment of convenient features, particularly for property managers looking to streamline their operations. Though the platform prides itself on being easy to use, it does require a lot of information and sometimes falls short on methods to safeguard this data. The platform does have built-in fraud detection, but doesn't manually verify its users or listings which still leaves room for opportunistic scammers. As well, certain personal details may be sold to third parties and marketing partners which can potentially be an issue for some users.
7. Facebook Marketplace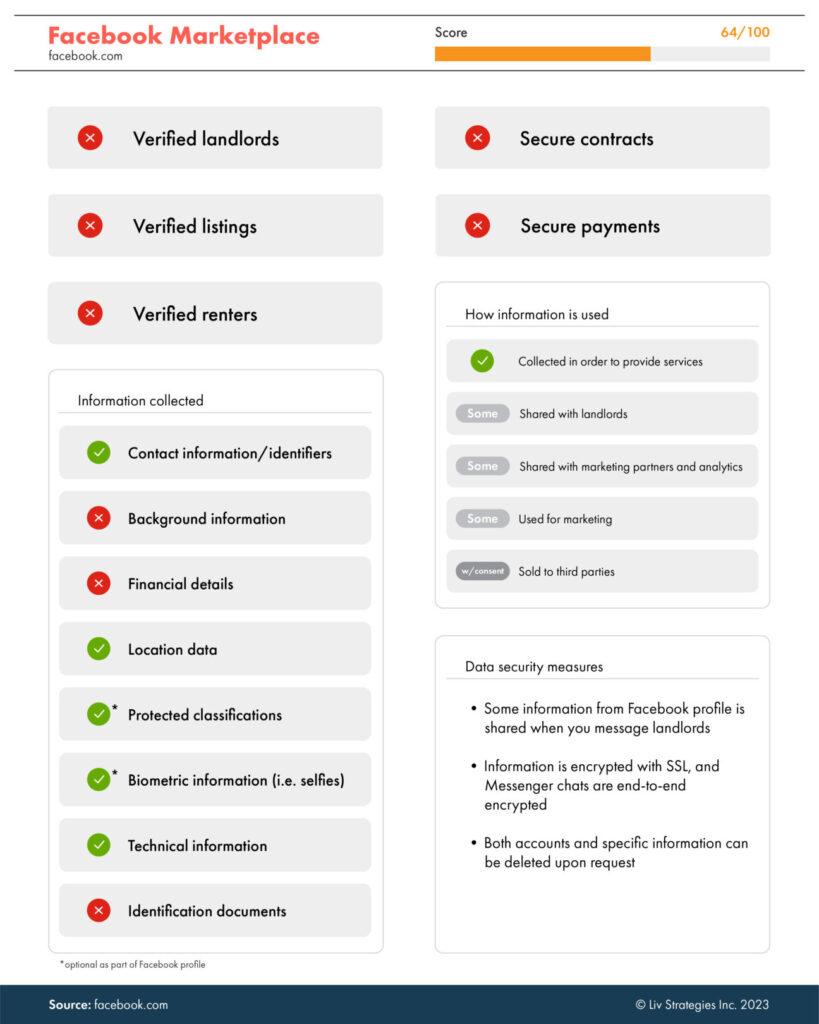 Perhaps the most accessible, frequently used option for posting & finding listings is Facebook Marketplace. Anyone who has already used this platform, whether for renting or buying & selling other products, should be well aware of the prevalence of scams on the platform. Though there is a robust reporting system, this doesn't stop scammers from using real profiles or posting increasingly hard-to-recognize fake listings. Though Facebook Marketplace may be convenient for those who already have a profile, the lack of protections for renters in particular make it a somewhat risky option.
8. Rentals.ca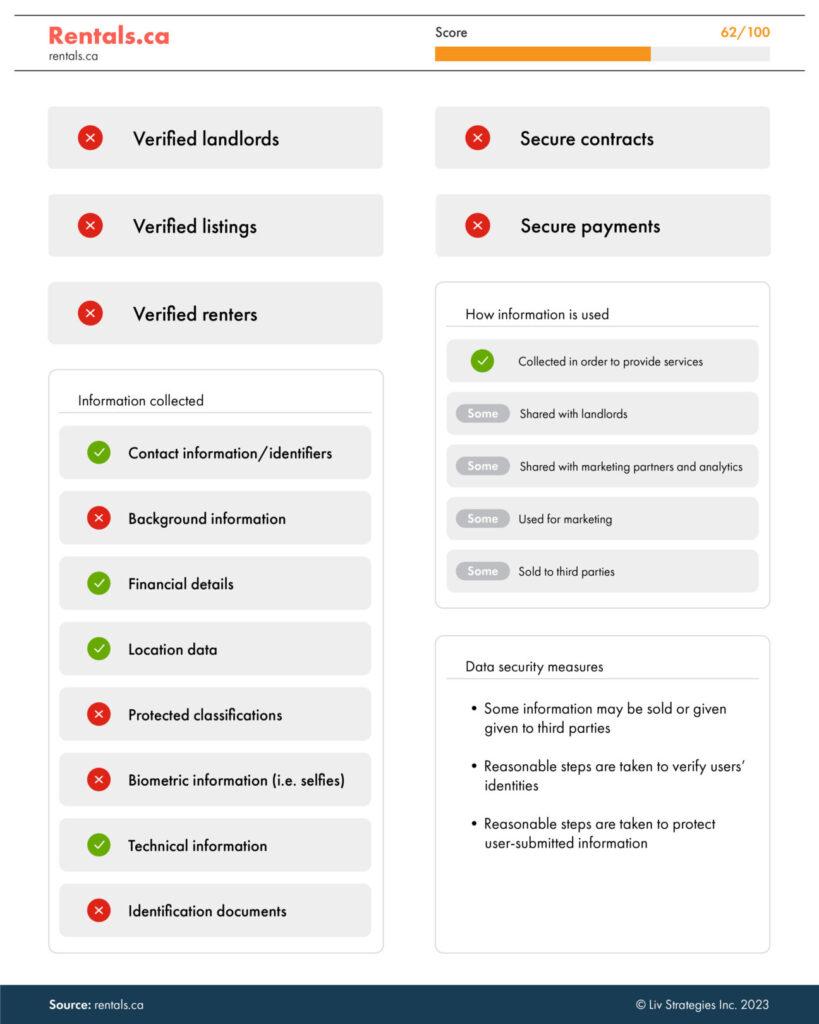 At the time of writing, Rentals.ca has yet to officially introduce its verified listings & landlords feature, though they have mentioned their plans to do so in the near future. At present, however, their Terms of Use state that the platform does not verify or check any listings on the site, opening up the risk for fake listings despite algorithm-based fraud detection on the platform. Combine this with a fairly vague privacy policy and the fact that the site admits to selling some user data, and renters are advised to use their judgment when applying to listings. Rentals.ca does take reasonable steps to verify users, however, which is a step in the right direction.
How liv.rent protects your data
Trust & transparency are the foundation of the liv.rent platform and we take active measures to ensure that users' information is protected at every stage of the rental process.
As part of our Trust Score, we request that users complete their profile including providing information used to verify their identity, gather credit information, and give a background on their renting experience. This information is protected by our military-grade encryption protocols, which also safeguard messages sent via liv.rent's built-in instant chat for your peace of mind.
As well as our commitment to never selling data, liv.rent has multi-step verification processes in place to ensure your sensitive details don't end up in the wrong hands, which you can read more about here.
For a complete overview of liv.rent's data security measures, you can consult our privacy policy.
---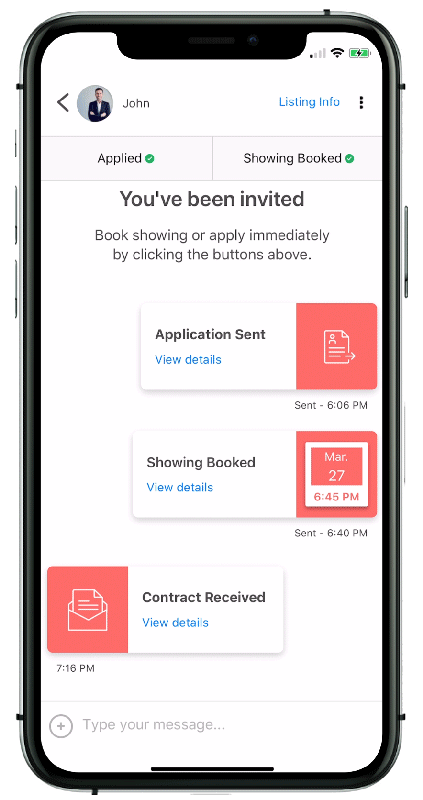 Rethink The Way You Rent
Not on liv.rent yet? Experience the ease of digital applications & contracts, verified tenants & landlords, virtual tours and more – all on one platform. Sign up for free or download the app.
Subscribe to receive the latest tenant & landlord tips and get notified about changes in the Canadian rental market.
>> Stay up-to-date on the average rent in Vancouver, Toronto and Montreal: Rent Reports.