Metro Vancouver's Simon Fraser University, or SFU for short, has four campuses — Burnaby, Great Northern Way, Surrey, and Vancouver. Which of these campuses you attend will depend on your program or area of study, and this guide will help you find housing no matter where your classes take you. We're liv.rent, Canada's safest all-in-one rental platform, and we've created this guide for anyone studying at SFU looking for secure off-campus housing — even if they're not in Vancouver yet. Use the table of contents below to learn more about the campus you'll be attending.
Rent your perfect home with liv.rent
Search houses, rooms, condos and apartments for rent. Chat instantly with verified landlords. Apply to multiple listings. Save your chat history & signed documents all on one platform.
SFU off-campus housing overview
For students who choose to live off-campus, or weren't able to secure housing in residence, there are plenty of options for living near every SFU campus. Finding accommodation in Metro Vancouver isn't always easy though, particularly with current competition in the region. With the right tools on your side though, finding a place to call home for the semester can be easy and safe.
How to search for off-campus housing
For SFU students looking to begin their search, liv.rent is the ideal way for you to secure off-campus housing. You don't have to fill out your profile, just your name and email, to start sending messages to landlords to ask about their units. You only have to complete your profile when you're ready to apply.
Plus, we'll save your entire chat history for you so you'll never miss a message and to help you keep tabs on your lease.
Watch now: How To Search For Listings On liv.rent
Average rent in Metro Vancouver
Below, you can find the latest average rent prices for Metro Vancouver. SFU students will want to pay particular attention to Burnaby, Surrey, and Vancouver itself depending on which campus they're attending. Having an understanding of the average rental rates in each area is key to ensuring you're not paying too much for your new home, while also avoiding units that are priced suspiciously low. You can find the latest numbers in our monthly rent reports here.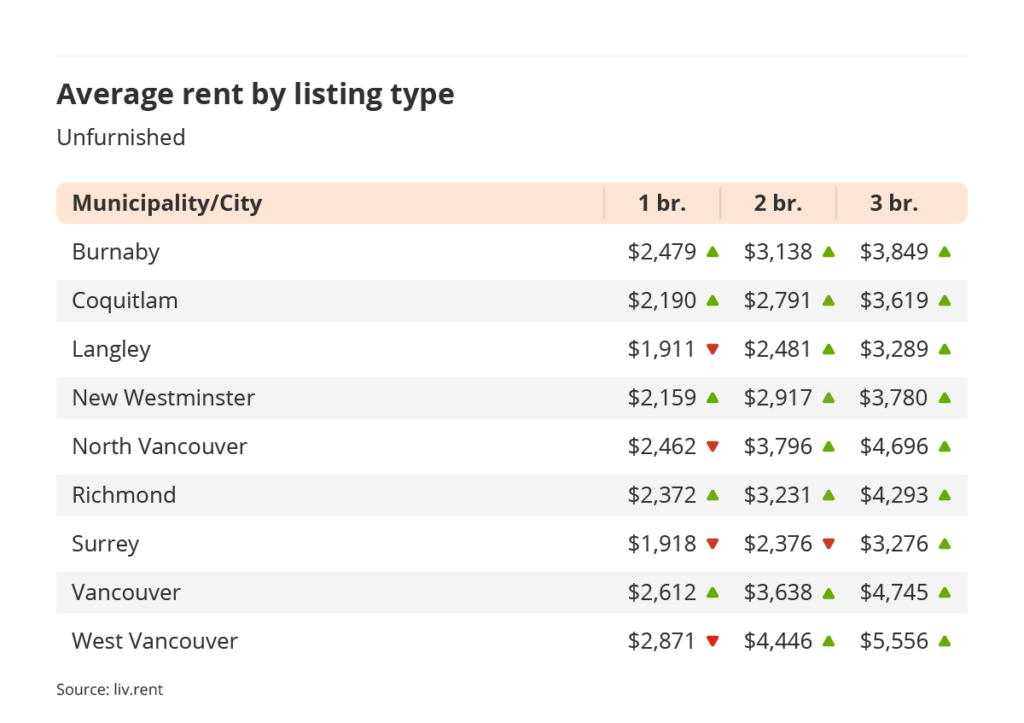 Renting near SFU burnaby campus
The main SFU campus is in Burnaby. Located on Burnaby Mountain, it's accessible by car, public transit, or bike for those athletic students.
For rent near SFU Burnaby campus
SFU Burnaby campus transit
SFU is a commuter school, which makes living near transit an important factor when looking for off-campus housing. Take advantage of the U-Pass included in your student fees and make note of these four Translink bus routes to the main SFU Burnaby campus:
R5 SFU-Hastings
N35 SFU-Downtown
143 SFU-Burquitlam Station
144 SFU-Metrotown Station
145 SFU-Production Way Station
Here are a few of the neighbourhoods closest to SFU's Burnaby campus that are convenient for students:
Burnaby Mountain and Lougheed Town Centre
The slopes of Burnaby Mountain are the obvious choice for SFU students to move off of campus but live nearby. The area features a wide variety of housing types — residential towers, low-rise condos and single-family homes that often rent out rooms or basements to students.
Lougheed Town Centre is also a great nearby neighbourhood and with its large mall and transit hub, it's the perfect option for off-campus housing without being too far from SFU.
Capitol Hill
Located just down Burnaby Mountain and east of "The Heights," Capitol Hill offers beautiful views, parks and trails, and recreational amenities. This area is home to vibrant multicultural and student communities, great neighbourhoods and schools. You can walk your dog down the off-leash trails at Confederation Park or go for a morning swim at the Eilleen Dailly Leisure Pool.
The Heights
An extension of Vancouver's vibrant Hastings-Sunrise community, "The Heights" (aka Burnaby Heights) in Burnaby lies north of Hastings, between Boundary and Gamma Avenue. Though a little further from the university, it does offer easy access to downtown Vancouver, which is a priority for many university students.
Here, you'll find a mix of heritage homes and newer builds side-by-side along beautiful tree-lined streets and incomparable views of the city, mountains and Burrard Inlet. In addition, the business district is home to some of the best Italian delis in town as well as world-class restaurants and gelato.
Brentwood Park
Conveniently served by the SkyTrain's Millenium Line, Brentwood has undergone a significant transformation in recent years. This neighbourhood features a wide array of modern condominium options thanks to recent developments around Brentwood Shopping Centre as well as many established, single-family homes. There is a good mix of affordable accommodation ideal for students living alone or sharing with others. Living here you are approximately 30 minutes away from SFU's main Burnaby campus and the same, 30 minutes from downtown Vancouver.

Renting near SFU Great Northern Way campus
The SFU Great Northern Way campus, called the Centre for Digital Media, is in Vancouver, B.C. A joint venture between SFU, UBC, and ECUAD. Neighbourhoods nearby include Olympic Village, Mount Pleasant, and East Vancouver.
For rent near SFU Great Northern Way campus

Renting near SFU Surrey campus
The SFU Surrey campus in Surrey, B.C. is in Central City right near the Surrey Central transit station.
For rent near SFU Surrey

Renting near SFU Vancouver campus
Right in the heart of Downtown Vancouver, the SFU Vancouver campus is located on Hastings Street.
For rent near SFU Vancouver
Renting tips: how to find & secure off-campus housing
How to avoid rental scams
Rental scams are always out there. The best way to protect yourself is by knowing your rights and choosing trusted rental platforms. Here are a few of the most common scams to look out for:
Scam #1 Rent is too low
If the rental rate seems shockingly below the rental average for the city, it could be a fake listing.
Scam #2 Urgent cash demand
Renters don't have to pay for anything until a lease is signed. So, if someone's pressuring you to send cash now, don't do it.
Scam #3 Too much info
Until you're 100% ready to move forward with a lease, you're not obligated to share your bank account or SIN number.
Scam #4 Not enough details
While some smaller landlords may withhold unit numbers for privacy, you should know the exact address of the unit you're looking at. without that info, it could be a scam.
Pro tip: rent from ID-verified landlords on liv.rent to avoid scams.
Be smart with your rental search
Tip #1 Know your needs
Make a list of your priorities – pricing, location, amenities, lease duration, pet policy, etc. Then, use liv.rent filters to narrow your search.
Tip #2 Do your research
Find out the average rent in your target area. It'll arm you with the necessary info to negotiate terms & rates.
Tip #3 Google the property
See if there are any complaints online regarding building management, maintenance, noise, neighbourhood, etc.
Tip #4 Video tours first
If possible, view video tours first. Then, narrow down your selection and book viewings only for places you're seriously considering.
Tips to improve your search
Tip #1 Don't be afraid to check
Have the landlord to demonstrate that all appliances are working – run faucets, check thermostats, flush toilets, turn on stoves, etc. Also, check that cellphone reception is adequate & verify connectivity.
Tip #2 View in daylight
Viewing a home in daylight will give you a better sense of the living space.
Tip #3 Prepare questions
And ask the hard questions (e.g. how much interest have you had for this unit) to uncover info not in the listing.
Stand out when you apply for your rental
Completing your liv.rent profile, or renter's resume, is the easiest way to stand out. You can also go the extra mile and pre-submit your application before your viewing if you're pretty sure you want to rent the unit. By introducing yourself upfront, it shows that you're serious about the unit – leaving a strong impression on your landlord.
Pro tip: on liv.rent, we use Trust Score to rate renters trustworthiness and credibility — it's free for students to get theirs with their profile!
Another way to stand out is by using your renter's story in your renter's resume to give landlords more information about your credit score. As students may not have strong credit histories yet, use this space to provide more context to a landlord to help them trust you.
How to secure a rental before arriving in Canada
International students can rent their off-campus Toronto home from abroad. When you sign up, as part of your profile you can select:
"I don't live in Canada."
and, "I'm a first-time renter."
These profile options give landlords the full picture of you as a renter. It streamlines the rental process and makes it easy to understand why references or a previous Canadian address may appear to be "missing" from your application.
Watch now: How To Rent In Canada
SFU off-campus housing resources
Blogs and resources to help SFU students obtain off-campus housing:
Use liv.rent to find your off-campus apartment for SFU — helping you save time, stay organized, and stay safe. Our trusted rental platform is perfect for students, no matter which campus you're studying at.
Additional off-campus resources for students
FAQ: SFU Off-campus housing
Where should I live near SFU?
This really depends which campus you'll be attending. You can navigate to the section above that outlines housing options in your campus' area for some ideas on where to start your search!
How much does it cost to live on campus at SFU?
Residence fees can vary greatly from year to year and even semester to semester. It's always best to consult the latest guide to SFU's fees here.
How many students live on campus at SFU?
SFU residences house approximately 1,500 students from around the world, with about 30,000 students attending the university in total.
Does SFU have residence?
Yes, however, it's not guaranteed for every student. For those who aren't accepted to residence, living off-campus can be a great alternative.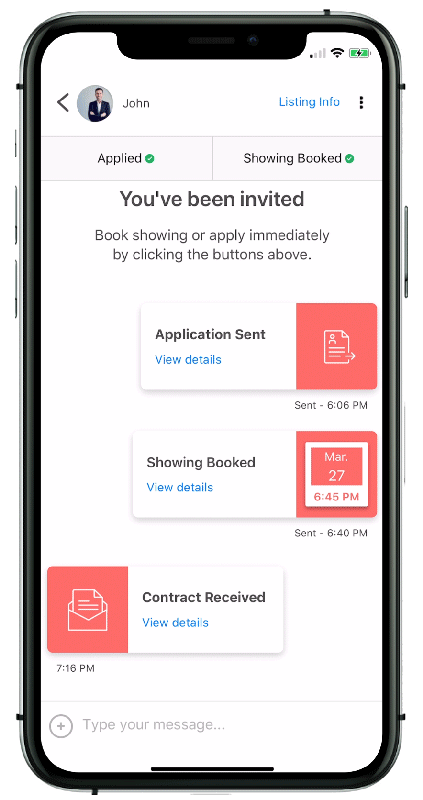 Rethink The Way You Rent
Not on liv.rent yet? Experience the ease of digital applications & contracts, verified tenants & landlords, virtual tours and more – all on one platform. Sign up for free or download the app.
Subscribe to receive the latest tenant & landlord tips and get notified about changes in the Canadian rental market.
>> Stay up-to-date on the average rent in Vancouver, Toronto and Montreal: Rent Reports.