Vancouver, BC is a truly spectacular place to call home. The city's unique proximity to both mountains and sea, its top-notch food scene, and cosmopolitan appeal make for an understandably competitive housing market and have led to the city having some of Canada's highest rental rates. With such a booming rental market, both landlords and renters need an apartment rental website that provides safety and security – not to mention convenience. The purpose of this post is to help you decide which is the best website to post your rental property listing or begin your search, highlighting what makes liv.rent the safest, easiest all-in-one rental platform for both renters and landlords.
Don't miss your perfect home with customizable alerts
Can't find what you're looking for? Set up a listing alert and get notified about listings that meet your criteria (location, price, housing type, bedrooms, pet policy, and more).
Note: If you're not a liv.rent user, sign up first. Then apply your filters and click the "Create Alert" button on the upper right hand corner to set up your alert.
How do I find rentals in Vancouver?
Renters have plenty of options for finding a place to rent in Vancouver. Gone are the days of canvassing neighbourhoods for "for rent" signs – though this can still be an effective, albeit time-consuming strategy. Instead, today's renters should take advantage of the wide variety of rental websites available in Vancouver and across Canada to help streamline their search.
There's an almost overwhelming amount of options for rental websites, though, and it can be hard for renters to know where to start. For landlords too, discerning every platform's features and finally choosing a place to post your listing can be a tough task on top of an already busy workload. That's why we've collected our top picks for the best apartment rental websites available in Vancouver. Here's the list!
1. liv.rent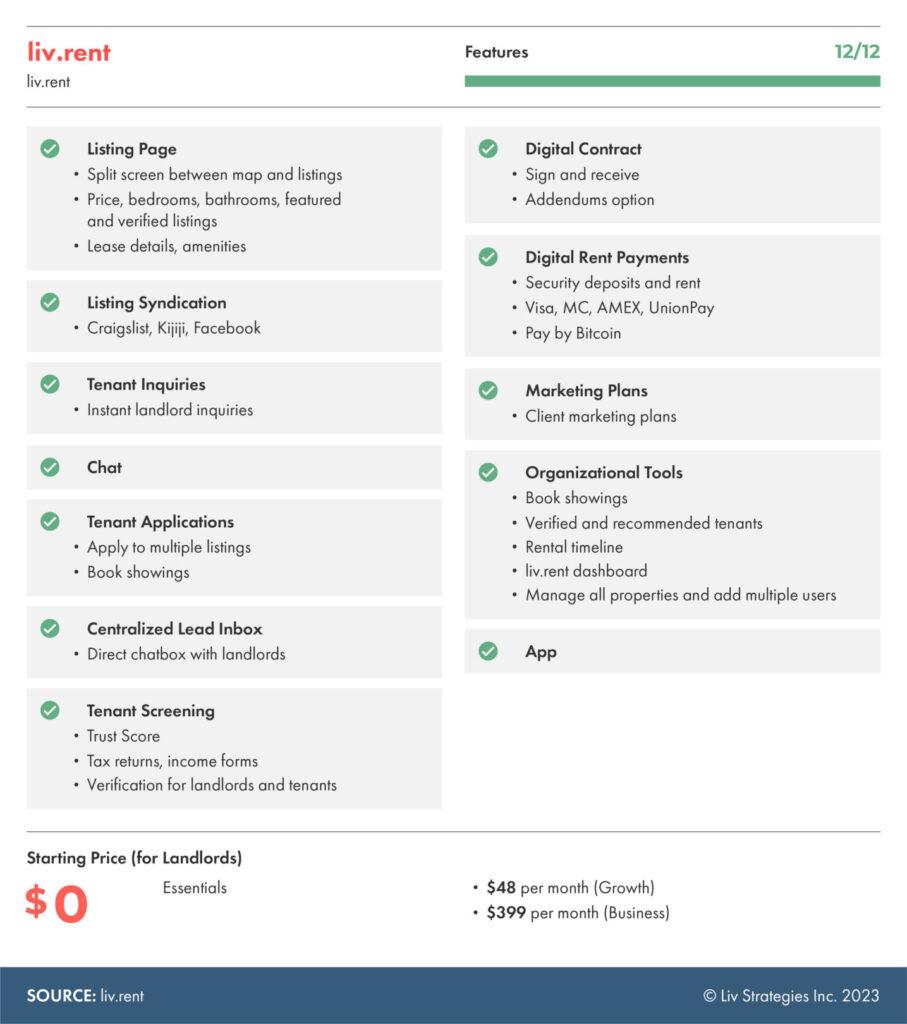 liv.rent is a Vancouver-based all-in-one rental platform that allows landlords and tenants to rent safely and securely thanks to an extensive verification process and tools like the Trust Score. As you can see, the platform unsurprisingly ticks all of our boxes, and has a variety of flexible payment options for landlords to get started and rent better.
Renters
On liv.rent, tenants can easily search for rentals using a variety of filters and even a map view, then quickly message landlords for more information using built-in instant chat. From there, they can submit applications, book viewings and when it comes time, sign lease agreements and pay rent and security deposits through a variety of methods including credit card, UnionPay and even Bitcoin.
Landlords
For landlords, liv.rent provides pre-filled listing templates to help you create attractive, effective listing pages with ease, as well as the ability to include photos and videos and tools to allow for sharing to other platforms like Craigslist and Kijiji. Simply put, liv.rent is the best website to post a rental property for landlords. The platform also has standard digital lease agreements for B.C., in addition to a variety of customizable lease addendums to add detail to your contract. For quick and effective tenant screening, liv.rent created the Trust Score, which gives landlords a comprehensive picture of a tenant's suitability including a full credit report and multiple layers of verification. All in all, this complete platform is the best way to advertise your apartment for rent.
Post unlimited listings for free
Do you need to advertise multiple rental listings? Look no further. Post as many listings as you want on liv.rent – all for free.
2. Zumper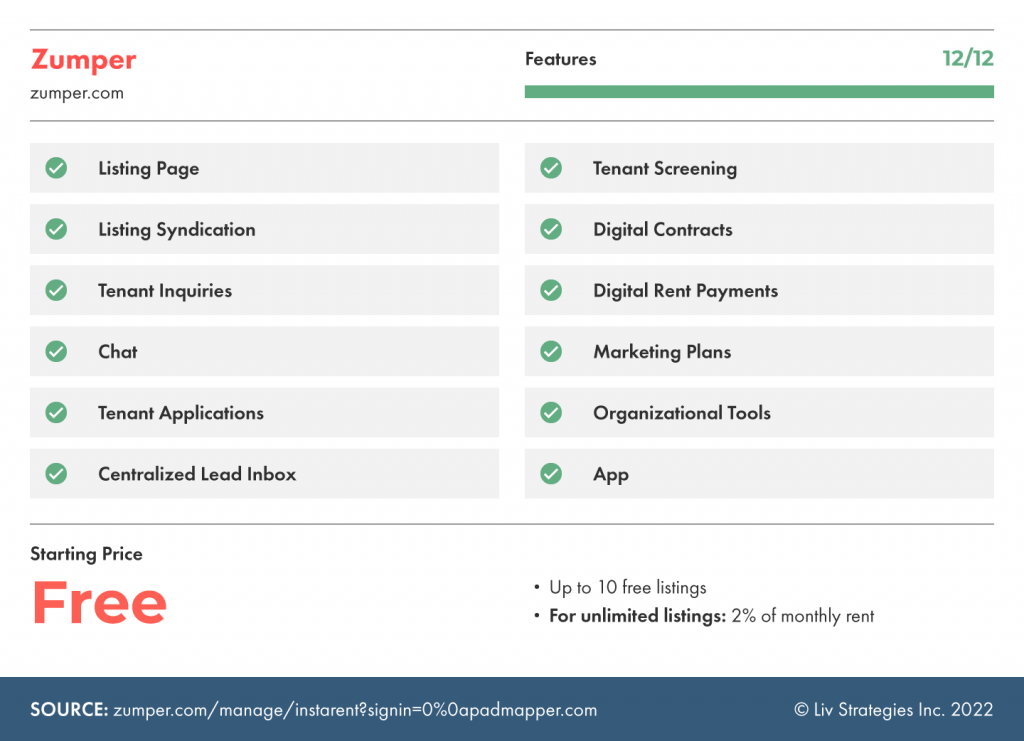 Zumper is another all-in-one rental platform that Vancouver renters and landlords will likely encounter. In addition to its visually-appealing layout, Zumper has features to help landlords and tenants navigate every stage of the rental process, including tenant screening and rent collection.
Renters
For renters, Zumper offers a convenient way to browse and apply for listings thanks to its visually-appealing layout. With that being said, the site does lack the comprehensive security and verification features of other platforms like liv.rent, though it does allow for the entire rental process to be completed within the site.
Landlords
Zumper also has a full 12/12 features, including digital contracts and rent payment and a variety of tools to help you create and share listings. The only area where the site falters is in its security protocols, which aren't as in-depth as other platforms. As well, though it's free to start, Zumper charges 2% of rent for landlords or property managers who have more than 10 listings, which makes it a costly option for businesses. Still, this platform's wide range of features put it in contention for the best rental websites in Vancouver.
3. Zillow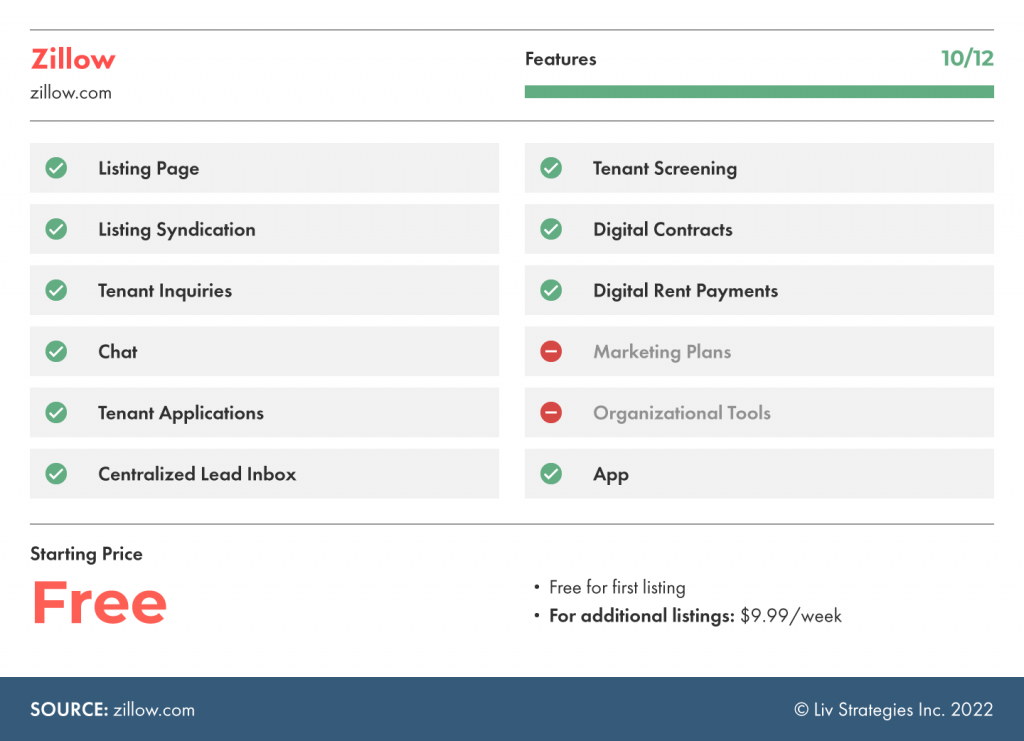 Zillow is primarily a platform for buying and selling real estate, but the site can also be ranked among Vancouver's best apartment rental sites. The platform has a variety of tools to simplify the lives of both landlords and renters, although it's two shy of a perfect 12. Zillow is free to start for landlords but can get costly quickly if you're posting more than one listing due to the weekly rate.
Renters
Zillow is fairly easy to browse thanks to a handy map view and a simple, easy-to-navigate layout. Renters can also request to book showings/submit applications directly from the listing page using pre-set forms. It's also handy to be able to see exactly when listings were posted front and centre to save time applying to outdated posts.
Landlords
Zillow has a good range of descriptors and options for creating great-looking listings which include room for tons of photos as well as 3D tours. The site also provides a convenient neighbourhood map for all listings, in addition to an FAQ section that gives more information about the property and its location. Zillow has a number of convenient features for managing rentals as well, including rent payments and digital contracts, though it lacks some marketing and organizational tools.
4. Kijiji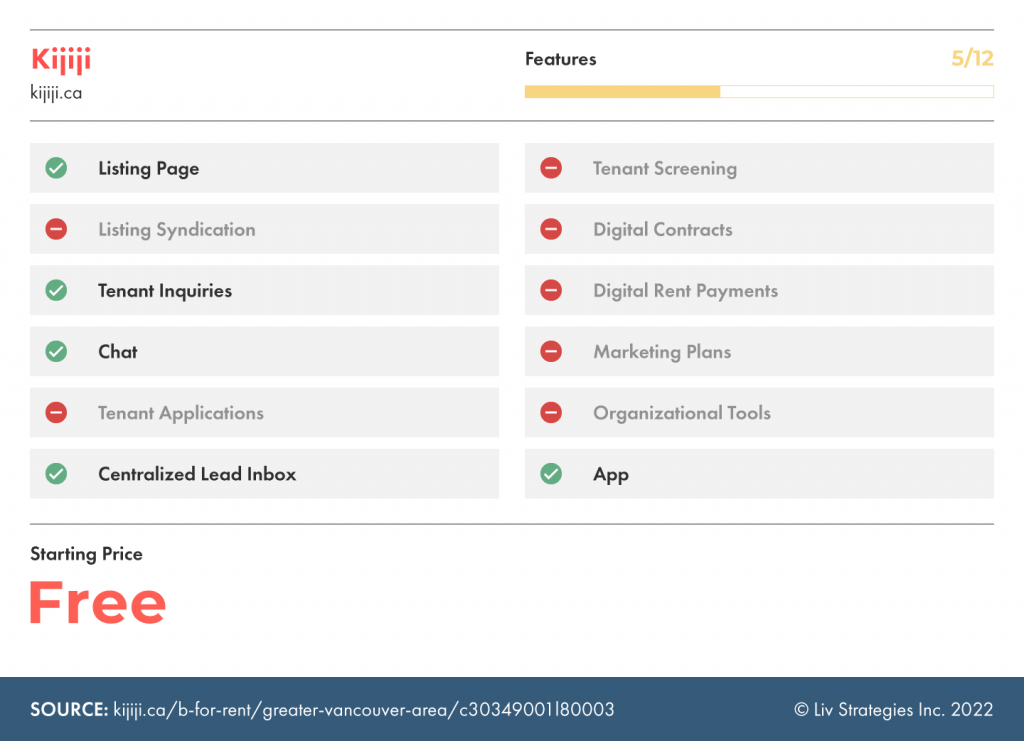 Kijiji is a marketplace site that has also become a popular place for landlords and renters to post and find rental listings. The platform offers a basic suite of listing features including plenty of fields and filters for filling out specific details and room for lots of photos.
Renters
Kijiji is a good basic option for browsing and applying for listings, though it lacks many features that renters may look for. The site does allow for messaging within the platform which makes for much easier communication. Unfortunately, Kijiji doesn't have much in the way of security features and provides little protection against scams.
Landlords
For landlords, Kijiji is a perfectly suitable place to post your listings due to the site's broad audience and high traffic, though that's about all it offers. Unlike Craigslist, Kijiji does have a chat feature for easy communication, as well as a centralized inbox for easy lead management.
5. Rentals.ca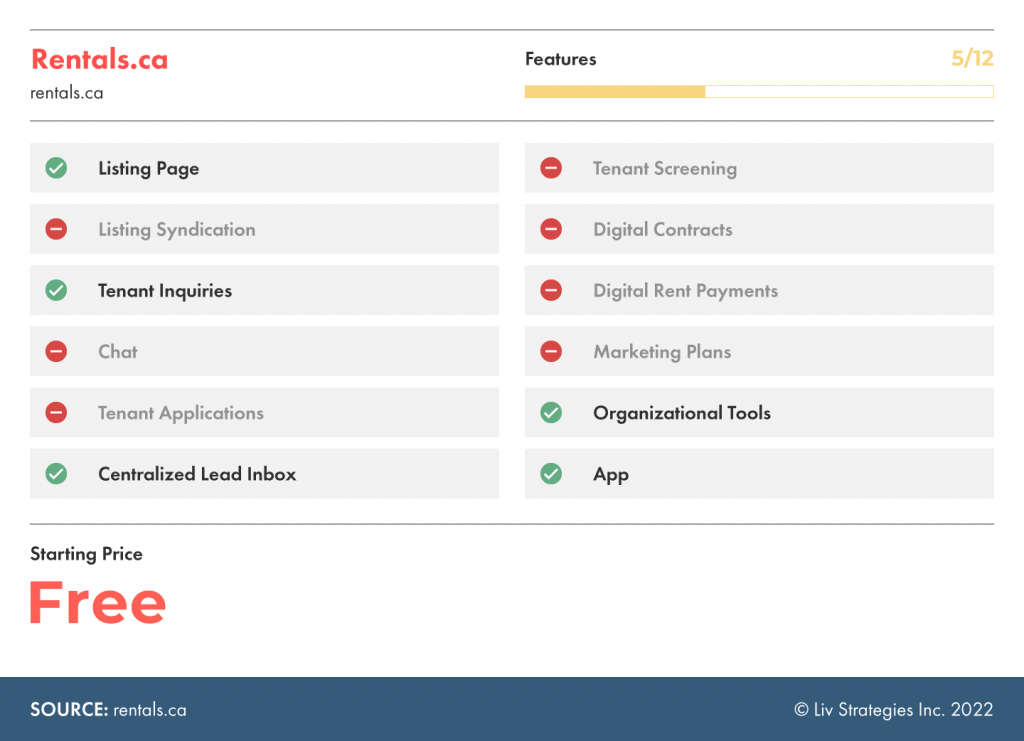 Rentals.ca is another popular place to find and rent apartments, houses and condos, and offers a user-friendly layout as well as excellent search capabilities and an interactive map.
Renters
Rentals.ca is a great option for renters primarily because of the number of listings available. Since it's such a popular platform, there are plenty of rentals to choose from and the site makes it easy to navigate them thanks to a split-screen map/photo view and lots of different search filters.
Landlords
Rentals.ca allows landlords to post for free, and the site offers lots of ways to customize your listing and make it stand out, including a photo gallery and neighbourhood score. Because it's a listing site, Rentals.ca doesn't provide features for navigating the rental process beyond inquiries.
6. PadMapper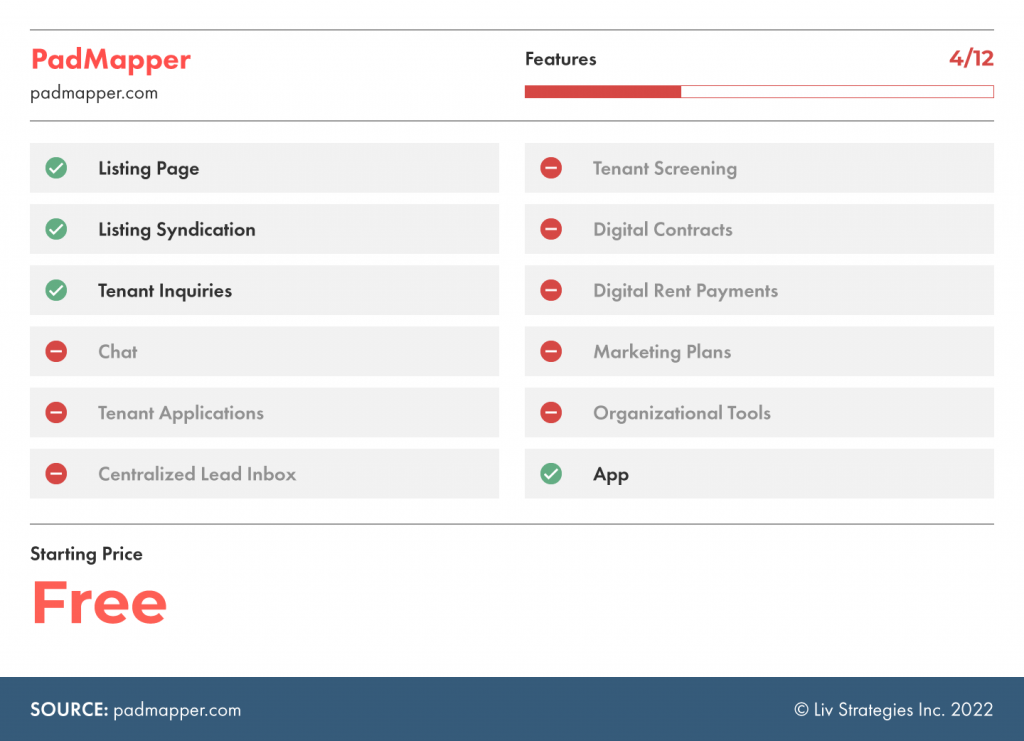 As its name suggests, PadMapper provides an easy-to-use map view for convenient navigation, as well as a variety of search features. The site is fairly bare-bones in terms of appearance and features, but does work exceptionally well for what it does.
Renters
PadMapper lets renters browse with ease thanks to an interactive map and various filters. As far as communications, PadMapper allows tenants to send messages with their phone number and email address to get in touch with landlords. The platform doesn't mention any specific security or verification processes, though it does require a precise address in order to post a listing.
Landlords
PadMapper is a simple, effective way for landlords to get their listings posted quickly, though the site doesn't offer support for much beyond inquiries. The site's map view is extremely easy to navigate though, a feature which tenants still gravitate towards.
7. Facebook Marketplace/Groups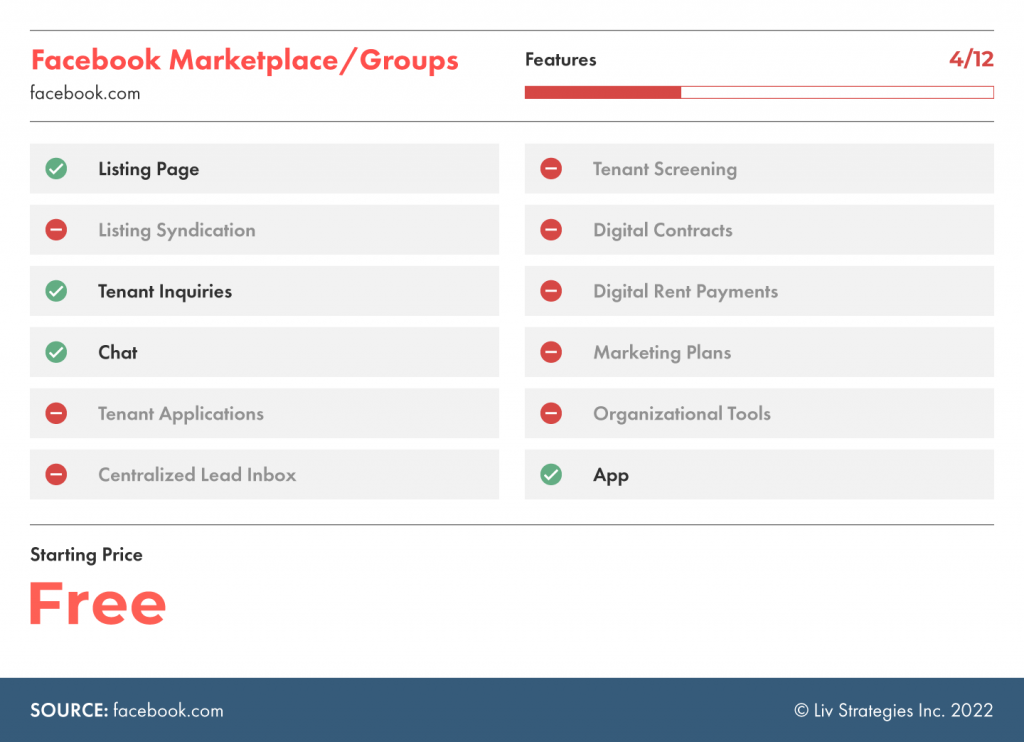 Facebook Groups and even Marketplace are great ways to find places to rent in Vancouver. Though renters and landlords should exercise caution when using the platform due to the potential for fraudulent posts and users, there are plenty of local, moderated groups that allow for easy browsing and the ability to get in touch over Facebook Messenger. For a safe, convenient Facebook Group, check out liv.rent's own curated rental group, where we post and share apartments, houses and rooms for rent in Vancouver.
Renters
Facebook has become a great option for renters to browse apartments thanks to the volume of posts, though this is also its greatest downfall. Because Facebook has never claimed to be a rental platform, the site has few checks in place for screening out scams, although there are many moderated groups that provide a safer alternative.
Landlords
Landlords looking to reach a broad audience would do well to post their listing to Facebook due to the large number of renters browsing the platform. Though it doesn't provide much in the way of additional features, it's easy to get your listing posted and communicate through the built-in Messenger app.
8. Craigslist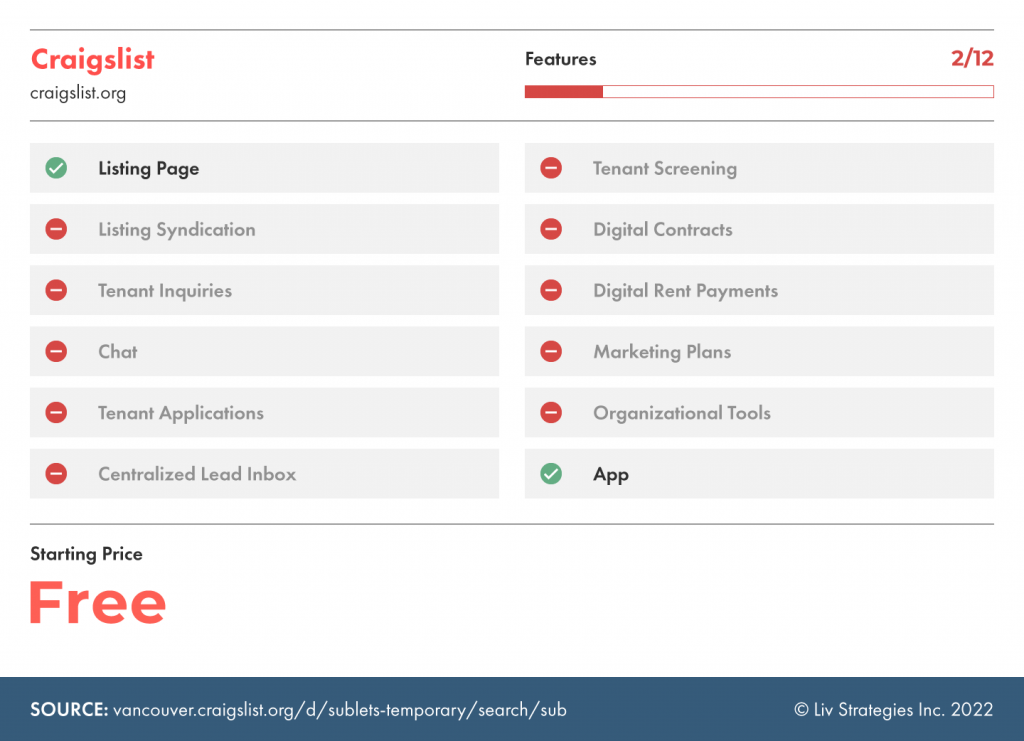 If you've ever rented in Vancouver before, you're likely no stranger to Craigslist. The marketplace site has become an extremely popular place to post and find rental listings due to its pared-down appeal and ease of use. Though it may come out on top in terms of the number of listings available, the site lacks many of the security features renters and landlords should look for in a rental platform.
Renters
Renters can easily browse the site using a good selection of filters. For applications, Craigslist lists landlords' email addresses and/or phone numbers for renters to get in touch. Do use caution when applying to rentals on Craigslist though – since there's little in the way of verification, it's not uncommon to come across rental scams on the site.
Landlords
Craigslist does provide a basic listing template including room for plenty of photos. The site also allows for a map view of each property and provides ample room for a description, as well as pre-set options for details about the unit. Renters can easily browse for rentals using a good selection of filters. For applications, Craigslist lists landlords' email addresses and/or phone numbers for renters to get in touch.
Renters: What is the best website to find rental homes?
For renters, choosing a rental website that prioritizes your safety and security while giving you access to plenty of listings is key. When we look at both of these categories together, there's a clear winner among the rental websites discussed here: liv.rent.
In addition to being one of the few platforms available in Vancouver that allows renters to conduct the entire rental process online – from application to rent payment, liv.rent stands tall as the safest rental website. Not only this, liv.rent also has over 600 listings available in Vancouver at the time of writing, which puts it solidly among the top rental websites in the area in terms of quantity.
For the hands-down best all-in-one rental platform, be sure to start your search on liv.rent.
Landlords: What is the best website to find tenants and manage your rentals?
Websites like Craigslist and Kijiji are great for landlords looking to simply post their listing and nothing more, but this isn't usually the case. Today's landlords look for a rental platform that allows them to perform all their essential functions in one place, and in that respect, liv.rent is the clear winner for best apartment rental website in Vancouver.
The platform's broad range of marketing and management features put it head and shoulders above the competition, while flexible pricing plans let both landlords and property managers find an option that works for them. As well, liv.rent has a detailed verification process for tenants including the Trust Score, where you can view employment/income verification, credit checks and more in an easy-to-understand format. Best of all? It's completely free to post unlimited listings, as well as access many liv.rent features like rent collection and standard digital contracts.
If you're searching for an easier way to list and manage your rentals, be sure to sign up for liv.rent today.
What is the best rental website in Vancouver?
As we stated earlier, liv.rent takes the proverbial cake for Vancouver's best apartment rental website due to its streamlined approach to the rental process and next-level security and safety features. The variety of different functions landlords renters can perform without leaving the platform sets liv.rent apart, like sending, receiving & signing digital leases, scheduling and paying rent through Automated Direct Deposit (or Bitcoin!), all backed by ultra-secure encryption protocols and manually verified landlords, tenants and listings. In terms of quantity and variety of listings as well, liv.rent has more than enough different rental listings to go toe-to-toe with global heavyweights like Zillow and Zumper, as well as local favourites like Craigslist.
Particularly for first-time renters, students, or those renting from abroad, using a rental platform that protects you from the stress and financial burden of scams should be your first priority. In the absence of face-to-face communications, there are plenty of opportunities for dishonest or deceitful behaviour on either end of the rental process. Our goal at liv.rent is to reduce the risk of potential scams by helping connect verified landlords & tenants to build a trusted rental community.
Start your search for Vancouver rentals today — sign up for liv.rent for FREE and enjoy unlimited access to verified listings, trusted landlords & more.
FAQ: The best apartment rental websites in Vancouver
How do I find a place to rent in Vancouver?
An apartment rental website is the most common method of finding housing in Vancouver, though some renters still prefer to look for a place to rent in person. If you do want to go digital, this list should provide a good idea of where to start your search.
We'd highly recommend starting on liv.rent, since this is the only platform on our list with verification processes for both landlords and listings, which ensures you're protected from costly rental scams.
What is the best site to find a rental?
Again, our vote would have to go to liv.rent. With plenty of listings in the city of Vancouver and surrounding areas and a complete 12/12 features, not to mention its unique safety features, this all-in-one rental platform is the best site to find a rental in Vancouver.
Where is the best place to advertise a rental?
For landlords as well, liv.rent is the best option for listing and advertising rentals in Vancouver thanks to its easy listing sharing and features like built-in tenant screening with the Trust Score.
Is it hard to find a place to rent in Vancouver?
There are many factors that go into determining how easy or hard it might be to secure rental housing, such as competition, vacancy rates, and the time of year. In general, renters will have a tougher time finding a place to rent in Vancouver during the summer months and into the fall as students return to school, while the winter months are typically a bit slower with less competition, but scarcer units.
How do I advertise a place to rent?
Once you've posted your listing online, your best strategy for advertising your listing and renting it as quickly as possible is by sharing it to multiple platforms. You can read liv.rent's guide to effectively advertising your rental property here for more helpful tips.
---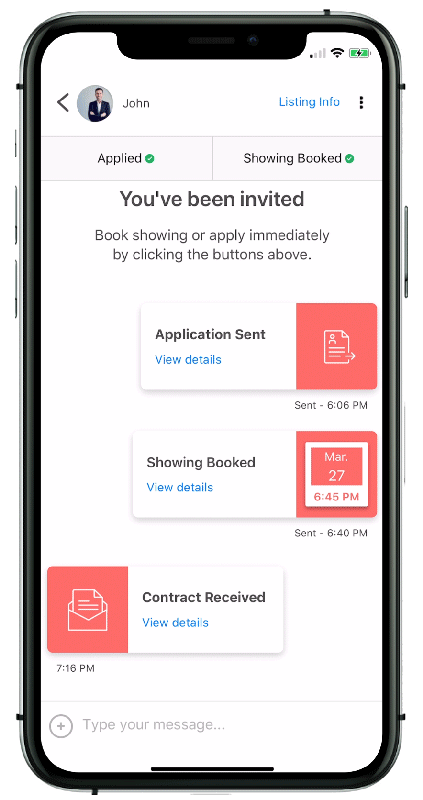 Rethink The Way You Rent
Not on liv.rent yet? Experience the ease of digital applications & contracts, verified tenants & landlords, virtual tours and more – all on one platform. Sign up for free or download the app.
Subscribe to receive the latest tenant & landlord tips and get notified about changes in the Canadian rental market.
>> Stay up-to-date on the average rent in Vancouver, Toronto and Montreal: Rent Reports.