We hear a lot about the Vancouver rental vacancy rate being very low but what is this metric and what does it really mean? In this post, liv.rent sheds some light on the matter and what it means for both renters and landlords.
Table of Contents
Is your rental priced competitively?
Find out with a free rent estimate. Our team of rental experts will calculate your unit's true value based on your listing details & current market trends.
What is the rental vacancy rate?
The vacancy rate refers to the percentage of units that are vacant or unoccupied in a city, region or a given property. This rate is important to a city's rental market as it's an indicator of both desirability and scarcity within the area.
What is Vancouver's rental vacancy rate?
The Vancouver rental vacancy rate has been low for years but started to grow after the onset of the COVID-19 pandemic. Figures from the Canadian Mortgage and Housing Corporation show that the apartment vacancy rate jumped from 1.1% in 2019 to 2.6% in 2020, and has now fallen back to 1.1% for the most recent 2021 numbers.
Increased demand as rental markets return to normal across the country is largely drove Vancouver's rental apartment vacancy rate in 2021. In the centre of the city, new construction added to the supply while vacancy rates in suburban areas away from the city center declined.
However, these rates don't tell the full story. For example, the CMHC doesn't take into consideration rentals owned by individuals, like an investment condo that they would then rent out.
How does Vancouver's rental vacancy rate compare to the rest of Canada?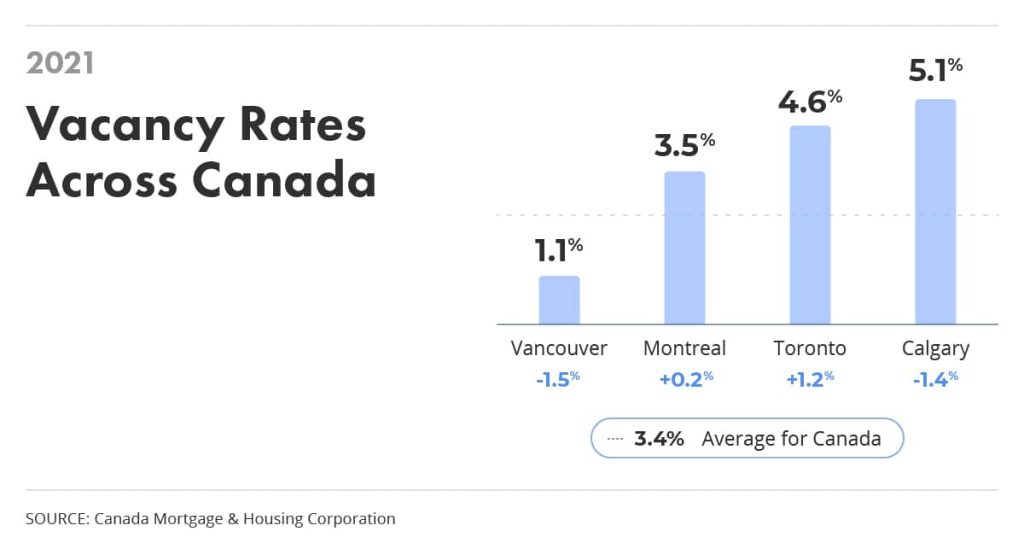 Vancouver has the lowest residential vacancy rate across Canada while Calgary has the most availability.
Vacancy Rates In Vancouver By Neighbourhood
If you break down the vacancy rate by neighbourhood in Vancouver, then some striking patterns emerge. Aside from Downtown, all the neighbourhoods here have a vacancy rate of less than 1%, with UBC currently seeing a 0.0% vacancy rate now that students have largely returned to campus.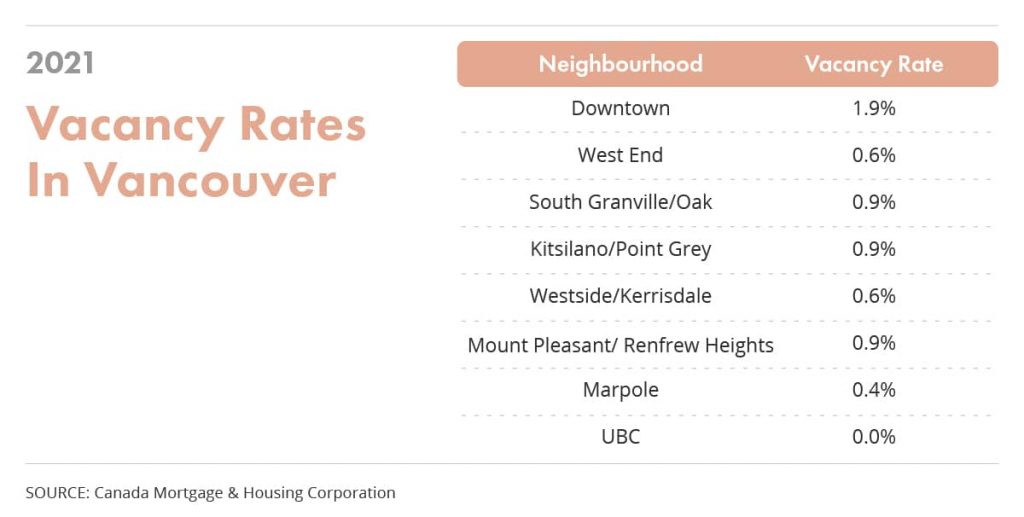 The vacancy is down across Canada this year, having nearly returned to pre-pandemic levels now. If you compare Vancouver to another major city like Toronto, we can get even more context and see that it's not just the West Coast experiencing this phenomenon – although the City of Toronto's rates are comparatively high.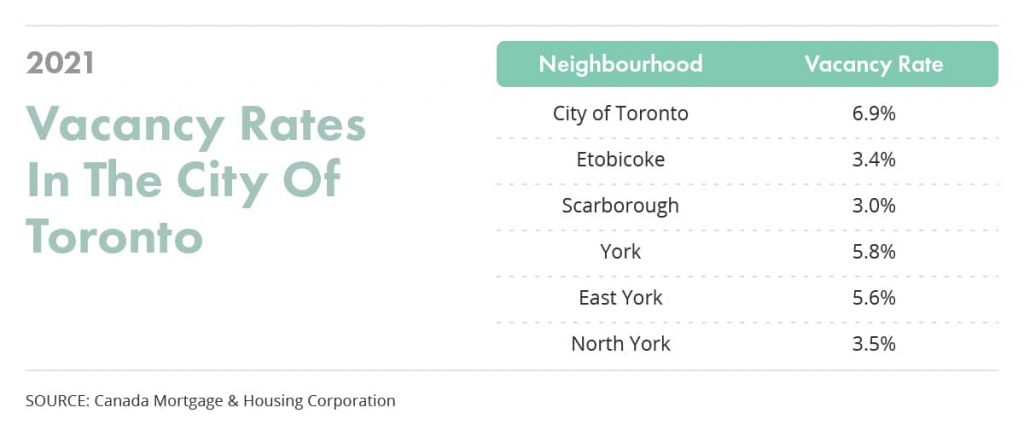 Why is the rental vacancy rate important?
The rental vacancy rate should be of interest to both landlords and tenants. For landlords, it is a key indicator of whether or not a property or overall market is a good investment. For tenants, it provides some indication of how easy or difficult it will be to find rental housing. It will also drive rent rates as it is a metric that indicates the supply and demand situation in any given area.
How is the rental vacancy rate calculated?
Determining the vacancy rate formula is fairly straightforward. You simply multiply the number of vacant units by 100 and then divide that result with the total number of units. The vacancy rate plus occupancy rate should add up to 100%.
Vacancy rate formula
To illustrate the formula, let's look at a sample apartment building with 50 rental units, 5 of them unoccupied.
5 x 100 = 500
500/50 = 10% vacancy rate
For the renter, this building is a good place to look for a home.
For the landlord, however, this building's higher than average vacancy rate suggests this may not be the best investment property. Alternatively, it may signal to the landlord that:
rent rates are too high;
building is poorly managed;
or it is in need of improvements.
The landlord should take steps to remedy the situation in order to fill the empty units and ensure a good return.
What is considered a good vacancy rate?
The answer to this is somewhat subjective and answers vary depending on your source. In general, a healthy vacancy rate is considered to be around 3%. At this rate, tenants will have sufficient options available and rent rates are held at reasonable levels that do not impact housing affordability.
Looking ahead
A recent story from Global News posits that Vancouver has largely returned to its pre-pandemic rental housing levels, which is certainly consistent with what we've been seeing both in price and in vacancy rate. This isn't great news for renters, as scarcity and pricey rentals were already an issue for the city. Hopefully, rental rates return to more reasonable levels soon.
---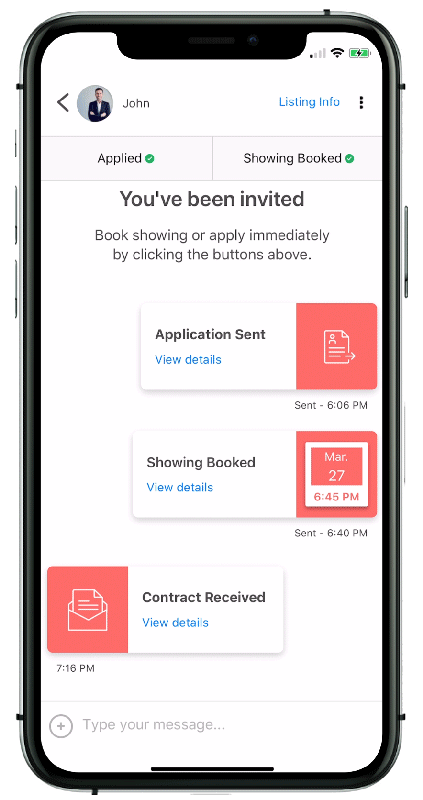 Rethink The Way You Rent
Not on liv.rent yet? Experience the ease of digital applications & contracts, verified tenants & landlords, virtual tours and more – all on one platform. Sign up for free or download the app.
Subscribe to receive the latest tenant & landlord tips and get notified about changes in the Canadian rental market.
>> Stay up-to-date on the average rent in Vancouver, Toronto and Montreal: Rent Reports