Bringing even more value to landlords & property managers, liv.rent has updated our Sponsored Listings feature to make finding qualified tenants quicker & easier than ever, with flexible pricing for every business. Doing the work of an entire marketing team, our sponsored listings help give your rental property enhanced exposure when & where you need it most, with automated advertising solutions designed to deliver maximum results. Here, we'll break down how sponsored listings can help you save time in your growing rental business and fill your vacancies with qualified renters.
Is your rental priced competitively?
Find out with a free rent estimate. Our team of rental experts will calculate your unit's true value based on your listing details & current market trends.
How Sponsored Listings work
Starting at just $1.72 per day, liv.rent's new Sponsored Listings options give landlords more control over where and for how long their listings are displayed while helping them reach far more renters with prominent placement on our listing pages. Now, you can schedule your sponsored listings to take effect and end on specific dates, helping you extend your property's reach when you need it most.
Once sponsored, your listing will automatically appear at the top of renters' listing results, with your rental property's rent price and unit details front & centre.
Here's a preview of what your Sponsored Listing will look like: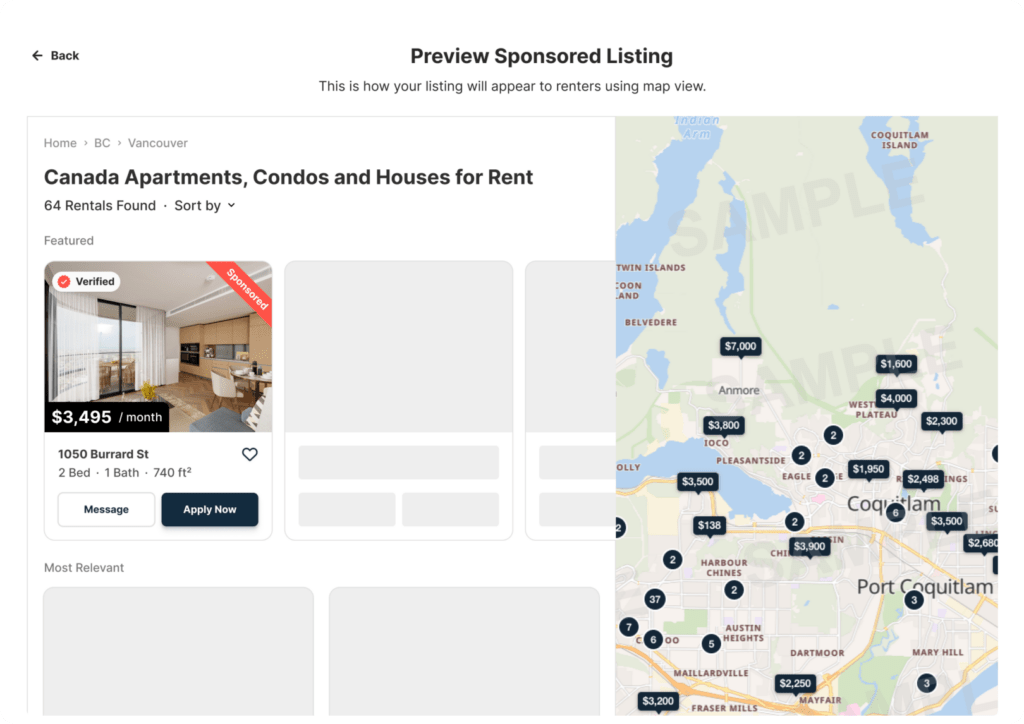 Why boost your listing on liv.rent
Did you know that sponsored listings can result in up to 300% more inquiries?
In addition to getting exposure, one of the toughest things about managing any property is making sure you have the right tenant renting from you. At liv.rent, we verify renters' identity and income documents to help you avoid unsuitable tenants from the get-go, ensuring you're only communicating with trustworthy, qualified applicants.
By utilizing the sponsored listings feature, you're expanding your audience of qualified renters significantly by ensuring your listing is front & centre on liv.rent's listing pages. This way, any renters with relevant search criteria will see your listing first, driving more inquiries & applications and ultimately getting your property rented out as quickly as possible.
Sponsored listings pricing for landlords & property managers
Landlords & property managers can choose the duration of their Sponsored Listings, with per-day pricing that provides better value for longer-term plans.
Here are our current pricing options for Sponsored Listings
7 days ($2.86/day) = $19.99
14 days ($1.79/day) = $24.99
28 days ($1.72/day) = $49.99
For more information, please get in touch with our Sales Team at sales@liv.rent.
How to boost your listing with Sponsored listings
To take advantage of this time-saving feature, all you'll need to do is create a free Essentials account and post your first listing on liv.rent. Here's a step-by-step guide to sponsoring your listing and reaching more renters:
1. Create a listing & get verified
Creating an engaging listing is easy and fast on liv.rent. To get started, simply navigate to the liv.rent homepage and select "Post a Listing" in the top-right corner.
From there, simply fill in your listing's details in the provided fields, add photos & videos of your rental property, and write an engaging description to give renters a better idea of your property's unique features, and be sure to customize your lease terms with things like utilities, parking & storage, and pet & smoking policies.
You'll also need to verify your listing by uploading documents that prove you own the rental property. For more information on getting verified on liv.rent, please watch the video below.
2. Navigate to your Listing Dashboard
Once your listing has been created and verified, simply navigate to your listing dashboard – located on the left-hand side of your screen. This is where you can view important information about your listing, and also where you'll find the Sponsored Listing tool, on the right-hand side of your property's Listing Dashboard.
To get started, just click on Boost your Listing.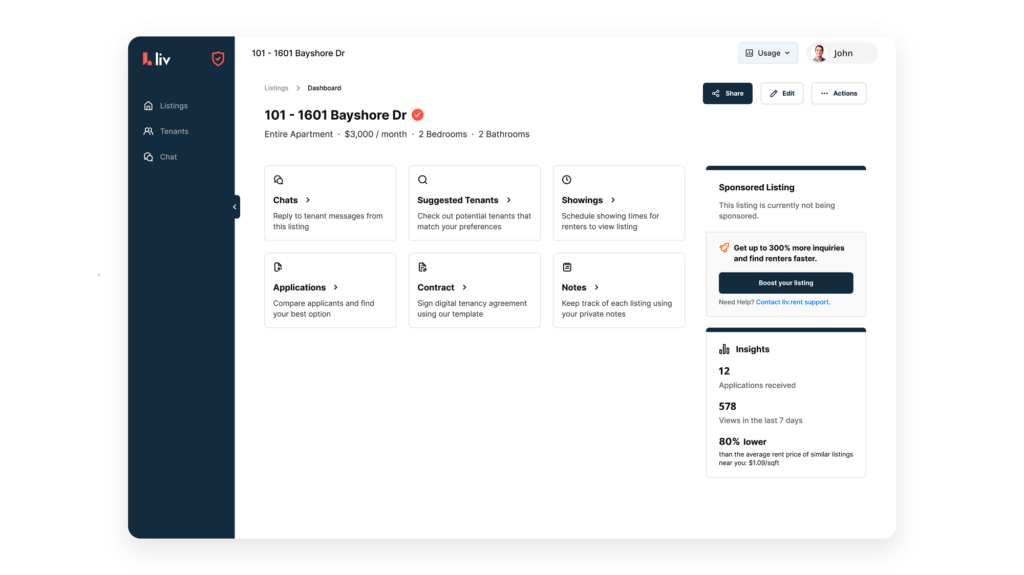 3. Select the duration and desired start & end dates
Next, you'll simply need to select how long you'd like your Sponsored Listing to be boosted for. We've broken pricing down by day so you can compare the relative value of different options.
You can also choose to schedule your listing and customize when it starts & ends. All scheduled listings will begin & end at 12 a.m. PST on the selected dates.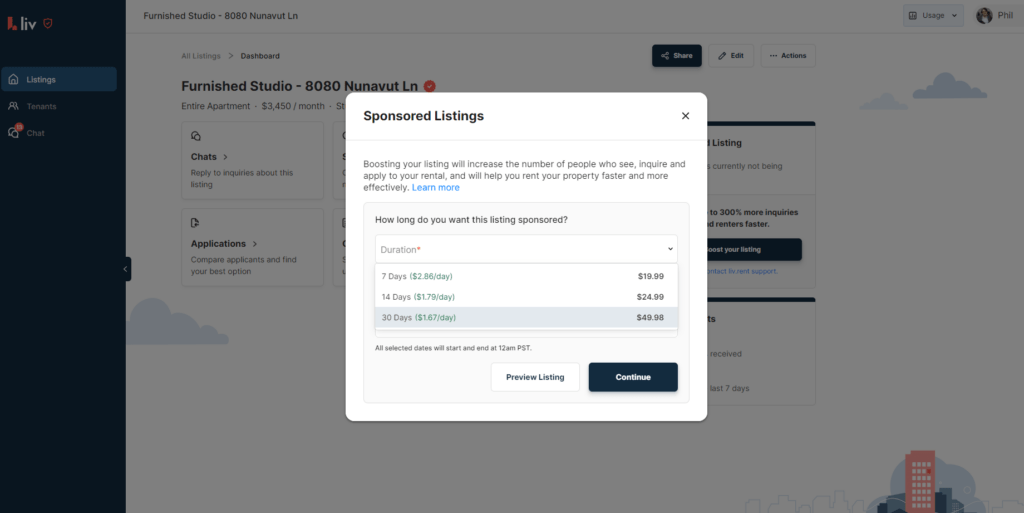 4. Confirm & pay
Finally, you'll have the chance to confirm your purchase before submitting your purchase. Once payment is complete, your Sponsored Listing is ready to go!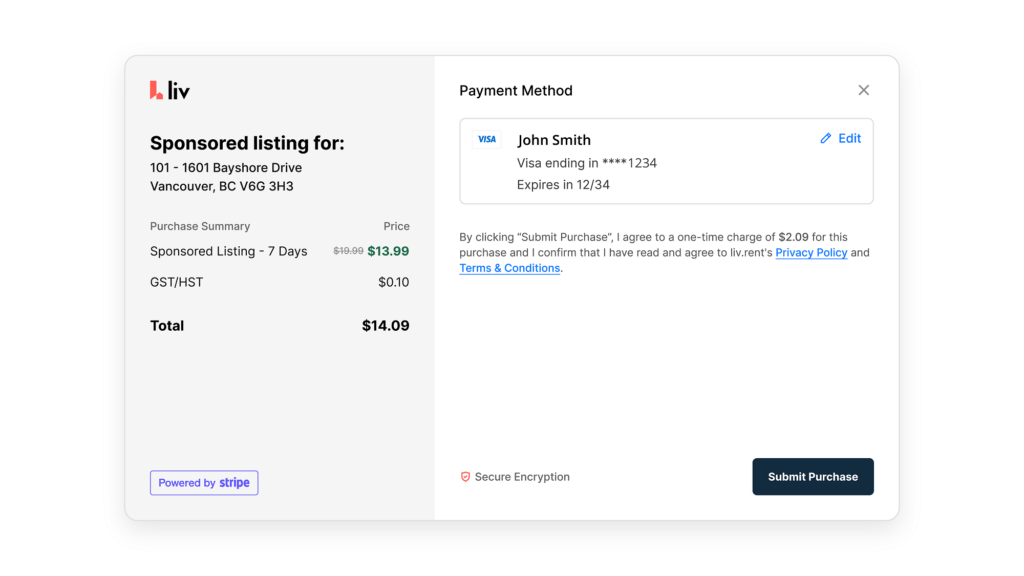 Questions about liv.rent's Sponsored Listings? Don't hesitate to get in touch with our Sales Team at sales@liv.rent.
---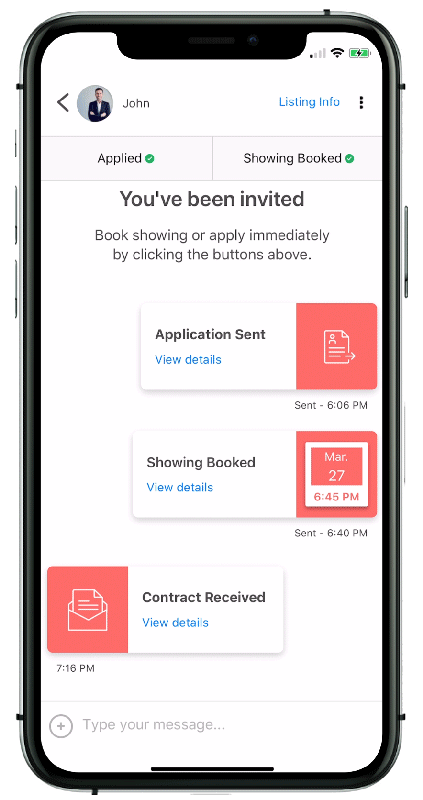 Rethink The Way You Rent
Not on liv.rent yet? Experience the ease of digital applications & contracts, verified tenants & landlords, virtual tours and more – all on one platform. Sign up for free or download the app.
Subscribe to receive the latest tenant & landlord tips and get notified about changes in the Canadian rental market.
>> Stay up-to-date on the average rent in Vancouver, Toronto and Montreal: Rent Reports.